Orzo may be one of those foods you come across at the store but never actually buy because you're not quite sure what to do with it. And we don't blame you for being a bit stumped.
With the appearance of rice but the taste of pasta, it's tricky figuring out just what kind of dish it'll really shine in. But that's precisely the beauty of these miniature morsels — they're perfect both ways and beyond!
From replacing the rice in a burrito bowl to getting tossed in a Bolognese sauce, to fulfilling the carb quotient of a grain bowl, orzo's full of delicious opportunities. Start with these orzo recipes we've picked for you right here!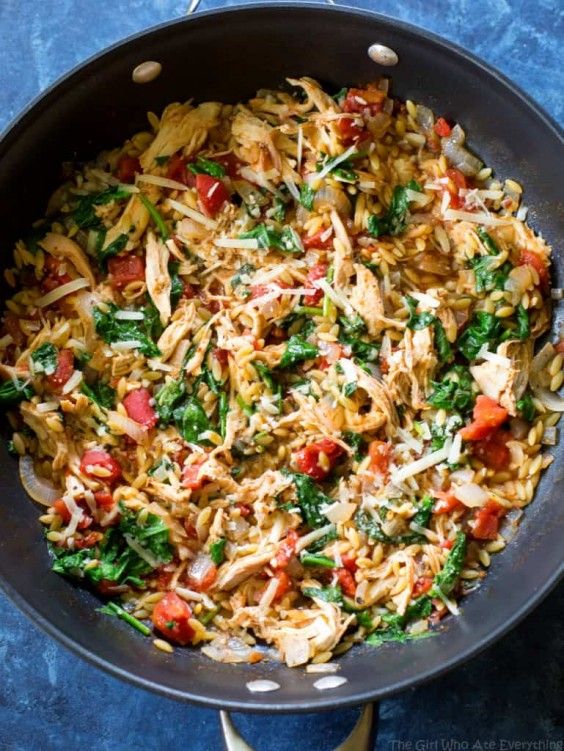 While store-bought rotisserie chicken makes this recipe even easier to make, it isn't an absolute must; browning your own chicken takes all but 5 extra minutes to do.
Whatever route you choose, the meat adds a useful punch of protein to this light pasta dish. With only 1/4 cup of Parmesan, it adds just enough cheesiness without going overboard.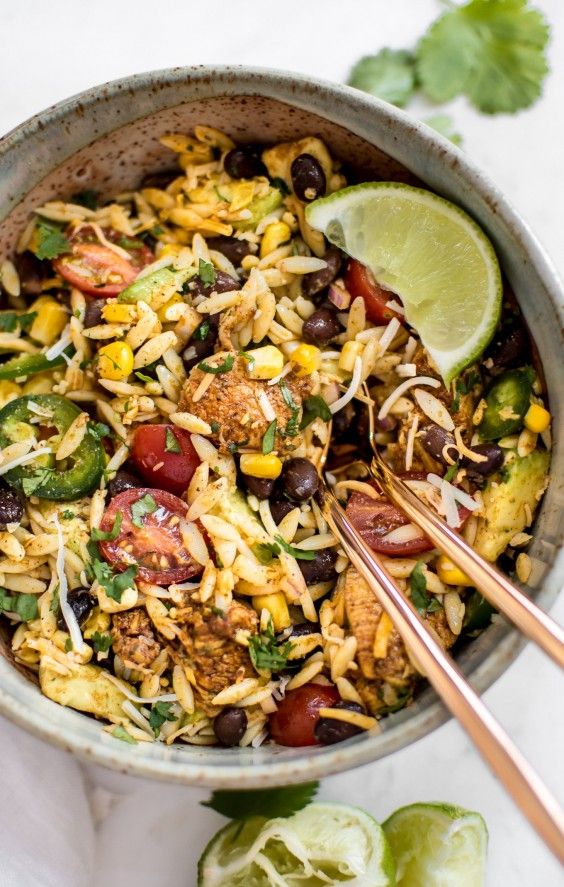 Swap out the rice for pasta to bring a little Italian flair into this Mexican meal. With chicken, avocado, black beans, and corn also in the mix, it's a deliciously perfect cross between a pasta salad and a burrito bowl.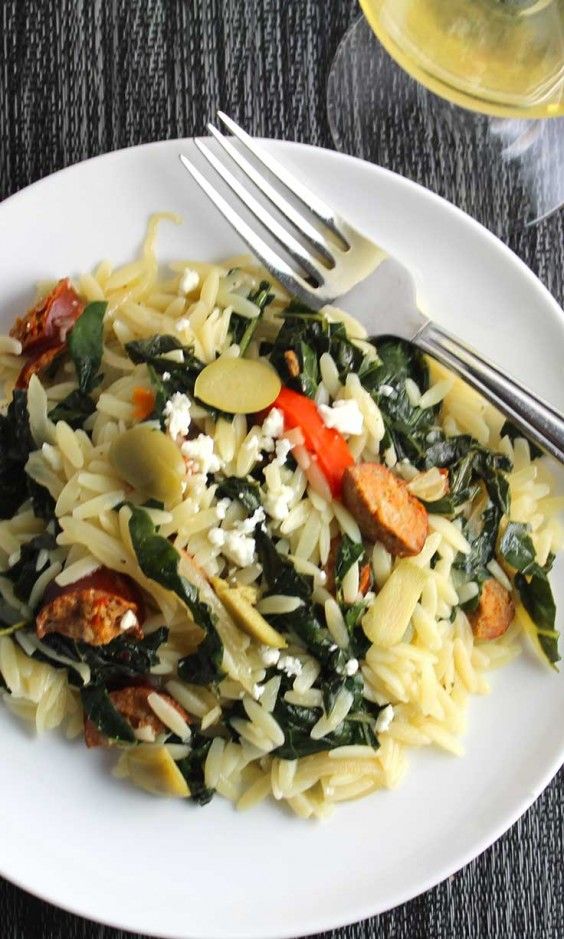 Although this stovetop orzo tastes all sorts of indulgent, its components are surprisingly healthy. Turkey sausage provides lean protein, while kale and red peppers add color, vitamins, and minerals.
With rich olives and creamy feta finishing things off, it's the kind of dish that makes pasta night feel virtuous.
Both chicken and chickpeas are tossed into this simple meal to make it a quick but protein powered dinner on busy nights.
You do need to marinate the chicken overnight for maximum flavor benefits, but it's a 5-minute prep job and so worth it when you're digging into the juicy, cumin- and paprika-spiced meat the next day.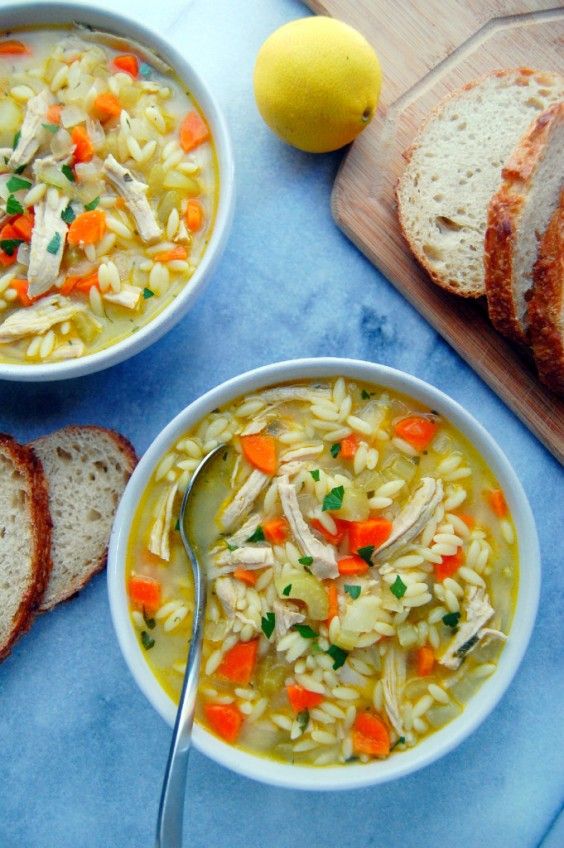 Instead of regular egg noodles, rice-like orzo makes it much easier to get some of that carby action into every single bite, while turkey instead of chicken makes for a subtle flavor variation.
With the usual carrots and celery in the mix and seasoned with lemon and parsley, the dish is full of comfort but fresh and bright at the same time.
Made in a single skillet, this weeknight-friendly orzo dish is convenient AF without being boring.
While the spinach and tomato dutifully offer nutritious benefits alongside the lean ground beef, tangy green olives and crumbly feta provide punches of flavor and texture.
Even though you may not have had this Greek comfort food dish, it's sure to become a go-to for dinner once you try it.
The beef is soaked in a unique, cinnamon and mint-kissed tomato broth that's warm and satisfying, while the use of whole-wheat orzo adds some fiber to the meaty meal.
With ground beef, tomato paste, and lots of garlic, this Bolognese features many components of the classic, but a few key differences make it special.
The addition of mushrooms provides extra meatiness, while a handful of peas add color. Plus, the use of orzo instead of spaghetti allows you to scoop up big, hearty bites with a spoon instead of having the sauce fall off a fork.
The pork and strawberry combo isn't one you see every day, but once you taste this grain based salad, you'll be wondering why the two aren't paired together more often.
The sweet and savory flavors can't be beat, while crunchy cucumbers and chewy orzo add even more texture. Coated in a zesty homemade balsamic dressing, it's the kind of salad that'll steal any entrée's thunder.
With a cooking time of 10 minutes, as opposed to at least 20 minutes for rice, orzo is the quick-fix solution to get a simple pilaf on the table.
Pork sausages give the meal a bit more substance, lots of dried herbs easily add depth of flavor, and a scattering of raisins makes for a sweet surprise every few bites.
For a meal that scores big on presentation and for being a palate pleaser, these adorable avocado boats fit the bill.
The orzo and veggies are stirred into avocado mash before the entire mixture is packed into the empty halves of the fruit. It's eye-catching, easily made in advance, and best of all, requires minimal cleanup.
"Pasta," "Italian," and "light" aren't words you'd usually see in the same sentence, but that's exactly what this dish manages to be.
Without gobs of cheese or glugs of olive oil, it's not the kind of pasta dinner that weighs you down. The sprinkle of Parmesan, lean salmon, and nutty, whole-wheat orzo certainly make it feel like a satisfying Italian meal.
All you have to do is swap out regular rotini for orzo, and this tuna pasta salad feels like a brand-new dish.
With kalamata olives, parsley, and feta, topped off with a red wine vinegar dressing, there's a distinct Mediterranean touch here that makes the dish feel extra healthy.
Pan-seared scallops are a popular appetizer, but make them main meal-worthy by piling them on top of a bed of orzo that's been flavored with garlic, lemon, and white wine.
It's a classy meal for date night, but the ease of prep here also makes it just as viable an option on a Monday evening.
Five main ingredients and just 20 minutes are all it takes for this light and lemony soup to make it from the stove to your bowl.
The broth is zesty without being overpowering. With the orzo and shrimp soaking it all in, every spoonful is a burst of savory yet citrusy flavor.
With asparagus and peas, this almost tastes like a springtime risotto, but the bonus is that this version comes together in a snappy 20 minutes thanks to the use of orzo instead of rice.
Plus, there's zero dairy in the recipe, allowing the veggies to shine through and vegans to get in on the fun.
Look, so pretty! Figs and blue cheese are a lovely dynamic duo on their own, but add orzo, walnuts, and fresh herbs, and you've got a meal that satisfies every taste bud.
It's not a dish you see every day, which makes it impressive while still easy to make. With the balsamic glaze and bursts of red cherry tomatoes, it's also a beautiful addition to any table.
Another Mexican-Italian fusion meal (they just work!), this one comes together in a flash thanks to several pantry items.
Here, orzo combines with canned corn, beans, and enchilada sauce. Throw in a couple of dried spices and a handful of cheese, and you've got a filling, flavor-packed 30-minute meal.
With its golden-yellow color, fall-inspired ingredients, and buttery flavor, this dish is perfect to serve on Thanksgiving or on any blustery day.
Butternut squash is roasted until it's soft and buttery, then tossed with orzo, sage, and feta, making for a wonderful vegetarian entrée.
It looks like rice and takes much less time to cook, so using orzo for this alternative fried rice makes total sense!
Toss it with roasted vegetables just like you normally would, and add the delicious, ginger, soy, honey, and sesame oil sauce. You won't even notice it's a different grain when you take a bite.
Stir the pasta into a nutritious blend of avocado and Greek yogurt for a wonderfully creamy coating. The curry powder, lemon, and sweet onion will add subtle kicks to keep things tasting far from bland.
Boring bowls just got an upgrade. As you can see, there's no need to skip over the rice look-alike in the pasta section ever again.
And this roundup of orzo recipes is really just the beginning; this neat noodle can be used interchangeably wherever you would use pasta or rice, in meat dishes and plant based recipes alike.
Grab a bag of orzo and see how far you can get with it. Meatless Mondays, Taco Tuesdays, you get the idea.