When you're cutting down on carbs and saying "so long" to refined cane sugar, you might be wondering how dessert — which, after all, involves sweets by definition — is supposed to fit in.
Thankfully, it's not as much of a head-scratcher as you might think. Thanks to a ton of keto-friendly ingredients on the market these days, you can enjoy a piece of cake or a fudgy brownie just as easily as any other sweet fiend out there — you've just got to make it yourself!
So grab your dark chocolate, your favorite alternative sweeteners, your nut flours, and of course, your butter. It's time to master keto desserts.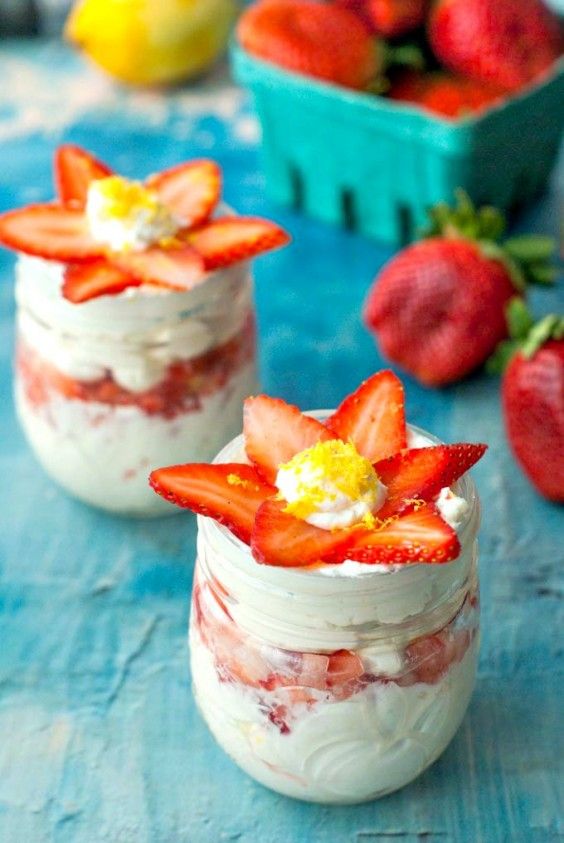 Doing away with the pie crust, this take on cheesecake gets right to the point: the luscious, smooth filling. With layers of tart strawberries cutting the richness of the cream cheese mixture, this parfait-like treat is both decadent and refreshing.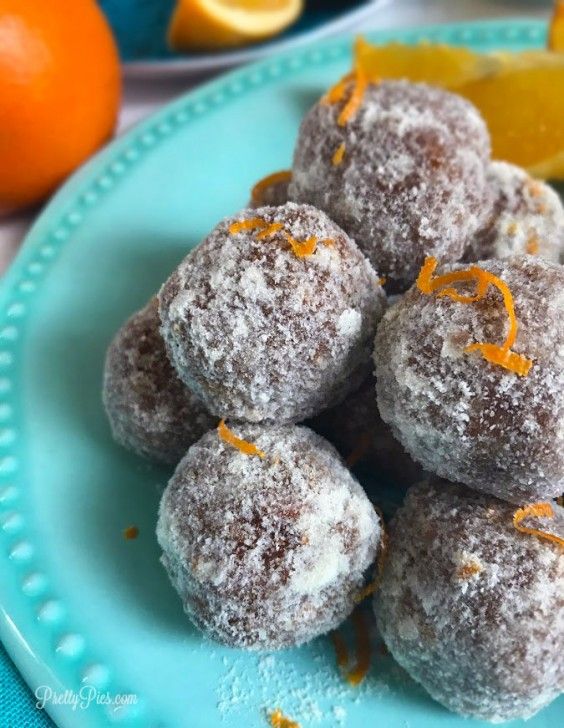 You can make these babies in 10 minutes, maybe less. The end result is great for on-the-go snacking or if you need just a hint of sweetness to help a hearty meal settle.
Coconut flour replaces the regular kind to keep these cake balls keto. Even better, these cakes require no baking. Just mix, roll, and enjoy.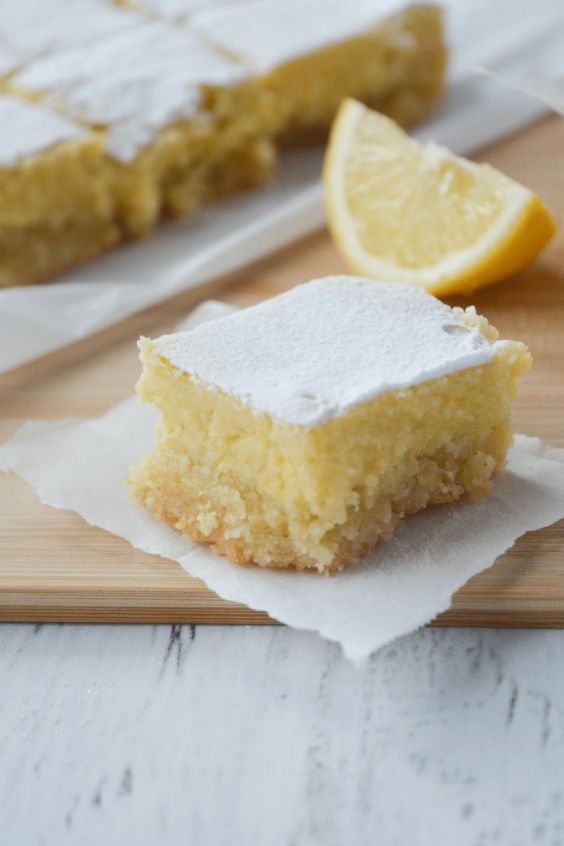 If you're missing higher carb fruits on the keto diet, this bright and tangy recipe will hit the spot without blowing your carb budget.
So much so, that we're adopting a new motto: When life gives you lemons, make keto lemon bars. Buttery, dense, and zesty, these delicious squares leave little to be desired (except maybe a second round).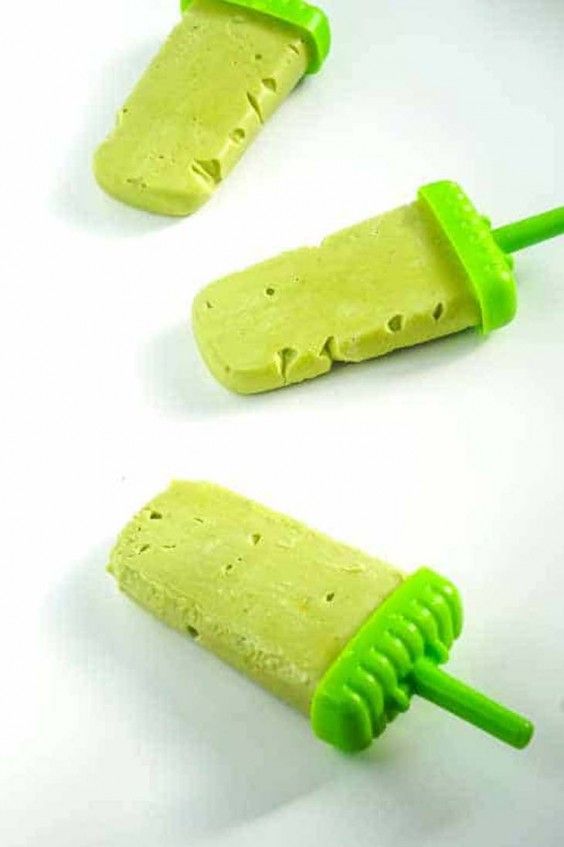 High fat desserts can feel heavy fast, so serving them chilled is a great way to lighten things up.
These eye-catching popsicles use avocado to get the necessary texture of ice cream, but generous pours of lime juice provide a pop of flavor to keep them from weighing you down.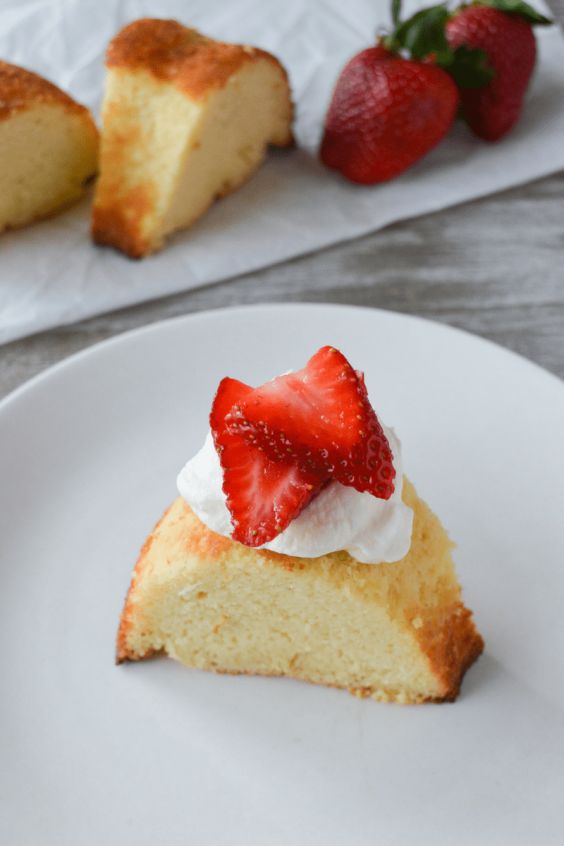 Rich and buttery, pound cake isn't usually associated with healthy eating, but all the eggs and sour cream in here fit comfortably within a keto diet plan.
This recipe cuts down on the carbs by using almond flour and corn-derived erythritol as a sugar alternative. Either add strawberries or blueberries to the batter or place them on top after baking. Too cute!
Aside from the almond flour base, not a whole lot about this recipe is that different from a regular carrot cake.
You've got your carrots (duh), your spices, and of course, that non-negotiable cream cheese frosting, all of which make for a delectable — and not overly sweet — end result.
Not that going butter-free is really a concern on keto, but swapping it out for avocado makes these brownies suitable for any dairy-free dessert eaters you'll be serving. For extra fudgy results, be sure to underbake slightly!
Pro tip: This recipe is super versatile. If you can't get your hands on erythritol as a sweetener, swap in monk fruit or stevia leaf extract.
Why wait until Thanksgiving to enjoy pumpkin? We're down with the autumn feels all year round.
By stirring some real purée into a whipped cheesecake recipe, you'll give the dessert more depth of flavor, not to mention a tasty source of fiber.
Since the mousse takes only 15 minutes to whip up, you'll be making it often, regardless of the season.
Going keto might compel you to start experimenting with ingredients you would have never used otherwise. These vegan treats, for example, are held together with aquafaba, the liquid from a can of chickpeas.
Still, the shredded coconut and the smooth chocolate on the bottom make them taste like the mouthwatering macaroons you know and love.
Chia pudding may be a popular breakfast item, but the addition of cocoa and dark chocolate chips automatically qualifies this version for dessert. The crunchy topping meshes perfectly with the creaminess of the pudding.
Whip it up in the morning to have a cool treat waiting for you in the evening — if you can wait for that long, that is.
Donuts with coffee in them? Ummm, yeah! These may be part of our dessert roundup, but they're just asking to be breakfast.
Thankfully, they're packed with satisfying ingredients like fiber-rich coconut flour, eggs, and coconut oil, so you could totally get away with enjoying one in the morning.
With plenty of butter — of both the regular and the cacao variety — plus coconut cream and eggs, these squares turn out exactly the way blondies should: dense, fudgy, and totally suitable for seconds.
They're the type of dessert you can feed to non-keto peeps, and they'd never know the difference.
If you haven't tried the chocolate and sea salt combo yet, boy, are you in for a treat with this recipe.
Just a sprinkle of the savory stuff perfectly offsets the naturally sweet, soft, and chewy cookie, giving these so much more depth than the average chocolate biscuit.
Pro tip: You can make this vegan with homemade flax "eggs," a combination of ground flaxseed and water.
If plain cheesecake can be a bit too bland for you in the texture department, this recipe helps jazz things up.
Between the crumbly almond flour pastry and the pecans studded throughout the filling, there's enough crunch in here to keep the boredom at bay. As a bonus, this recipe is paleo-friendly as well.
Don't let the need for an ice cream machine throw you off; you can also make this in a food processor and freeze in a loaf pan.
The keto ice cream tastes as close to a standard butter pecan scoop as you can get. Summertime treats just got a little bit sweeter.
Pistachio is a seriously under-utilized nut, but this recipe reminds us why we need to use more of it.
The chopped nuts become part of the caramel-like filling in these bite-size chocolates for a milder but much more unique alternative to peanut butter cups.
Can you spare 30 minutes? Because if you can, you're about to have an amazing keto snack at the ready.
We probably had you at "bacon," but if that's not already reason enough to make this sweet and savory bark, consider the fact that it also requires only three ingredients and no oven. There's nothing not to love about it.
File this under "easiest way ever to satisfy a cookie craving." With no flour in the mix, these are all about pure peanut buttery goodness. There's even a no-sweetener option!
You can go for the classic circle shape with a fork-made criss-cross, or get an interesting cookie mold and take your cookie game up a notch. The blogger recommends a gummy bear mold, just for funsies.
If you're a little turned off by your run-of-the-mill keto diet of bacon, eggs, cheese, repeat, we feel you. It's easy to get into a keto rut sometimes — yes, even with bacon.
These desserts are a breath of fresh air. Or, rather, a heavenly aroma that fills the entire kitchen. With rich cheesecake, fudgy brownies, and creamy popsicles, your sweet tooth won't even miss the carbs and cane sugar.