We include products we think are useful for our readers. If you buy through links on this page, we may earn a small commission Here's our process.
Greatist only shows you brands and products that we stand behind.
Our team thoroughly researches and evaluates the recommendations we make on our site. To establish that the product manufacturers addressed safety and efficacy standards, we:
Evaluate ingredients and composition: Do they have the potential to cause harm?
Fact-check all health claims: Do they align with the current body of scientific evidence?
Assess the brand: Does it operate with integrity and adhere to industry best practices?
We do the research so you can find trusted products for your health and wellness.
Rose Levy Beranbaum is a bonafide baker—and she wields a James Beard award to prove it—but the cookbook author and blogger is also a pro when it comes to preparing homemade ice cream. It's this topic that's at the center of her newest cookbook, "Rose's Ice Cream Bliss," an ode to the summertime staple.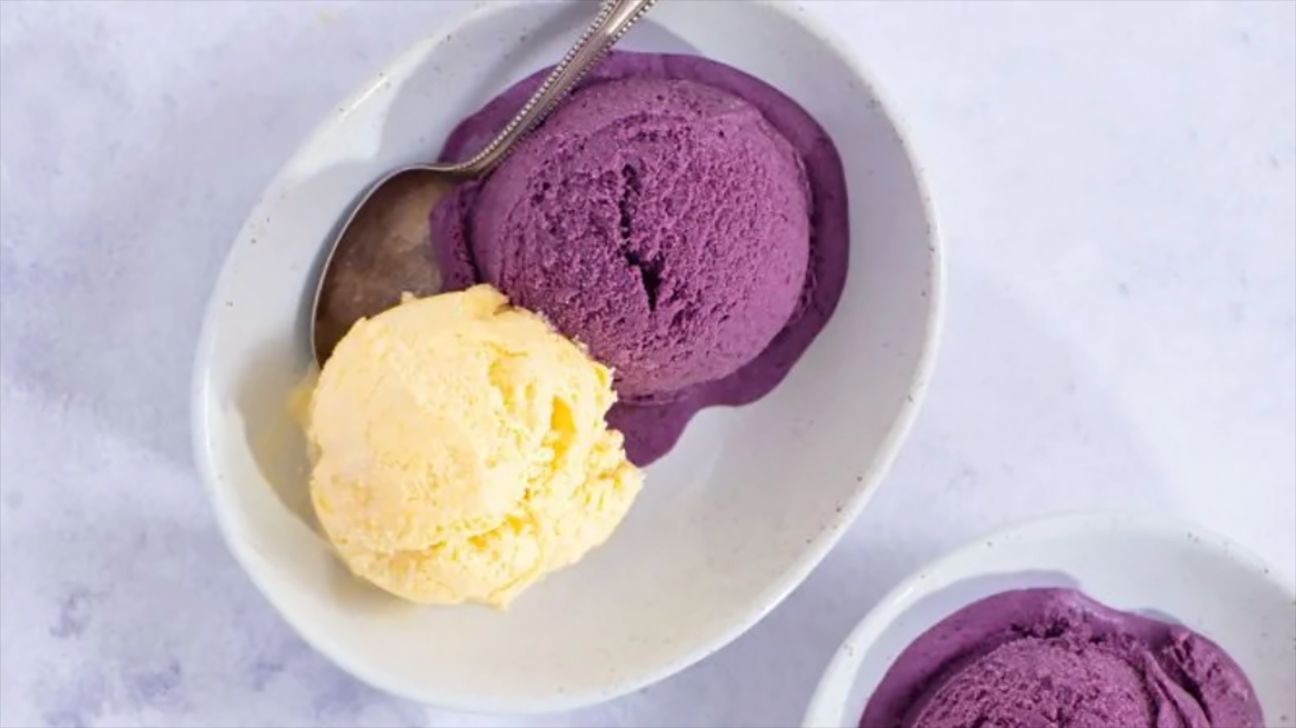 This summer, after all, may not be spent chasing after the ice cream truck or spooning into a sundae at your favorite local shop. Instead, you may simply resort to churning your own ice cream at home. Not only will you not have to worry about waiting in a pesky line, but you'll be able to pick and choose exactly what you want to make.
Your first step will be turning to Rose's ice cream tome, which is filled with more than 100 recipes for ice cream flavors, from the more traditional like peach and vanilla to the more unusual like Thai corn and royal velvet lavender. Rose flaunts her baking chops in this book too, proposing ice cream accoutrements like rhubarb compote and chocolate wafers. The book is poised to bring the ice cream party straight to you.
Ahead, look to Rose's instructions for blueberry ice cream, along with a recipe for her raspberry butterscotch sauce, both of which will remain summertime staples for years to come. The finished blueberry ice cream results in a bright purple sheen, thanks to the addition of a homemade blueberry purée, and is churned with only a handful of ingredients (namely heavy cream and milk).
And if there are days where you simply don't want to cobble together the ingredients for the task, look to enriching store bought ice cream with Rose's raspberry butterscotch sauce, which swirls raspberry purée into a nutty, buttery butterscotch. Drizzle it over whatever ice cream you've got or just lick it off the spoon. It's that good.
Excerpted from Rose's Ice Cream Bliss © 2020 by Rose Levy Beranbaum. Photography © 2020 by Matthew Septimus. Reproduced by permission of Houghton Mifflin Harcourt. All rights reserved.
I fell in love with the gorgeous purple color of this ice cream in Erin McDowell's wonderful book "The Fearless Baker." Despite being a major proponent of custard-style ice creams, I realized that the subtle flavor of blueberry would benefit from this eggless Philadelphia-style ice cream base, and the berries' high fiber would keep the ice cream from being icy. I used my usual 3 to 1 cream to milk ratio, decreased the amount of dairy in proportion to the blueberries to make it as creamy as possible, and boiled away some of the liquid in the blueberries. This gives it the creamiest texture, and it is scoopable right from the freezer! Erin's inspiration to pulverize the entire vanilla bean gives it an amazing flavor that brings out the special qualities of the blueberry. The vanilla bean's seeds also add a delightful little crunch. Wait to make this ice cream when blueberries are in season for the best flavor and color, and freeze some of the berries for sweet summer memories in winter. Also be sure to freeze some red rhubarb, which has an earlier season. Adding Rhubarb Compote (page 205) is a sensational way to enhance the blueberry flavor without overwhelming it; swirl it into the base as described on page 64.
Blueberry Ice Cream
INGREDIENTS
Sweetened blueberry purée: 4 cups/584 grams of blueberries
250 grams/1 ¼ cups sugar
1 vanilla bean, split in half lengthwise
Ice cream base: 464 grams/2 cups heavy cream
161 grams/ ⅔ cup milk
556 grams/about 1 ⅔ cups sweetened blueberry purée
10 grams/2 teaspoons lemon juice, freshly squeezed and strained
INSTRUCTIONS
To make the sweetened blueberry purée, In a medium saucepan, with a silicone spatula, stir together the blueberries, sugar, and vanilla bean.
Over medium-high heat, stirring constantly, cook the mixture until the sugar has dissolved and the juices are bubbling. Then lower the heat to medium and continue cooking at a rapid boil, stirring often, until the berries are very soft and the mixture is very thick, about 10 minutes. As it begins to thicken, turn down the heat to medium-low. As long as the juices are bubbling very thickly it will be fine. But the more water that evaporates, the creamier the ice cream will be. Reduce to about 556 grams/1⅔ cups/394 ml.
Scrape the mixture, including the vanilla bean, into a large mixing bowl or blender container.
Add the cream and milk to the blueberry mixture. Use an immersion blender to purée it until very smooth. (Alternatively, use a countertop blender, but be sure to scrape out as much as possible from the sides and lid—it helps to set a piece of plastic wrap on top before closing the lid.)
Pour the purée into the strainer and press it through the strainer into the bowl. Scrape any mixture clinging to the underside into the bowl. Stir in the lemon juice.
Cover and refrigerate for a minimum of 8 hours or until no warmer than 43°F/6°C. (Alternatively, cool it in the ice water bath.) Set a covered storage container in the freezer.
Churn the blueberry purée in a prechilled ice cream maker. Transfer the ice cream to the chilled container. Press a piece of plastic wrap on the surface of the ice cream, cover the container, and allow the ice cream to firm in the freezer for at least 4 hours before serving.
This rosy tinged, lilting raspberry butterscotch sauce is divine with so many ice creams, from fruity to chocolate. Butterscotch is caramel made with brown sugar. I use Muscovado sugar to give it extra flavor dimension, but brown sugar is also delicious. The sauce would also be lovely laced through the ice cream after spinning.
Raspberry Butterscotch Sauce
INGREDIENTS
Raspberry purée: 228 grams/2 cups frozen raspberries with no added sugar
1 teaspoon pure vanilla extract
A pinch of fine sea salt
10 grams/2 teaspoons lemon juice, freshly squeezed and strained
Raspberry butterscotch sauce: 57 grams/4 tablespoons unsalted butter
108 grams/ ½ cup firmly packed light brown Muscovado sugar or dark brown sugar
21 grams/1 tablespoon corn syrup
58 grams/ ¼ cup heavy cream
72 grams/ ⅓ cup raspberry purée
INSTRUCTIONS
MAKE THE RASPBERRY PURÉE: In a strainer suspended over a medium bowl, thaw the raspberries completely. This will take several hours. (To speed thawing, place the strainer and bowl in an oven with a pilot light or viewing light on.) Press and stir the berries to force out all the juice. There should be almost ⅓ cup/79 ml of juice. Cover the berries and set aside.
Transfer the juice to a small saucepan and bring to a boil, stirring constantly. Lower the heat and simmer, stirring constantly, until it becomes very syrupy and is reduced to 4 teaspoons/20 ml. Watch carefully toward the end as it goes really quickly and could scorch. (Alternatively, you can do this in the microwave, in a 4 cup/1 liter glass measure with a spout, lightly coated with nonstick cooking spray, swirling or stirring every 20 to 30 seconds.)
Press the berries through a fine-mesh strainer, using the back of a spoon. You should have about ⅓ cup/79 ml of pulp. (This will take about 20 minutes.) Stir in the vanilla and salt.
Stir the raspberry syrup and lemon juice into the purée. Into a 1 cup/237 ml glass measure with a spout, pour ⅓ cup/79 ml/72 grams of the raspberry purée. (Reserve any remaining purée to add to the completed raspberry butterscotch to taste.)
In a small saucepan, using a silicone spatula, stir together the butter, brown sugar, corn syrup, and cream until the sugar has dissolved. Bring it to a boil over medium-low heat, stirring constantly. Simmer for about 8 minutes, stirring gently, until very thickly bubbling. (An instant-read thermometer should read 240° to 244°F/116° to 118°C.)
Remove the pan from the heat and pour the butterscotch into the glass measure containing the raspberry purée. Stir until uniform in consistency. Cover tightly with plastic wrap.
Allow the raspberry butterscotch to cool to room temperature, about 1 hour. If desired, add more of the reserved raspberry purée to taste.