A meaty meal can really hit the spot sometimes. But why settle for a fast food burger when you can have a quick and healthy meat feast at home! Here are nine delicious and nutritious beef recipes to try at home. And don't worry, there's something for all cooking levels and tastes!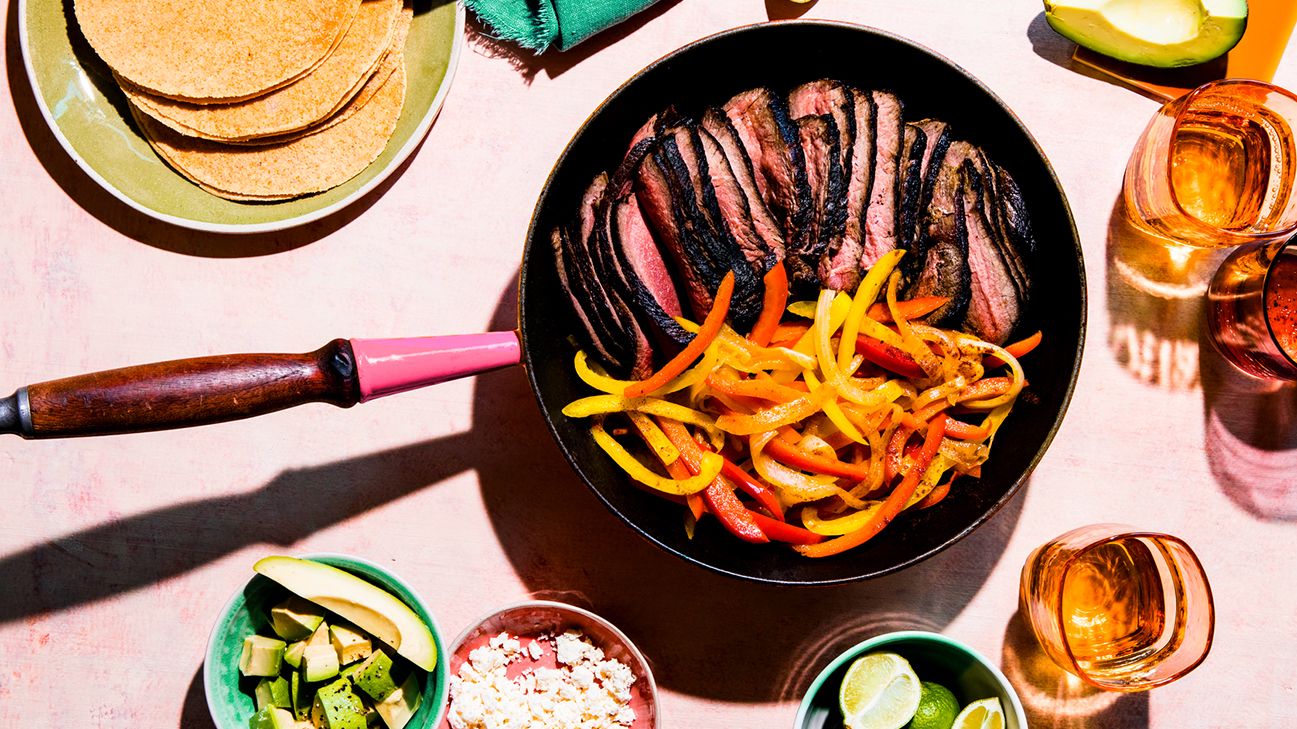 Obvi we only picked the best of the best for you, fam. Here's how we chose.
Taste and nutrition. Each recipe is hella tasty and super satisfying. But they're also nutritious and lighter than lots of other beefy meals.
Ingredients. We selected recipes that have easy-to-find and high quality ingredients.
Cooking level. You don't have to be a Michelin star chef to make a delish dish. All of these recipes are easy to follow and fab for foodies of all skill levels.
Versatility. We opted for meals that can be customized to your taste and dietary styles.
This ain't your average steak on a stick. This scrumptious skewer is loaded with lean sirloin. With just 5.57 grams (g) of fat in a 3-ounce serving, sirloin is one of the leanest cuts of beef there is. Plus, the skewers are packed with colorful veggies and coated in a killer chimichurri sauce. Forks and knives optional.
P.S. Lean red meat is defined as <10 g total fat and <5 g saturated fat.
This beef and broccoli ramen is so delicious you'll never need takeout again. (Well, maybe.) The star of the show is flank steak, which is a dope dinner party option. It's versatile, cost-efficient, and tasty AF. It's also a super source of essential nutrients like niacin — a 4-ounce serving offers 7.73 milligrams! This B vitamin is healthy for your liver, skin, nails, and nervous system.
Umami anyone? These slow-cooked sticky short ribs are well worth the wait. The meat marinade is a mix of salty soy sauce and sweet brown sugar. The pop of ginger gives it a nice, zesty finish. The meat itself has a sultry seared crust that will fall right off the bone. Plus, your kitchen will smell divine.
Pro tip: Serve the ribs over steamed white rice and top with an over-easy egg and sesame seeds. Perfection.
This rich and creamy meal offers a classy restaurant vibe at a fraction of the cost. The New York strip steak will melt in your mouth, and the shrimp will explode with garlicky flavor 🍤🧄. You can also customize it to your unique tastes — it can be served with pasta, rice, veggies, or a baked potato. But the best part? It only requires 15 minutes of cooking time!
Fajitas! This recipe promises a fun, flavorful, and well-rounded meal. The flank steak is a standout, but even nonmeat lovers can pack their plates with a variety of veggies. The recipe calls for bell peppers and onions, but feel free to spice things up with hot peppers, avocados, cheeses, sour cream, or mushrooms.
Keto tip: You can easily make this meal low carb! Just ditch the tortillas.
This is a lighter take on a classic dish. It's also perfect for folks who love bottom round roasts. With just 4.53 g of fat per 3-ounce serving, bottom round roast is basically the skinny jeans of beef. The recipe also calls for nonfat Greek yogurt in lieu of heavy cream, which will knock off even more calories. But don't worry. The flavors and texture are just as terrific as a classic stroganoff.
It doesn't get much easier (or cheaper) than this snazzy skillet. A healthier version of Hamburger Helper, it's a one-pan dish that makes the most out of ground beef. The sultry mix of spices brings all the ingredients together. The recipe calls for potatoes and zucchini, but you can totes add tomatoes, mushrooms, or any other veggie you like.
Roast beef isn't just for dry rye bread sammies anymore. This recipe takes your standard deli meat up a notch with whipped feta and roasted asparagus. Crunchy, creamy, and just plain yummy, it's the perfect appetizer for your next gathering. But it also makes a terrific snack or picnic side.
Pro tip: If possible, try to grab a high quality roast beef. Some brands add a lot of preservatives that give it a weird flavor flav.
Mushrooms and beef are BFF. The flavors pair perfectly for a 10/10 *chef's kiss* experience. It's a top-notch choice those chilly nights you want something comforting and healthy. Even though it's broth-based, it's def hearty enough to keep you feeling full and satisfied.
Beef gets a bad rap. But TBH, it can actually be super healthy. It's all about what cuts you pick and how you cook it. These nine recipes are a great start.