The holidays just don't feel complete without the movies, do they? If you're wondering why that is, well, here's one theory: nostalgia.
We don't watch Christmas movies over and over again every year to see cinematic masterpieces. We watch to experience those feelings we grew up with around this time of year — warmth, anticipation, joy, thrills, and in some cases, even horror.
In a time when we may be grasping for anything that feels familiar, the Christmas season and Christmas movies themselves are like an old pair of slippers come to our rescue.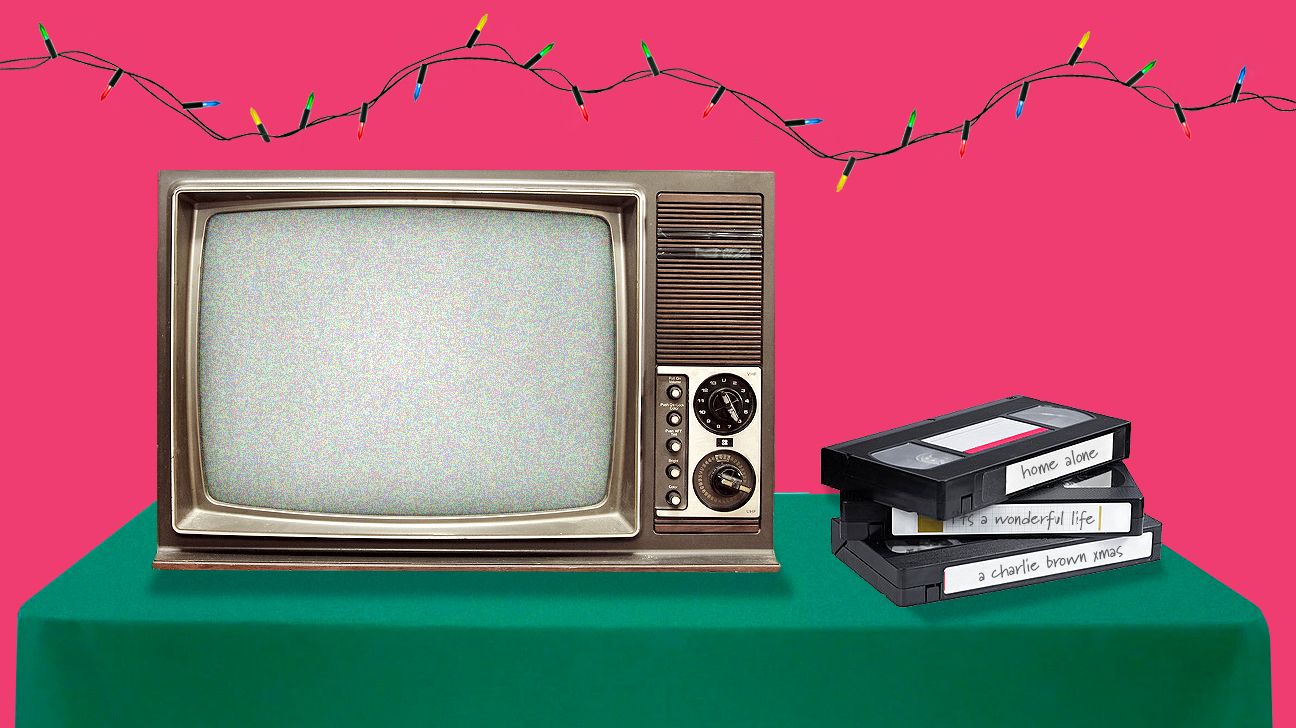 Comfort — specifically in the form of nostalgia — is a type of healing that costs us nothing. And it calls for no extra effort outside of revisiting our own memories.
But the comforts don't just end with our favorite oldies. There are some pretty solid recently made holiday films that have pressed the right buttons as well.
The question is, though, do those belong in the same category as the ones we know and love? Do they even need to? Or is nostalgia just that powerful?
With that in mind, let's hop aboard a sleigh, take a trip down Christmas movie memory lane, and see what makes some of the classics and recent gems so nostalgic.
Here are some classic titles you might've grown up with and return to every year. Whether you were first introduced through a TV viewing, DVD, or even an old VHS (gasp), these are as comforting as a cup of hot cocoa.
"A Charlie Brown Christmas" (1965)
Though it's technically only a 30-minute TV special (the very first based on the comic strip, Peanuts), "A Charlie Brown Christmas" is legendary enough to stand alongside the other feature-length Christmas movies. It's the story of how Charlie Brown sets out to direct a Christmas play featuring his friends. There's only one problem: He doesn't know the meaning of Christmas.
Why is it so comforting?
Aside from the hilarious characters and dated animation that still packs loads of personality, the easy answer is the absolutely iconic music. The original jazz pieces mixed with holiday renditions by the Vince Guaraldi Trio carry the film and keep you captivated throughout. And who doesn't crack a smile during that dance scene?
"Home Alone" (1990)
Kevin McCallister wishes he didn't have a family. Then, this 8-year-old wouldn't have to deal with his annoying siblings, gross cousins, or parents who just don't understand. When his family mistakenly forgets him at home on their way to Paris for Christmas, he thinks his wish has come true. What he didn't wish for, however, is to have to fend off burglars.
Why is it so comforting?
Anyone who's ever wished to have the house all to themselves as a kid could relate to Kevin's plight. I mean, all he ever asked for was a piece of cheese pizza and he couldn't even have that. Once Kevin realizes that he's the only one left to defend his home, the ingenuity he shows is pretty epic. There's also plenty of great physical comedy and a warm holiday story of forgiveness weaved throughout.
"The Muppet Christmas Carol" (1992)
It's the classic Charles Dickens tale with a Muppet's spin. With Michael Caine playing Scrooge, and Kermit the Frog playing Bob Cratchit, they take us through this well-known redemption story with plenty of laughs and creativity.
Why is it so comforting?
Who didn't love seeing the Muppets in any setting — let alone a holiday setting playing out an iconic Christmas tale? "Sesame Street" had already made its mark on numerous generations, and this movie was able to bring many of them together with the characters we know and love. Multi-generational enjoyment? Yes please.
"Gremlins" (1984)
For those who like a little creepiness factor in their Christmas, this pet adoption story gone wrong is right up your alley. A father gifts his son a special creature he found in a shop with a few conditions: Keep it away from water, bright lights, and don't feed it after midnight. Seems simple enough.
Why is it so comforting?
This is a classic "What could go wrong?" scenario with a mix of holiday and 80s adventure/horror flavors. There's definitely something nostalgic about finding out that one of your gifts is even more special than you originally thought. And what says comfort more than a Christmas Eve catastrophe involving little monsters?
"It's a Wonderful Life" (1946)
This is the one that's consistently mentioned with not only the best Christmas movies of all time, but the best family movies, period. It's the story of how George Bailey got to see just how much his life mattered by witnessing a reality in which he was never born.
Why is it so comforting?
Even if you haven't seen this one all the way through, you're no doubt familiar with the main story beats. And really, how can you resist it? It's got an origin story, a love story, an alternate reality story, and a freakin' angel story all rolled up into one big ball of Christmas feels. If that final scene doesn't make you believe (at least for a moment) that everything will be alright, nothing will.
Other classics with Christmas cookie levels of comfort:
"How The Grinch Stole Christmas" (1966 & 2000). This is both a story about the impact of "othering" (way ahead of its time) and a nostalgic lesson about Christmas meaning a little more than just getting gifts.
"Die Hard" (1988). Early in the movie, John McClane's character asks his driver if he has any Christmas music. The driver replies, "This is Christmas music." I've always taken that scene as clear confirmation that "Die Hard" is a Christmas movie.
"Love Actually" (2003). Like a layered holiday pie, this one has layers of love. Packing nine love stories into one movie without it falling apart is indeed a Christmas miracle.
"Elf" (2003). The movie that proves two things, 1: You can never be too excited to see Santa and 2: Any cynical heart can be melted by singing Christmas songs with conviction.
"The Nightmare Before Christmas" (1993). A Christmas movie? A Halloween movie? A musical? Yes, yes, and yes! An artistic achievement that shows you can be many things at once and kill it.
"National Lampoon's Christmas Vacation" (1989). Underneath the comedy is a serious PSA about giving your parents props for at least trying to make some of the not-so-great Christmases perfect.
"Rudolph the Red-Nosed Reindeer" (1964). This stop-motion classic said loud and clear that we're gonna need the misfits if we want to save Christmas (and the world).
"A Christmas Story" (1983). I mean… getting your dangerous dream gift on Christmas Day after your parents had you convinced that you weren't getting it? And then still almost shooting your eye out? I triple dog dare you to not relate to Ralphie.
"The Santa Clause" (1994). An entertaining holiday lesson about responsibility. Also, this dad definitely wins Take Your Child to Work Day.
Here are some more recent titles that mostly originated on a streaming platform. They may have a new-school look, but there's plenty of old-school nostalgic flair.
"Jingle Jangle: A Christmas Journey" (2020)
Streaming on: Netflix
Fresh out of the gates at the end of 2020, this is a joyous story of a toy maker who regains his hope after reconnecting with his estranged granddaughter.
Nostalgia factor:
For those who can't do Christmas without a wholesome family reconciliation story mixed with magic, soulful music, and rousing choreography, this one checks all the boxes. It's written and directed by playwright David E. Talbert, and it feels like you're sitting right on stage watching everything happen around you. Ready for story time? Absolutely!
"Klaus" (2019)
Streaming on: Netflix
An entitled postman is assigned to a remote northern town where he's tasked with building a functional postal service before he can leave. While there, he may have just discovered Santa Claus.
Nostalgia factor:
First of all — the animation? Gorgeous! You'll definitely get some hard post-renaissance Disney vibes from this one. And if you're into that, that's a plus. The story is really heartwarming as well. It deals with unlikely friendship and renewed passion. Plus, it's a pretty cool Santa origin story.
"Let it snow" (2019)
Streaming on: Netflix
Based on the novel, Let it Snow: Three Holiday Stories, we see intertwining love stories for the holidays. The relationships between a group of high school seniors won't be the same after a snowstorm hits their town on Christmas Eve.
Nostalgia factor:
This one is in-line with the "One crazy day/night" teen adventure comedies you might've grown up with, but with a big dose of young awkward Christmas love, and plenty of snow. It's a little like "Love Actually" but for the next generation.
"Tokyo Godfathers" (originally released in 2003, re-released in 2020)
Streaming on: Crackle
A trio of homeless people happen upon an abandoned newborn baby on the streets of Tokyo on Christmas Eve. With only a few clues, they have to work together to return the baby to its parents.
Nostalgia factor:
While this Japanese anime technically isn't a recent release, it was reintroduced in 2020 with an English language dub and some other updates for a new audience. The detailed animation, classic buddy adventure, and relevant themes make this one feel timeless.
Streaming on: JustWatch
It's Christmas — but it also happens to be the zombie apocalypse. Anna and her friends have to fight for their survival using the power of song.
Nostalgia factor:
Fans of horror comedies like "Shaun of the Dead" and musicals like "La La Land" have a Christmas mash-up to add to their list. Spoof films always have a nostalgic feel to them. When you can find one that strikes a balance between danger, laughs, and singing, it's easy to make room on your Christmas binge list.
Other recent gems with stockings full of nostalgia:
So we've taken a look back at the stories and characters of the Christmas movies from our past and today — but what really puts them over the top in the comfort category? The music, of course!
If there's one thing we know, it's that music is powerful enough to take us anywhere, even to more comforting times.
The music in these movies is special for that reason. Even if we can't remember every line of dialogue, we can remember how the music made us feel. And judging by my run through these tracks, it still feels good!
During this holiday season, allow yourself to spend a little (or more) time returning to comfort by way of nostalgia. Movies and music are a great route to take.
However you choose to get there, be sure to leave your troubles miles away.
DeVonne Goode is the lifestyle editor at Greatist, on a quest to find creativity through wellness, and wellness through creativity. Find him traversing the waters on Instagram.