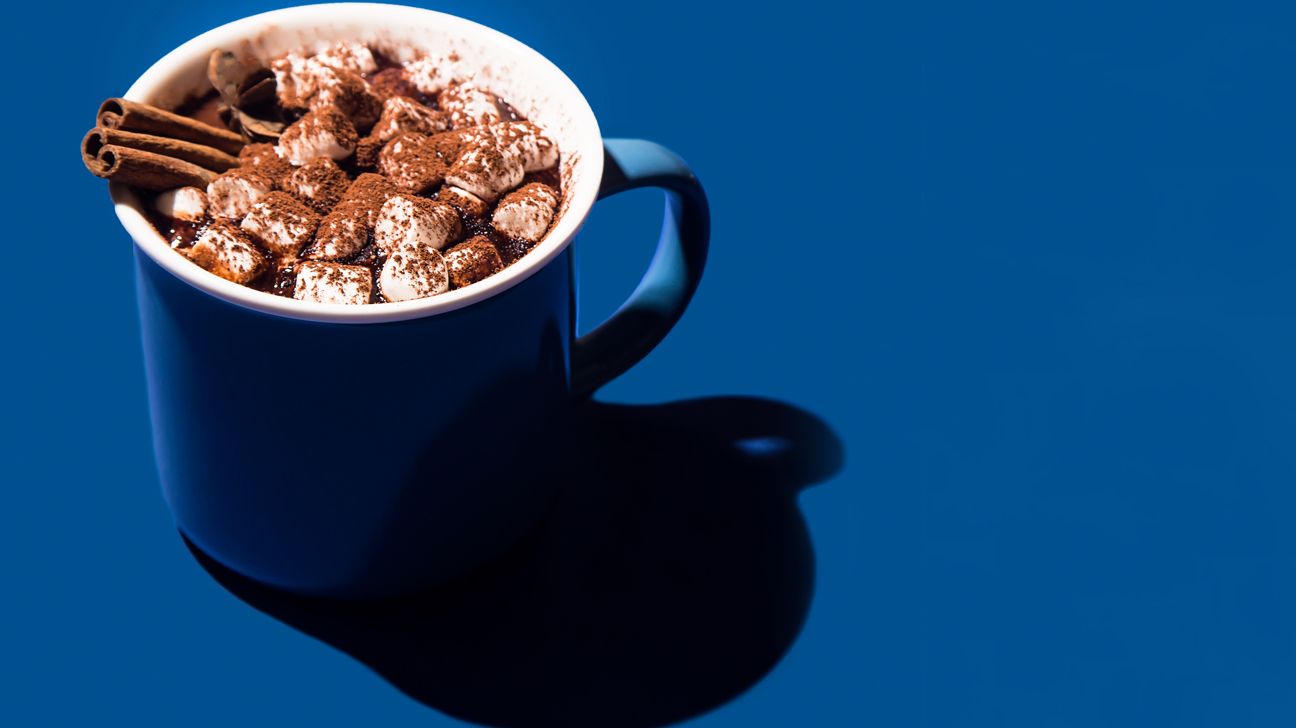 We include products we think are useful for our readers. If you buy through links on this page, we may earn a small commission Here's our process.
Greatist only shows you brands and products that we stand behind.
Our team thoroughly researches and evaluates the recommendations we make on our site. To establish that the product manufacturers addressed safety and efficacy standards, we:
Evaluate ingredients and composition: Do they have the potential to cause harm?
Fact-check all health claims: Do they align with the current body of scientific evidence?
Assess the brand: Does it operate with integrity and adhere to industry best practices?
We do the research so you can find trusted products for your health and wellness.
It's cold-weather season, which means throwing on your comfiest sweaters and warmest slippers and reaching for your favorite mug for a cup of hot cocoa pretty much every night (just me?). If you're looking to switch up your regular hot cocoa routine or make a special occasion mug of cocoa, you've come to the right place!
Your favorite powdered hot cocoa mix is the perfect base to experiment and come up with your own fun combinations. To get you started, here are 11 of our favorite ways to make your hot cocoa extra AF.
Go ahead, add some Andes Mints to your hot cocoa! Chop up a few Andes Mints, melt them into your cup of cocoa, and finish it with a swirl of whipped cream, a sprig of fresh mint, and a whole (unmelted) Andes mint on top!
Why we love it: Andes Mints are the perfect combo of creamy chocolate and refreshing mint flavor. Adding a couple to your regular hot cocoa creates a decadent mug of hot chocolate with subtle mint notes.
Cozy up with a cup of this warm and comforting drink! It's super simple to make: Just warm up a milk of your choice (we recommend almond) and steep a bag of chai tea in it for a couple of minutes. Then add the milk to your cocoa mix! Top with a generous helping of whipped cream and garnish with candied ginger pieces.
Why we love it: The delicate blend of spices, including the sweet heat of ginger, will pair nicely with the chocolate and warm you up almost instantly.
Make your standard cup of hot cocoa, finish it off with a cinnamon sprinkle on top, give it a mix, and it's ready to drink! (We recommend Saigon cinnamon, but this will work with any cinnamon you have on hand.)
Too simple? Serve it with cinnamon-infused whipped cream (add a few shakes of cinnamon to your regular whipped cream) and a cinnamon stick!
Why we love it: Adding a dash of cinnamon to your cup of cocoa is the easiest way to transport yourself into the holiday spirit. Just make sure to mix the cinnamon into the hot cocoa until it's thoroughly dissolved — we don't want any cinnamon challenge mishaps!
Don't be afraid to take your hot cocoa and make it spicy! Add a pinch of cayenne or chile powder to your mug of cocoa. (Fair warning: Less is more here.) Start with a small amount of cayenne or chile powder and add more to taste. Wanna live life on the wild side? We suggest topping your spicy cocoa with Hot Tamales!
Why we love it: This is ideal for those of us who love sweet and savory flavor combos with a little bit of heat. The cayenne cuts some of the cocoa's sweetness and makes a glorious drink to savor slowly.
Ah, cookie butter. We love it on anything — or even by the spoonful! Why not fancy up your hot cocoa with a spoonful of this delicious spread made from crushed speculoos (spiced shortbread) cookies? For this, we recommend using a dark chocolate hot cocoa base. Pro tip: Serve with a Biscoff cookie and dunk to your heart's content!
Why we love it: The cookie butter adds a nuanced, slightly gingerbread-like flavor that pairs beautifully with a bitter dark chocolate cocoa mix. It's a great way to use up that jar of cookie butter that's hanging out in your pantry!
This two-ingredient hot cocoa is our absolute favorite. All you need to make it is Nutella and hot milk. That's right — no hot cocoa mix required!
Warm a cup of milk in a small saucepan (or pop it in the microwave), and then add a heaping spoonful of Nutella and stir until thoroughly incorporated. Top it off with a dollop of whipped cream and a Ferrero Rocher chocolate to really amp up the hazelnut-chocolate experience!
Why we love it: Nutella makes a beautiful, thick, and creamy hazelnut hot cocoa! You can add more or less depending on how creamy you want your cocoa to be. We promise this will be a hit if you love hazelnut.
Craving a cup of hot cocoa but need a caffeine boost? Add espresso! Prepare your hot cocoa to your liking and finish it off with a shot of your favorite espresso. You just made yourself a mocha without the expensive trip to the coffee shop!
Why we love it: We're adults, right? We shouldn't feel like we have to choose between one bean (chocolate) and another (coffee). The shot of espresso is perfect to add the robust flavor (and caffeine) of coffee while the chocolate mellows out any bitterness. It's a great way to get your daily dose of energy!
Switch things up for your wintertime Zoom happy hours! Try adding a shot of spiced rum or Bailey's Irish cream or, if you're a beer lover, a splash of your favorite chocolate stout. Finish it with a Pirouette chocolate-filled wafer as a straw!
Why we love it: The possibilities are endless! Tap into your inner mixologist and get creative with your boozy hot cocoa pairings.
Perfect for breakfast and brunch! Adding maple syrup to your cocoa will give it a delightfully buttery, almost butterscotch-like flavor. Finish with a generous dollop of whipped cream drizzled with even more maple syrup that you can stir into your mug as you drink. For extra fun, use a cinnamon stick as your stirrer!
Why we love it: This is a beautifully decadent hot cocoa that just screams fall flavors. Close your eyes, take a sip, and be transported to a fall forest of your wildest dreams.
You want decadence in a mug? Whip up this super easy and rich dulce de leche hot cocoa! While warming up your milk, add a spoonful of dulce de leche (or caramel sauce) and hot cocoa and stir until the caramel is completely melted. Drizzle some more dulce de leche along the sides of your mug before pouring your hot cocoa.
Top with whipped cream and more caramel drizzle and serve with a churro on top or on the side. For a less sweet version of this drink, skip the spoonful of dulce de leche in the milk and just enjoy the dulce swirls.
Why we love it: You can never go wrong with caramel and chocolate! The sweet dulce de leche swirls coat the mug as they slowly melt, which is just deliciously satisfying. The churro "topper" can be dipped directly in the mug and used as a stirrer.
Create a topping bar using your favorite classic hot cocoa or top off one of our extra AF hot cocoa hacks above! Anything goes! Jumbo marshmallows, sprinkles, whipped cream, Pocky sticks, Oreos, and powdered sugar all make lovely toppers!
Why we love it: It's a feast for the eyes and just reminds us we deserve all the joy we can handle. Be as inventive as you like and let your creative side run wild. A toppings bar is a great way to get literally everyone involved too! (Just make sure you keep kids away from the booze and coffee.)
There are so many ways to jazz up your cup that are both delicious and Instagram-friendly! We're sure a few of these will become staples in your home. The real question is: Which one are you going to try first?
Mayra Mejia (she/her) is a queer Salvadoran-American freelance writer, body liberation advocate, and content creator. She is passionate about fostering a strong and inclusive body positive community and is the founder of PLUSH DMV, a Washington, D.C.-based fat positive community.