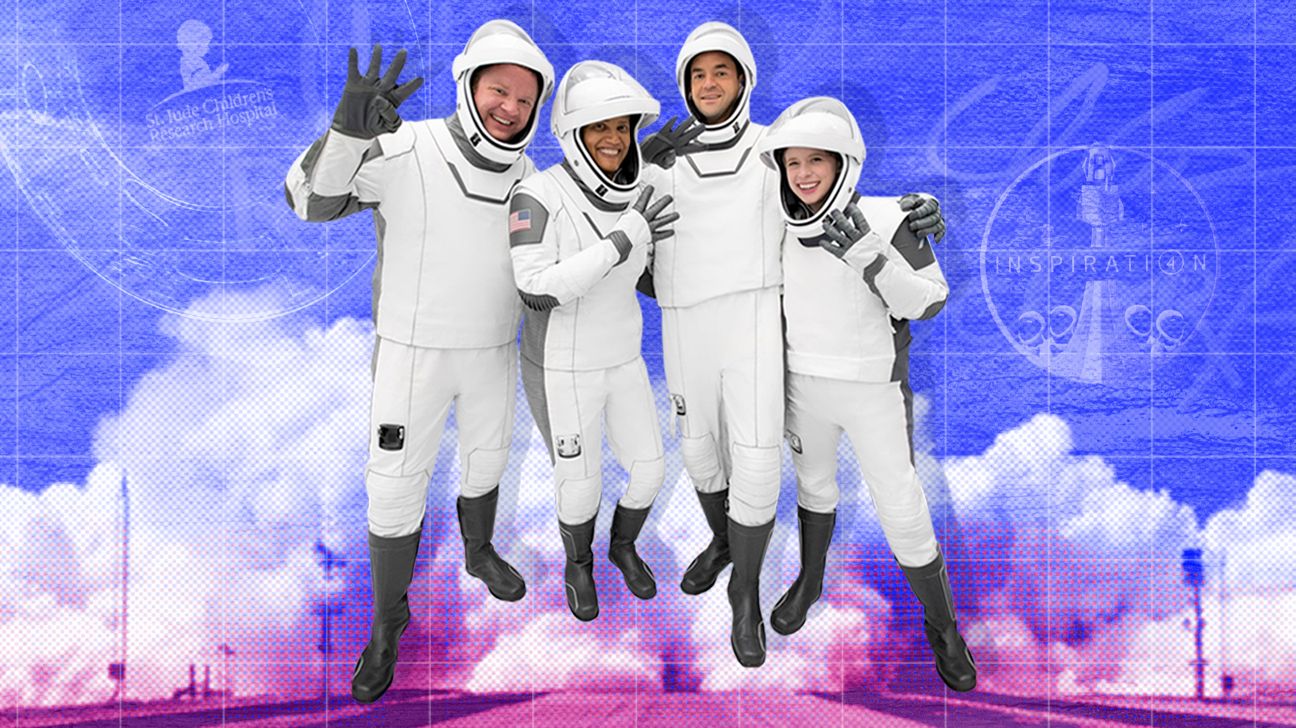 In space, everyone can hear you fundraise. And for the four plucky souls set to gallivant around the edge of the planet this week, the cause is literally out of this world. They're set to raise a monumental $200 million for St. Jude's and make history in the process.
The crew consists of:
Billionaire founder of Shift4 Payments, Jared Isaacman, who'll be commanding and funding the mission. The dude is no pencil-pusher — he's flown in at least 100 air shows and is an expert at civilian aerobatics.
Hayley Arceneaux, a childhood cancer survivor who received treatment at St. Jude's and now works there as a physician's assistant. (Seriously, we've been robbed if they don't make a movie about her. What a human.)
Chris Sembroski, a former U.S. Air Force pro who works in the aerospace industry, has experience as a U.S. Space Camp counselor, and has taken part in simulated space missions on Earth.
Sian Proctor, a pilot and geoscientist extraordinaire with a space-tastic legacy—her father, Edward Langley Proctor, Jr., was a rocket scientist who led on-the-ground tracking operations at a Guam base for the Apollo 11 mission to the moon.
As the first entirely nonastronaut crew to head into the great beyond, they're boldly going where no civilians have gone before. And they're skilled as heck.
The Inspiration4 crew will smash through this milestone in a SpaceX Crew Dragon capsule, staying in orbit for 3 days, and livestreaming the whole voyage on Netflix as part of their Countdown: Inspiration4 Mission to Space series.
They're set to launch on Wednesday, September 15th, with the weather forecast making takeoff 70 percent likely. (That's today!) The Dragon Capsule will get off the ground at NASA's Kennedy Space Center with the help of a *mega* powerful rocket called the Falcon 9. The launch window is open for 5 hours and kicks off at 5:02 p.m. PT.
And there's good news for those saturated with talk of Space Billionaires this year: the Inspiration4 will be going way higher than Richard Branson's recent Virgin Galactic trip beyond the atmosphere or Jeff Bezos' journey on the Space Peni– sorry, Blue Origin.
Not only will the crew be raising an absurd amount of cash for St. Jude's work on treating cancer in children, but they'll also be conducting health research experiments of their own.
And while they won't be docking at the International Space Station (boo), they'll be rewarded with a bomb-ass view of our sexy, fragile planet through a large, cone-shaped window on the nose of the craft.
They'll also be hauling a bunch of stuff spaceward to auction for St. Jude's after the flight — plush toys, artists' NFTs, and even a batch of Samuel Adams hops. (The brewery is pledging $100,000.) As if $200 million for children isn't enough, the crew will be inventing Space Beer.
One small step for four amazing individuals, one giant pile of dough for St. Jude's. Make sure you clock the Netflix show and witness history in the making.