Whether you're straight up nauseous or feeling hangry 24/7, nourishing a pregnant body can feel tricky. Pregnancy smoothies to the rescue!
Drinking smoothies while pregnant can help you quickly and easily load up on nutrients. Some folks with morning sickness also find it easier to sip than nibble.
Most smoothie recipes call for nourishing fruits, veggies, and healthy fats — all good things when there's a baby on board. We've done the research and rounded up 11 great pregnancy smoothies.
Bottoms up, bébé!
Aside from being easy on an upset stomach, these smoothies are tasty and brimming with nutrients that your pregnant self will adore: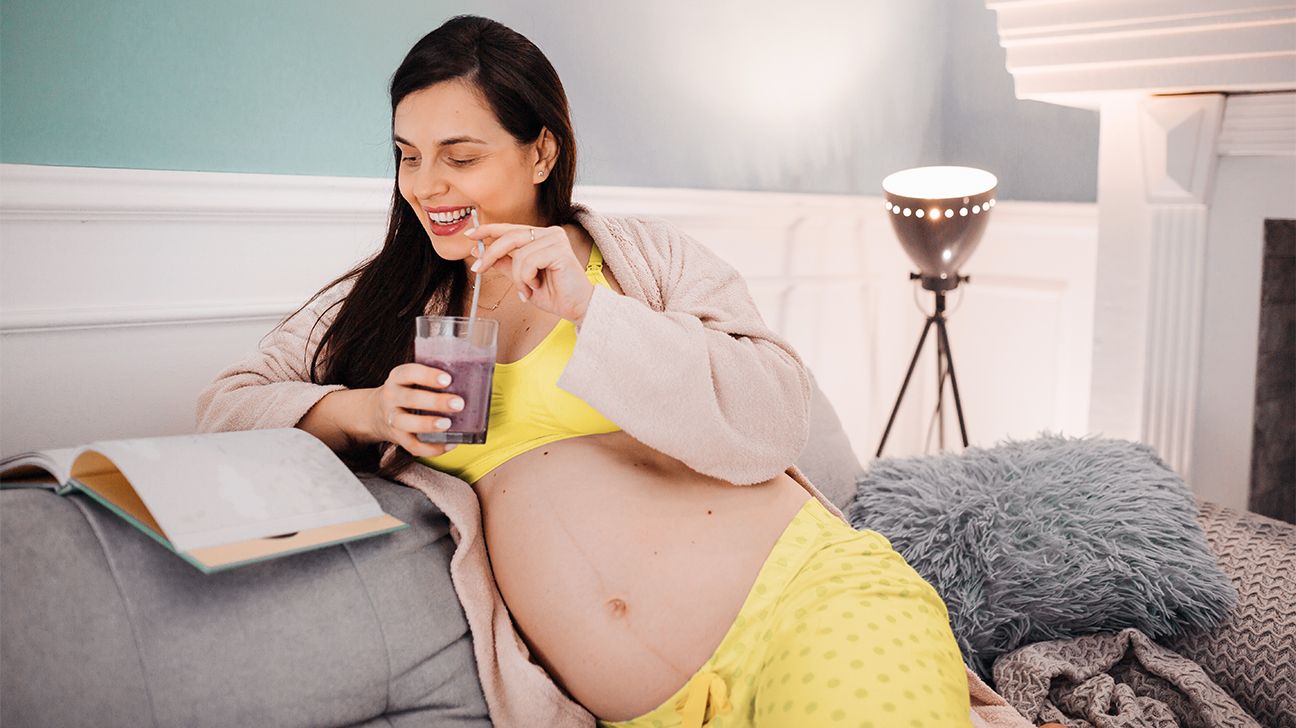 Morning sickness hits everyone a little differently, but there *are* ways to find relief.
If you feel like you're gonna hurl, it's best to sip slowly throughout the day rather than chugging a giant smoothie at breakfast or bedtime. These nausea-busting smoothies all contain ginger, which is known to help tummy troubles.
1. Anti-nausea morning sickness smoothie
Science gives ginger the green light for pregnant people feeling nauseous. Will it cure your morning sickness, Prolly not. But it might take the edge off.
Bromelain, a compound in pineapple, has also been used to ease joint pain and stiffness — two common pregnancy complaints. Add in the nourishment from kale and a touch of sweetness from maple syrup (nix this if you're dealing with gestational diabetes), and you've got a winning pregnancy smoothie. #Yum
Make the anti-nausea morning sickness smoothie.
2. Pineapple ginger tummy-soothing smoothie
If you prefer a creamier ginger smoothie, this one's for you. Plus, the Greek yogurt adds protein and probiotics for digestion.
This tummy-soothing smoothie also includes chia seeds. These bad boys can soak in up to 12 times their weight in H2O, which helps your body stay hydrated throughout the day. That's a major win for anyone dealing with dehydration from puking.
Make the pineapple ginger tummy-soothing smoothie.
3. Spinach and ginger smoothie bowl
Who says you have to sip smoothies through a straw? This filling, nausea-busting smoothie bowl contains ginger to soothe your stomach, coconut milk to avoid potential bloat from dairy, and spinach for nutrient-dense green goodness.
Note that the recipe also calls for banana, oats, and ice cubes. The combo is super filling for an afternoon pick-me-up or a breakfast on the go.
Make the spinach and ginger smoothie bowl.
4. Orange, carrot, and ginger warm smoothie
Yep, we said warm smoothie. This medley of orange, carrot, and ginger might feel gentler on your stomach than an ice-cold smoothie. With vitamin C from orange juice, it's also a stellar way to support your immune system in a time when it's tough to hold onto your cookies. 🤢
Warning: The instructions call for adding hot water *after* the rest is out of the blender. Blending steamy liquid creates pressure, which can lead to dangerous explosions.
Eating leafy greens has been linked to a lower risk of underweight infants. Plus, dark greens like baby spinach and Swiss chard are good sources of iron, which you need for all that extra blood volume going to baby and to prevent iron deficiency anemia. So, fill your veggie quota with these tasty green smoothies.
5. Strawberry pomegranate green smoothie
This layered green smoothie contains antioxidant– and vitamin C-rich strawberries, hydrating coconut water, and iron-rich spinach. It's a nutritional powerhouse for you and your bun in the oven, and as a bonus, vitamin C helps boost iron absorption. 💪
The pomegranate arils sprinkled on the top layer also make this one of the prettiest pregnancy smoothies we've ever seen. It's the little joys, right?
Make the strawberry pomegranate green smoothie.
6. Minty Swiss chard smoothie
This green smoothie gets its color from Swiss chard, a leafy green that'll flood your body with calcium, iron, and oodles of other vitamins and minerals.
Oh, and did you know that smelling mint may help soothe nausea and anxiety in pregnant people? This smoothie was made for that rough first trimester.
Make the minty Swiss smoothie.
7. Blueberry peanut butter green smoothie
It's almost like a recipe designer wanted to smash together alllll the nutrients your pregnant body craves. Say hello to protein (thx, nut butter), antioxidants (thx, berries), and folate (heyo, spinach).
Heads up: This recipe calls for creamy PB, but you can use any nut butter. Almond butter has more calcium than peanut butter, which spells good things for fetal development. Zhuzh it up with a sprinkle of flaxseed for extra omega-3s.
Eating for two means you need allllll the vitamins and minerals. These smoothies hit all those pregnancy nourishment boxes.
8. Mexican frozen hot chocolate protein smoothie
Greek yogurt and protein powder team up to slam as much protein as possible into one breakfast smoothie. That's good news for you and your baby.
Of course, if you prefer to sidestep commercial protein powder, you can swap it for other protein-rich powders like flaxseed, dry milk, hemp hearts, or a personalized mix of these.
Make the Mexican hot chocolate protein smoothie.
9. Berry mango kale smoothie
For max summer vibes, try this smoothie. With fruit phenoms like mango, blackberry, strawberry, and blueberry, you'll get boatloads of antioxidants and vitamins.
Fiber-full kale keeps things grounded so you don't get a sugar high — though folks with gestational diabetes might want to reduce the orange juice content.
Make the berry mango kale smoothie.
10. Cinnamon sweet potato pie smoothie
Got a sweet potato, banana, milk, and nut butter? Then you're set for this uber-simple, creamy smoothie. The pinch of warming spices makes the recipe feel decadent, while soothing aching muscles and joints with anti-inflammatory goodness.
You'll need frozen sweet potato chunks for this smoothie, so prep your taters a day or two in advance. Once that's done, the smoothie comes together in a cinch. Blend, pour, sip, and be satisfied.
Make the cinnamon sweet potato pie smoothie.
11. Detox green smoothie with chia seeds
First, let's nix the detox talk and speak plainly: This smoothie will help you poop. 💩
Did you know that chia seeds pack in almost 10 grams of fiber per ounce? They also soak up water to deliver hydration in a super fun texture. So, if your pregnancy includes a side of constipation, your body will love this double dose of fiber and hydration from this chia seed smoothie.
Growing a human is no small feat. Your body needs more calories and nutrients than usual.
Pregnancy nutrition 101. Nosh on nutrient-dense foods. That includes an array of fruits, veggies, and healthy fats. (Sounds like the makings of a smoothie, right? 👀)
Here's what you and bébé really need:
Most foods to avoid while pregnant aren't common smoothie ingredients.
We're talkin'…
Loading up on vitamins and minerals is super important when there's a baby on board. Smoothies are a tasty, nutrient-dense, sippable way to squeeze more fruits and veggies into your day.
Of course, a pregnancy-friendly smoothie is no substitute for prenatal vitamins or a balanced diet. If you're dealing with extreme morning sickness or other unpleasant symptoms during pregnancy, talk with your doctor or midwife.