You love smoothies, you love hot drinks. Wouldn't it be awesome if, by some magic, you could bring the two together in a combo of hot, creamy deliciousness? Hold onto your fuzzy winter hats, folks, because warm smoothies are totally a thing.
For those chilly days when you don't want an icy drink lowering your body temp, you can create a warm blended beverage with the same healthy ingredients you know and love in cold smoothies.
These unique recipes typically get their warming qualities from hot tea, hot chocolate, or oatmeal — with plenty of fruits and veggies thrown in the mix as well.
We've rounded up 11 warm smoothie ideas that'll have you singing warm smoothies' praises before the winter's out.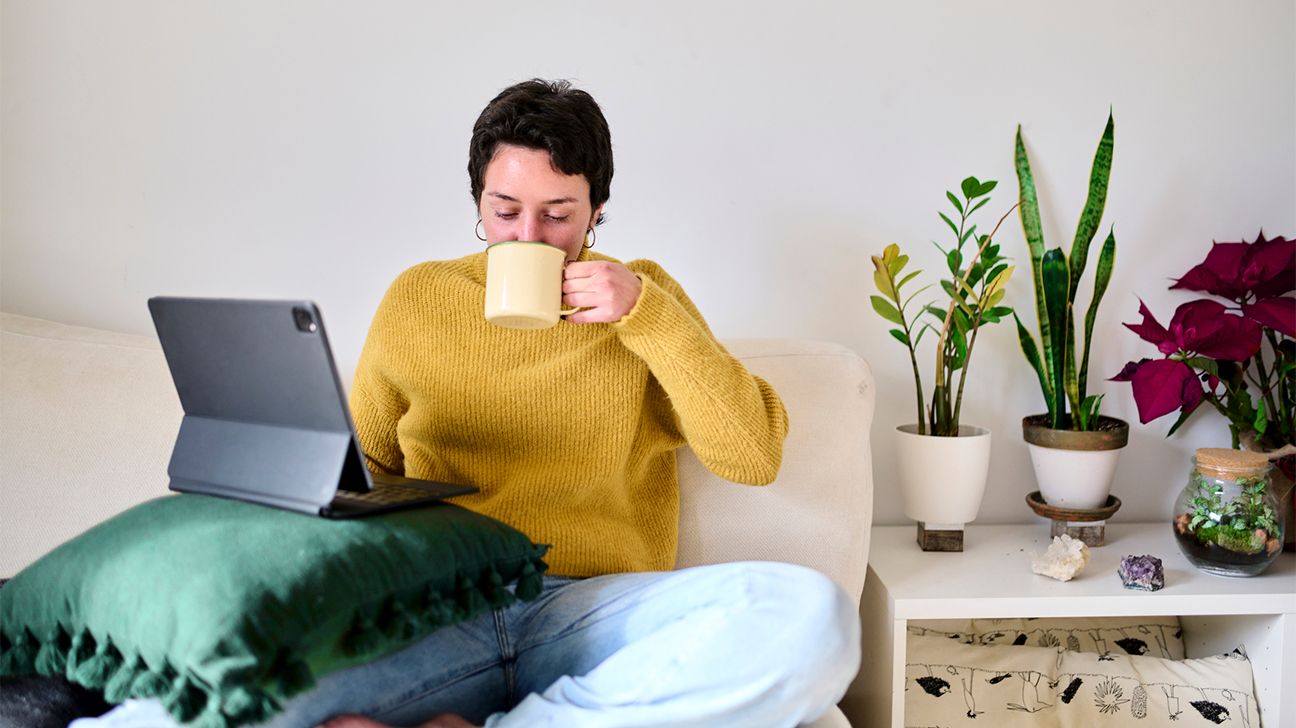 To make this cherry-licious cup of comfort, there's no need for a fancy blender with heat settings. Simply warm a bit of almond milk in the microwave, then blend with dark cherries, cacao, nut butter, and honey. For extra fiber, vitamin A, and vitamin K, you can even hide a full cup of kale behind its dark, chocolaty color!
Sip this one for a cozy breakfast or as a healthy dessert.
The jury is still out on exactly how elderflower affects health, but some research suggests it could be useful for treating respiratory issues like the flu, sinusitis, and bronchitis. Even if its health benefits are up for debate, you might just dig its mildly sweet taste — especially when paired with tangy apple and pomegranate.
This nutritious hot smoothie comes together with just four ingredients: jasmine tea, elderflower cordial, pomegranate arils, and a chopped apple. The addition of the pom nibs creates a finished product that's a festive hot pink — that's hot.
Coffee shop chai's got nothin' on this healthier, smoothie-fied version of the Indian-inspired classic. Rather than dump whole tablespoonfuls of sugar into your tea, this one sweetens the deal with a single, better-for-you medjool date. (Its low glycemic index of 55 won't spike your blood sugar as much as white sugar, and it even packs a bit of fiber!)
Meanwhile, this recipe calls for whole servings of fruits and veggies in the form of fresh spinach, apple, and pear. And as for making it actually taste like chai? Ginger root, cardamom, and cinnamon fill in the spicy details.
You'll never believe the secret ingredient that gives this warm smoothie its thicker bulk: riced cauliflower! Before you turn up your nose at the thought of sipping chocolate-covered veggies, give this one a chance. Peanut butter, chocolate protein powder, and raw cacao have enough flavor power to cover cauliflower's mild taste.
Top the whole thing off with cacao nibs and coarse sea salt for a sweet-and-salty finish.
That's right, you've got the go-ahead to eat pie for breakfast. Well, sort of. This warm smoothie serves up the tasty flavors of blueberry pie in a lower sugar, lower calorie package — and it even keeps the perfect pie temperature (as in, warm, not piping hot).
Instead of a scoop of vanilla ice cream on top, you'll get plenty of dairy creaminess from Greek yogurt. And instead of a lattice-top crust (which, let's face it, is a real pain in the you-know-what to make), this smoothie gets its sturdy, carb-y base from whole-grain oatmeal.
We're all too happy to continue the pie-for-breakfast theme with this hot apple pie protein shake. Almond milk, almond butter, protein powder, cinnamon, and a whole Granny Smith apple go for a ride in your blender before hitting the saucepan to warm up. An optional couple of teaspoons of Biscoff cookie spread make the smoothie extra pie-like.
Hot chocolate for breakfast? How very European! (And how very delicious.) This smoothie version of your favorite childhood drink starts with an oatmeal mixture you can easily make ahead. Then, when you're ready to drink hot choccy in the morning, add a splash of nut milk, blend for smoothness, and warm it in a saucepan. You're all set for a healthier, chocolate-fueled day.
Bonus: Since it's made with unsweetened almond milk and 1 tablespoon of maple syrup, this warm, chocolaty smoothie isn't cloyingly sweet like some packaged hot cocoa mixes.
When you're feeling down with a cold or flu, you might reach for a hot drink to soothe a scratchy throat — or you might try an antioxidant juice shot to boost your immune system. An orange, carrot, and ginger hot smoothie is the best-of-both-worlds mashup you never knew you needed.
Between the vitamin C from orange juice, the anti-inflammatory properties of ginger, and the cough suppressing powers of a tablespoon of honey, this soothing smoothie might help you rebound from respiratory illness. Or it could just be a zingy, nutrient-rich way to start your day.
With their mellow flavor and creamy texture, bananas are practically begging to be snuggled inside warm recipes — but for some reason always end up frozen in smoothies. (Can you blame them? Frozen 'nanners taste like ice cream.) Give bananas a heat treatment by adding them to this warming winter smoothie.
In just 5 minutes, with a blitz of hot water, bananas, walnuts, dates, and spices, you'll get a concoction that tastes just like a slice of banana bread fresh from the oven. And, unlike banana bread, this one's perfectly portable — no vacuuming up crumbs dropped on the seat of your car.
Everyone loves hot chocolate — but you can't usually count on it to provide much protein. That's not the case with this thick, protein-rich hot chocolate smoothie! Here, the addition of hemp protein powder takes the content of this muscle-building macro up to 6 grams (almost twice what you'd get from an egg). And since this hot smoothie uses coconut milk instead of cow's milk, even dairy-free peeps are free to get sippin'.
Another way this drink isn't your average hot chocolate: its unique orange flavor. The juice and zest from half an orange gives your taste buds the impression of chocolate-dipped fruit.
Leftover roasted butternut squash gets new life the next day in this savory, warm smoothie. Blend the tender, nutritious chunks with cashew milk, protein powder, spinach, pear, and spices for a vegan mini-meal. Made acorn squash or sweet potatoes last night? No worries. They can easily be substituted.
And don't expect this one to turn out orange! Because of the addition of a large handful of fresh spinach, this veggie-palooza ends up turning into gorgeous emerald green.
Most of the same ingredients you're used to tossing in cold smoothies do just as well in hot versions (except, of course, for ice). Fruits, veggies, nut butters, and all sorts of milks make a great starting point for tasty sips, paired with hot water, tea, coffee, or oatmeal for warmth. Try the recipes above for inspo, or DIY your very own winter weather blend.