We include products we think are useful for our readers. If you buy through links on this page, we may earn a small commission Here's our process.
Greatist only shows you brands and products that we stand behind.
Our team thoroughly researches and evaluates the recommendations we make on our site. To establish that the product manufacturers addressed safety and efficacy standards, we:
Evaluate ingredients and composition: Do they have the potential to cause harm?
Fact-check all health claims: Do they align with the current body of scientific evidence?
Assess the brand: Does it operate with integrity and adhere to industry best practices?
We do the research so you can find trusted products for your health and wellness.
Sneaking leafy greens into meals is nothing new. In fact, it's a pretty awesome way to get extra nutrients in your diet — cheesy kale chips, anyone? But sometimes adding greens to smoothies can taste like your mouth has collided with a grassy knoll.
Fortunately, green smoothie recipes have improved by leaps and bounds since stepping into the health limelight. And while you can buy a slurp-worthy spinach smoothie, making your own is so much better, and cheaper.
To get started, try one of these nine green smoothie recipes. Healthy, full of flavor, and ranging from simple to oh-so adventurous, they'll have you sneaking superfoods into every meal — and loving the way it tastes and makes you feel.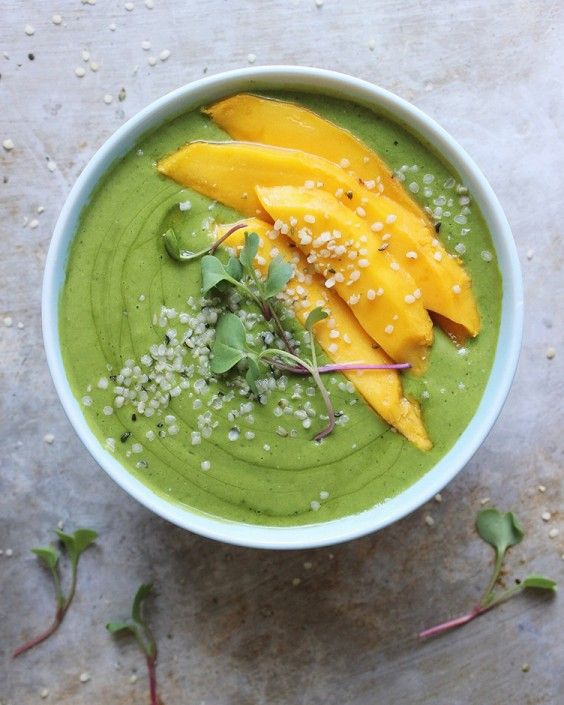 If oatmeal and cereal are your breakfasts of choice, try transitioning into the green smoothie world with a smoothie bowl. With kale, mango, microgreens or alfalfa sprouts, hemp seeds, and almond milk, it's hard to beat how healthy and tasty this wonder bowl is.
We also love adding fresh raspberries to the top for an extra antioxidant kick.
Ingredients
1 banana
1/2 cup diced mango
3 handfuls baby kale (or spinach)
2 tablespoons hemp seeds
1/2 cup unsweetened almond milk (or preferred milk)
1/8 teaspoon pink salt (or sea salt)
Handful of ice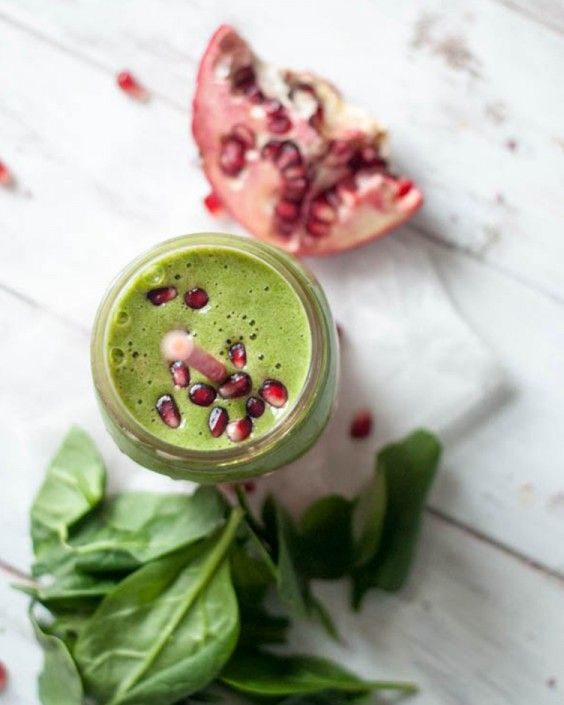 Double trouble is more like double the fun in this smoothie. The two layers combine to create an antioxidant-rich powerhouse meal, with superstar ingredients, such as coconut water, strawberries, spinach, and pomegranate.
The blogger uses banana for extra thickness, but we like using Greek yogurt (or avocado for nondairy folks) in its place for the strawberry layer to cut back on sugar — the berries are sweet enough.
Ingredients for pink layer
1 frozen banana
1 cup frozen strawberries (or fresh!)
1/2 cup coconut water (from a can of coconut milk, cream skimmed)
Ingredients for green layer
1 cup fresh spinach
1/2 frozen banana
1/4 cup pomegranate arils
1/4 cup coconut water (from a can of coconut milk, cream skimmed)
Who doesn't love just the right sweet and sour combo? Sweet orange and banana mixed with the zing of lemon is a favorite addition to many a fruit bowl, but these superfoods taste great in smoothies too.
Throw in the nutrition power of a cup of fresh spinach, and you have one of the more healthy and satisfying creations to start your day with.
Ingredients
1 cup fresh spinach
3/4 cup coconut water
1/2 lemon, peeled
1/2 banana
1 orange, peeled
1 serving Protein Smoothie Boost (optional)
And this whole time, we thought the snickerdoodle flavor was only meant for cookies. How silly of us. Made with avocado, cinnamon, spinach, banana, and almond milk, this smoothie is a great way to hold on to holiday flavors while getting back into healthy habits.
Pro tip: Use unsweetened vanilla almond milk for extra — and much appreciated — sweetness.
Ingredients
1 handful spinach
1 frozen banana
1/2 small avocado
1/4 cup unsweetened almond milk
1/2 teaspoon vanilla
1/4 teaspoon cinnamon
This name isn't kidding: This meal will seriously help you kick butt. Whether powering through a long day, a grueling workout, or even a day off, this smoothie will keep you energized and full for hours.
The ingredient list may seem intimidating, but it's well worth stocking up and freezing leftovers to enjoy later. Feel free to skip the algae oil, but we think it adds a nice touch — for people who care for the unique flavor, not to mention a huge boost in the brain-boosting omega-3 DHA.
Ingredients
1/2 cup (125 milliliters) fresh red grapefruit juice
1 cup (25 grams) de-stemmed dinosaur/lacinato kale or baby spinach
1 large sweet apple (200 grams), cored and roughly chopped
1 cup (130 grams) chopped cucumber
1 medium/large celery stalk (85 grams), chopped (about 3/4 cup)
3 tablespoons (30 grams) hemp hearts, or to taste
1/3 cup (55 grams) frozen mango
2 tablespoons (4 grams) packed fresh mint leaves
1 1/2 teaspoons (7.5 milliliters) virgin coconut oil (optional)
4 ice cubes, or as needed
With only five ingredients, and the addition of a few ice cubes, this recipe is a perfect option for busy mornings or a post-workout snack.
Made with fresh spinach leaves or kale, frozen mango chunks, banana, coconut milk, and a splash of orange juice, it's both refreshing and filling. Plus, all you have to do is blend, and it's good to chug.
Ingredients
1 cup fresh washed spinach leaves (or packed)
1 cup fresh or frozen mango cubes
1/2 medium banana
3/4 cup light canned coconut milk (can substitute with almond milk)
1/2 cup orange juice
1/2 cup ice cubes
Optional additions
1 tablespoon coconut butter (this adds a bit more coconut flavor, plus fiber and a little protein)
1 tablespoon ground flaxseeds (these add some more fiber, plus omega-3 fatty acids and a little protein)
Chopped mango or coconut, for topping
When we hear the word "leprechaun," the first thing that comes to mind is Lucky Charms, a childhood favorite and cereal sugar bomb. But here, the term refers to how green and healthy this smoothie is.
The blogger uses fun ingredients, such as fresh mint, avocado, pistachios, and protein powder, to create a green meal like no other. If it's too heavy as is, use half the recommended amounts of avocado and protein powder.
Ingredients
This blogger got it right when she said, "If you close your eyes, it tastes like a beautiful, tropical, sunny beach vacation." Though the recipe isn't quite magical enough to transport you to the tropics, it'll leave you feeling awake and full of life — just like a real vacation.
We also love that there are tons of options to change up the flavor, so feel free to play around with fruits and your milk of choice.
Ingredients
2 cups frozen spinach
1 cup frozen pineapple
1 cup frozen mango
1 medium banana
1 cup strawberries
1 cup milk
1 teaspoon vanilla extract
Sweetener of choice, to taste
We might've saved the best for last. Inspired by the flavors of one of our favorite sandwiches, this super-delicious smoothie is chock-full of greens, and you won't even miss the bread.
We know the name has peanut butter in it, but this drink tastes great with any nut butter addition. Our personal favorite: good ol' almond.
Ingredients
1 ripe banana
1 1/2 cups fresh spinach
1 cup frozen blueberries
1/4 cup yogurt (plain, vanilla, or blueberry)
Splash of milk
1/2 tablespoon creamy peanut butter
1 tablespoon chia seeds
Creating your own green smoothie, when done right and to your liking, can open up new fun, satisfying, and healthy ways to get your greens on a regular basis. You can experiment with flavors, make adjustments if the taste of the greens is too potent — or not potent enough — and manage the amount of sugar, protein, and anything else you'd like to monitor more closely.
Any of these recipes above can get you started toward finding some new favorites.