We include products we think are useful for our readers. If you buy through links on this page, we may earn a small commission. Here's our process.
Greatist only shows you brands and products that we stand behind.
Our team thoroughly researches and evaluates the recommendations we make on our site. To establish that the product manufacturers addressed safety and efficacy standards, we:
Evaluate ingredients and composition: Do they have the potential to cause harm?
Fact-check all health claims: Do they align with the current body of scientific evidence?
Assess the brand: Does it operate with integrity and adhere to industry best practices?
We do the research so you can find trusted products for your health and wellness.
"Well, the weather outside is frightful…"
We know, Dean Martin. But that makes many people feel like sh*t due to seasonal affective disorder (SAD), so maybe try not sounding so delighted about it.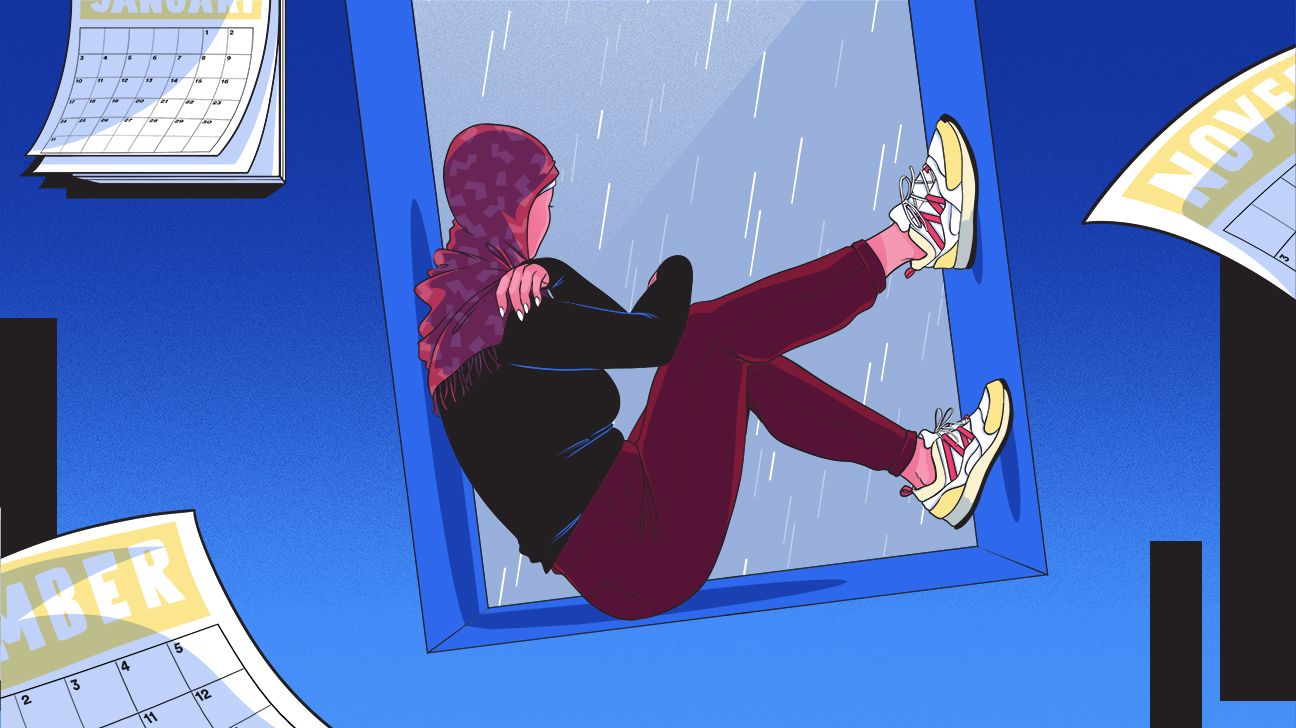 It doesn't take a psychiatrist to confirm that crappy weather affects your mood. If it's rainy, things can get a little gloomy, and if it's sunny, there's often an extra pep in your step.
But SAD, now known as major depressive disorder with seasonal pattern, is a real thing, according to the American Psychological Association (in the U.S., about 5 percent of people experience SAD for 40 percent of the year). And a person can take equally real steps to limit its harrowing effects.
If the winter doldrums bring depression year after year major depressive disorder with seasonal pattern could be to blame. We rounded up some ways to reduce the SAD and introduce some HAPPY to your winter season.
It's sometimes difficult to work out whether a bout of depression is a symptom of SAD or part of a less seasonal type of depression, so a doctor's visit is the first step on the road to treatment.
Symptoms can be similar to other forms of depression, so doctors often misdiagnose SAD. Fortunately, there are several ways to keep SAD as far in its frickin' box as it will stay.
1. Get some fresh air
Spending time outdoors helps ease symptoms. Try to get outside within 2 hours of waking up.
Some researchers have linked lower winter levels of vitamin D from sunlight to equally reduced levels of serotonin (or 'happy' chemicals).Melrose S. (2015). Seasonal affective disorder: An overview of assessment and treatment approaches. https://www.ncbi.nlm.nih.gov/pmc/articles/PMC4673349/
For this reason, whether it's cloudy or sunny, spending some time in the daylight can be a big help. Go play in the snow or dance in the rain — if only for that vitamin D.
If you can exercise outdoors, even better (although watch out for plunging temperatures).
2. Try light therapy
Doctors may prescribe light therapy to reduce SAD symptoms.Campbell PD, et al. (2017). Bright light therapy: Seasonal affective disorder and beyond. https://www.ncbi.nlm.nih.gov/pmc/articles/PMC6746555/
This works, in theory, by altering a person's circadian rhythms (the same internal clock in the body that affects when we feel sleepy) and, in turn, how many happy chemicals (aka serotonin) the brain absorbs.
But staring at the Rockefeller Center Christmas tree won't cut it, however much it helped MaCaulay Culkin in "Home Alone 2."
Treatment for this condition comes in the form of a therapeutic lamp that produces light — unsurprisingly called a light therapy lamp.
Light therapy lamps range in brightness and the type of light, so consult a physician before buying one. They're available for purchase online — just be sure to follow medical advice if you take this route.
3. Talk it out
If you feel sh*tty, sometimes, talking helps. It may not feel like it at first, but it can serve as a load off your mind — and doing so with professionals makes it easier to learn coping methods and strategies.
One such mode of talk therapy is cognitive behavioral therapy (CBT). This is a type of therapy that focuses on spotting and adjusting self-defeating or damaging thought processes. There's a specific type of CBT just for SAD (CBT-SAD) that can help people cope.
One study found that two 90-minute sessions of group CBT was just as effective as 30 minutes of exposure to light therapy as a SAD treatment.Rohan KJ, et al. (2015). Randomized trial of cognitive-behavioral therapy versus light therapy for seasonal affective disorder: acute outcomes. https://pubmed.ncbi.nlm.nih.gov/25859764/
A different study from 2016 found that CBT-SAD might even have a longer-lasting effect on keeping the SAD at bay.Rohan KJ, et al. (2016). Outcomes one and two winters following cognitive-behavioral therapy or light therapy for seasonal affective disorder. https://pubmed.ncbi.nlm.nih.gov/26539881/
4. Consider antidepressants
Many people try to avoid going the medication route — it can be expensive and hard to wean off. Plus, antidepressants carry with them some pretty harsh side effects.
However, they can help a person who experiences severe SAD to control their mood and energy. And that might be just enough to get you through the difficult winter months.
Options for SAD medications include:
fluoxetine
citalopram
sertraline
paroxetine
escitalopram
A psychiatrist or psychiatric nurse practitioner can help decide if your symptoms would do better with medication. Remember, though, there are other options for managing SAD if you don't get on with antidepressants.
5. Reduce your stress levels
SAD can create stress around getting things done on a day-to-day basis. Therefore, it's best to make a concerted effort to chill the f*ck out.
The author of one study recommends:Melrose S. (2015). Seasonal affective disorder: An overview of assessment and treatment approaches. https://www.ncbi.nlm.nih.gov/pmc/articles/PMC4673349/
mindfulness
yoga
walking
exercise
To be honest, whatever relaxes you and makes you feel good is welcome during SAD. But these are all healthy methods for chilling as opposed to drinking a whole bunch of alcohol of comfort eating your way through a whole bag of Swedish Fish.
So put Netflix on pause (yes, even the low-standard Christmas fare which is a sugary mood boost in gaudy tinseled packaging) and consider going for a jog instead. Netflix will be there when you get back.
6. Eat carbs
The person who first publicly described SAD as a condition recommends a diet providing loads of proteins, veggies, unprocessed food, and complex carbs.Rosenthal N. (n.d.). What is seasonal affective disorder? Answers from the doctor who first described the condition. https://www.normanrosenthal.com/about/research/seasonal-affective-disorder/
Complex carbs, such as those lurking in beans and grains, can help maintain levels of serotonin.
However, a different study found that while a person's eating patterns are likely to alter during presentations of SAD, the available evidence isn't really enough to suggest dietary intervention as a useful way to manage SAD.Yang Y, et al. (2020). The role of diet, eating behavior, and nutrition intervention in seasonal affective disorder: A systematic review. https://www.ncbi.nlm.nih.gov/pmc/articles/PMC7438823/
With this being said, some foods are great for countering depression — learn more here.
If you get so low that you're thinking of hurting yourself or others, there are plenty of resources to help you get through it and access the help you need — these are just a few:
The National Alliance on Mental Illness: This is a helpline for discussing depression, anxiety, or any mental health issues, which is open 24/7: 1-800-950-6264
National Suicide Prevention Lifeline: This is a network of more than 150 local crisis centers nationwide. They offer free and confidential emotional support to people in crisis: 1-800-273-8255
IMAlive: This is a virtual crisis center. Their volunteers are trained to intervene in crises if a person is at risk of suicide.
You can see it coming — so surely you can stop it, right? Well, as with most things mental-health-related, it's not quite so easy as that.
Research is thin on the ground to confirm the use of starting light therapy or CBT-SAD early as an effective way to prevent SAD before you feel the worst of it.
However, one study pointed at the antidepressant bupropion XL as an effective SAD prevention measure — but one that's not without its side effects, including headaches and nausea.Gartlehner G, et al. (2019). Second‐generation antidepressants for preventing seasonal affective disorder in adults. https://www.ncbi.nlm.nih.gov/pmc/articles/PMC6422318/
So can you prevent it? Technically, yes, but not without risks.
SAD is a form of depression that typically develops during the winter months with symptoms weaning off during the spring and summer.
However, it's not just cold weather — some people experience their most intense symptoms during the summer in a type known as summer-pattern SAD.
Symptoms of SAD include:
decreased concentration
increased appetite
weight gain (whereas some other forms of depression can lead to weight loss)
social withdrawal
low mood
fatigue
Though some people write it off as simple moodiness, SAD is a real form of depression that's dependent on several factors, including:
a person's hormonal state
seasonal characteristics like temperature
exposure to natural light (which can influence the body's production of melatonin)
Research has found it's more prevalent in regions that have more intense and longer winters.
Learn more about SAD here.
Though cold weather is likely to have a lot of us wishing for spring, it's important not to cast SAD off as an inevitable winter side effect. It's a real offshoot of depression and can suck.
Taking action when symptoms hit could make the difference between a lonesome stretch and a happy winter season.
It's especially important to aim for positivity this year, with the advent of COVID. Look after yourself.