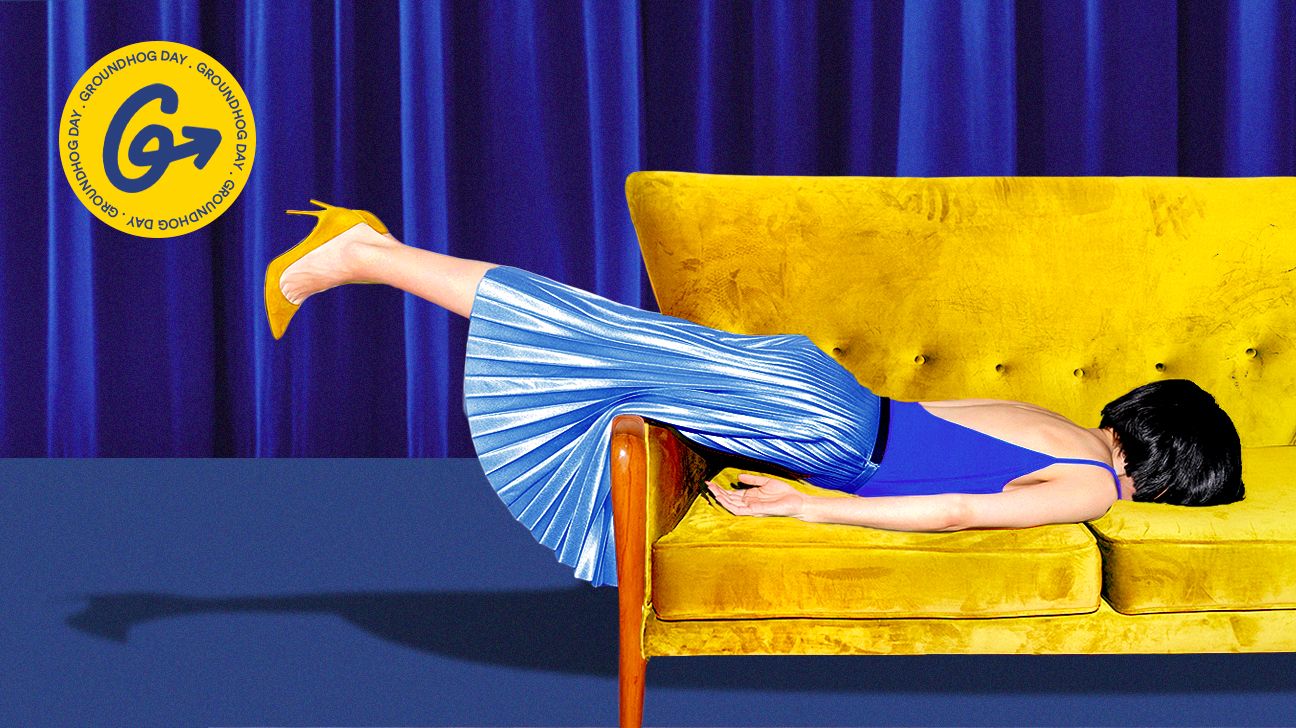 Next to panic, anxiety, and loneliness, boredom might sound fairly innocuous right now. But here's the thing: Depression can often show up as boredom.
When I was in the worst patches with my mental health, I would've described myself as "bored" — bored with my degree, bored with my hobbies, bored with my work. What I was actually experiencing was the joy being sucked out of everything I usually loved. (Depression be doing that sometimes.)
Even if it weren't for depression, boredom can still be bad for your mental health. Monotony and a lack of stimulation can make you feel lethargic, useless, and miserable. Boredom can change its mask to show up as irritation or even anger, which can be hard to manage while you're stuck in the house.
To keep boredom at bay, two things have helped me: productivity and variety. Feeling like I'm working toward a goal gives me a sense of direction, and changing my daily routine helps me distinguish one day from the next.
Since boredom often leads to lethargy and makes you feel unmotivated, most of these suggestions require very little energy. But feel free to get more ambitious and adventurous with your routine.
1. Have breakfast in a different place every morning
To prevent every day from feeling the same, you should try to prevent every morning from feeling the same. As someone who's worked from home for about 4 years, I strongly believe that the simple act of changing your environment can totally change your mood.
It's easy to sit at your desk for every meal, but simply sitting in another room can break the monotony of routine. If you're lucky enough to have a balcony or garden, eat out there. If not, have breakfast in bed one day, move to the couch another day, and sit at your table or desk the following day.
2. Try to get some exercise in
Starting your day with a little exercise can combat that "ugh" feeling and rid your body of that mounting tension. A full-on workout is great, but if you're not up for it, a dance sesh or some jumping jacks will suffice.
Struggling to get motivated? Remember: Unless you injure yourself or push too hard, it's unlikely you'll feel worse after exercise.
3. Spruce up your morning shower
We live in a time when many of us are fixating on hygiene — but just because showering is an essential chore doesn't mean it can't be uplifting too. When I'm in a bad mood, I find that using a different shower gel lifts my spirits.
This is my go-to low-energy method for clearing my mind, since the change in scent or texture helps me combat brain fog. I recommend refreshing scents like citrus, eucalyptus, or peppermint, all of which make me feel energized and focused. Now's the time to dig out those fancy soaps you got for your birthday!
4. Blast some music while you get your evening chores done
Upbeat music can shake you out of a bad mood, and a great playlist can turn the monotony of cleaning up into something a little more exciting. It's hard to hate washing the dishes when you're belting out cheesy karaoke tunes.
For bonus points, try music that evokes special, positive memories for you. I've been reliving my angsty emo years by playing an 00s pop-punk playlist.
5. Do something creative
Netflix is great, but if you're tired of staring at a screen every evening, try a different wind-down activity. A repetitive craft like knitting or coloring can help you zone out and decompress, while painting or sketching can be a great way to express yourself.
Remember that whatever you create doesn't have to be beautiful or perfect — it's all about having fun.
6. Eat something fantastic
Takeout and food deliveries are currently banned in my country — and, as a foodie, I miss restaurants a lot. On the bright side, this has given me the opportunity to try some new recipes. Food, I find, adds variety to my life and can give me something to look forward to at the end of the day.
If you don't have the energy or will to make a "MasterChef"-level meal, that's fine! Just make something tasty, whether that's a divine, creamy soup or your childhood favorite of baked beans on toast.
7. Journal
You've probably heard that practicing gratitude is great for your mental health — and yup, some research seems to back that up. Journaling is a great way to do that.
You don't have to write a full-on diary entry. Just write down three good things that happened each day. This not only helps you appreciate joyful moments but also helps you distinguish one day's events from the next day's, so you avoid feeling like every day is the same.
Try a bigger-picture project
This doesn't have to be as big as writing a book or launching a new business. Do you have a list of things you need to fix around the house? A list of movies you've always wanted to watch? A book you've been meaning to get stuck into? A recipe you've wanted to try?
It's a good idea to work toward some goal, no matter how small it is. You can work toward it incrementally — for example, if you're getting through a list of movies to watch, you can prolong the fun by watching one at a time rather than binge-watching several.
These activities can be pleasurable, and you'll feel a sense of accomplishment once you've finished the whole list.
Throw a virtual party
Social connections can be incredibly important in this time, especially if you're feeling lonely. A regular video call is great, but they can get a bit monotonous a few weeks into isolation.
To mix it up a little, try to throw a virtual party — or a virtual date, if that's your thing. But keep it super creative. Host a Powerpoint Party. Play charades via Zoom. Organize a virtual book club. Have a Skype-based supper club where you create interesting dishes and show them off to your friends while catching up.
Casual chatting can be fun, but something a little more structured and unique might be what you need to stop the boredom from setting in.
Sian Ferguson is a freelance health and cannabis writer based in Cape Town, South Africa. She's passionate about empowering readers to take care of their mental and physical health through science-based, empathetically delivered information.