We include products we think are useful for our readers. If you buy through links on this page, we may earn a small commission Here's our process.
Greatist only shows you brands and products that we stand behind.
Our team thoroughly researches and evaluates the recommendations we make on our site. To establish that the product manufacturers addressed safety and efficacy standards, we:
Evaluate ingredients and composition: Do they have the potential to cause harm?
Fact-check all health claims: Do they align with the current body of scientific evidence?
Assess the brand: Does it operate with integrity and adhere to industry best practices?
We do the research so you can find trusted products for your health and wellness.
Curls and coils can look extremely similar at first glance. But the way they behave on your head and how they respond to different hair care methods are where they differ.
Many of us can't help but be fascinated by an argument between family members who are so close, so similar, but yet so different. And when it comes to hair — curly vs. coily hair to be exact — you may get similar vibes.
You might think that curly and coily hair are the same. After all, they're basically in the same family of hair types, aren't they? Curls will be curls!
Wellll, you might be surprised at just how much difference there actually is, right down to the cellular level!
So, let's zoom in on curls and coils, help you identify which type is living on your noggin, and see what you can do to treat your hair right.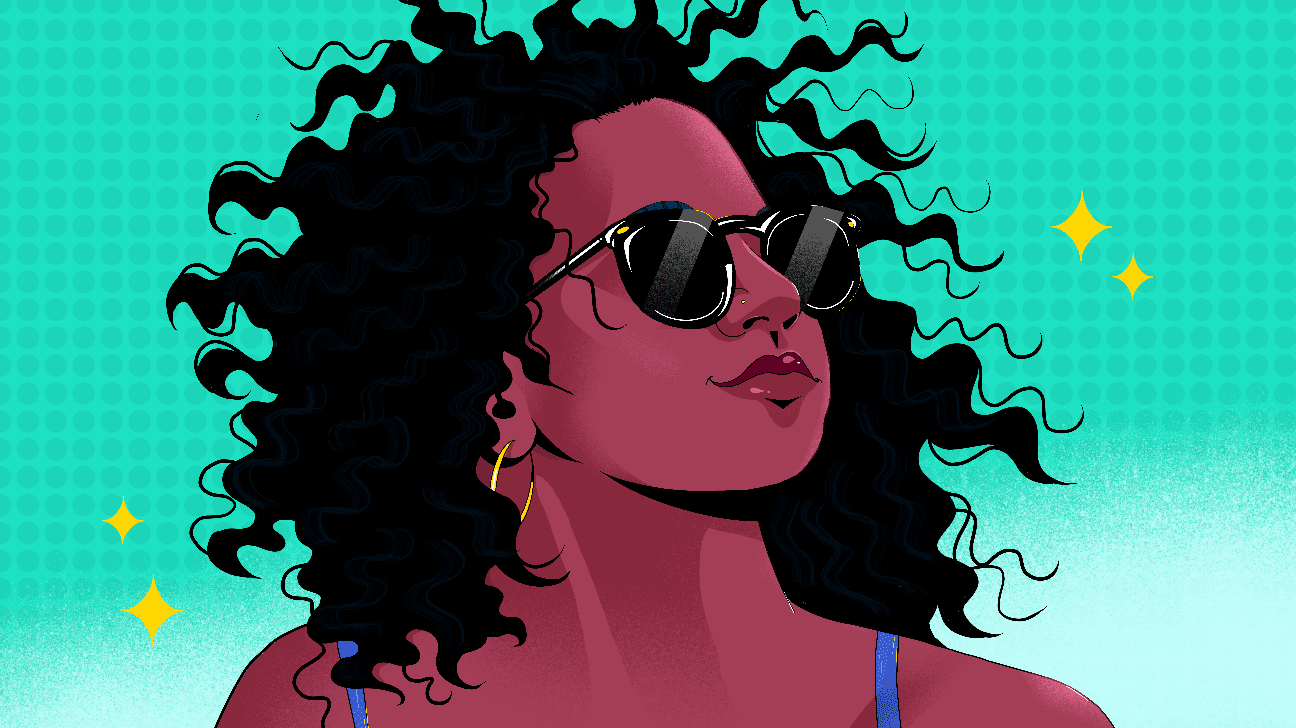 OK, so we know that there are a lot of different natural hair types, but did you know that there's a whole classification system for your hair?
That's right! This is where science and beauty go hand-in-hand. Each type of hair texture requires different care — if you have coily hair, your needs are going to be quite different from someone with mild waves.
Y'know what would be handy? A table with all the hair textures, allowing you to see yours (and what you need to pay attention to most) at a simple glance!
A note on sub-categories, such as 3A, 3B, and 3C: This is the tightness of the curl or coil, with A being the most relaxed, and C being the tightest.
| Hair texture | Description | Look out for… | Celeb with this type |
| --- | --- | --- | --- |
| 1 | super-straight hair | can get hella oily | Gwyneth Paltrow |
| 2A–2C | wavy hair, often S-shaped (generally straight-looking at the top, then falling down in a tousled look) | can get frizzy (Some hair products are too heavy, and make wavy hair look lifeless.) | Salma Hayek |
| 3A–3C | curly hair (can be anything from loose loops to corkscrew curls) | can get frizzy or dry or both simultaneously | Jordin Sparks, Sarah Jessica Parker |
| 4A–4C | coily hair (small, tight curls, or zigzag-shaped hairs) | dryness and brittleness, prone to shrinkage | Lupita Nyong'o |
If you fall into the 3A to 3C category and were born with naturally curly hair — congrats, you're the envy of everyone who ever bought a curling iron! But you're also savvy enough to know that curls can be both a beauty blessing and a management curse because your locks need special care to keep them looking good.
Curls can form as anything from big, relaxed loop-de-loops to corkscrews, which look like an old-school telephone cord.
They can absolutely be your crowning glory if you treat them right, and your first step in the process is washing them regularly. Yup, we know — some people believe that curls should be washed less. But let's think about that. Are you going to have light, bouncing curls if they're weighed down by product buildup and natural grime?
Washing tips
Keep that hair clean and use a conditioner instead of shampoo. You can use shampoo as little as once a week, as long as it's a shampoo that's specifically made for curly locks.
Your shampoo should be 100 percent sulfate-free (check the label!), as sulfates can strip the natural goodness from your hair and leave it dry and frizzy. You're also best served by not rubbing it into your hair too vigorously, as that can also cause frizz.
Styling tips
When it comes to styling, curl fans swear that the best method is to wet the hair, then coat your locks with regular conditioner, and leave it in there. The water should evaporate, but the conditioner will stay locked into the hairs themselves, leaving you with bouncy, nongreasy curls!
You hit the hair jackpot when you were born with naturally coily hair! Although this hair texture comes with some challenges, it's absolutely perfect for some of the hottest, most stylish looks out there. Treat your coils right and you'll be turning heads wherever you go, wowing the crowds with your flawless crown.
Coils are generally very tight curls that look like small springs or can be zigzag or Z-shaped. Because of this structure, you'll never need products that give you more volume.
Coily hair is wonderful at standing proudly by itself, springing away from your scalp. But this comes at a cost (there's always a catch, right?). Coily hair can be super-prone to breakage, meaning that straightening can be particularly harsh on your locks, as well as shrinkage.
Washing tips
You only need a wash day every 1 to 2 weeks, and you can use the same method we mentioned for curly hair — get a leave-in conditioner, and let it work its magic. And again, step away from the sulfate shampoos, because they're definitely not your friend!
Styling tips
Treat your coils right by giving them good, deep moisturization. You want to prevent them from drying out, so products such as shea butter, argan oil, almond oil, and even olive oil are your best friends. You can use hair masks or deep condition your hair, and sleep on a silk pillow (or wear a silk scarf) to keep those locks looking at their best.
Although there are definitely some aspects of hair care that ring true for both types — for example, both curly and coily hair desperately crave moisture, due to their risk of dryness — there are certainly differences in how to get the best out of your locks!
The main difference is in the weight of the product you're using. Coily hair loves heavy products with an oil base, such as argan or olive oil — all that voluminous hair just takes the oil in, making it look defined and incredible. If your hair is more on the curly side, you'll want to avoid heavy oils like the plague, as they'll make your poor tresses limp and weighed down.
If you've got curls, you'll want to go for lightweight products instead. Coconut oil, or other water-based products will do a fantastic job of giving you that definition without bogging your curls down, blessing you with that coveted "bouncy" look.
But like all sibling rivalries, there's only one question on everyone's lips. Curly hair vs. coily hair: which is better?
Curly hair and coily hair have their similarities and their differences, their pros, and cons, but it's important to remember that just like those squabbling siblings, neither one is better than the other.
Both require work to look their best, but both hair textures can reward you with fabulous styles and looks that'll have noncurly types sighing with envy, and reaching for the curling irons.
Don't aim for one type or the other, and simply love the hair you have. Because if you put just a little bit of love back into your hair, you'll be rewarded big time!
So, how exactly do you go about giving your curly or coily hair some love? What products do you need to ensure your follicles stay on fleek?
Here are our recs for the best products to use on these particular hair types.
$ = under $10
$$ = $11–$25
$$$ = over $25
Best for curly hair
Best for coily hair
What to avoid when looking for hair products
Sulfates. Check to make sure they're not lurking in your shampoo.
Silicones. Often ending in 'cone, 'xane, and 'onol, these will dry your hair all the way out.
Waxes. They stop much-needed moisture from getting into your hair.
Curly and coily hair are definitely related but don't think of them as squabbling siblings. Instead, these are the cool, nonidentical twins you totally envied at school. They're similar to each other, as close as can be, but they're different and unique, with different factors that make them equally wonderful.
Both hair types come with a few challenges when it comes to care and getting them to look at their finest, but show your locks the right kind of love, and you'll be rewarded with some amazing hair days.
Keep those coils and curls hydrated and free of sulfates, and you'll be ready to wow the world!