We include products we think are useful for our readers. If you buy through links on this page, we may earn a small commission Here's our process.
Greatist only shows you brands and products that we stand behind.
Our team thoroughly researches and evaluates the recommendations we make on our site. To establish that the product manufacturers addressed safety and efficacy standards, we:
Evaluate ingredients and composition: Do they have the potential to cause harm?
Fact-check all health claims: Do they align with the current body of scientific evidence?
Assess the brand: Does it operate with integrity and adhere to industry best practices?
We do the research so you can find trusted products for your health and wellness.
Congratulations! You have the honor of taking care of Black hair! Whether you're caring for a Black child with hair different from your own, are transitioning to go natural yourself, or are simply looking to educate yourself, you've come to the right place.
This is a guide on the basics of natural Black hair, where we'll touch on historical context and myth-dispelling, break down some key points in a hair care routine, and hear some expert advice.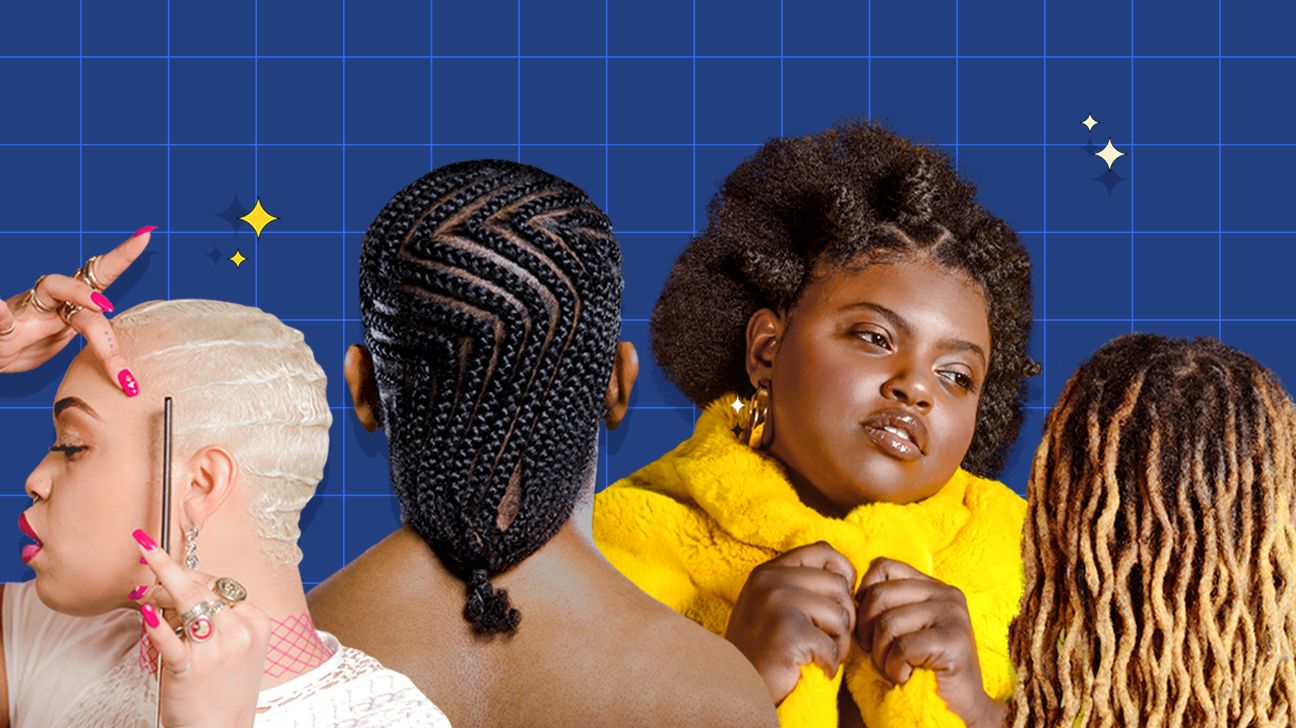 Before you start to prep your strands, I think it's important to begin with prepping your mind. Anyone who has Black hair or comes in contact with Black hair should understand its particular challenges — not only when it comes to care but also when it comes to history.
From the time the ancestors of Black Americans were first brought to this country, the erasure of their history has included their hair. Slave traders punished Black people by shaving their heads, free Black women were required to cover their hair, and even today, many Black adults and children are penalized for wearing their natural hair at work or school.
The culture has conditioned Black people to believe that it's not safe to present as our natural selves in many settings, so it can be scary to really love ourselves. Combating this calls for education and celebrating differences.
It's really important to know the actual differences between Black and non-Black hair, and how they have different needs. For a clearer picture, we spoke with Abolore Adekoya — a trichologist (basically a healthy hair and scalp expert), Board Certified Registered Nurse, and owner of The Trichology Nurse Suite in Chesapeake, Virginia.
She explains, "Black hair or textured hair has different needs than other hair [types] because it can often lack moisture, which causes the hair to break or become brittle. Due to the texture and coiling of our hair, the natural sebum we produce on our scalps doesn't fully reach down to the ends of our hair strands as it does with straighter hair textures.
"This natural oil is meant to coat and protect the hair, but becomes trapped in between the ridges of the hair and does not move down the hair strands. So in essence we need to make sure our hair is properly moisturized to prevent breakage."
As you may have gathered, Black hair has just about the opposite needs of many other types of hair. Where many non-Black people bemoan greasy hair, wash their hair often, condition it sparingly, and pile on the dry shampoo, Black people turn to the oils and leave-in conditioners. That is to say, both our routines and our products tend to be different for good reason.
Advice for parents
If you're a parent who is not Black but your child is, you may have experienced some frustration when you tried to use your own hair care products on your child with no success. That's normal. But how you respond matters.
As with every other aspect of parenting, be mindful of the way you speak about your child's hair. Don't ignore the differences, because A: Kids are smart. B: Plenty of others will be pointing out their differences throughout their lives. You should instead acknowledge the differences, find the positives in every one, and celebrate them.
For example, Black people, and others with similar natural hair texture experience shrinkage — the change in hair length when it goes from wet to dry. This is a thing that's very different from what happens to straighter, thinner hair. Typically, the more tightly coiled the hair, the greater the potential for shrinkage.
Many Black people (particularly women) struggle with the way shrinkage affects styling or the general perception of hair length. But the positive approach could be to recognize the magical versatility. It's awesome to have hair that's whatever length you want it to be — shoulder-length today and a 2-inch long afro tomorrow without ever touching a pair of scissors.
Find the magic in the differences between your and your child's hair, and learn to love it together.
Tips for transitioners
If you're a Black person who's venturing into natural hair care for the first time, congrats and get ready! For many of us, transitioning to natural hair can bring to the surface anxieties and biases we may not have known we had.
A big part of this process should involve giving yourself grace, treating yourself gently, and managing your self-talk as you work not only toward healthy hair but toward self-acceptance.
Be sure to seek out realistic hair inspiration
Texture bias is a real thing, and social media algorithms will often favor curls over coils. If you're not clear right now on what your exact natural hair texture is, you may wish to hold off on inspo pics until you've completed your transition to avoid any unnecessary hair envy.
And if you already know what you're working with, seek out as many naturalistas online and in person with hair similar to yours. One of the keys to beauty (and health) is familiarity — and the more familiar you become with your hair type, the better you'll care for it.
Now it's time to play with your hair! But before you step in the shower, here's a couple of tips that might make your life easier.
Before you wash
Remember what Adekoya said about brittle hair leading to broken hair? You can sidestep that risk completely by always detangling the hair when it's wet. The moisture will plump and elongate the hair, loosening up any tangles. Be sure to use a wide-toothed comb to do this, and if you prefer to detangle in the shower get a shower comb.
Finally, pretreat your hair if necessary. Many naturals will "pre-poo" (shampoo, not the other thing) to give the hair a little extra love before going with a potentially stripping shampoo. I like to apply a conditioner, use it to detangle, and put my hair into large twists before shampooing. That way I can minimize shower time, have the assistance of the conditioner in my detangling, boost my hair's moisture before shampooing, and keep my hair from re-tangling in the shower (as it is prone to do).
Essentially, take a moment to assess the needs of your hair and scalp before washing it.
Washing
Adekoya notes that although Black people's hair doesn't get oil buildup the way other hair types do, this step is still key.
"The most important part of a healthy hair care routine is taking it back to the basics and making sure your scalp and hair is clean," Adekoya says. "Product buildup is a big problem for [Black] people when we are styling our hair. We use lots of gels, sprays, pomades, etc. and sometimes we don't properly cleanse to remove all that product. The simplest thing you can do is have good professional products to cleanse your hair while at home if you are not visiting a stylist often."
Black hair shampoo and conditioner recommendations
Everyone's hair needs are going to be different, but a good rule of thumb is to take a moisture-centric approach to products. The African Black Soap Reviving Shampoo from Melanin Haircare is a great option. It's sulfate-free, so the cleanse is gentle but effective, and the applicator tip helps to focus the product directly where it needs to go.
Follow that up with Maui Moisture's Heal & Hydrate + Shea Butter Conditioner. The first ingredient in this conditioner is aloe juice, guaranteed to fight off any dryness.
Styling
Hair styling choices can vary wildly from person to person, but generally, a good rule of thumb is, "put it away, keep it happy."
Dry air and overmanipulation can cause damage to delicate strands, so leaning on protective styles like braids and twists is a hair health staple. When it comes to styling for healthy hair, Adekoya adds, "A lot of new naturals want to do a "wash n' go" style. (A style that focuses on using products to bring out curls without any twisting, braiding, or other manipulation.)
"Depending on your texture or curl pattern, this style is not always ideal. For instance I have type 4C hair, which is considered the tightest curl pattern. Wash n' go styles are a BIG no for me because my hair tends to tangle easily, and I get little knots at the ends, which we call 'fairy knots' or single-strand knots.
"Many 4C curlies have this issue, so we may opt out of Wash N' Go styles. High Puffs can also be damaging to the hairlines or edges, as many people stretch the side of their hair to fit into a tight puff or high bun. This can lead to traction alopecia (a type of hair loss)."
However you choose to style your hair, try to keep in mind a balance between protection and overmanipulation.
Put it away and keep it happy works for nighttime too! Adekoya notes, "One of the best tips for healthy hair is sleeping in satin bonnets or caps."
Taking the time to gently re-moisturize (without compromising your style), wrapping your hair up will best prep it for the next day. And securing it with a silk or satin scarf or bonnet not only keeps your hair healthy but also makes your mornings easier.
Wrapping our hair at night is something just about all Black people have been encouraged to do, natural or not. I used to fight against it, as messing around with my hair was the last thing I wanted to do when I was exhausted at night. But more recently in my natural hair journey, I've come to embrace those quiet moments in the evening. They just about sum up the whole journey for me. I'm caring for myself, caring for my hair, and prepping for a little magic in the morning.
Black hair really is magical. Its versatility and textures open a host of possibilities to explore and get to know yourself better.
As you begin your own journey with Black hair, whatever it looks like, try to get to the root of your feelings about it — whether they're uncertain, complicated, or hostile. Understanding your emotions around Black hair can help you to approach it with honesty and make caring for it easier.
Catherine Adams (she/her) is a Black writer, cat-lover, and beauty connoisseur. You can find her at www.lightweightlux.com or shoveling snow from her driveway in Chicago.