So, you've decided to hop on the indoor cycling bandwagoncycle. We commend your decision! Indoor cycling is fun AF, especially since Peloton came along and changed the game. Not to mention, it provides a super intense cardio workout that's easier on your knees than running.
Now comes your next big decision: which bike to get. Two of the most popular models are the Peloton Bike (the OG) and the Stryde Bike (the newcomer).
So, who you rollin' with? We're here to help you decide.
Here's how the Peloton and the Stryde stack up against each other.
| | | |
| --- | --- | --- |
| | Stryde | Peloton |
| Built-in screen? | Yes | Yes |
| Resistance levels | 100 | 100 |
| App required? | No | Yes |
| Class offerings | On-demand cycling classes | Live and on-demand classes, including cycling, cardio, strength, flexibility, meditation, and more |
| Price | $1,745 plus membership $29.99/mo | $1,895 plus membership $39.99/mo |
| Max user weight | 350 lbs. (159 kg) | 297 lbs. (135 kg) |
| Cycling shoes required? | No | Yes |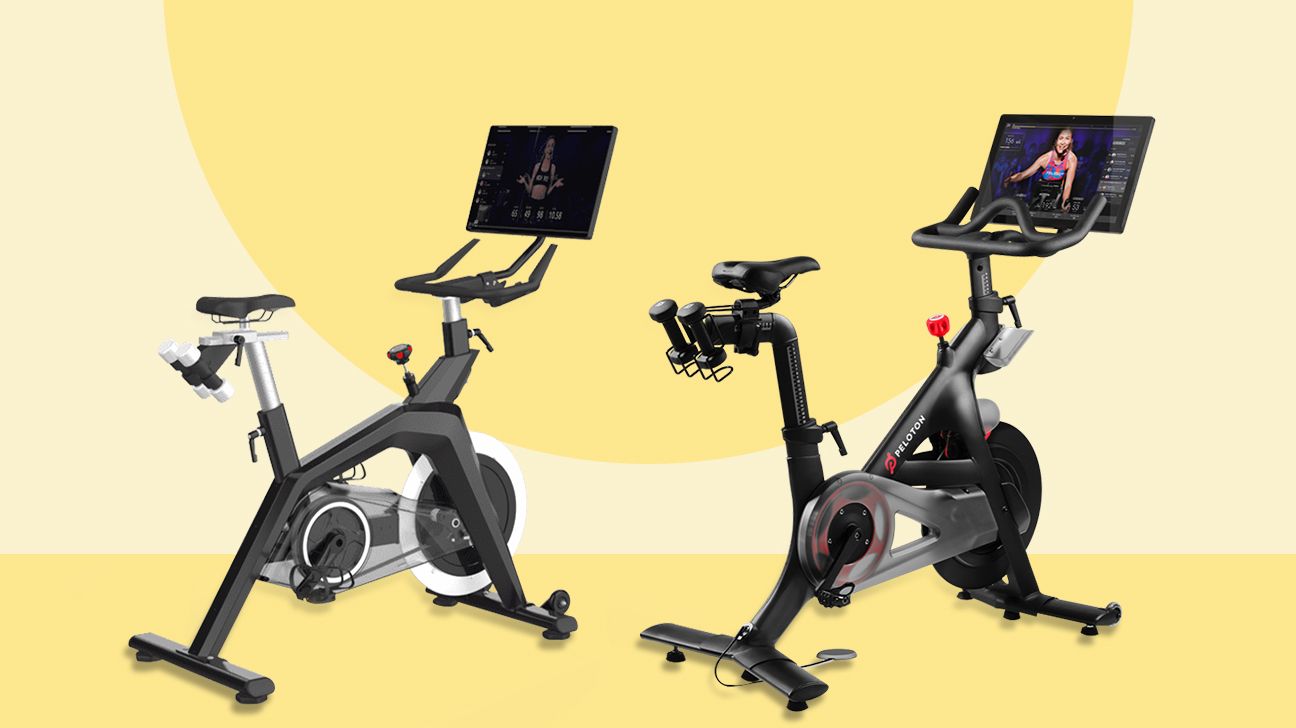 Stryde is one of the newer bikes in town, hitting its *stride* in 2020 just as the pandemic sent everyone home. No better timing for a home fitness equipment debut, TBH.
Stryde's stationary bike closely competes with high-end brands like Peloton, NordicTrack, and Echelon.
Overview
The Stryde bike is an indoor cycling bike that comes equipped with a 22-inch touchscreen, 100 levels of resistance, Bluetooth connectivity, and built-in speakers.
Stryde offers on-demand classes through its app, but unlike similar bikes, the subscription is optional. Even if you don't subscribe, the bike and screen still have full functionality, and you can even use other fitness or streaming apps with it no prob.
Stryde also partners with some of the top cycling studios across the country to share their signature classes. There are over 500 spin workouts in the Stryde library — so you ain't gonna get bored.
The bike is also available at a slightly lower price point than other similarly tricked out bikes. It costs $1,745, but goes on sale regularly, and you can finance it for as little as $50 a month. The optional membership costs $29.99 per month. Delivery is free!
Specs, warranty, etc.
Now, for the facts and figures:
Weight: 135 lbs. (61 kg)
Space needed: 4 feet (122 cm) x 2 feet (61 cm)
Pedals: SPD with toe cages (so you can use cycling shoes or sneaks)
Max user weight: 350 lbs. (159 kg)
Prior to shipping, you can request a full refund and cancel your order if you get cold feet. After it arrives, you have 30 days to return it for a refund, but you'll need to pay a $200 restocking fee.
The warranty covers the touchscreen, bike parts, and labor for 12 months, and the frame for 5 years.
less expensive than comparable bikes
app not required for full device functionality
unique approach to classes
free delivery
cycling shoes not required
app only offers on-demand spin classes at the moment
no full refund option after the bike has been delivered
Does it really need an introduction? The Peloton is a pop culture phenomenon that's ushered in a new era of home fitness — one that's sleek, cool, and modern. It's the definition of high-end, and the experience that most people are envisioning when they decide to invest in an indoor cycle.
Overview
The original Peloton bike (not to be confused with the more expensive and feature-packed Peloton Bike+) features a height adjustable 22-inch touchscreen display, built-in sound system, USB microport, Bluetooth connectivity, and a front-facing camera and microphone. It's fully decked out for streaming fitness and connecting with friends.
The Peloton works best with the Peloton All-Access Membership, which is required with your initial purchase. In fact, without the Peloton membership, you can't really access all of the features or track metrics. The good news: The Peloton app is killer. Not only does it feature live and on-demand cycling classes, it's got strength, yoga, running, stretching, meditation, Barre, Pilates, and more.
In fact, lots of people will buy access to the Peloton app ($12.99 per month) to use with other equipment — for example, the Stryde bike.
The Peloton Bike costs $1,895, and the Peloton All-Access Membership (for Peloton owners) costs $39.99 a month. Financing is available starting at $49 per month, and delivery and assembly are included in the purchase price.
Specs, warranty, etc.
Here's the nitty gritty on the Peloton Bike:
Weight: 135 lbs. (61 kg)
Space needed: 4 feet (122 cm) x 2 feet (61 cm)
Pedals: SPD (cycling shoes required)
Max user weight: 297 lbs. (135 kg)
Peloton offers a 30-day home trial. If you decide it's not for you during this period, you can have it picked up for free and get a full refund — no question.
The warranty covers the touchscreen, bike components, pedals, and labor for 12 months, and the frame for 5 years.
name recognition
extra features like front-facing camera and microphone
Tons of live and on-demand classes with Peloton All-Access
delivery AND assembly included in purchase price
30-day home trial with free returns and full refund during this period
more expensive than comparable bikes
requires Peloton All-Access for full functionality
cycling shoes required
So, which one is the perfect fit for you? It all depends on what you're looking for. The Stryde and the Peloton both have their pros and cons. If you want to go with a trusted brand and can spend a little more to do so, go with Peloton. If you want total control over your machine without being tied down to a monthly subscription, Stryde is the clear choice.
Can't decide, or want to spend as little as possible for a high-end home indoor cycling experience? Buy a Stryde Bike ($1,745) and use it with the Peloton app ($12.99/month). Harmonious!