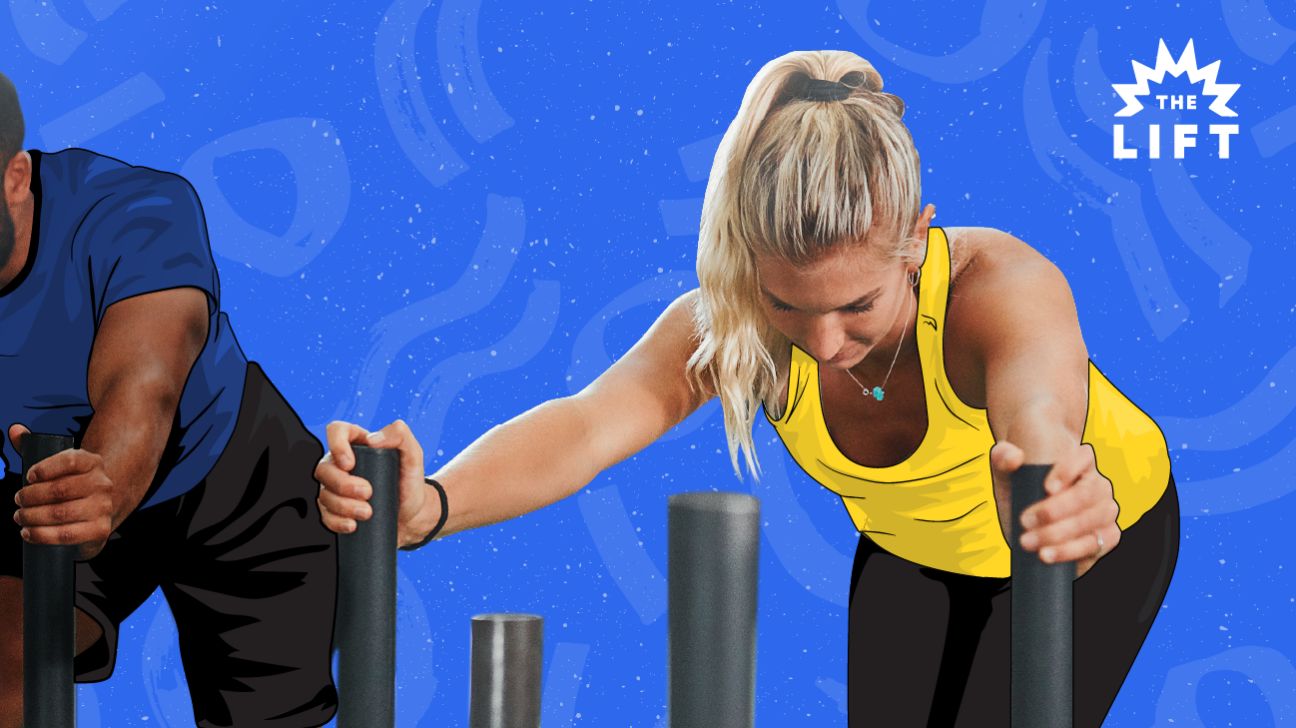 We include products we think are useful for our readers. If you buy through links on this page, we may earn a small commission. Here's our process.
Greatist only shows you brands and products that we stand behind.
Our team thoroughly researches and evaluates the recommendations we make on our site. To establish that the product manufacturers addressed safety and efficacy standards, we:
Evaluate ingredients and composition: Do they have the potential to cause harm?
Fact-check all health claims: Do they align with the current body of scientific evidence?
Assess the brand: Does it operate with integrity and adhere to industry best practices?
We do the research so you can find trusted products for your health and wellness.
FlipSled may sound like a snow day catastrophe, but it's actually the name of a strength machine more and more power hunters, functional fitnessers, and football stars are using to pack in power.
Dubbed "the most versatile training sled on the market," the FlipSled started to make waves among football players in 2018. But it's recent feature in the 2022 Wodapalooza, an annual CrossFit festival, has led to more eyes on the tool than ever before.
But who exactly is the FlipSled for, and how do you use it? Read on for the complete breakdown.
Put simply, the FlipSled is a versatile strength tool that's a combo of two other heavy strength tools.
"The FlipSled combines the abilities of a tire flip and push sled into one," explains Luke Narveson, business development representative with Airborne Athletics, the brand that oversees the FlipSled.
To visualize it, imagine what it would look like if the trap deadlift bar and flip tire had a baby, and you've got the gist.
About the size of a twin-size mattress, the FlipSled is 30 inches (in.) wide, 24 in. tall, and 61 to 67 in. long (depending on the model).
Outfitted with handles all along its edges, the main difference between a tire and this tool is that this tool has handles and padding, making it both easier and more comfortable to maneuver.
As you might guess from its name, the FlipSled was primarily designed to be flipped like a tire and pushed like a sled.
As such, Narveson says this tool allows you to reap the benefits of those movements, including:
enhanced explosive power
head-to-toe muscular development
increased comfort in multiple planes of motion
overall better cardiovascular conditioning
These benefits may be valuable for anyone, but might have especially noticeable payoffs for football players, rugby players, strongmen, CrossFitters, powerlifters, Olympic lifters, and other exercisers looking to improve power or proficiency with oddly shaped devices.
Don't read it wrong: The FlipSled isn't just for flipping or pushing!
It can also be:
lifted
pulled
pressed
squatted
"You can chest press, front squat, deadlift, and shoulder press with the FlipSled, to name just a few of the other exercises you can do with it," Narveson says. (For in-depth instructions on how to use the machine for these exercises, head to the FlipSled blog).
In summary: One of the most notable benefits of the FlipSled is just how much you can do with it! "You cover a lot of different equipment needs with this one piece of equipment," Narveson says.
What muscles does a FlipSled workout work?
"It really is a full-body tool," says Narveson. While the exact set of muscles the tool works varies exercise-to-exercise. According to him, most of the movements will work your:
hamstrings
core
quads
glutes
forearms
shoulders
lats
Because the FlipSled is still so new to the market, odds are your gym or CrossFit box doesn't have one… yet.
But you can buy one for your garage gym, or try to persuade the owner of your local gym to invest.
Right now, the only place to find one is on the FlipSled website, with three different models currently available:
"The three models have the same functionality, the difference between them is how much weight you're able to load onto them," explains Narveson.
The FS100 model, for example, can only be loaded up to 350 pounds, making it great for young athletes, speed demons, and lifters new to odd object work.
The FS300, on the other hand, can be loaded up to a whopping 690 pounds, making it the good option for experienced lifters, work as a team, and people with serious strength goals.
"It's also worth noting that the FS100 model is 6 inches short," he adds. This shorter height makes it a nice option for shorter athletes. Think: high school students, and anyone under 5 feet 3 inches tall.
The weight plates are *not* included in the purchase. Already have weight plates? Fab, use those.
If not you'll have to purchase some from a manufacturer like Rogue Fitness, Titan Fitness, or Rep Fitness. Narveson recommends opting for iron plates or Olympic rubber plates. "The thicker 3-inch weight plates are a little thick and can make it tricky to get the clamp on," he explains.
New fitness props and strength tools pop onto the scene at a steady cadence. But given the success the FlipSled has already had within CrossFit and the football sphere, it could be reasonable to predict that this tool is here to stay.
This type of workout can help you target muscles for increased power development and improved cardiovascular conditioning as well. So, whether you're an active athlete or just trying to raise the bar on your home gym equipment, investing here could yield some strong results.
Gabrielle Kassel (she/her) is a queer sex educator and wellness journalist who is committed to helping people feel the best they can in their bodies. In addition to Healthline, her work has appeared in publications such as Shape, Cosmopolitan, Well+Good, Health, Self, Women's Health, Greatist, and more! In her free time, Gabrielle can be found coaching CrossFit, reviewing pleasure products, hiking with her border collie, or recording episodes of the podcast she co-hosts called Bad In Bed. Follow her on Instagram @Gabriellekassel.