We include products we think are useful for our readers. If you buy through links on this page, we may earn a small commission Here's our process.
Greatist only shows you brands and products that we stand behind.
Our team thoroughly researches and evaluates the recommendations we make on our site. To establish that the product manufacturers addressed safety and efficacy standards, we:
Evaluate ingredients and composition: Do they have the potential to cause harm?
Fact-check all health claims: Do they align with the current body of scientific evidence?
Assess the brand: Does it operate with integrity and adhere to industry best practices?
We do the research so you can find trusted products for your health and wellness.
The right pair of running shorts can make you feel like an Olympian (or, at the very least, a varsity track star 🥇). The only downside is that picking a winner can be super overwhelming. But fear not, fitness fam! We did the research so you don't have to.
Here are the 10 best women's running shorts of 2022.
Best running shorts for women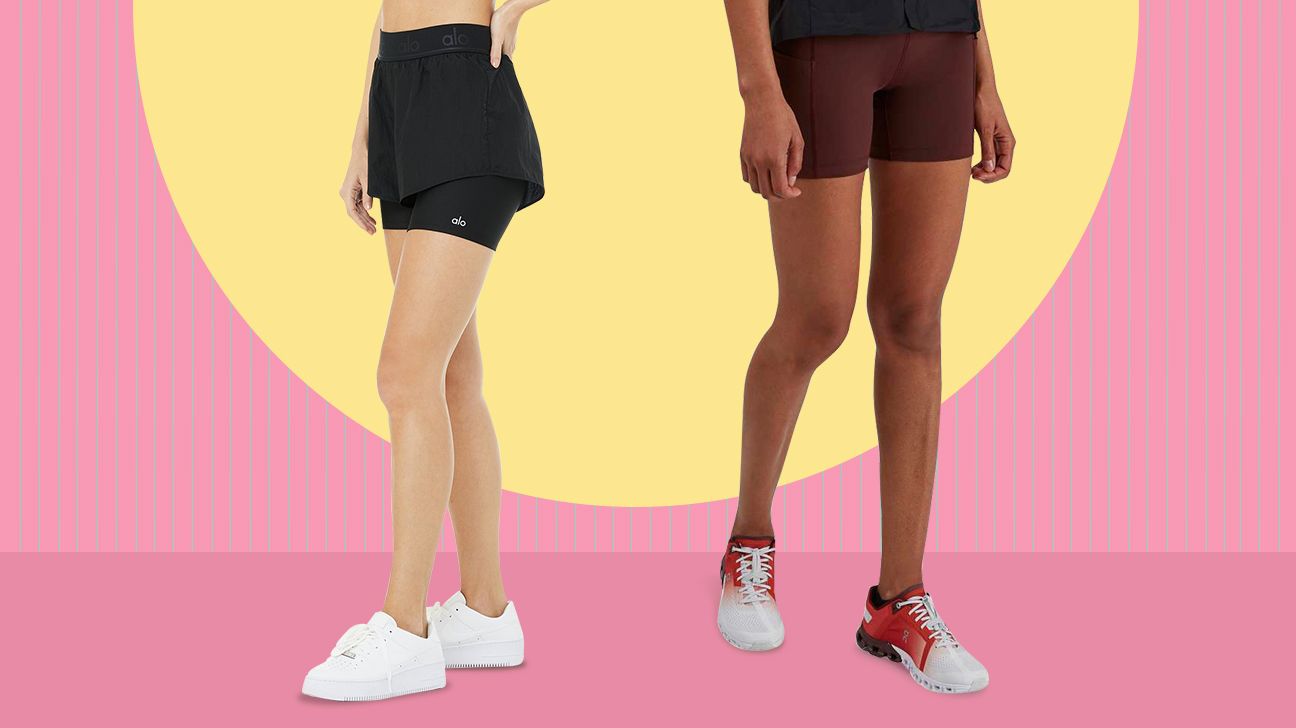 We looked at a variety of factors when coming up with our list of top running shorts for women. After all, your booty deserves the best 🍑. Here are the main things we considered:
comfort
length
durability
size
style
reviews
budget
Here's a pricing guide to help you decide which shorts are best for your butt and your budget:
$ = under $25
$$ = $25–$40
$$$ = $41–$70
$$$$ = over $70
We know you're ready to get your run on. So without further ado, here's the long on the shorts.
1. Best overall running shorts for women
Price: $$$
Size range: 0–14
Colors: hideaway camo deep coal multi/black, venture floral alpine white black/black, symphony blue, topography multi/graphite grey, red merlot, ocean air, auric gold, le tigre camo deep coal multi/black, heather lux multi icing blue/icing blue, sonic pink, larkspur, highlight orange, carnation red, blue linen, violet verbena, heather lux, multi black/black, true navy, black, heritage 365 camo deep coal multi/black, highlight yellow, dark red, white, hyper flow pink multi/black, or teal lagoon
These shorts were designed with runners in mind. The Lycra fiber lining is lightweight, quick-drying, and sweat-wicking. They offer a secure back pocket, a continuous drawcord, and four-way stretch.
Folks also love the connected gel pockets on the waistband, which are great for storage. But wait, there's more! You have 24 stylish designs to choose from.
PSA: Most reviewers say these shorts are true to size. But a few peeps claim they run a bit small. Thankfully, Lululemon gives you 30 days from the delivery date to return them.
2. Best design running shorts for women
Price: $$$
Size range: XS–XL
Colors: white, olive, raisin, light blush, neo mint/white, cool gray, black/stealth black, eclipse gray/white, or cool gray/blush
These shorts aren't just comfy — they're also super cute. The waistband cinches to fit all body types. The cleverly designed construction will also make your butt look *chef's kiss.* Oh, and you can choose from a variety of stylish colors and patterns.
Bonus: The shorts will form to your unique body shape for unrestricted movement. They also boast a breathable inner lining that's sweet for intense sweat sessions.
3. Best running shorts for comfort
Price: $$$
Size range: 0–18
Colors: green glow/black, black/white, hyper pink/black, white/black, or volt/bright citron
These sweet shorts provide next-level comfort. They're a dope mix of lightweight materials and innovative technology. The smooth feel and flattering fit let you move freely. Reviewers also say these shorts are hella breathable and note that they stay in place even on long runs.
The only potential downside seems to be the length. A few folks found the shorts to be a little too revealing. But other than that, feedback is solid.
4. Best 2-in-1 running shorts for women
Price: $$$$
Size range: 00–14
Colors: black or sterling
These snazzy shorts are the best of both worlds. You get the running shorts look with the added functionality. This extra coverage can reduce your risk of flashing folks when you stretch. It also means they can transition easily into a yoga or Pilates practice. Score!
Just keep in mind that they're on the pricey side. But on the whole, reviewers say they're def worth the extra bucks. Users say they're uber-comfortable and don't ride up on runs.
5. Best plus-size running shorts for women
Price: $$$
Size range: XS–4XL
Colors: pale gray leopard print
These shorts are almost too cool. But hey, you deserve it! The sleek design will complement any body type, and the icy leopard print is super sexy. They also have a compression waistband that provides support without digging into your waist. On top of all that, the seamless design reduces restrictions.
Need more perks? The quick-dry material will wick away sweat and keep you nice and dry throughout your workouts. You also get an added layer of UV protection to stave off sun damage.
6. Best compression running shorts for women
Price: $
Size range: XS–3XL
Colors: black, charcoal, gray, wine red, navy blue, purple, iris purple, tie-dye black, tie-dye blue, brick red, soft purple, light olive, heather purple, teal, or white
You'll feel nice and secure in these compression running shorts. The chafe-free design includes ergonomic seams and a high waistband. It's also nice to know they're a fan favorite. They currently have a 4.3/5 rating on Amazon with more than 68,000 reviews.
BTW, these shorts are wonderful for any type of workout. Reviewers say they wear them at the gym, while biking, or for yoga.
7. Best running shorts for sprinting
Price: $$$
Size range: XS–XL
Colors: black
These shorts are a sprinter's BFF. The body-skimming design and athletic fit help them stay in place. They won't slip down or bunch up your butt during quick bursts. They also have five pockets to hold your stash of energy gels, keys, phone, or other on-the-go gear.
Cons: If you love colorful clothes, these may not be for you. They only come in black. Also, a few folks said they were a bit tight on their thighs.
8. Best no-slip running shorts for women
Price: $$$
Size range: XXS–3XL
Colors: black or tequila green
With a high quality knit waistband and an adjustable drawcord, these babies aren't going anywhere. The no-slip fit makes them perfect for marathons, sprints, and everything in between. The recycled featherweight fabric will feel silky-smooth on your skin. Another perk is the built-in inner brief that provides added bum coverage.
Cons: A couple reviewers say these shorts aren't ideal if you're on the shorter side. Mainly, they say they're a bit loose in the crotch area.
9. Best running shorts for long distances
Price: $$$
Size range: XS–2XL
Colors: black or garnet
New Balance made sure these shorts can get you through a marathon (and then some!). Some reviewers say these shorts have the Goldilocks effect — they're not too loose, not too snug, and tend to fit just right.
The lightweight polyknit material is super stretchy and allows for a full range of motion. They also have a variety of pockets to keep your stuff safe and sound and off the ground.
10. Best running/biking shorts for women
Price: $$$
Size range: XXS–XXL
Colors: black tonal camo, navy blue camo, red retro, green leopard, green paper leaf, blue floral pop, blue floral splash, black, black cherry purple, navy blue, cornflower blue, tayberry pink, heath green, steel blue, or cardinal red
OK, so we know this list is all about running. But lots of peeps want a pair of shorts that also work for #BikeLife. If that's the case, look no further than this option from Sweaty Betty.
These cycling shorts are just as good on the road as they are on a stationary bike. They aren't padded, so they won't lump up during runs. They've also got sweat-wicking material, side pockets, and a back zip pocket.
Reviewers say these shorts are great for all fitness levels and styles. The adjustable drawstring ensures a snug but comfortable fit too.
Not sure if you want to invest in a pair of running shorts? Here are some general pros and cons to help you make up your mind.
They let your skin breathe.
They may reduce your risk of chafing.
They can allow for a better range of motion than longer pants.
Some brands can get a bit pricey.
Some styles might make you an accidental booty flasher.
They might not be the best if you like to run in the cold.
Perhaps the top benefit of running shorts is their versatility. Even nonrunners can wear running shorts on the reg.
Not only do they tend to be 10/10 comfy and great for all types of workouts, but you can also wear them around the house or while you run errands. And if you want to rock them out at dinner or the club, we won't judge!
Whether you're a sprinter, marathoner, or occasional jogger, here are some tips to help you pick the best shorts for your unique vibe:
Comfort. Look for lightweight shorts that boast breathable fabrics and ventilation panels. It's also a good idea to prioritize moisture-wicking material to keep you dry and chafe-free.
Length. Some peeps like short shorts, while others prefer them to hit just above the knee. Both can be great — it all comes down to your preference.
Durability. No one wants their pants to rip mid-run. So don't waste your money on poor-quality clothes. Instead, pick a pair that's designed to go the distance.
Size. Always check the size chart. Even if you're usually a size large, each brand's sizes can run a little differently.
Style. When it comes to athletic wear, "function over fashion" is a pretty solid motto. But that doesn't mean your workout gear has to be ugly. Go with shorts that make you feel stylish and confident.
Reviews. You don't have to only go for the shorts with the best reviews, but make sure they're at least good enough to avoid spending your money on red flags. You may also want to check out the company's return policy and customer service track record.
Budget. A solid pair of running shorts shouldn't break the bank. But it's a good idea to stick to high quality, reputable brands.
Here are some answers to common running shorts questions.
How are running shorts different from regular shorts?
Running shorts tend to be made with sweat-wicking fabric and allow for a better range of motion than other shorts. But your results may vary depending on the product.
How much should you pay for running shorts?
It depends! You can get a cheap pair for about $10. But for a really good pair, get ready to pay at least $20.
Why does length matter?
Extra-long shorts can get in the way when you run. But longer pairs can work just fine if they fit snugly on your skin.
Can I wear leggings under running shorts?
Totally! Do whatever is most comfortable for you. They could provide some additional warmth if you're running in colder weather. But, depending on the material of your leggings, you may lose some of the sweat-wicking benefits that your running shorts give you.
Comfortable, functional shorts are a key part of any running routine. You can't go wrong with any of these 11 choices. But if you do decide to shop for shorts on your own, be sure to factor in length, fit, sizing, style, and price.
It's also a good idea to try shorts on IRL before buying if you can. If you're shopping online, make sure the brand you're going with has good reviews and a fair return policy.