We include products we think are useful for our readers. If you buy through links on this page, we may earn a small commission Here's our process.
Greatist only shows you brands and products that we stand behind.
Our team thoroughly researches and evaluates the recommendations we make on our site. To establish that the product manufacturers addressed safety and efficacy standards, we:
Evaluate ingredients and composition: Do they have the potential to cause harm?
Fact-check all health claims: Do they align with the current body of scientific evidence?
Assess the brand: Does it operate with integrity and adhere to industry best practices?
We do the research so you can find trusted products for your health and wellness.
Resistance bands are all the rage — and with good reason. They're awesome for strength training, toning, and increasing flexibility. They're also much easier to carry around than dumbbells or weight plates.
Here's the ultimate rundown of the top resistance bands for every fitness level and budget.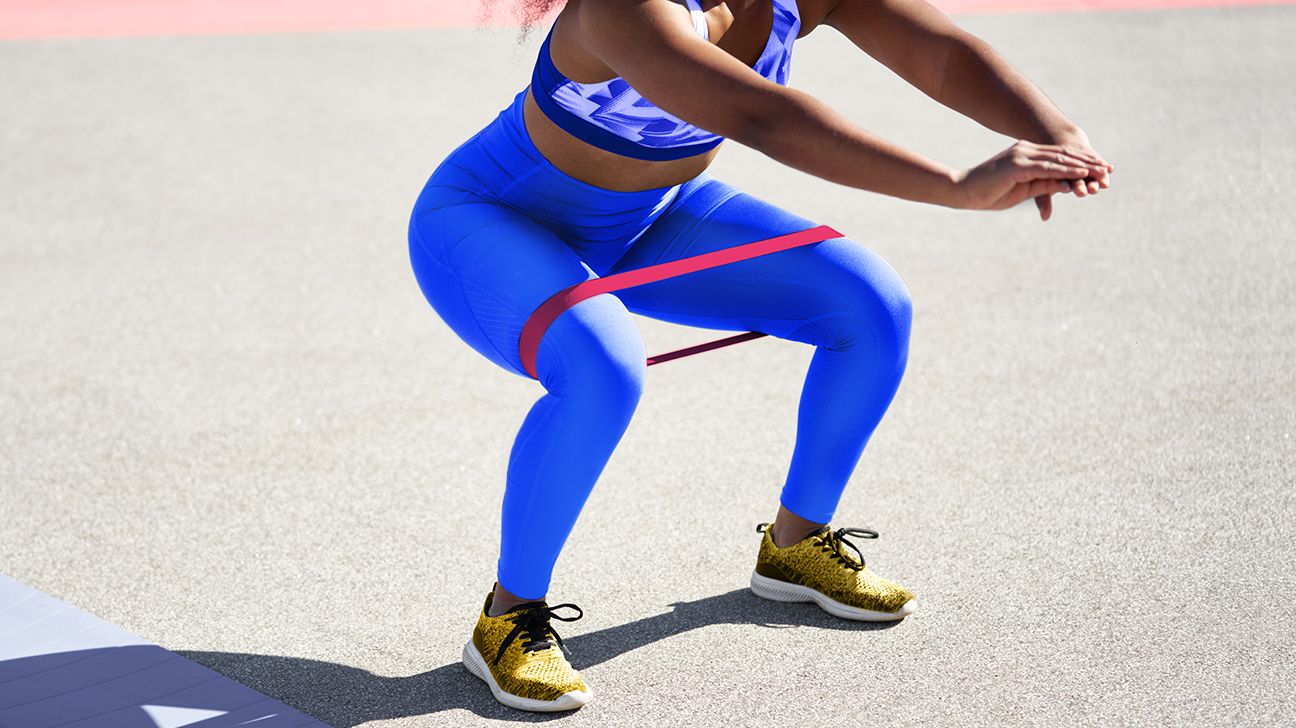 Resistance bands might not sound like the most versatile fitness tool, but they actually come in quite a few resistance levels and various styles. We took a look at the following when making our top picks:
Niche and effectiveness. All resistance bands are not created equal when it comes to their purposes. We included options that were designed with goals of targeting specific areas of the body during your workout, and the highest performing ones within those categories.
Durability and reputability. We all know that if you stretch a rubber band too far, it will eventually snap. If the same happens to your resistance band after a few rigorous sessions, it might not be the most durable. We checked each brand and scoured the user reviews to make sure none of the bands were on the brittle side.
Affordability and value. Choosing fitness equipment should be based on your goals and frequency of use. With that in mind, we selected effective resistance band options that landed on a range of price points for every type of buyer. We also checked to see if what it was offering was actually worth the price.
Use this resistance band pricing guide to help you make the best choice for your bod andyour budget. Price is per band.
$ = under $10
$$ = $10–$20
$$$ = over $20
Without further, um, resistance, here are our top band picks.
Best resistance loop bands
Price: $
Material(s): natural latex
Loop bands are circular. You don't have to tie them like a flat band. They can help increase the results you get from other exercises and help you build power. You can also use them to spice up your yoga and Pilates routines.
The Fit Simplify set has five loop bands of different resistances. They range from light to extra heavy. You can switch levels to target different muscle groups and increase strength over time.
Fit Simplify loop bands are super durable. But if you do experience a snap, don't worry. They're backed by a lifetime warranty. Woot!
Best resistance bands with handles
Price: $$
Material(s): commercial grade rubber
Dynapro Exercise Resistance Bands are awesome if you want to build muscle mass.
The handles are fully padded, which makes them a great choice if you have arthritis or just prefer some added comfort. Online reviewers also say the grips won't leave you with nasty blisters, and the sturdy loops can provide an extra sense of security.
You can get them as a set or individually. The set might be the better buy so you can alternate resistance levels for a more varied workout.
Best fabric resistance bands
Price: $$
Material(s): fabric and latex
Fabric bands are great because they're meant to be super comfy on your skin. They also absorb sweat, preventing slippage.
These booty bands are here to give your 🍑 a glow-up. The three-piece set has beginner, intermediate, and advanced bands. It also comes with a carrying case and an exercise guide to help you get started.
Keep in mind: These are basically bum and thigh exclusive. They're not the best choice for a full-body workout.
Best resistance bands for older adults and injury recovery
Price: $$
Material(s): rubber (latex-free)
These resistance bands are the perfect gift for the older active person in your life. The bands compliment a seated exercise program by Curtis Adams. They can be used without the program as well.
Why they're awesome for older adults:
accommodates seated or wheelchair workouts
great for chair yoga
minimal tension
less resistance
easy to use
Even though they're geared for older adults, anyone can use them.
Best resistance bands for weight training
Price: $$
Material(s): natural rubber and latex
These bands by WODFitters were designed for cross-training. You can use them to tone almost any muscle group.
At 41 inches, they're the perfect length for muscle-ups and pull-ups. They can also be used on the bench press to add some resistance to your lifts.
The bands come in five color-coded levels. They have a slick rubber latex coating for extra durability. You can buy them on their own or in a bundle.
Best resistance bands for full-body work
Price: $
Material(s): natural latex
These bad boys are stackable. When you want to kick it into high gear, just add another band to the handle.
Bodylastics have an anti-snap core. This is extra protection against the ouchies a broken resistance band can cause. Injuries can range from a sprained wrist to a damaged eye. Yikes.
Another perk is that the set is simple to store. The whole thing will easily fit in a gym bag.
Best resistance bands for glutes
Price: $$$
Material(s): rubber
This band is ideal for lower body activation. It's also really easy to use. Just slide the band around your legs. From there you can squat, walk, or do any lower body moves. It'll help tighten and tone your tushy, legs, and hips.
It's a great option even if you're just starting out. You can build up to more advanced motions as you progress.
This band was designed to stay in place during your workout. Reviewers also like that the band doesn't rip out leg hair. Score. Sling Shot Hip Circle Resistance Bands are available in three sizes: medium, large, and extra large.
Best resistance bands for legs
Price: $$$
Material(s): natural rubber latex
TheraBands are made from natural rubber latex, which is super-duper durable. That makes them the perfect bands for leg workouts. You can use them on the daily for years before they start stretching out.
In addition to your legs, you can use them to tone all major muscle groups. They're also fab if you want to increase the range of motion in your upper and lower body.
The elastic resistance band has the exact pounds of resistance printed on each band. This can help you track your progress.
More good news: They're lightweight and portable. You can have a great workout at home, at the gym, or on the go.
Best resistance bands for upper body
Price: $$
Material(s): natural rubber
Don't forget to slay that stretching, fam. Studies show stretching is key to muscle mobility, recovery, and flexibility. Valeo Resistance Tubes are fantastic for that.
Unlike other resistance bands, these straps are 4 feet in length. Each band offers a different tension level.
Their cushioned foam handles are easy on your hands. With a slip-free grip, you can totally focus on your form. They're also lightweight, making them great for on-the-go workouts.
Best resistance bands for squats
Price: $$
Material(s): cotton and elastic
The RIMSports Hip Resistance Bands are a solid choice for all fitness levels. They can help you tighten, train, and tone your lower body. Just slide the hip circle around your knees and go for it.
These cotton fabric bands offer different degrees of resistance. Even though these bands are targeted for the ankles, hips, legs, and thighs, you'll also feel the burn in your core. They're also wonderful for warmups.
Best resistance bands for bodybuilding
Price: $$$
Material(s): aircraft aluminum and elastic
The Gorilla Bow kinda looks intimidating, but it's actually super easy to use. It's made of an aluminum bow with detachable resistance bands. You can hook the bow up to a door frame for more versatility.
The bow is supposed to withstand up to 300 pounds of force. So unless you're an Avenger, you prob can't break it. The frame is rigid and can't be taken apart. But it's lightweight, so it's still portable.
Bonus: It's fashioned after an ancient weapon, so you'll feel like a sexy archer.
Best resistance bands for sports/shoulders/rotator cuff
Price: $$$
Material(s): rubber
This band is a pitcher's BFF. It's designed to strengthen your rotator cuff and surrounding muscles. It comes with a metal clip for easy anchoring.
Incorporate them into your warmups and cooldowns to take your pitching game to a whole new level. You can also use them to condition your muscles, which may prevent injuries.
Even if you're not a baseball or softball player, you can still get an awesome upper body workout with these buddies.
Best travel resistance band
Price: $
Material(s): rubber
Perform Better Mini Loop Bands are a gift from the workout heavens. They weigh next to nothing and can fit in your purse, suitcase, or even a jacket pocket.
You can use them for a dynamic warmup or a solid overall workout. They're effective for lower and upper body training. They can even help activate your core!
Before you kick your #FitLife into high gear, you should keep some things in mind. Certain resistance bands can be used for a full-body workout. Others are geared toward specific muscle groups.
You also have to look out for resistance levels. Even if your philosophy is "gym is life," super-heavy bands may not be right for you. It's all about the results you're looking to get.
You should also check out if the manufacturer offers a warranty. Some resistance bands can get pricey. So it's nice to have insurance if it breaks.
What's your budget?
What are your fitness goals?
Do you want to bulk up, tone, or both?
What resistance level works best for you?
What areas of your body do you want to focus on?
A lot of fabric resistance bands contain latex. This can be an issue if you have a latex allergy.
Resistance bands basically work like free weights. Studies show their results are pretty similar. Both create an external resistance that your muscles have to work against. But unlike free weights, resistance bands need you to maintain external pressure at all times.
Resistance bands are versatile AF. There are limitless variations, so you won't get bored. You can also buy some sweet fitness swag to add to the fun. Try a rowing handle, door anchor, or wall anchor.
There are tons of how-to vids and guides out there. Some bands also come with instructions or videos. Once you've mastered the basics, you can get more creative.
You don't need to go threat level midnight from day one. Start with fewer reps until you build stamina. You may also want to begin training with lower resistance and work your way up.
Resistance bands are pretty darn safe. But there are some solid safety tips to note:
Even the best bands can fall victim to wear and tear. Always give your bands a safety check before use. This will help you avoid a sudden snap mid-move.
Def follow the safety protocol, even if your band does have a failsafe inner core.
Be careful with loop bands. Don't use them for fast-paced aerobics to avoid a spill.
Kiddos shouldn't use them unsupervised.
Pro tip: Store them away from direct sunlight. Sunlight can wear them out faster.
Resistance bands can give your muscles some TLC if you have an injury. They can also be the perfect addition to your physical therapy (PT).
But you should def talk with your doctor before starting a new fitness routine — especially if you recently had surgery.
Whether you're looking to add muscle or slim down, resistance bands are a terrific addition to your fitness routine. You can use them at the gym, at home, or on the go. So pick out a brand that works best for you and show your muscles a good time.