We include products we think are useful for our readers. If you buy through links on this page, we may earn a small commission Here's our process.
Greatist only shows you brands and products that we stand behind.
Our team thoroughly researches and evaluates the recommendations we make on our site. To establish that the product manufacturers addressed safety and efficacy standards, we:
Evaluate ingredients and composition: Do they have the potential to cause harm?
Fact-check all health claims: Do they align with the current body of scientific evidence?
Assess the brand: Does it operate with integrity and adhere to industry best practices?
We do the research so you can find trusted products for your health and wellness.
Finding the perfect gift for the fitness fans in your life doesn't have to break the bank. These 29 high quality gifts all clock in under $50. And there's something for everyone! We also have some shopping tips to help you pick a winner.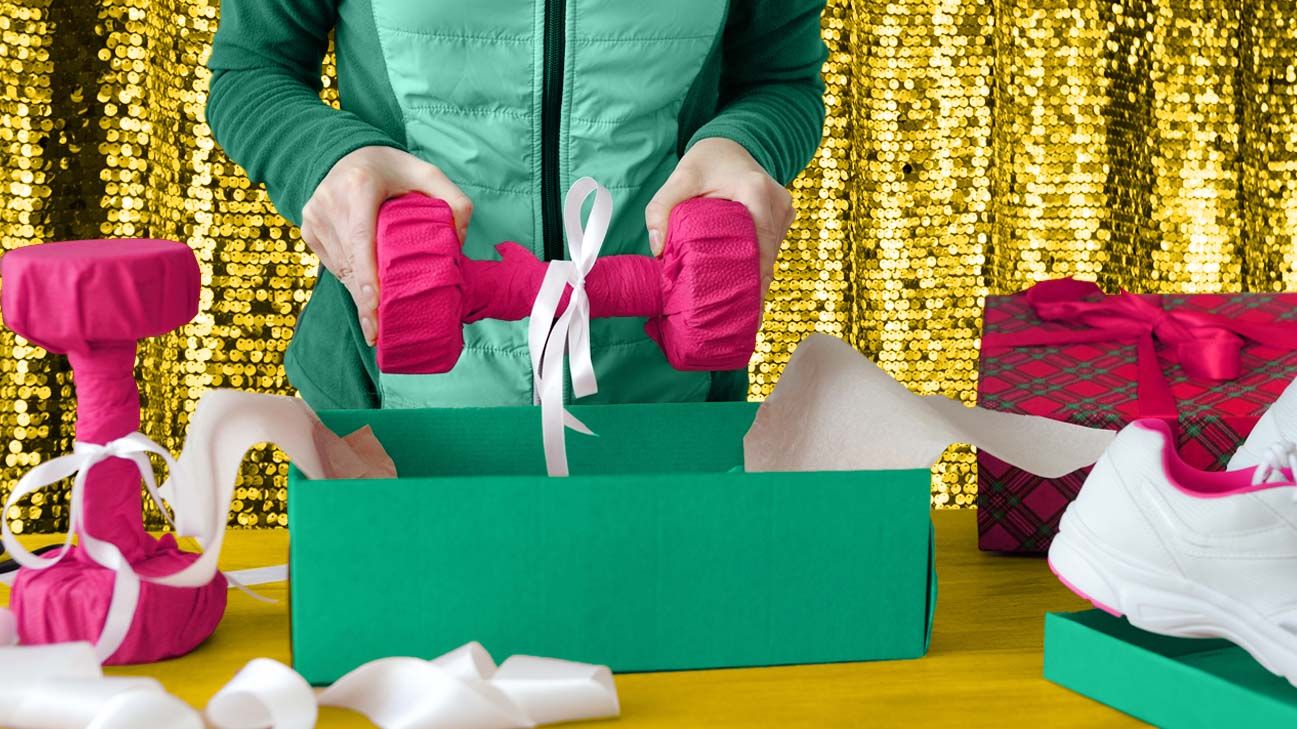 We did a ton of research into the best low budget fitness gifts so you don't have to. Here's how we chose which products made the cut:
Cost. This list is all about affordability. While some of these items get close to $50, there are lots of great options under $10.
Quality. Just because something's cheap doesn't mean it has to be cheap. None of these products swap cost for quality.
Reviews. Some products are all bark and no bite. Of course, every product will come with a few unhappy customers, but we looked for items that have consistent, overwhelmingly positive customer reviews.
Selection. With 30 diverse gifts to choose from, there's something for everyone. We included ideal gifts for gym-goers, home workout enthusiasts, weightlifters, cardio buffs, and outdoor sports fans. We also took weather into account and included items for hot and cold climates.
This pricing guide will help you pick the best gift for your fitness lover and your budget:
$ = under $10
$$ = $10–$25
$$$ = over $25
Best for workout recovery
This bath salt mix is a relaxing blend of sea salt, algae, and aromatherapy ingredients. It also has restorative oils to soften skin. Plus, it's made with raw and vegan ingredients.
Reviewers say these salts are a soothing way to relax muscles and ease tension after a workout. They're also a thoughtful gift for anyone who enjoys taking baths or practicing self-care. The only downside is that they come in a single-serving pouch.
Best for cold outdoor workouts
This cloth neck cover is perfect for cold weather sports like biking, cycling, walking, hiking, running, and fishing. The polyester microfiber material is super comfy and absorbs sweat in a snap. It's also versatile AF and can be used as a mask, sweatband, or head wrap.
Peeps say it's hella durable and super stretchy. A common comment is that it stays in place even during rigorous workouts. Folks also like that it comes in lots of snazzy colors like light and dark gray, black, purple, white, red, and blue.
Best for back stretching
This is a great gift for folks who work out on the reg because it's useful for stretching and recovery. But it's also good for anyone who needs to ease tension in their back. (Psst: It can be used on your legs too!)
Reviewers say this roller is fab for achy-breaky backs. It currently has a 4.4/5 rating on Amazon with more than 3,000 ratings. Not too shabby, eh? It comes with a 10-year limited warranty and is made in the USA.
Best for on-the-go storage
Fanny packs are fashion, and don't let anyone tell you otherwise. Durable, lightweight, and comfortable, this super-cool waist bag is great for storing your essentials while on the go. It has an adjustable 23- to 53-inch waist belt and can be worn on your waist or hips or across your chest.
Reviewers say the bag is water-resistant, but it won't protect your stuff if it's super soaked. Folks also love that it comes in 45 cool colors and that it strikes a good balance when it comes to size.
Best for protein shakes
With a 4.8/5 rating and more than 100,000 reviews, this shaker bottle is perfect for mixing smoothies, supplements, and shakes at the gym, on the go, or at home. The screw-on lid offers a tight seal, and the flip cap gives you easy access when you're ready to sip.
Reviewers note that even though it has a 20-ounce capacity, the measurements only go up to 12 ounces. But most folks say it's the perfect size and blends powders with little effort.
Best for keeping cool
Know someone who loves hot yoga? This towel is terrific for steamy workouts. All you have to do is soak and snap it for instant cooling relief. It can stay chilled for up to 3 hours and is super soft to the touch. The towel is stored in a plastic bottle that has a built-in clip so you can attach it to your belt.
Folks note that this towel is a lifesaver during hot workouts or sporting events. They also say it's thin and lightweight and won't weigh you down on longer treks.
Best for hydration
Not sure what kind of workouts your friends like to do? A water bottle is a great gift for all fitness styles. This one has a double-locking lid so your drink won't splish-splash out during a workout. It opens with a simple "click," so it's great for mid-cardio hydration. But wait, there's more! The bottle has a removable filter infuser so you can add the fruit of your choice.
Reviewers say this bottle is easy to clean and carry. It's also lightweight and comes in three sizes (17, 26, and 32 ounces) and four colors (dark blue, bright green, purplish red, and classic black).
Best for hand strength
Make everyday hand day with this great grip strengthener 👋! It can strengthen your hands, forearms, wrists, and fingers. It's great for tennis players, rock climbers, weightlifters, and golfers.
Reviewers like that the resistance ranges from 11 to 132 pounds. It's less than 6 inches tall, so you can toss it in your purse or gym bag for grip training on the go.
Best for easy storage
These sliders are a top-notch way to increase core strength. They can enhance lots of workouts, such as planks, lunges, and push-ups. The dual-sided gliders work on almost any surface, including hardwood, tile, and carpet.
Folks say these sliders are lightweight and very easy to pack. Some take them to the gym, but you could also use them for home workouts. But some reviewers do say they can be tough to grip.
Best for ab workouts
This roller is ab-solutely awesome. It's a great way to increase abdominal strength and engage your core. It's great for all fitness levels and has a max weight of about 440 pounds. We also love that the rubber cotton handles provide a comfy no-slip grip.
Reviewers say this ab wheel is smooth and easy to use. It's lightweight and takes up very little space. Also, it's not noisy, so it's great for home workouts.
Best hair accessory
This super stylish headband will give any workout a hint of retro coolness. It's a blend of 80 percent cotton, 12 percent spandex, and 8 percent nylon. That means it's comfortable and absorbent and shouldn't irritate your skin. It has a 2-inch width, so it'll wick away sweat and keep hair off your face.
Reviewers say this headband offers a great fit. It's not too tight but should stay in place. BTW, it comes in black, navy, and white.
Best gym bag
This is the perfect gym bag for everyday use. It's functional and stylish and will fit in a locker with ease. It's very durable and made with 100 percent polyester. You also get an adjustable shoulder strap for comfortable carrying.
Even though it's on the smaller side, reviewers say it can easily hold the bare essentials. You can prob fit shampoo, sneakers, spare clothes, shower shoes, and towels without an issue.
Best for Pilates fans
This exercise ball is a must for the Pilates lover in your life. While it's a great addition to a Pilates class, it can be useful in almost any workout routine. The heavy-duty, thick PVC design can hold up to 2,000 pounds, so it should stand up to strenuous workouts.
According to reviewers, a major perk is that it doesn't smell like burning rubber. Folks also say it's easy to inflate and is great for reducing back tension.
Best for self-defense
Pepper spray is a great idea for folks who work out in secluded areas. This includes trail runners, night runners, and hikers. It's very easy to use and offers a 10-foot range with 25 bursts. It comes on a keychain, so they can attach it to their keys or their workout gear.
Lots of reviewers say it makes them feel safer and more confident when working out alone, especially at night. Another perk is that it can fit comfortably in a fanny pack or pocket.
PSA: Double-check that pepper spray is legal in your recipient's area before you buy them this. Some cities don't allow it.
Best for listening to music
Who doesn't love a twofer? This cozy beanie hat has built-in Bluetooth tech and can connect to all Bluetooth-compatible media players. It has two speakers that boast Hi-Fi sound quality plus noise and echo reduction functions.
Reviewers say the hat lasts a long time — a single charge can last up to 25 hours if used 24/7. They also say the sound is actually good.
Best for swimmers
Swim fans will love these high quality goggles, and your budget will love them too! These Speedo stunners have anti-fog mirrored lenses for maximum visibility. They also have UV protection and wide panoramic lenses for a peripheral view.
Reviewers say these goggles aren't just great for seeing — they're 10/10 comfortable too. They have cushioned silicone seals and four nosepiece options for the perfect fit.
Best for runners
These 100 percent knit shorts from Under Armour are great for all kinds of runners. They come in sizes X-Small to 3X-Large and in more than 20 colors and patterns. The lightweight woven fabric is comfortable, durable, and breathable. The material wicks away sweat, and the built-in brief offers extra coverage.
With a 4.5/5 rating and more than 15,000 reviews, you know the fit is going to be lit. But one major complaint is that the shorts don't have pockets. Also, some folks say they run a bit small, so you may want to go up a size.
Best for at-home cardio
This brand understood the assignment. They made a dope rope that can monitor your calories burned, jumps, and training duration. The weighted jump rope will help you hit your targets with less tripping. The PVC material is super-duper durable and designed to withstand daily use.
Folks like this rope's anti-slip handles and adjustable length. They also say it's a great way to warm up before a training sesh but also works as a standalone workout.
Best for resistance workouts
Help your fitness friend join the resistance with these rad resistance bands. The set has five different resistance levels ranging from 10 to 50 pounds. The bands are made of natural latex and come with non-slip handles. They're great for toning your legs, glutes, chest, shoulders, arms, and more.
Users say these bands provide a great bang for your buck. Most folks note that they're very sturdy and can be combined for an even tougher challenge.
Best for protein lovers
This box was designed with protein lovers in mind. Your recipient will get a variety of protein-packed snacks from brands like KIND, Think Bars, Cliff, Nature Valley, Lenny & Larry, RX Bars, and Power Crunch. Yum 😋!
Reviewers say this is the perfect quick-grab snack box for athletes and fitness fans. The only downside is that some say there isn't a ton of flavor variety. Most of the items are chocolate or peanut butter.
Best for yogis
This durable yoga mat is the perfect present for your favorite yogi. There are 38 gorg designs to choose from, so there's something for everyone. Even though it's lightweight, the mat is extra-thick for added joint protection. It has a sticky texture for superior grip and traction.
Reviewers say this mat is where it's at. It doesn't stretch or rip over long periods of use. And unlike some other brands, it doesn't have a yucky chemical smell.
Best for boxers
The first rule of fight club is you don't talk about fight club. But you might want to make it the second rule that you have these gloves. The heavy-duty construction and reinforced stitching ensure long lasting protection. They have wrist wraps for extra comfort and a breathable lining that helps your hands stay cool.
Reviewers say these gloves are great for sparring, punching bags, MMA, Muay Thai, kickboxing, and more. Lots of folks say they're very comfortable and the stretchy cotton material is very durable.
Best for balance
This sleek wooden balance board is great for increasing balance, stamina, and reaction time. It also stimulates your core and may improve agility. It's made with high quality Lauan plywood, and the company says it's even sustainably sourced. It can hold up to 350 pounds and comes with a 30-day money-back guarantee.
Folks say this balance board is a great way to increase confidence. Folks also appreciate the easy-grip surface, which helps prevent slippage. Also, it only weighs about 5 pounds, so it's easy to carry around.
Best for sore muscles
This massage gun is great for relaxation and recovery. It's great for cardio stans, weightlifters, and yogis alike. It comes with 10 massage heads and 30 speed levels. The massage gun is ideal for the torso, neck, back, arms, and legs. It also has rechargeable batteries and a smart LED display to let you know when it needs to be charged.
Folks say the massage gun will last several hours on one charge. They also say it's quiet and doesn't sound like a jackhammer. (That's definitely a plus.)
Best for upper-body workouts
This is one of the best arm workouts you can get at home. This pull-up bar supports up to 300 pounds and has 3 grip positions: neutral, narrow, and wide. It's perfect for chin-ups, dips, and pull-ups. It's made with heavy-duty steel and has professional-grade comfort foam for ergonomic gripping.
Reviewers say installation is a breeze. You just need a few screws and a stable chair or ladder. Most people also note that it fits a variety of door dimensions.
Best for lifting
Kettlebells are the bomb. But they can take up a ton of space if you want more than one weight. Thankfully, this adjustable kettlebell is an all-in-one. It can be set to 5, 8, 9, or 12 pounds. It has a durable scratch-free vinyl coating to keep corrosion away. The flat rubber bottom also prevents it from scratching the floor.
Reviewers say this kettlebell is great for casual or intense at-home workouts. They also dig that it's easy to adjust and comfortable to grip.
Best for fitness tracking
This fantastic fitness tracker tells it all. It tracks blood oxygen saturation, heart rate, sleep, distance, and steps. It also has built-in Amazon Alexa capabilities, so you can ask questions, set alarms, and control connected smart home devices.
Folks say the battery power is a major perk — it can last up to 2 weeks without a charge.
The tracker comes in three colors: black, olive, and orange.
Best for at-home cycling
Who says you can't work out at work? This nifty bike is compact enough to fit under most desks. It has an electronic display that lets users view time, calories burned, revolutions per minute, and revolution count.
Reviewers say this bike is a great way to stay active during the day. The higher intensity settings can help tone muscles, and the low tension settings are a less sweaty way to burn some calories.
Best for tennis players
Tennis rackets don't have to cost hundreds of bucks. This solid open strung racket from Wilson is made with lightweight composite and weighs less than 1 pound. It has a classic blue and gray color scheme with a splash of red. The string pattern may help you generate more power, and the balance could improve ball control.
A few reviewers note that this racket offers high shock absorption and has a large sweet spot. But a few say the strings wore out faster than they would have liked.
Here are some top tips to help you pick the best gifts:
Shop around. If you have your eye on a specific present, compare prices before you pull out your credit card. You might find a better deal IRL than online. And when you can, #ShopLocal!
Be thoughtful. A pair of goggles is a great gift for a swimmer, but it wouldn't make sense for a cyclist. Try to find out what type of fitness the recipient is into so you can find something they'll really enjoy.
Company policies. Try to shop from a retailer that offers a flexible return policy. Chances are your recipient will be super stoked on your present, but it's always nice to provide a gift receipt just in case.
Set a budget. You might be tempted to splurge on your favorite #FitFam friend or family member. And that's totally fine! But it's also totally OK to set a price limit based on what you can afford.
These 29 gifts are perfect for fitness lovers of all styles and levels. But the best part? They all cost less than $50.