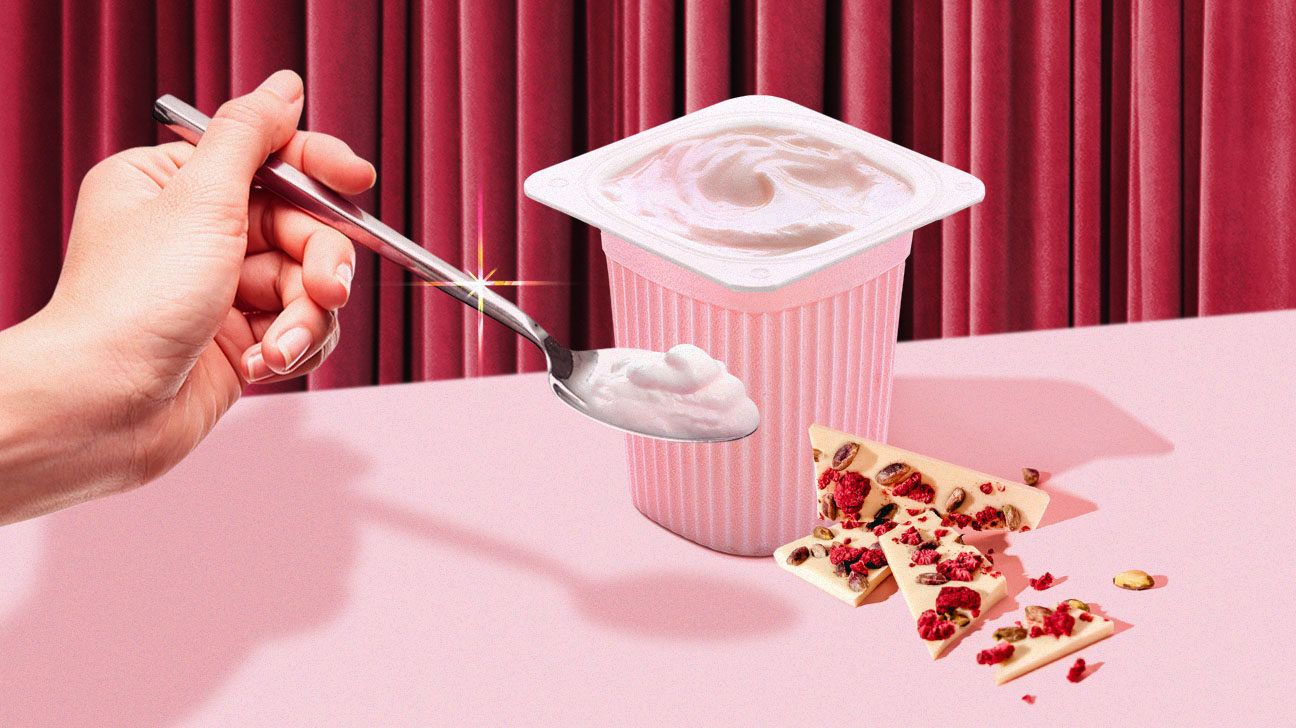 As anyone who owns a little black dress knows, the power is undeniable. In fact, it's transformative. Slipping into one is like simultaneously gliding into a sheath of confidence — and that's just the tip of the LBD iceberg.
The LBD is omnipotent. She goes with everything. Dress her up with jewelry or dress her down with kicks and a flannel. My rule of thumb is when in doubt, go for the LBD and style around her. You just can't go wrong. And when it comes to your fridge, you should have a tried-and-true, LBD equivalent too.
That's my cooking philosophy: every meal is no different than putting together an outfit.
And in the same way an LBD is the foundation for a great outfit, Greek yogurt is my foundation to a delicious meal. Like how black goes well with everything? So does the texture and simple taste of Greek yogurt.
Most people associate Greek yogurt with breakfast and it does well there. If we're getting seriously honest though, Greek yogurt in the morning is as obvious as wearing an LBD for a night out. Top it with granola, some sliced bananas, and a drizzle of honey — a wonderful and low effort way to kick off your morning.
But c'mon, we can get more creative.
I'm not sure when exactly my undying love for Greek yogurt happened, but I suspect it was due to learning how to cook meals that weren't just a peanut butter and jelly sandwich or a box of mac and cheese. I know sneaking some yogurt into marinara sauce isn't of the same gastronomic caliber as crafting beef Wellington from scratch but Greek yogurt has made it easy for me to feel like I'm someone who can handle the kitchen.
Rich and velvety, Greek yogurt easily spans the entire spectrum of flavors. Its accessibility has also given me the confidence to try out different recipes and substitutions and get creative in front of the stove. I recently perfected a Caesar salad dressing that uses Greek yogurt as a lighter base instead of mayonnaise. Don't even get me started on frozen Greek yogurt bark.
Plus, it is so versatile and inexpensive. It's sweet, savory, and can combat spicy. It's packed with protein, calcium, and gut-friendly probiotics. Do I ever tire of it? No. Like olive oil and eggs, I always make sure my kitchen is stocked with a tub of Greek yogurt.
Greek yogurt has made meal-prepping easier and the dishes I come up with more intriguing and appetizing. If you mix some dill and lemon juice with a dollop of Greek yogurt, then you've got the makings for a bright, creamy topping that'll upgrade light fare protein like salmon or chicken.
Throw a spoonful into your blender right before whipping up a smoothie for a milkshake-like consistency. Use it on top of baked potatoes or a bowl of chili as a sour cream dupe. I fold a hefty scoop into tomato sauces, curries, and soups to make them more effortlessly, and healthfully, more decadent.
Opening up my fridge when I'm hungry is a lot like looking into my closet when it's time to get dressed in the morning (or afternoon, let's be real). Just the way I tuck a shirt into my high-waisted jeans, I mix together pasta and tomato sauce with a dollop of Greek yogurt and they work cohesively to taste, satisfy, and also fuel me well. (Bonus points if the meal looks aesthetic.) And garnishing? That stuff is like choosing the right accessories.
Now that's some little black dress energy right there.
Kathleen Wong is a freelance lifestyle writer from Hawai'i. She has bylines with The New York Times, CityLab, Broadly, The Cut, Rewire, Honolulu Magazine, and more. Visit her website for more.