Cooking for two can be a tricky skill to master. While leftovers are practical, eating slow-cooker chili 5 nights in a row can get pretty old, and eating out can get pretty expensive.
These recipes — from breakfast and starters to dinner and dessert — are perfect to enjoy with your girlfriend, boyfriend, mom, dad, or BFF. Each meal is perfectly portioned for two, so grab a sous chef and get cooking.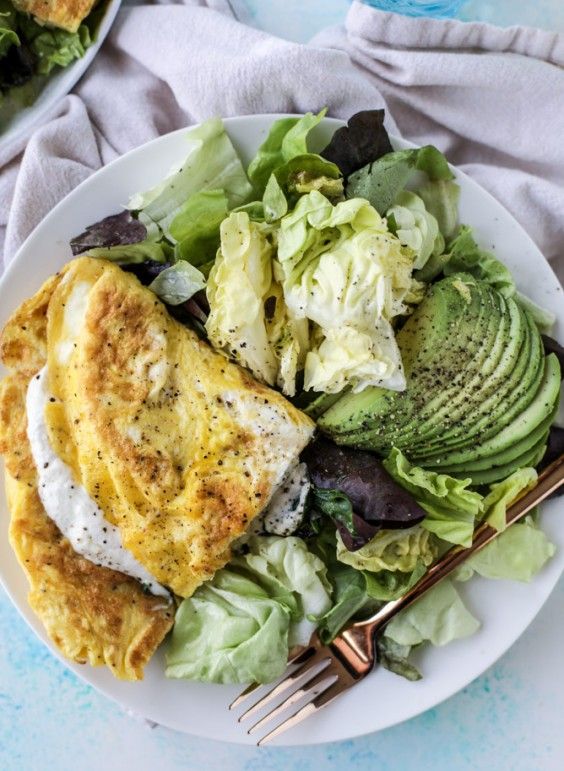 Adding greens to every meal can be tough, but this omelet and buttery lettuce combo makes checking off breakfast easy.
Spinach and burrata go inside the eggs, while avocado and butter lettuce (plus an easy olive oil and vinegar dressing) join on the side. It's just mild enough that you won't notice you're eating salad for breakfast.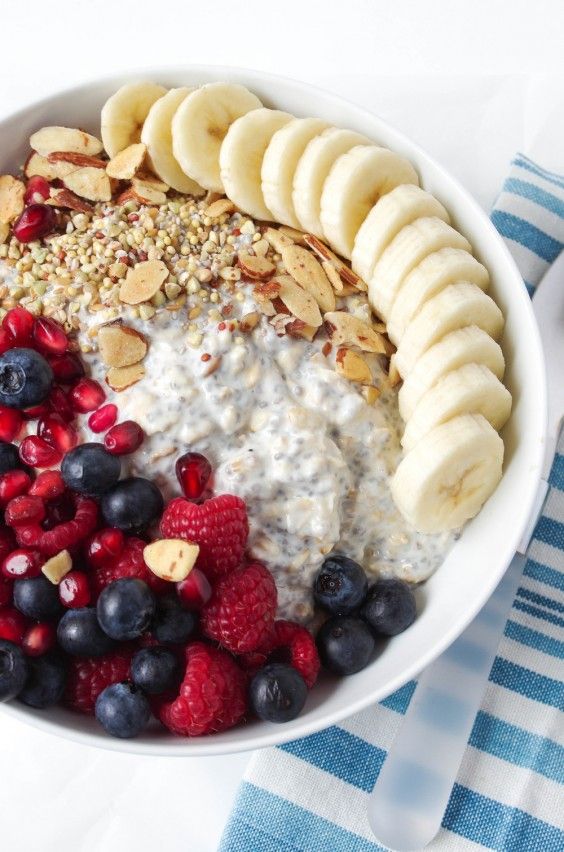 Overnight oats are just too easy to pass up. Make your morning easier by whipping these up the night before, then customizing with each of your favorite toppings. Nuts, seeds, and fresh fruit are all good options.
Breakfast in bed, anyone?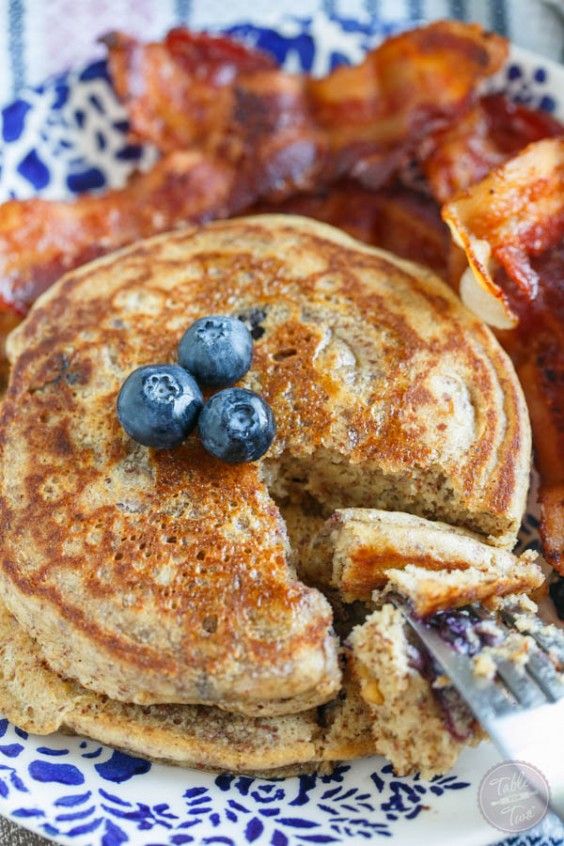 Is one part of your duo gluten-free? Then they'll appreciate these pancakes. Peanut butter and blueberries make for a PBJ-like flavor and add enough sweetness that you could probably do without syrup.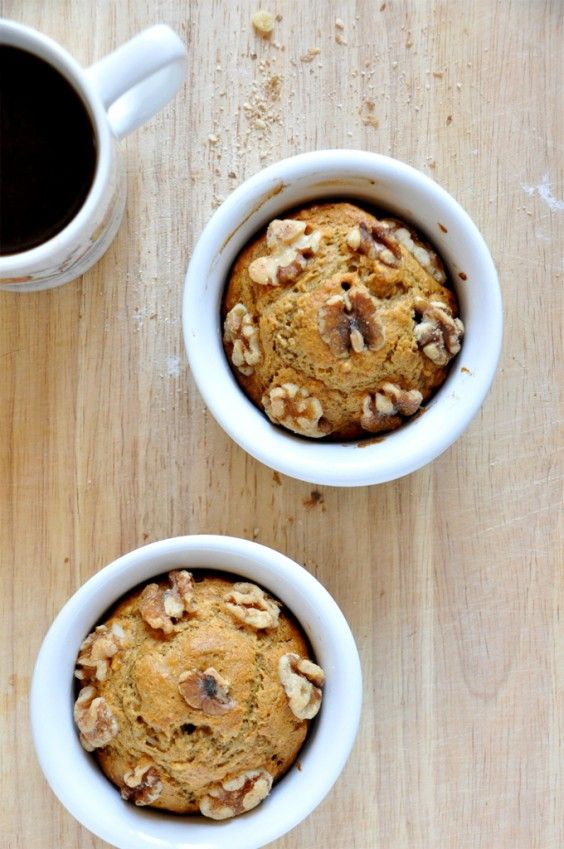 Both hearty and healthy, this recipe produces two monster-size vegan muffins made with wholesome ingredients. These babies get bonus nutrition points for the whole-wheat pastry flour, ground flaxseed, omega-3-rich walnuts, and half a banana in each.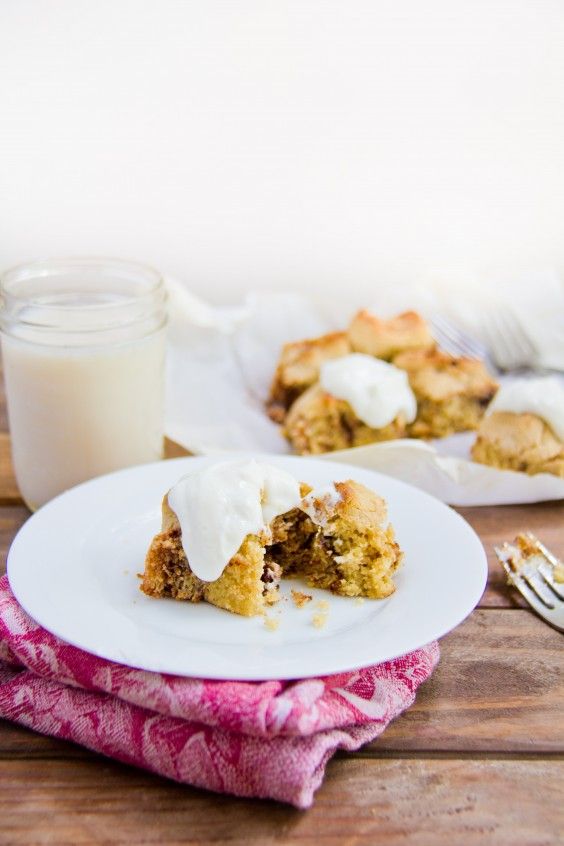 Ditch the can and opt for DIY cinnamon rolls for two, featuring a delish Greek yogurt icing.
Crunchy outside and doughy inside, these honeyed breakfast treats taste like the typical version but focus more on the cinnamon flavor than 12 sticks of butter or powdered sugar-based frosting.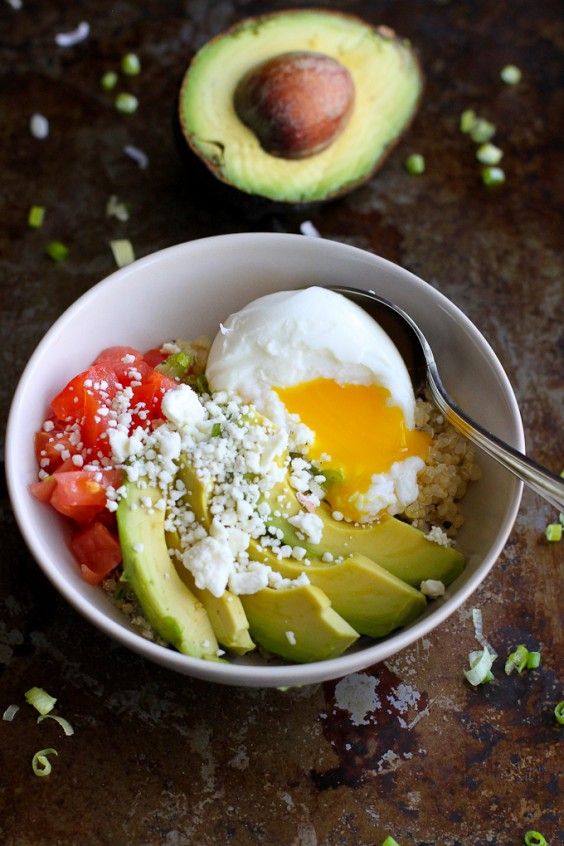 These savory bowls combine quinoa, green onions, tomato, avocado, feta, and a soft- or hard-boiled egg (we're partial to the runny kind). Cook quinoa ahead of time to make breakfast prep that much quicker.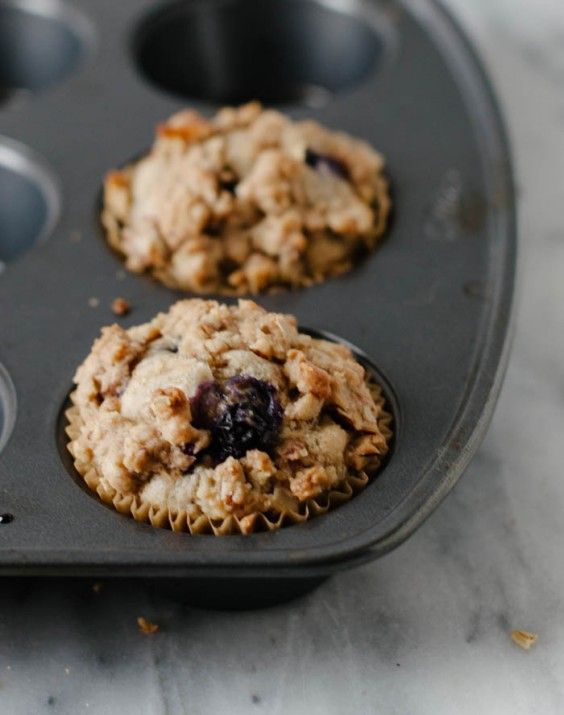 Skip the coffee shop run and make these homemade muffins instead. Made with oats, almonds, and soy or almond milk, these sweet guys are vegan and a step up from the store-bought kind. Fresh or frozen blueberries keep them moist.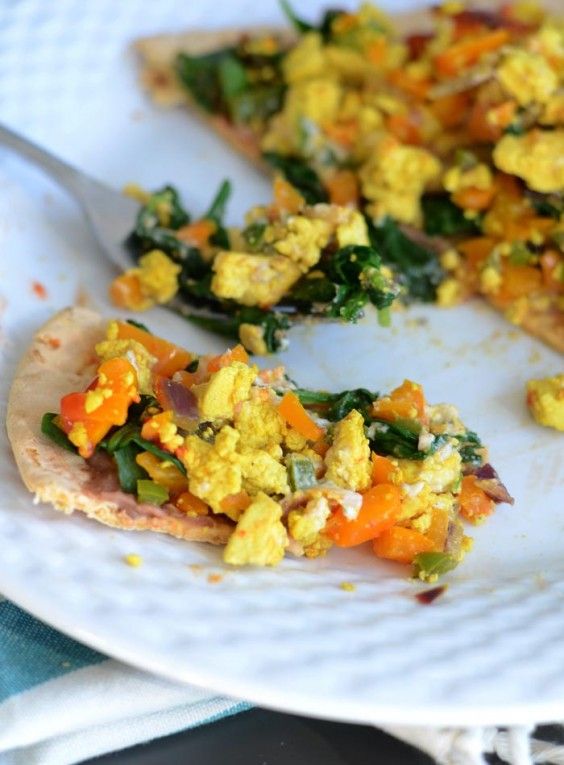 Though tofu may not normally be your cup of tea, cooking the budget-friendly protein source just like scrambled eggs is a great way to mask the funky texture while adding tons of flavor.
Scramble it up with peppers, spinach, and onions, top with avocado or hot sauce, and you've got yourself a lean, mean breakfast.
Vegan breakfast burritos can seem lackluster if not done right, but these pack in tons of hearty (and healthy) ingredients.
Black beans, potatoes, onions, avocado, cabbage, and salsa will keep you full till lunch. Swap the white rice for quinoa to up your fiber or nix it altogether — this burrito is filling enough.
Nothing warms up a boring old salad like fried egg and bacon. Top frisee or any other salad green with bacon strips, Dijon mustard, chopped shallot, a little salt and pepper, and an egg for a satisfying way to start your meal.
Simple, fresh, and a little tangy thanks to our cheesy friend feta, this watermelon and blackberry salad is a simple start to any meal. With a three-ingredient dressing (balsamic vinegar, brown sugar, and oil), it's a keeper for when you need a last-minute dinner spruce-up.
These gooey quesadillas place black beans, corn, peppers, and onions between melty shredded cheese. Add in cumin and chili powder and cut one up for a spicy start to your meal. For healthier 'dillas, choose whole-wheat tortillas and Greek yogurt instead of sour cream.
We don't know about you, but for us, sushi falls into the category of foods we love but that don't fill us up.
Solve that problem by making an easy roll at home and serving it as an app for you and your boo. This one's foolproof — just grab cucumber, avocado, salmon, and veggies, and roll it on up.
Dinner salads can be a snooze fest, but this one spices things up with hemp seeds, artichokes, parsley, and basil, plus tried-and-true faves like carrots and cucumbers. It's as beautiful as it is delicious.
Buffalo and ranch are a sauce combo typically paired with bar grub like chicken tenders, but the duo gets a major makeover in this vegan salad.
Make your own homemade ranch dressing or pick up a store-bought kind (such as Tessemae's or Follow Your Heart). Melt vegan butter and hot sauce and mix in the chickpeas before assembling each salad.
Tomato, mozzarella, and basil are a classic combo that everyone seems to love. This recipe shakes things up a bit by adding in crispy eggplant slices coated with flour (try whole-wheat instead of white) and panko breadcrumbs.
Topped with savory soy and maple baked tofu, these quinoa bowls get double the protein. A homemade peanut sauce goes on top of steamed broccoli, red pepper, chopped roasted peanuts, and freshly grated ginger.
This salmon sounds like it belongs in a restaurant but can be made at home in less than 30 minutes.
Maple syrup, soy sauce, Dijon mustard, garlic, chili powder, and cayenne combine to make a sweet and spicy glaze for flaky fish. Serve with Brussels sprouts, sweet potato fries, or whatever veggie you've got.
Made mostly of ingredients you probably already have in your pantry, this easy date-night dish is a cinch.
Chicken breasts get a big flavor boost thanks to lemon, Dijon mustard, honey, and paprika. Serve with broccoli and lemon slices on the side.
This quick, home-cooked meal is perfect for when it's chilly out. Lemon- and garlic-marinated strips of beef and red onion complement polenta — aka cornmeal cooked into a comforting, porridge-like consistency.
With carrots, broccoli, onions, garlic, wilted kale, and collard greens, this dinner blends just about every veggie from the produce drawer.
Shrimp and vindaloo seasoning (a mix of turmeric, cinnamon, garlic, ginger, cayenne, and other spices) finish off the meal.
While we've got a caprese salad stack on the list too, this is a much more substantial version with baked chicken and a flatbread as the base.
Thick slices of fresh mozzarella, halved cherry tomatoes, pesto, and chopped basil make for an awesome Italian-inspired meal.
How can something so effortless be so pretty? This recipe looks fancy enough to take time and effort, yet it takes just minutes to prepare.
Whip up eggs, milk, tomatoes, cheese, and chives and pour the mix into seeded acorn squash halves before tossing in the oven to bake.
This rich dish combines walnuts, broccoli, and creamy Brie, and can be customized with whatever nuts or veggies you prefer. With only five ingredients and a combined prep and cook time of just 15 minutes, this easy meal is as uncomplicated as it gets.
While traditional stuffed peppers have a ground beef filling, this version uses ground chicken instead, plus quinoa for even more protein. Artichokes, tomato, fresh dill, lemon, and mozzarella add a Mediterranean touch.
A couple of ramekins, a couple of peaches, and you've got yourselves two perfectly portioned desserts.
The oat- and coconut-oil-based topping is nutty and sweet with just a touch of maple syrup. Serve with a dollop of yogurt or a scoop of vanilla ice cream (we love Vixen Kitchen) for an even sweeter treat.
Vegan cream cheese frosting? Umm yeah, we're sold. Soaked cashews make it possible, and taste deeeee-lish on top of carrot cake pudding made with almond milk, carrot juice, cinnamon, cardamom, and chia seeds.
These rich, gooey lava cakes are a must. Coconut sugar, buckwheat flour, and fresh raspberries give them a #healthyish spin, and since they're dairy- and gluten-free, you won't feel like it's OTT after digging in with your SO.
PB lovers will go nuts for these sweet muffins, made with whole-wheat flour, cacao powder, dairy-free milk, and cacao nibs. If you can't find peanut flour, powdered or regular peanut butter works too, though regular will make the filling a bit thicker.
For those times you'd rather not whip up a full batch of brownies (way too tempting to eat leftovers for breakfast all week), this recipe makes just two in record time.
Avocado and cocoa powder makes the brownies super rich, while maple syrup and dark chocolate chips keep 'em sweet.
With only five ingredients, these super pretty tarts are surprisingly easy to make, despite looking like they belong on the Food Network.
Put almonds through a food processor, mix with maple syrup and coconut oil, then press into two ramekins. Put 'em in the fridge for about an hour, then fill with blueberries and coconut powder. Boom! You go, Top Chef.
Upgrade your pudding from powder boxes to homemade with this rich dessert. Instant espresso, sea salt, and vanilla bean seeds add big-time flavor.
Plus, coconut cream and chocolate almond milk instead of whipped and heavy cream help keep the dessert in healthy-ish territory.
Recognize this circular conversation? "Where do you want to go for food, babe?" "I don't know, where do you want to go?" "I don't know, where do you want to go…"
Listen friend, ain't nobody got time for that. Instead, bring sexy back and light the spark (literally and figuratively) by cooking at home. In fact, you can make a whole thing of it. Turn on the tunes, bust out some candles, get a little dressed up, and bring back that sweet, sweet romance.
Don't forget to save room for dessert — if you can keep your hands off each other for that long.