British comfort food leans heavily on the carbs. The U.K. is a land of sandwiches, scones, and pasties — we love meats and vegetables wrapped in bread and pastry. But few comfort snacks reach the heights of the carb-on-carb greatness that is the chip butty sandwich (also regionally known as a chip cob, a chip barm, or a chip sarnie).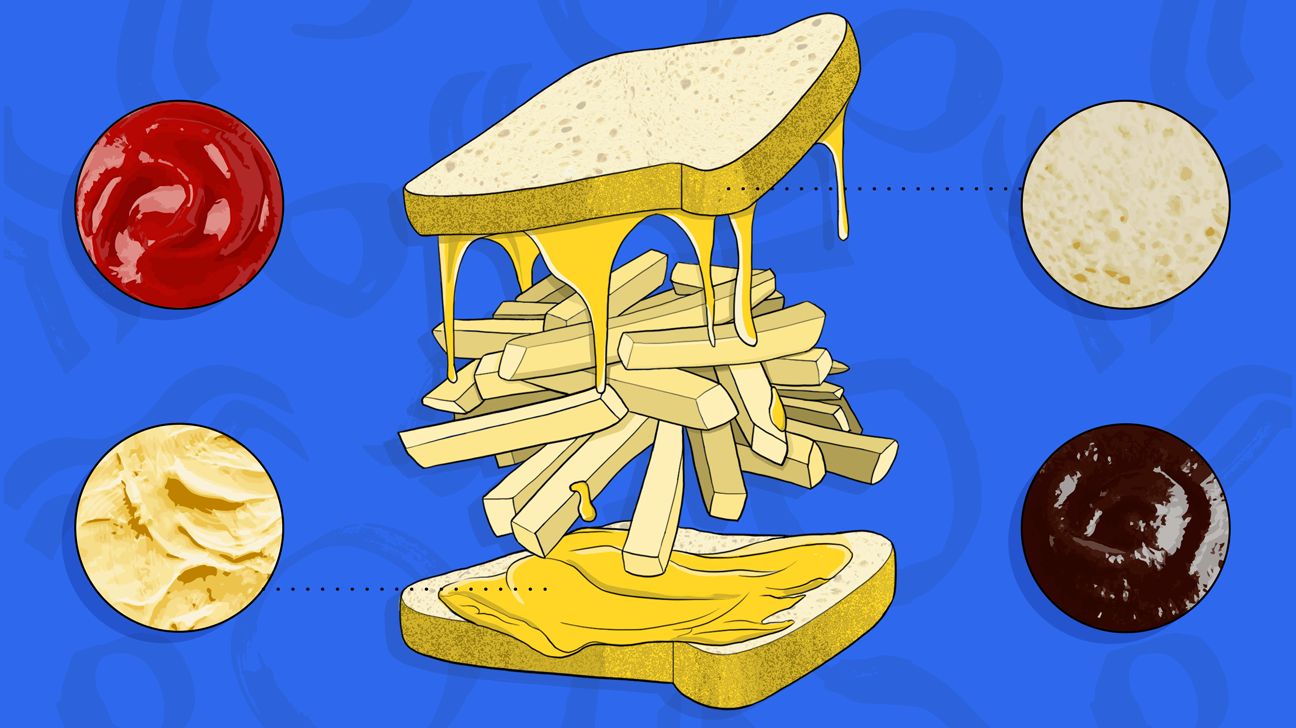 To put it simply, a chip butty is a crispy yet soft sandwich slathered with butter and filled with french fries, an unlikely combo that will have you coming back for more.
Said to have originated in Liverpool as a pub grub staple (particularly in central and northern areas of the U.K.), the chip butty is a simple food for when you're at your lowest and in the greatest need of comfort. Or, perhaps, it's for when you're at your laziest or simply feeling chaotic. As someone who regularly hits all three of these moods, I can say that the chip butty soothes jangled nerves every single time.
In the U.K., french fries are known as chips — hence the name "chip butty." But there is a distinction: What we call "fries" are thin and crispy, while "chips" are thick and soft, still somewhat resembling their potato origin. The ideal chip butty "chip" is closer to what Americans consider a steak-cut fry.
As you first bite into the squidgy, soft white bread (no fancy artisanal bread allowed here) before hitting the thrilling belt of melted butter and grease, a sense of comfort and warmth comes over you. Then, you reach the satisfying peak of that first bite: the crisp-then-soft texture of the chips themselves, still warm inside their bread and flavored with those best of British staples, salt and vinegar.
While the chip butty might not be the flavor of your particular childhood nostalgia, the simplicity and familiarity of fried food and soft bread will nonetheless make you feel cozy, inside and out.
Making a chip butty is an extremely quick and low fuss process, a small yet satisfying task with a result that hits all the right pleasure points when you need it most. Like all the best comfort foods, it brings back memories of the quick after-school refuels of childhood, midnight snacks at a sleepover, and, later, the all-important day-after-a-hangover foods.
Brits love chips, and Brits love bread. So putting a handful of one between two slices of the other is the ultimate in British satisfaction. I recommend giving one a try next time you're in need of a pick-me-up. For the full experience, this delicious carb-on-carb snack pairs best with a mug of uplifting milky English Breakfast tea.
Ingredients
Salted "chips" (aka steak fries or thick-cut french fries)
Salt and vinegar
2 slices white bread
Generous helping of butter or margarine for spreading
Dash of HP brown sauce, malt vinegar, or ketchup (optional)
Instructions
Cook chips/fries according to package instructions and add salt and vinegar according to your taste.
Slather bread with butter and sandwich the chips between the bread along with sauce (if using). Enjoy!
Tips for the best chip butty experience
Use white bread. You can use a bread roll, but then the bread-to-chip ratio will be off. Two slices of white bread soak up the salt and grease enough for it to be just right.
The bread should be untoasted for the full squidgy effect.
Use steak-cut fries. Though any type of chip will do in a pinch, the consensus is that french fries are a little thin and potato wedges are too thick.
Jessica Esa is a freelance writer from the U.K. and spends her time between Europe and Asia. She specializes in writing about East Asian travel, culture, and food and also manages the website Books and Bao with her partner.