Raise your hand if the following scenario applies to your life: You open a jar of marinara sauce. You place the leftovers at the back of the fridge. A month later, you rediscover both the jar and the little blue fuzzballs flourishing within.
You're getting angry DMs from pasta sauce and its friends. You experience recurring nightmares of the meatballs you could have had, if only you'd remembered the jar existed. The president of Italy hits up your cell phone to tell you that you're barred.
We get it. The intention to use the leftovers is there, yet you find yourself face-to-face with wasted sauce, and not for the first time.
It's time to get on pasta sauce's good side again.
We're helping you turn those half-used jars of pasta sauce into some seriously tasty and healthier options (although if they're already growing living organisms, step away from the fridge, slowly).
We've broken down the recipes into fast and easy (a win-win), single-servings (because, sometimes, only you deserve the fruits of your genius), and crowd pleasers (because there are occasions where you can't keep it all to yourself).
When you CBA but the jar of leftover sauce is staring you in the face, these recipes have you covered.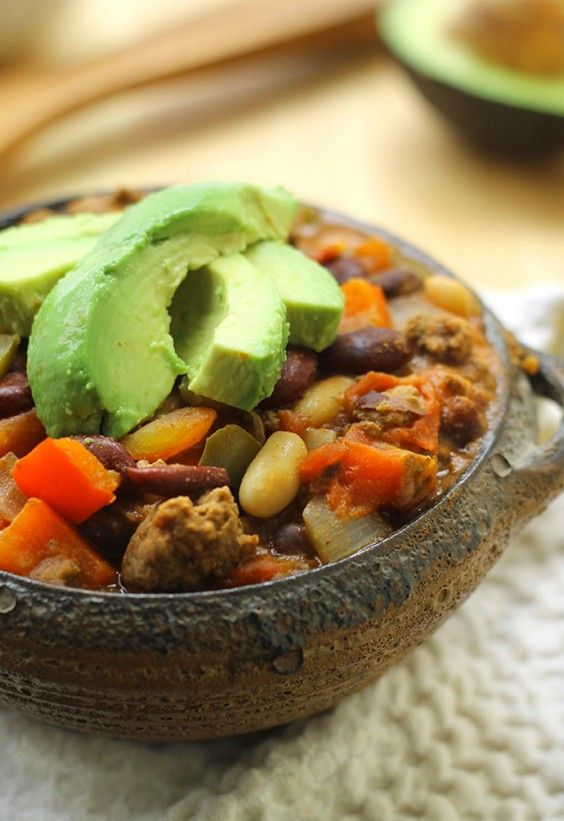 For a quick and hearty meal that will serve a large crowd (or make for lots of leftovers), this one-pot beef and three-bean chili couldn't be easier.
Chop up onions, bell peppers, and tomatoes. Mix them with ground beef, that all-important pasta sauce, and whatever spices tickle your fancy. And dinner is on its way!
And because it makes everything better, top it all off with some avocado. We've also got a simple veggie chili that does the heckin' business.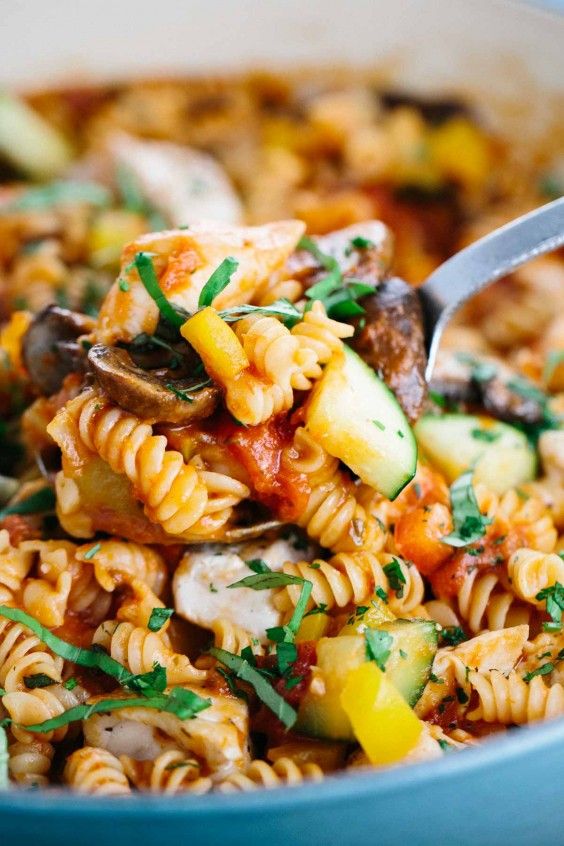 As the name suggests, this recipe is easy, quick, and will leave you with just one pan to clean up (because it's easy to forget that part of cooking in the prep time).
Toss in mushrooms, peppers, and zucchini along with pasta, chicken, and that extra tomato sauce for a colorful, light pasta dish that's ready for the inside of your face and belly in half an hour, tops.
One-pot meals are so easy that we compiled 53 simple AF super-healthy options for you to try. Does this article qualify as a single 53-pot meal, though? Who cares, tuck in.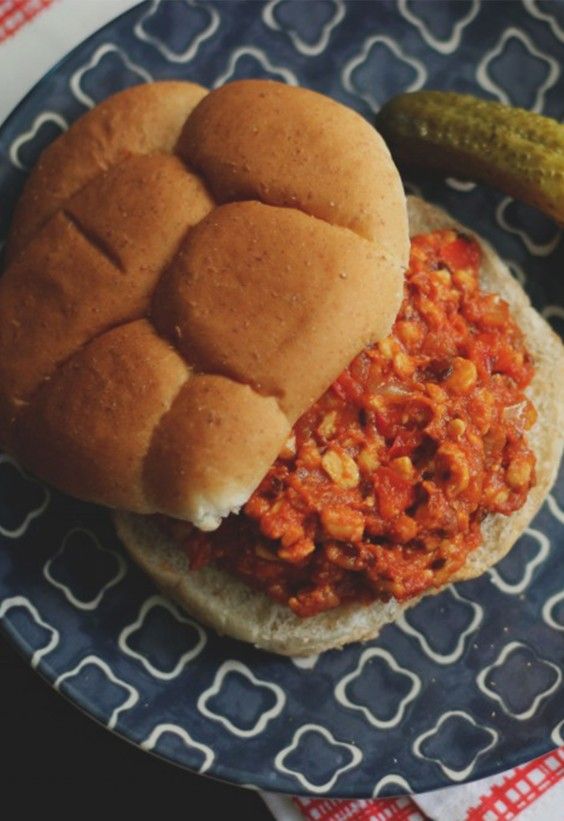 If the phrase "Sloppy Joes" brings back awkward summer camp memories, we don't blame you. But give this updated vegan version a chance, especially on nights when your heart says burger, but your brain says bring on the veggies.
(Also, give camping a chance. It's definitely not always as bad as your summer camp recollections.)
This spicy sandwich is filled with tempeh, a great vegetarian substitute for ground beef, as well as onions and peppers. Swap out the tomato paste for your leftover tomato sauce, and you'll feel like you're at a grown-up cookout in no time.
Alllllllllllll yours.
When eating by yourself, it can be tempting to just toss something frozen in the microwave.
But with just a little extra effort, you can have a way more satisfying and nutritious meal. This easy eggplant parm recipe will have you hoping you'll never need to cook for someone else again.
And that feeling of smugness is the single-serving gift that keeps on giving. Here are other options you can make and eat alone.
Don't be fooled: This dish is a lot easier to make than it looks — and can be done using a single pan for minimal cleanup (we won't judge if you eat straight out of the steaming pan either, 2020 is for mavericks).
Shakshuka is a high protein, spice-laden, Middle Eastern classic. You can chow down on it for breakfast, lunch, or dinner. It also makes for a great post-gym snack when ladled on top of fiber-rich crackers or Ezekiel bread.
We love a good pre- or post-workout nosh — here are 50 options to get you started with post-gym nutrition.
"WHAT! Mugs are just for coffee and holding pens" said no-one, ever.
So you want lasagna, but you don't feel like going through the hours-long process of cooking a whole pan, especially when it's just you tonight.
We've been there. And nothing keeps you company like a bomb-ass lasagne, whatever the receptacle.
With this mug recipe, you're just 10 minutes away from warm, saucy comfort food in a cup. If you want a slightly lighter version, substitute cottage cheese for the ricotta. (We're massive on cottage cheese, you can put it in everything).
For when the masses gather, clamoring for your cooking.
Who doesn't love pizza? The crowd-pleaser can get a bit messy (and expensive, and competitive) when served whole, so we welcome an easy, dippable solution: Pizza hummus.
Yep. You read that right. Pizza. Hummus.
This dish is the perfect last-minute addition to a party — just blend chickpeas, tomato sauce, and spices. Top with diced tomatoes, and serve it to your grateful compadres (and kick out the ungrateful ones).
Pair it with veggies, fresh bread, or pita chips. And maybe make a second batch for when it definitely runs out.
Wait, what? You've made too much hummus, and now you have even more leftovers? This is a nightmare. Don't panic — there are plenty of ways to use them, too.
Even your pickiest guests will appreciate the simple ingredients that go into these meatballs.
The egg, ground chicken, honey, and tomatoes are the foundation of this dish. They work alongside the chilies, sauce, and spices, which provide the real kick in the balls.
If you want to take the health factor up a notch, sub in rolled oats or crushed flax for the bread crumbs and add avocado.
If you're veggie, why not try using the pasta sauce in our vegball recipes instead? (Look, we're trying to make them a thing, okay?)
Quasi-pizza is back. It's marinara sauce. What were you expecting?
This recipe combines two of our favorite finger foods: Pizza and muffins. And while the bites taste indulgent, they are packed with protein from the quinoa, making them a healthy alternative that guests will love on game days.
Healthy… pizza… muffins? You might need a bigger venue for game day — you're going to have way too many friends at this rate. How you'll miss the days of single servings.
Chop up some of your favorite toppings (olives, broccoli, or mushrooms sound good to us) and toss them into the muffin tins for an even more filling snack.
Quinoa can save the day nine times out of ten, even at breakfast.
See! That pasta sauce is nowhere near a goner. Plus, you're now allowed back into Italy, which is a massive bonus.
You're never pasta point of no return.