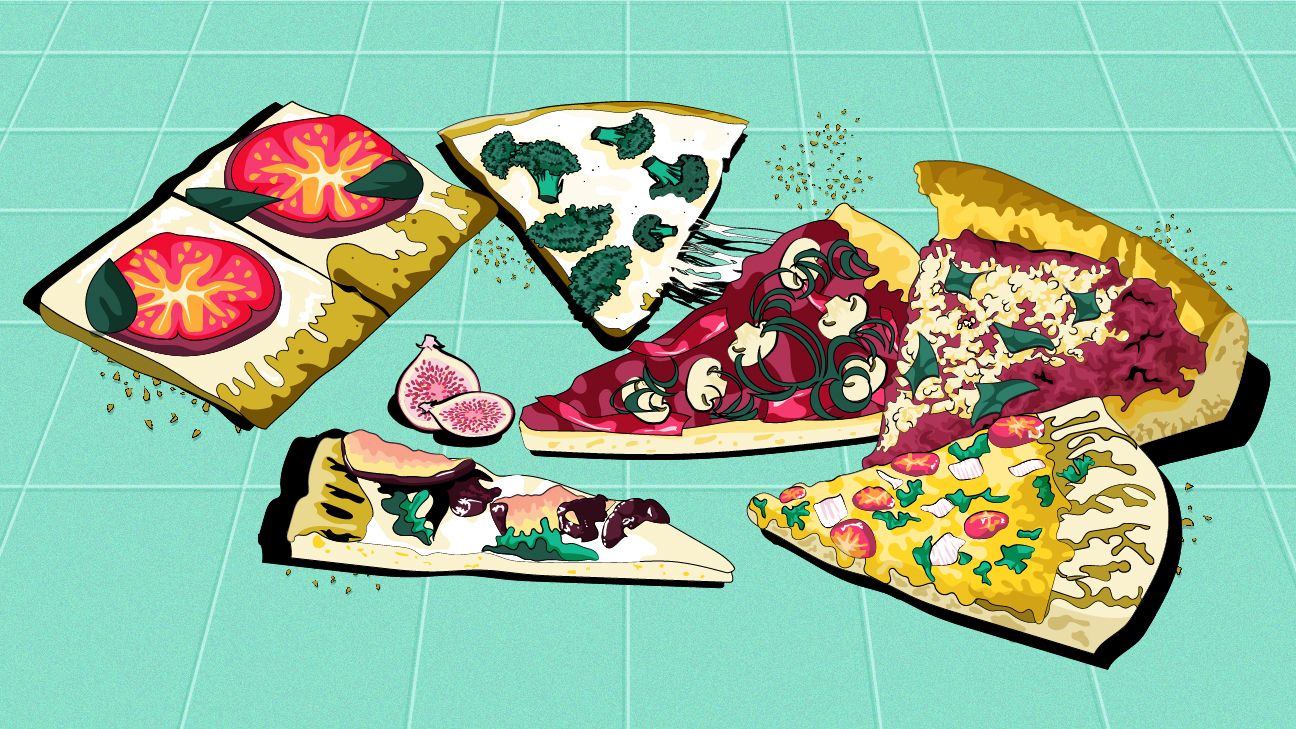 Of the many delicious combinations of cheese and carbs, pizza is undoubtedly in the hall of fame. Not only is it a traditional Friday night staple, but in 2015, Americans ate 100 acres of pizza every day!
And while any pizza delivery spot can be just one speed dial or app click away, going the homemade route isn't the worst option.
DIY pizza is actually a blessedly simple meal that can reward you with just as much enjoyment in the prep as it does in the leftovers. You don't need a brick pizza oven or fancy earthenware pizza stone to create a satisfying pie all on your own, either.
Here's your crash course in upping the ante on homemade pizza.
Believe it or not, credit for inventing pizza doesn't go unequivocally to Italy. People in other parts of the Mediterranean, like Egypt and Greece, were also noshing on flatbreads back in antiquity. But it was in Naples, Italy, that pizza in its current form really took off.
According to food historians, this bustling portside city saw tremendous growth in the 18th century. The influx of laborers increased the need for food that was quick, portable, and cheap — and pizza fit the bill. Street vendors would hock cooked dough topped with lard, salt, garlic, cheese, and fish. (Yum?)
Not long after, the dish was elevated to royal status when Italy's queen Margherita tried Naples' local specialty and was delighted with the version topped with mozzarella, fresh tomatoes, and basil — hence its name, "margherita pizza," which endures to this day. Once given the queenly stamp of approval, pizza became even more popular with the upper crust of society (pun intended).
Eventually, as Italian immigrants made their way to the United States, so did the tasty pies. The first pizzeria opened in New York City in 1905 — and from there, pizza gradually proliferated westward, delighting American palates as it traveled.
Various types of pizza are usually defined by their crusts. For connoisseurs, the question of crust goes way beyond the usual Chicago, Illinois versus New York-style debate. In fact, there are at least a dozen signature styles of pizza, all built upon unique foundations of dough.
Chicago, Illinois-style pizza is, of course, well known for its extremely thick base with raised edges, typically baked in an iron skillet or cake-like pan. New York-style pies, on the other hand, come with a thinner crust and large, wide slices (perfect for folding in half and shoving in your mouth).
Not to be outdone, Detroit, Michigan and St. Louis, Missouri have pies of their own. Legend has it that Detroit, Michigan-style pizza was first baked in a pan intended for auto parts — which explains its high, square crust. By contrast, St. Louis, Missouri-style pizza's crust is so thin as to be almost cracker-like.
Moving away from American metropolises (and back to Italy), you'll find unique pizza varieties up and down the Boot. Neapolitan pizza combines a thin, round crust and spare layer of fresh toppings, while Sicilian pies are usually square, thick, and springy, covered from edge to edge with sauce.
Now that we've established some background, roll up your sleeves and shout, "Ingredients, assemble!"
Choosing your crust
If the global varieties above are any indication, the perfect pizza starts with the right crust. Your personal fave homemade version will be built on your preferred choice of bread-y bedrock.
For newbie chefs, anyone pressed for time, or fans of the KISS principle, there's always the option to go with a pre-made, store-bought crust. This might look like individual naans, flatbreads, or pre-baked pizza crust under a bed of toppings. Heck, you can even build a decent pie atop English muffins, crescent rolls, or bagels — no judgment!
If you'd rather go totally DIY, you'll want to set aside some time for mixing, kneading, and rising. Most homemade pizza dough recipes use yeast and involve anywhere from 5 to 90 minutes of rising time.
Try this no-frills recipe as a jumping-off-point:
Basic pizza crust recipe
Prep time: 5 minutes
Passive time: 30 minutes
Cook time: 15 minutes
Ingredients
2 to 2 1/4 cup all-purpose flour, divided
1 packet instant yeast
1 teaspoon sugar
3/4 teaspoon salt
2 tablespoons olive oil, plus more for brushing
3/4 cup warm water
Instructions
1. In a large bowl, combine 1 cup flour, yeast packet, sugar, and salt. Add olive oil and warm water, and stir well.
2. Gradually add 1 to 1 1/14. additional flour, stirring as you go. Using your hands, form the dough into a cohesive ball.
3. Brush the bottom of a separate large bowl with olive oil. Place the dough ball in this bowl (and brush its top, too, if you like) and cover tightly with plastic wrap. Let rise for 30 minutes.
4. On a lightly floured surface, knead the dough about five times.
5. Cover a 12-inch pizza pan with parchment paper. Stretch the dough to cover the 12-inch circle, forming a crust at the edges, if desired. Poke a few holes in the dough with a fork.
6. Add toppings of your choice and bake at 425°F (218°C) for 13 to 15 minutes.
Granted, this is just one of a bazillion homemade dough recipes. Amp up fiber content by using whole-wheat flour in your crust, or make a gluten-free pie using almond flour, chickpea flour, or even a homemade cauliflower crust. Or, if you want to go semi-homemade, start with a store-bought dough ball that rises and bakes at home.
Getting saucy
We're all for a classic marinara, but part of the fun of homemade pizza is adding your own spin. Mix things up by trying any of these unique sauces:
pesto made with basil, nuts, artichokes, or peppers
ranch dressing
garlic- or herb-infused olive oil
barbecue sauce
olive tapenade
bechamel, Alfredo, or other white sauces
black bean puree
fruit jam
Can you top this?
Similarly, you're not limited to pepperoni and cheese when topping your own pie. Let your culinary creativity shine with add-ons like these:
roasted or grilled veggies like Broccolini, red peppers, zucchini, and corn
unexpected proteins like chorizo, plant-based beef crumbles, turkey bacon, or smoked salmon
greens like arugula, spinach, or red leaf lettuce
fresh or dried fruits like figs, cranberries, and pears
fresh or dried herbs
unique cheeses like feta, manchego, Gorgonzola, brie, ricotta, and Gouda
dairy-free cheese or nutritional yeast for dairy-free eaters
The scene is set, the parts are in place, and you're already drooling. Now what's the best way to cook this thing? Any way you slice it, cooking pizza doesn't have to be complicated.
Baking
In your home kitchen, the oven's probably the most obvious place to crisp your dough and melt your cheese. Fortunately, this cooking method is usually one-and-done, with crust, cheese, and toppings cooking all in one go. (Exceptions include meats and sturdier veggies, which must be cooked separately.)
Most homemade pizza recipes call for heating your oven to high temps, anywhere from 400 to 550°F (204 to 288°C), for a brief baking time (up to 15 minutes). It's always smart to visually check your pie as it bakes, though, to prevent the tragedy of a burnt pizza.
As for equipment, a pizza stone or other specialty pan isn't necessary when baking — but with homemade crust, you'll usually want some kind of pan to catch melty cheese before it decorates your oven. A rimless baking sheet should work just fine.
Grilling
Grilling and baking have more in common than you might think. Both are dry cooking methods that use high temps — so it's not surprising that grilling also makes for top-notch results with pizza. (And those grill marks on the crust are oh-so-irresistible.) Unlike baking, though, when grilling pizza, it's best to cook your dough on one side, then add toppings and grill again.
Start by heating a grill to high and placing stretched dough directly on grates lightly greased with olive oil. Close the grill and cook for 2 minutes or until lightly browned on the bottom. Remove the dough from the heat, flip it over onto its opposite side, and top with sauce and toppings. Return to the whole pie to the grates and cook an additional 2 to 3 minutes.
Head here for our full guide on grilling the perfect pizza.
Microwaving
It may not be gourmet-approved, but zapping in the microwave can create tasty pizza in a flash. This method is best for individual slices or personal-sized pizzas with pre-cooked crusts. (Microwaves are good at melting cheese, but they're not so good at cooking entire pans of dough.) Start with 30 to 60 seconds of cooking and increase as needed.
Tips and tricks for the best homemade pie
Your pizza likes it hot! A high heat oven or grill up to 550°F (288°C) is ideal.
While you're preheating, add your pan to the oven. Once hot, a pizza stone or pan retains heat, distributing it evenly throughout the crust.
Just-pulled-from-the-fridge dough doesn't have much stretch. Give your dough up to an hour to rest so it can reach room temperature.
Stretch, don't roll. That's not fitness advice — it's insider dough info. Rolling out pizza dough with a rolling pin squishes out its natural air pockets, leaving you with crust that may crack. Instead, stretch by hand, chef-style. (Tossing in the air is optional.)
Sturdy veggies like bell peppers, broccoli, and squash won't soften in the time it takes to melt cheese in the oven. For best taste and texture, pre-cook veggie toppings.
To achieve unbroken elasticity from cheese, go with a full-fat variety. Low fat and nonfat cheeses, with their lower moisture, may end up rubbery or dry.
Delicate greens and herbs char easily. Preserve their tender flavor and texture by adding arugula, basil, and other lightweight additions after pulling your pizza from the oven.
Once you become a pro at the basics, give these creative pizza recipes a spin.
Grilled pizza with figs, balsamic onions, and Gorgonzola
Fire it up for this complexly flavored combo of ripe figs, tangy Gorgonzola, and balsamic-sauteed red onions. And if grilling isn't your thing, no worries — you can bake this one in the oven, too.
Best homemade vegan pizza
It's not a contradiction in terms. Vegan pizza is not only possible, but actually delicious when done right. The trick to eliminating cheese (but retaining flavor) in this vegan variety is using high impact veggies like marinated artichoke hearts and roasted red peppers, plus creamy cooked chickpeas.
And if you really need cheesy flavor, there's always the option for a sprinkle of nutritional yeast.
Mexican pizza
Pizza? Now that's what I call a taco! (Where are our SNL fans at?) This recipe is a mashup of two familiar favorites: pizza and Mexican food. It's also surprisingly healthy, with a black bean paste "sauce" and veggie toppings galore.
Whole-wheat white broccoli pizza
This high fiber pizza jazzes up a plain white pie with a pop of green in the form of cruciferous veg. Purchase whole-wheat dough or make your own, then add four different types of cheese (YES, WE SAID FOUR), and top the whole thing off with fresh broccoli florets.
Almond crust margherita pizza
Can't do gluten? No prob. This almond flour crust, which also happens to be yeast-free, lets you enjoy pizza night and stick to a GF diet. Classic margherita toppings of fresh tomato, mozzarella, and basil prove that simple is sometimes best.
Cast iron deep-dish pizza
Deep-dish pizza may be the granddaddy of all restaurant pies, but you don't have to go to a Chicago, Illinois-style parlor to get the signature inch-thick crust and stretchy mozz you crave. You can make it right at home! This recipe walks you through the steps of creating an iconic deep-dish pie in a cast-iron pan.
Happy pizza-making!