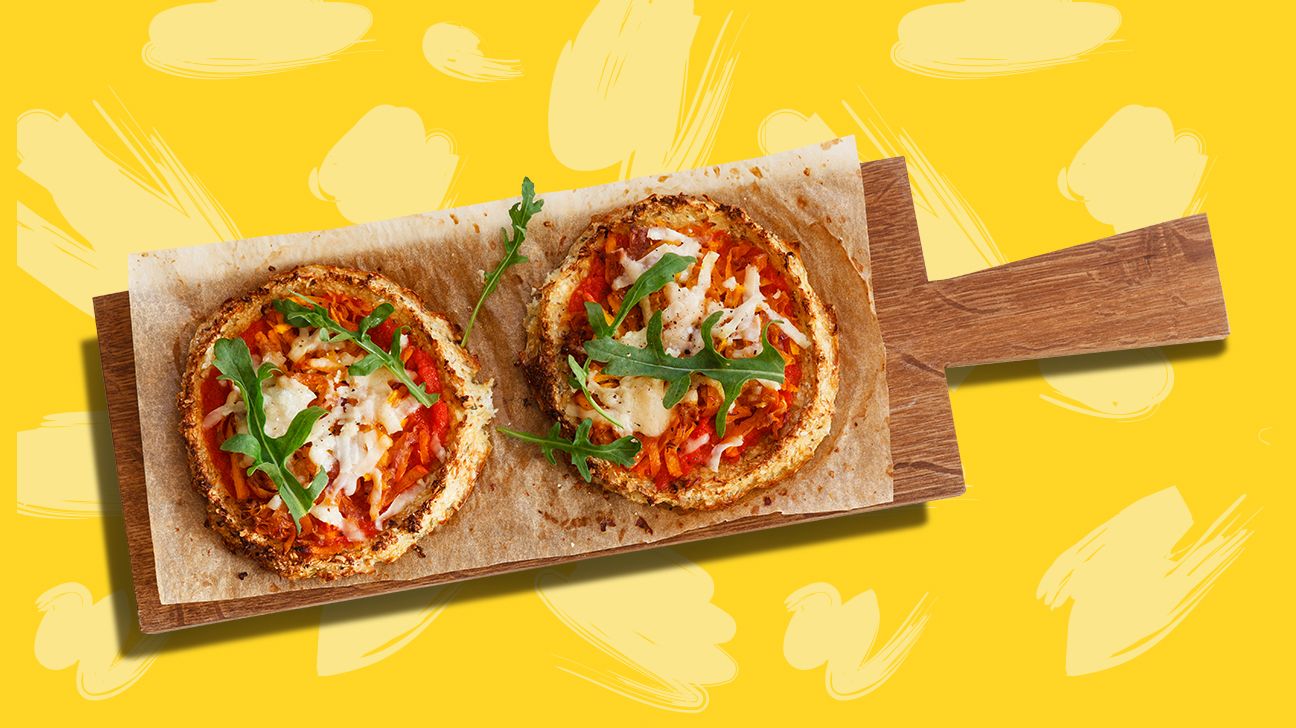 We include products we think are useful for our readers. If you buy through links on this page, we may earn a small commission. Here's our process.
Greatist only shows you brands and products that we stand behind.
Our team thoroughly researches and evaluates the recommendations we make on our site. To establish that the product manufacturers addressed safety and efficacy standards, we:
Evaluate ingredients and composition: Do they have the potential to cause harm?
Fact-check all health claims: Do they align with the current body of scientific evidence?
Assess the brand: Does it operate with integrity and adhere to industry best practices?
We do the research so you can find trusted products for your health and wellness.
Fact: Americans love pizza. We adore pizza so much that we're reported to consume 3 billion pies per year. And while that's an incredibly high number, the cheesy favorite sometimes gets a bad rap. It's fattening, cry pizza naysayers, and filled with processed ingredients like refined flour and cured meats.
And then, of course, pizza is packed with another component many people avoid: gluten.
Luckily, there are other ways to eat pizza that don't involve inhaling copious amounts of gluten or chowing down on a frozen pizza jammed with questionable ingredients. That's where Joey Skladany comes into pizza play, thanks to a recipe for cauliflower crust in his new cookbook Basic Bitchen.
Not only is Skladany's cauliflower crust free of gluten, it's lower in carbs than the typical wheat crust version, making it perfect for folks on special diets.
"Pizza is one of those things you shouldn't eliminate from your diet — or it will cause bouts of excessive hanger," he says. "Cauli pizza is a fantastic alternative and allows you to indulge without going completely overboard."
Skladany's recipe calls for 3 cups of riced cauliflower, pulled from one large head of cauliflower. (Or, if you're into shortcuts, you can buy pre-riced cauliflower at most grocery stores.) No matter which direction you go, you'll want to make sure to wring out the "rice" to get rid of any excess moisture.
"Having wet cauliflower leads to cauliflower crust failure," Skladany explains. "The only thing that should be binding your rice is eggs and cheese. I recommend diversifying your cheese types and textures, but always include a grated variety to really coat the rice and absorb some of the excess liquid."
The recipe calls for adding a mix of Parmesan, mozzarella, oregano, basil, garlic powder, salt, and an egg to the riced cauliflower, which will not only give the crust a nice savory flavor, but will also guarantee it'll stay together once it's out of the oven.
Once you've prepped the pizza crust and pressed it into a circle, you'll need to pre-bake it for 15 minutes to ensure it holds up to your toppings of choice.
When your crust is warm and starting to crisp up, take it out to scatter your toppings across the surface. This recipe suggests a swipe of tomato sauce, fresh mozzarella cheese, basil leaves, red pepper flakes, and a final sprinkling of Parmesan. But really, you can get as creative as you want!
Skladany goes above and beyond to spice his pie up. "I'm super Italian and typically go with a spicy marinara, topped with pepperoni, soppressata, Parmesan, and mozzarella cheeses, and then tons of roasted garlic, red onions (sometimes caramelized), and fresh basil," he says. "It's the perfect pizza trifecta: sweet, spicy, and salty."
Devour your cauliflower with these tasty toppings
DIY a barbecue chicken cauli pizza with barbecue sauce, mozzarella, rotisserie chicken, sliced red onions, and a sprinkling of fresh cilantro
Slather on a schmear of pesto, followed by chunks of fresh mozz and beefsteak tomato slices
Go whole hog with a meaty mix of pepperoni, sausage, and bacon
For an autumnal pizza, use puréed butternut squash as a "sauce," then add goat cheese, fresh sage, and a drizzle of balsamic vinegar
Keep things veggie-fied (and dairy-free) with a brush of olive oil, nutritional yeast, and roasted vegetables
Combine pizza night and Taco Tuesday! Spread mashed black beans over the crust, then top with your favorite Mexican fixin's like grilled corn, avocado slices, and sharp cheddar
All of the flavor, none of the gluten! Try this crust for a pizza night that's high in veggies and low in carbs.
Prep time: 25 minutes
Cook time: 30 minutes
Makes 1 10-inch pizza
Ingredients
3 cups riced cauliflower (from 1 large head cauliflower)
1/4 cup freshly grated Parmesan cheese
1 cup (about 4 ounces) freshly grated mozzarella cheese
1/2 teaspoon dried oregano
1/2 teaspoon dried basil
1/2 teaspoon garlic powder
3/4 teaspoon kosher salt
1 egg, lightly beaten
1/3 cup tomato sauce
1/2 cup freshly grated mozzarella cheese
Fresh basil leaves, for garnish (optional)
Red pepper flakes, for garnish (optional)
Parmesan cheese, grated, for garnish (optional)
Instructions
Preheat the oven to 425ºF (220ºC). Line a baking sheet with parchment paper.
Make your crust: Add the cauliflower rice to a microwave-safe bowl and cover. Heat on high for 6-8 minutes until tender. Uncover and allow to cool slightly.
Once the cauliflower has cooled, transfer to a kitchen towel and wring out the excess moisture. Return to a large bowl. Add the Parmesan, mozzarella, oregano, basil, garlic powder, salt, and egg. Mix to combine. Transfer to the prepared baking sheet and press into a 10-inch circle. Place baking sheet in the oven and bake for 15 minutes or until golden.
Remove from the oven and top with the tomato sauce and mozzarella. Return to the oven to bake until the cheese is melted and bubbling, about 5 minutes. Remove from the oven and garnish with basil, red pepper flakes, and Parmesan. Slice and serve.