Side dishes are the perfect way to boost your veggie intake and pump up the flavor in any meal. During the cold winter months, they're the ultimate comfort food. Bring one of these to a friend's, a potluck, or just make it for yourself to spice up a drab and dreary night.
A word of caution: A few of these recipes take up to an hour to cook, but they're worth the wait. They taste so delicious (and are chock-full of nutrients and health benefits) that you might be tempted to skip the main course.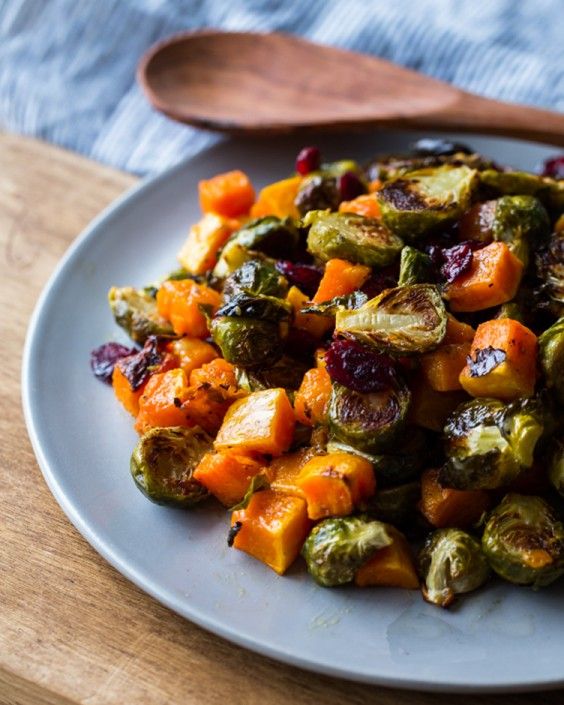 Brussels sprouts and squash — tried-and-true seasonal favorites — come together for a hearty medley in this dish. Add it to your weekend meal prep, as it takes 40 minutes to whip up. Don't be afraid to make a big batch. It's good hot, warm, or even cold.
The nutty, creamy flavor of the tahini combines with the sweetness of maple syrup for a delicious dip for these sweet potato wedges. Sprinkle lemon juice and cilantro on top for even more flavor. Bonus: It's also vegan and paleo, if you're into that.
With quinoa, pepitas, and cranberries, this is one side dish that will fill you up. Put a couple on your plate, and you've got a full meal. It's best to save this recipe for when you have the time. The prep for each acorn squash is a bit involved, and they spend about 45 minutes in the oven.
Tahini makes another appearance in this festive carrot dish. But this time, the recipe calls for cilantro or parsley for a boost of flavor. Top this vegan and gluten-free dish with pomegranate seeds for a tangy burst and a final product that looks like a work of art.
Green bean casserole gets a makeover with ever-popular kale. This recipe is a great winter comfort food when you want to splurge (hello, caramelized mushrooms and Gruyère!) but still pack a nutritious punch.
No sad winter salad here! Beets and pomegranate seeds combine with quinoa and spinach for a dish that will make you feel warm inside even on the coldest nights. Put it in a mason jar for a fun, healthy weekday lunch.
It may not be much to look at, but if you love mushrooms, this side dish will be one you make over and over again. It doesn't hurt that it pairs well with almost any main course. Swap in brown rice in place of white for an added nutritional boost.