Problem: You've signed yourself up for a potluck get-together, but your cooking expertise extends to boiling eggs and slapping together PB&Js.
There's nothing wrong with that, but we're pretty confident you can do more. And it's much easier and way less time-consuming than you might think. Solution: This roundup.
You could be a total novice in the kitchen or an amateur chef extraordinaire. Either way, with these crowd-pleasing ideas at the ready, there's no need to stress over what you're bringing to a gathering.
Whether you're in charge of an appetizer, entrée, or dessert, we've got you covered. Here are 30 recipes that take only 15 minutes to make (from start to finish) and are guaranteed hits at any party. Your friends are already drooling.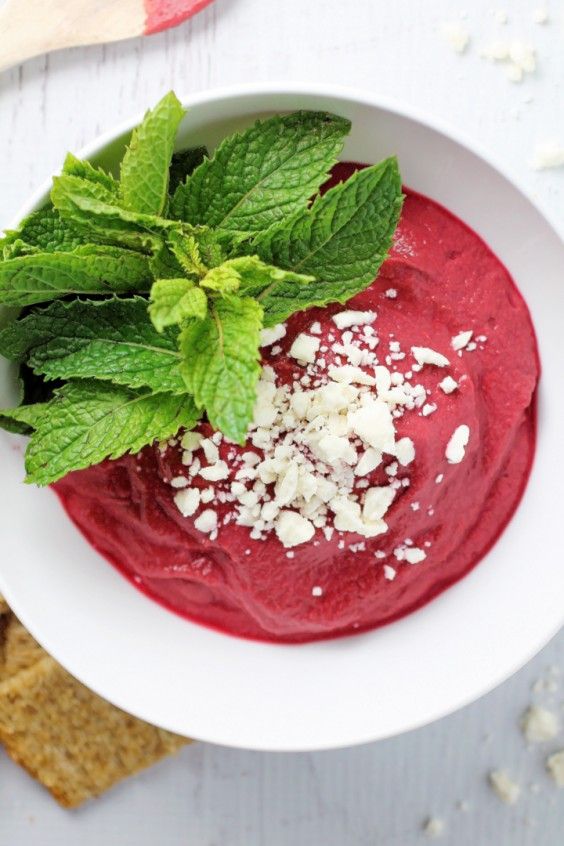 Ain't nobody got time to steam raw beets, but don't let that stop you from eating them. Grab super-convenient precooked beets at the store to whip up with tahini for this scene-stealing, ready-for-its-close-up dip.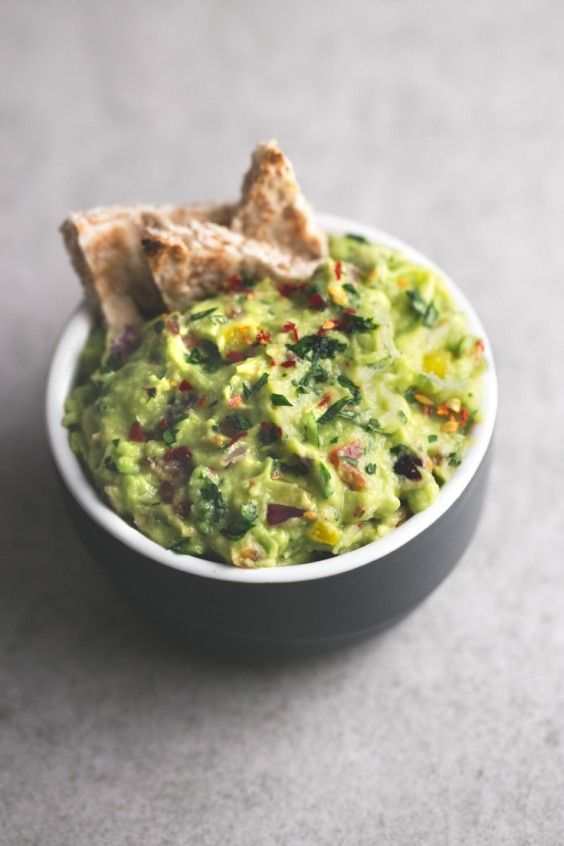 Regular guacamole is tasty enough, but throw in crunchy bell peppers, juicy cherry tomatoes, and a fiery red chile for a guac that's off-the-chain good. Make a double batch of this 10-minute recipe — it'll go fast.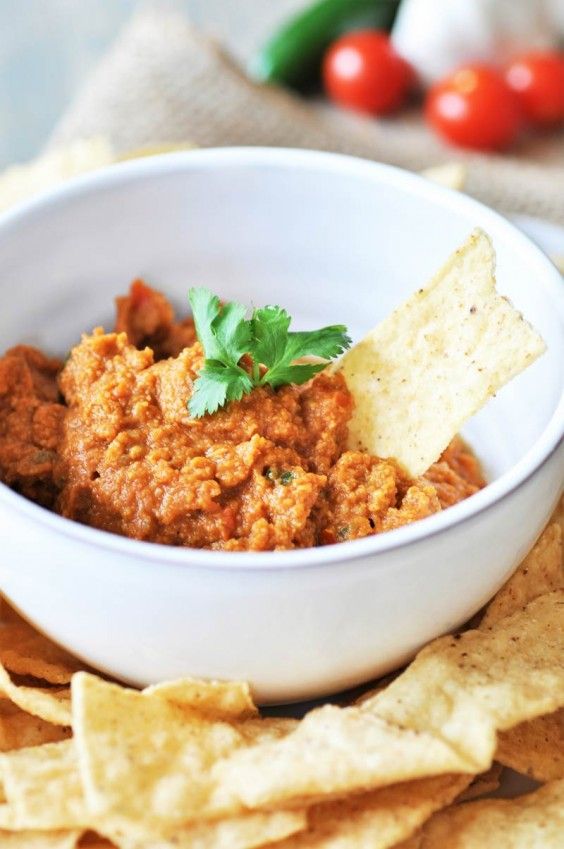 The unmistakable kick of jalapeño and a dash of cumin give regular hummus some south-of-the-border flavor, and a little tomato helps mellow things out. Serve this one with tortilla chips or pita bread — both go perfectly.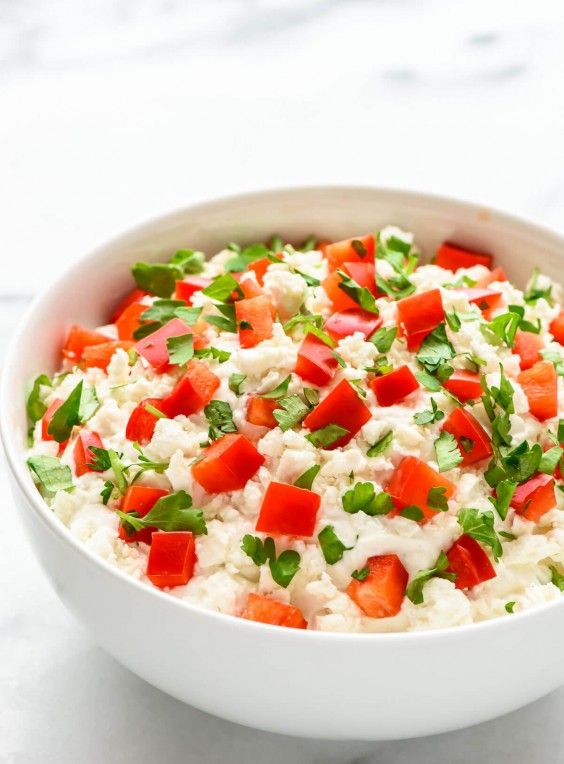 Garlic and cheese: The match made in (stinky) heaven gets even more out-of-this-world good thanks to swaps like Greek yogurt and light cream cheese, plus a sprinkling of mixed herbs. It's like a cheese plate in dip form, and you seriously can't go wrong.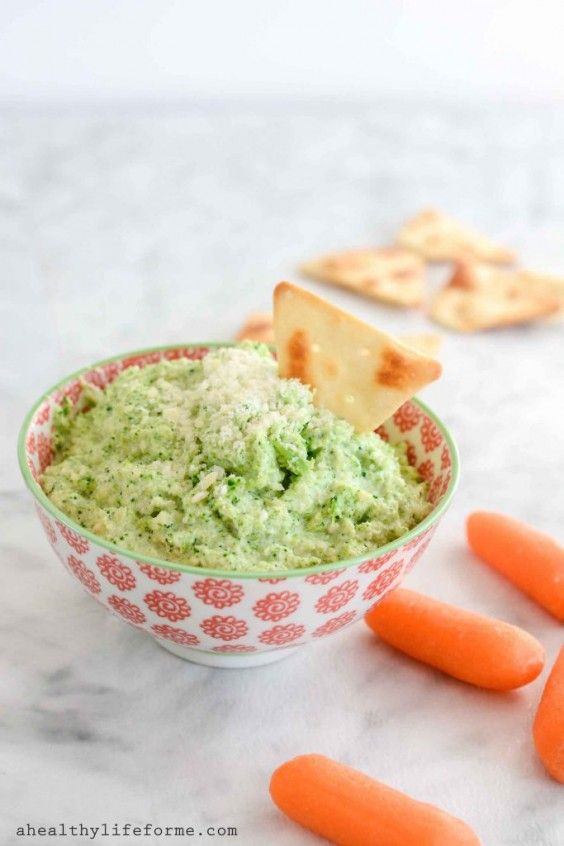 Pesto isn't just for pasta — it's fantastic as a dip too. Plus, if you're dunking carrot sticks into a bowl of this broccoli-based version, you're getting in a serving of veggies without even trying.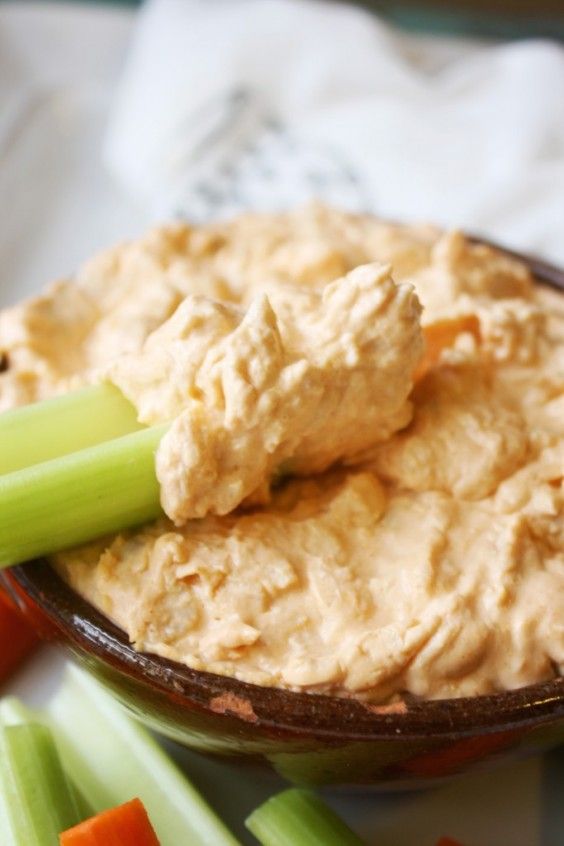 Greek yogurt and reduced-fat cream cheese go halfsies to lighten up this party favorite. Packed with shredded chicken and served with veggie sticks, it's a sneaky yet delicious way to get in a generous dose of protein.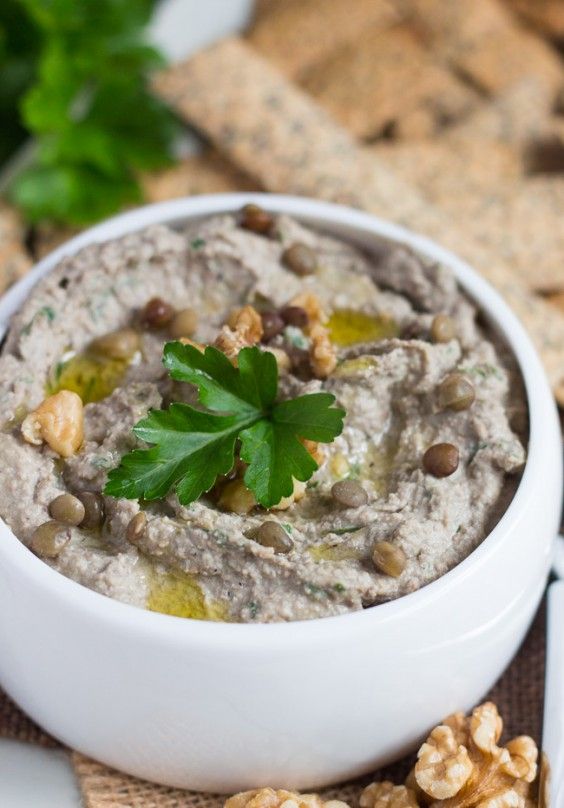 It's hard to believe that a dip this creamy has no dairy in it, but the combo of walnuts and lentils is pretty amazing that way.
Packed with healthy fats and fiber, a few scoops of this will keep you full and happy — just make sure you leave room for the main course.
Weary of kale? Drench it in a peanut-based dressing and watch your worries fade away. With so much flavor from the nut butter and sesame oil, don't be too surprised if this salad outshines your main course.
Fresh corn works best for this simple six-ingredient salad. The sweet kernels are paired with tangy cumin and lime for a fun combination of flavors, and sliced radishes add some extra crunch.
With no cooking, fancy equipment, or long prep time required, it's perfect for your next potluck.
This salad gets its tropical twist from the cubed mango, which goes surprisingly well with the savory flavors of avocado, chickpeas, and cumin. A one-step recipe that makes a large batch and keeps well for days, this salad is ideal for potlucks.
Mayo haters, unite! Avocado, the reliable swap for mayonnaise, gives this tuna salad a heart-healthy upgrade without sacrificing taste. With cucumbers and pickles thrown into the mix, eating "green" has never been so easy.
Pick up a bag of shredded cabbage to make this chicken salad easier to put together. Dressed with olive oil, vinegar, coconut sugar, and a handful of almond slivers, it may not be your regular mayo-laden slaw, but it might just become your favorite.
Sometimes you just need a good ol' classic, and this one sure delivers.
It's got all the traditional ingredients, from the celery to the Dijon mustard and even the mayo — though slightly less of it than you'd find in conventional recipes. Consider your craving satisfied.
A simple basil, corn, and tomato salad gets an extra punch of protein from seared shrimp. With so many colors, nutrients, and textures in one serving, it can be served as a main dish just as easily as it can be a side.
Even if you count the cooking time for the edamame, this recipe comes together in 5 minutes flat!
If that's not enough reason to make this salad, you can get excited about the fact that between the beans, the juicy cranberries, and the salty bite of feta, it's a fantastic mixture of flavors.
Not your regular bread salad, this one adds a fruity touch with chopped peaches that are heated up on the grill (so they're even sweeter).
The bowl of baguette chunks is then topped with almonds and goat cheese. It's like a deconstructed, jazzed-up panini.
Thanks to its rice-like shape, easily scoopable orzo makes a perfect pasta option for big gatherings, especially in this vegetarian recipe.
The orzo is joined by crumbled feta, tomatoes, and asparagus, and the mixture is lightly dressed in olive oil and lemon for a fuss-free but filling main dish.
It looks like a simple quinoa salad, but a closer look at the ingredients reveals a much more exciting dish, thanks to the sweet and tangy peanut butter dressing coating the veggies and the grains.
Ready in just 10 minutes, it's a speedy way to put together something special.
With just a tablespoon of brown sugar and a fraction of the barbecue sauce of typical recipes, this is the perfect example of making a dish healthier without sacrificing flavor.
Just note that while it takes 15 minutes to make, you may need to allow some extra time to get it to room temperature for serving.
Not familiar with bulgur? Here's a good place to start. In this salad, the quick-cooking, fiber-packed grain gets an unlikely but delicious companion in watermelon.
It's also drizzled with a honey-kissed olive oil dressing to further highlight that sweet and savory combination.
The typical mozzarella and tomato appetizer gets veganized here, with chickpeas standing in for the balls of cheese.
It also gets some carbohydrates from the quinoa to bump it up to entrée status — but don't worry, the basil and olive oil drizzle keep that unmistakable caprese flavor.
Given that couscous takes as long as pasta to prep, it's just as quick and convenient a potluck option.
In the time it takes to cook the grains, you can grill up your salmon and prep your veggies. When the couscous is ready, just toss everything together and you're done.
You'll need precooked quinoa and leftover chicken for this dish to come together within the 15-minute window, but don't let that take away from how easy it is to make.
There's so much to love here, from the nectarines to the goat cheese. Plus, it's a gluten-free dish.
This one-dish meal is the epitome of the Mediterranean food pyramid, packed with fish, olive oil, beans, herbs, and spinach.
Some research shows that sticking to a Mediterranean diet for several months may increase happiness and overall well-being.Ferrer-Cascales R, et al. (2019). Higher adherence to the Mediterranean diet is related to more subjective happiness in adolescents: The role of health-related quality of life. DOI: 10.3390/nu11030698 Honestly, we're feeling more joyful already just looking at this beautiful entrée.
The nut butter in these treats makes them taste kinda like Peanut Butter Patties, and the cocoa and coconut give them that Samoas vibe. Two Girl Scout cookie flavors in one bite? Sign us up.
Just as perfect for a pre-workout snack as they are for a potluck gathering, these versatile oat-based bites are a wholesome approach to dessert. The recipe makes two dozen in just 10 minutes — such an easy way to satisfy a crowd.
End your potluck on a fruity note with this simple salad topped with a light basil-and-honey dressing that takes it from a plain bowl of berries to a dessert-worthy dish. It's a perfect way to get in a sweet ending after an indulgent meal.
Dip for dessert? Why not? Especially when it's cookie-flavored. This recipe may start with chickpeas, but once you add nut butter, applesauce, and cinnamon, you'll forget that this batter-like blend has a bean base.
If you believe no meal is complete without chocolate but don't want to end the evening on a super-sweet note, this is your recipe.
Dates are the naturally sweet secret ingredient in these butter- and egg-free brownie balls with cocoa and chocolate chips in each bite.
Hollowed strawberries are the ideal vehicles for these bite-size cheesecakes. Not only do they look adorable, but the fresh, juicy berries are also a perfect complement to the denser cream cheese filling.
Potlucks are a great time, but they can drum up a whole lot of anxiety about what to cook, how much to make, and how to make it look pretty (read: Instagrammable).
With these simple recipes, you can skip the part where you second-guess yourself. Instead, grab a plate, dig in, and enjoy the party, knowing that your contribution is a crowd-pleaser.