If you've ever said "I'm not really a breakfast person," you might be missing out. Breakfast is an ideal opportunity to start the day on solid nutritional footing.
If you're trying to get more fiber into your diet, for example, breakfast is a great way to do that. Fiber is naturally found in fruits, vegetables, grains, and seeds, according to the latest edition of the USDA Dietary Guidelines.
And why do you need this charming carbohydrate? Well, research has shown that fiber can support gut health and reduce the risk of cardiovascular disease, among many other benefits.Slavin J. (2013). Fiber and prebiotics: Mechanisms and health benefits. https://www.ncbi.nlm.nih.gov/pmc/articles/PMC3705355/
Most adults should be getting somewhere between 22 and 34 grams of fiber per day, yet research shows most of us are falling short.Qualiani D, et al. (2017). Closing America's fiber intake gap. https://www.ncbi.nlm.nih.gov/pmc/articles/PMC6124841/
To help you meet the daily recommended amount of fiber, we've gathered up 19 quick recipes that pack in 5 to 50 grams per serving.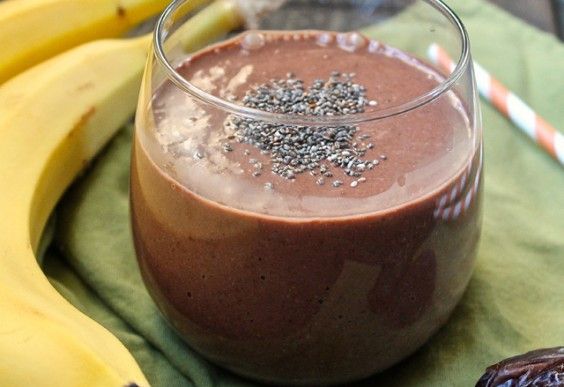 Cacao powder is the secret source of fiber in this luscious smoothie. One tablespoon has 2 grams of fiber, and this recipe calls for 2 tablespoons. You can do the math.
Whirl it up with other tasty sources of fiber, like banana, dates, almond milk, and almond butter, and you'd swear it isn't healthy.
Frozen strawberries (a sub for jelly) provide about 5 grams of fiber per cup, and peanut butter adds another 3 grams.
As if a whole banana and two hefty spoonfuls of peanut butter weren't enough, this recipe has some oats and chia seeds too. The result is a portable PB&J with a high fiber count.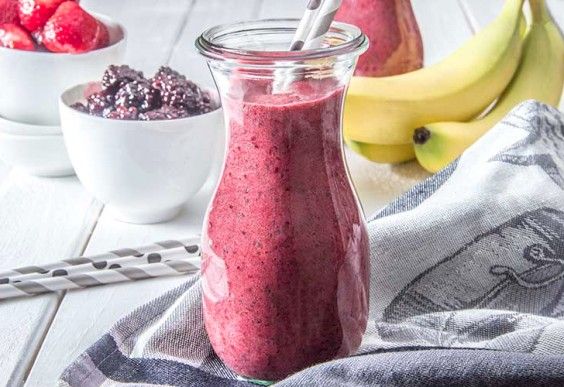 Three kinds of berries pack this six-serving smoothie with fiber. It'll keep in the fridge for 3 to 4 days, making it easy to start the day with good moral fiber (ha — see what we did there?).
Here's the lowdown on fiber per cup: Raspberries have 16 grams, blackberries have roughly 8 grams, and strawberries have about 5 grams.
Add two bananas and chia seeds and you're getting a healthy dose of fiber in one irresistible pink drink.
Instead of a pumpkin spice latte, start the day with this fiber-rich smoothie. Thanks to the canned stuff being available year-round, there's no need to wait until fall.
A cup of pumpkin puree has 7 grams of fiber. And the fiber count grows when pumpkin joins forces with spinach and chia seeds.
Whip these up on a Sunday morning and you'll have grab-and-go breakfasts for the whole week. One and a half cups of quinoa add 36 grams of protein and 18 grams of fiber to the pan. Um… yes, please.
Nuts, chia seeds, and peanut butter also contribute fiber to these yummy treats.
With no flour in sight, these lightly sweetened, spice-infused treats rely on 3 whopping cups of ground flaxseeds.
And do these little seeds ever deliver! Just 1 cup contains 46 grams of fiber. Even better, this recipe makes 12 servings, so you're all set for the week (and next week, if you freeze some).
Broccoli (with about 2 grams of fiber per 1/2 cup) and frozen spinach (3 grams of fiber) hide behind sweet banana and creamy avocado. That's how to make your fiber go down smooth and sweet.
This breakfast gets its staying power from chia seeds. Take 2 minutes to mix them up with your milk of choice the night before, and wake up to a meal that'll fuel you.
One serving contains 1/8 cup of chia seeds, which will give you 10 grams of fiber. Fruit will add to the fiber count too. Half a cup of sliced banana will add almost 2 grams of fiber.
There's no reason this nutty, fiber-riffic grain can't take center stage in your breakfast too. Half a cup of brown rice has 1.5 grams of fiber. An apple ups the fiber count, with roughly 2 grams per serving.
Why not put your morning coffee in your oatmeal? It's a lot healthier than a mochacchino or a bowl of Cocoa Puffs. And it takes just 7 minutes to pull this cafe-worthy breakfast together.
The oats provide 6 grams of fiber, the walnuts have 2 grams of fiber, and a small banana adds 3 grams. That adds up to more than 10 grams of fiber goodness.
We wouldn't dream of taking your cereal away, but here's a fiber-friendly recipe that's good enough to give your Cheerios a run for their money.
Three kinds of seeds power this Paleo-friendly breakfast. Sunflower (2 grams of fiber), chia, hemp (less than a gram), and flax (2 grams). Now that's a bowl we can get on board with.
Fresh figs and dates naturally sweeten this bowl of oatmeal — and 1 cup of oats has 8 grams of fiber. The sprinkling of chia seeds adds about a gram each of protein and fiber to this bowl.
If you prefer savory to sweet in the morning, don't rule out oatmeal. In this recipe, our favorite fiber-rich breakfast grain starts our day with 8 grams of fiber per cup.
The Mediterranean flavors of pine nuts, feta, and sweet figs are ridiculously good. Bookmark this one for your next "breakfast for dinner" night.
A flour made of garbanzo beans keeps this hearty breakfast gluten-free and full of fiber. A 1/4-cup serving of garbanzo flour has 5 grams of fiber.
Top with eggs, avocado, and salsa and you're looking at a single-serving powerhouse of nutrients that you totally deserve to make for yourself.
We've never met a quesadilla we didn't like, but let's face it, most restaurant versions don't exactly scream "healthy."
This do-ahead recipe makes eight quesadillas filled with eggs, spinach, and beans. And ooey-gooey cheese — we couldn't forget that.
Whole-wheat tortillas are the main source of fiber — one medium tortilla has 4 grams. Beans are an awesome source, too, with about 13 grams per cup. And though each tortilla is spread with less than 2 ounces, we'll take it.
You had us at pancakes because, really, what kind of list would this be without them? Coconut flour is the surprising fiber source in this banana pancake for one — just 1/4 cup has 10 grams of fiber.
Next time you bake up fiber-rich sweet potatoes, make an extra one — or two — so you can rustle up this recipe.
This meat-free hash comes together in minutes, with sweet potato, spinach and tomatoes topped with a protein-rich egg that'll power you through to lunch.
We're all about getting in some veggie love first thing in the morning. One small sweet potato, baked with the skin on, has about 3 grams of fiber. To up the content, sprinkle with a tablespoon of sunflower seeds or ground flaxseeds.
Avocado toast is a staple on menus these days, but this at-home version is a total WOW. Smoky maple chickpeas add a welcome crunch, plus protein and fiber. A 15-ounce can of chickpeas has 16 grams of fiber.
Bonus: You'll have extra chickpeas for snacking.
These no-dairy pancakes use flaxseeds' natural gelling ability to replace an egg. Oat flour provides each pancake with 3 grams of fiber, and wheat flour adds another 2 grams. It all adds up in a good way.
Most of us need to eat more fiber. While the public is aware of the health benefits, research shows that only 5 percent of Americans are getting the fiber they need every day.Qualiani D, et al. (2017). Closing America's fiber intake gap. https://www.ncbi.nlm.nih.gov/pmc/articles/PMC6124841/
We think breakfast is the perfect time to get a head start on this pesky problem. A little fiber here, a little fiber there, and we'll all be meeting our recommended fiber levels in no time.