All featured products are curated independently by our editors. When you buy something through our retail links, we may receive a commission.
The first "Harry Potter" book was published back in 2007, but even after all this time, we're enchanted. And if you're looking to make your holiday party a little more interesting, consider a theme. Winter happens to be the perfect time to revisit this "Harry Potter" themed dinner party in particular, and you can seamlessly blend in traditional holiday touches if you like. Either way, it's just the thing to make you feel cozy and charmed, especially if you light some candles and cue up that iconic soundtrack.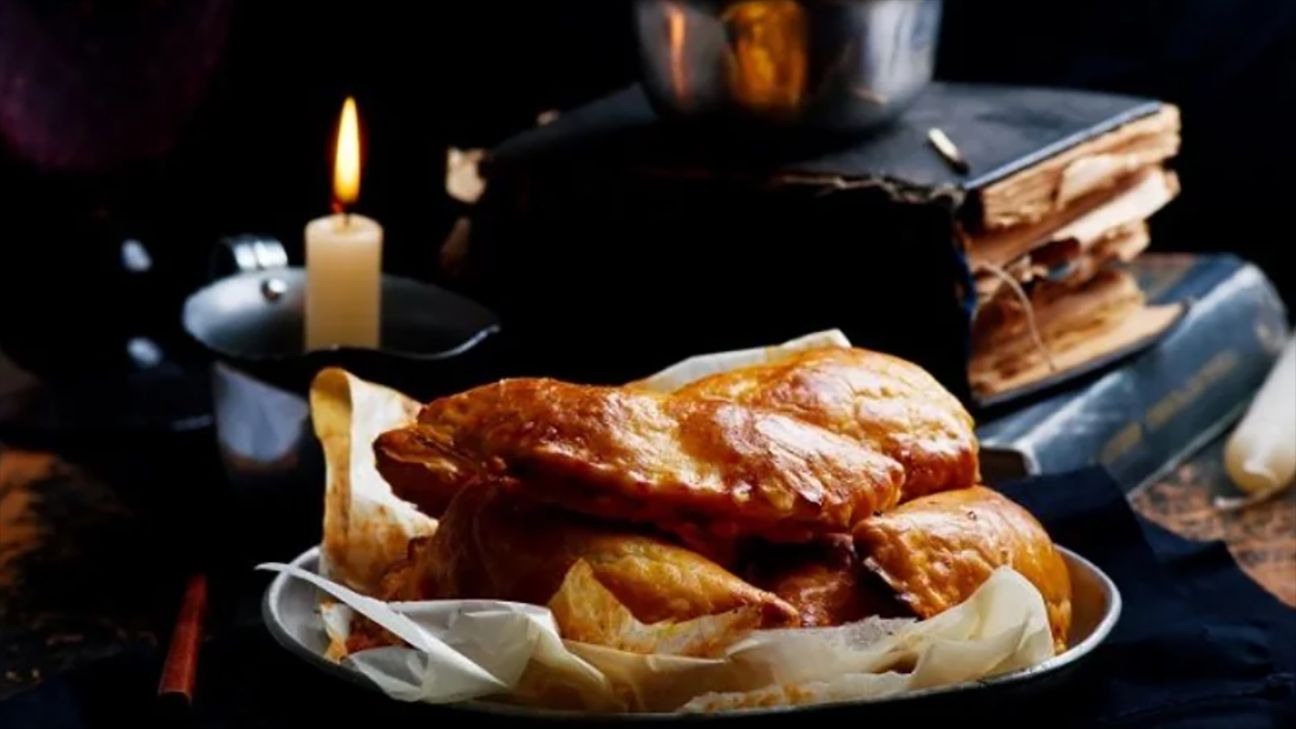 "Dumbledore remained standing, and a silence fell over the Great Hall. Good evening, ladies and gentlemen, ghosts and—most particularly—guests. I have great pleasure in welcoming you all to Hogwarts. I hope and trust that your stay here will be both comfortable and enjoyable…I now invite you all to eat, drink, and make yourselves at home!"–J.K. Rowling, "Harry Potter and the Goblet of Fire"
When J.K. Rowling first released "Harry Potter and the Sorcerer's Stone" in 1998, I was the same age as Harry Potter, 11 years old. As I indulgently immersed myself in each new book in the series, I experienced my 'YA' (young adult) years right alongside Harry, Hermione Granger, and Ron Weasley. All their magical firsts were my magical firsts: their first train ride aboard the Hogwarts Express, devouring Bertie Bott's Every Flavour Beans, chocolate frogs, and "the lot;" their first sorting ceremony, "not Slytherin, not Slytherin;" and their first start-of-term feast, filled with every savory, fall comfort food and dessert imaginable cooked by Hogwarts house elves and magically appearing on empty trays and disappearing at the end of the feast (if only cooking and cleaning worked this way in real life).
I delighted in the fact that, as a college student, I regularly dined in a nearly century-old dining hall reminiscent of Hogwarts Great Hall. Co-ed teams even played pick-up matches of Quidditch across the lawn right outside the dining hall. My husband remembers fondly taking up the position of seeker, chasing down a human snitch about campus. In crazy fan fashion, we even incorporated into our honeymoon, a trip to The Wizarding World of Harry Potter in Orlando, Florida. The stomach-churning, 3D broomstick ride, Harry Potter and the Forbidden Journey, that we rode right at the start of our day tried its best to "stupefy" me, but a Dramamine later, I couldn't be stopped from downing a mug of Butterbeer in the Three Broomsticks.
After the recent release of "Harry Potter and the Cursed Child," it seems certain to me that Harry Potter fans my age will continue getting to grow old alongside Harry and his mates. At the beginning of this September, I saw my daughter off to her first day of school, just as hundreds of Harry fans gathered #19YearsLater at the honorary Platform 9 ¾ at King's Cross Station to commemorate the exact time, day, and year that Harry, Ginny, Hermione, and Draco sent off their children for the first time to Hogwarts School of Witchcraft and Wizardry. According to "Harry Potter and the Deathly Hallows," the send-off took place September 1, 2017. While receiving my own letter to Hogwarts may be an impossibility, I have received the honor of being summoned by Chowhound to accio a Harry Potter inspired dinner menu. And so, in the words of Professor Albus Dumbledore in the "Harry Potter and the Sorcerer's Stone" film, "Let the feast begin!"
"Why don't we go and have a butterbeer in the Three Broomsticks, it's a bit cold, isn't it?"—J.K. Rowling, "Harry Potter and the Goblet of Fire." When you feel the first touch of cool in the air this fall, 'tis the time to cozy up to the table with a mug of hot Butterbeer. Find it at the Three Broomsticks Inn in Hogsmeade or brew your own Butterbeer concoction from the comfort of your hearth. This homemade version of Butterbeer stays true to the original with the incorporation of melted butter, but spices it up with cinnamon, ground ginger, cardamom, and cayenne. Beware, while this beverage is non-alcoholic, wizards, witches, and muggles alike can fall under the influence of Butterbeer. Get the Hot Butterbeer recipe.
Imbibe-able at breakfast, lunch, or dinner, or even at special events and feasts, pumpkin juice, the wizarding world's equivalent to the muggle world's orange juice, infuses arguably three of the most popular edible elements of fall—apple cider, pumpkin puree, and pumpkin pie spices. While readily available throughout the US and Great Britain in the Harry Potter books, you will have to conjure up this sweet libation yourself. Super simple and quick to mix up; no potions class necessary. Get the Pumpkin Juice recipe.
"Some people argue that the oldest pub in London is the White Hart on Drury Lane; others that it is the Angel on Bermondsey Wall, or the Lamb and Flag on Rose Street. All of these people are Muggles, and all of them are wrong. The oldest pub in London, as any wizard will tell you, is the Leaky Cauldron on Charing Cross Road," reports J.K. Rowling from Pottermore. And at the Leaky Cauldron, all magical beings and even muggles are welcome, "though some of the conversations, not to mention pets, caused many an unwary drinker to leave without finishing his mead," notes J.K. At the Leaky Cauldron many a hearty soup or meat pie can be consumed for two galleons or less.
Until you receive your own Firebolt from Uncle Sirius and can fly on over to the Leaky, you can pop these precious, mini steak and kidney pies into a muffin pan and bake them in your own kitchen oven. Get the Steak and Kidney Pie recipe. (Or try our large-format Beef Short Rib and Ale Pie recipe for a similar dish.)
A specialty at the Leaky Cauldron and the most expensive dish on the menu, Game Pie will cost you two galleons. This traditional meat pie dates back to Roman times and minces together hare, venison, pheasant, or partridge. While not the easiest to assemble for first-year students, you don't exactly have to be an auror to track down the ingredients for Game Pie. You'll just need to apparate yourself to a butcher's shop or specialty grocery and then, "tuck in," as Professor Dumbledore would advise. Get the Game Pie recipe.
"Only Fleur Delacour seemed to be able to find anything to complain about. "It is too 'eavy, all zis 'ogwarts food,' […] I will not fit into my dress robes."—J.K. Rowling, "Harry Potter and the Goblet of Fire." Students are not hard pressed to find trays laden with large piles of meat that magically appear on the tables of the Great Hall. One of the said piles of meat is the quintessential roast turkey leg. This stick-to-your-ribs, herb-encrusted roast turkey leg is finger-licking good and will replenish your caloric stores after a whiz bang match of Quidditch. It's okay if you get your hands messy, you can wash them off later in the girl's bathroom next to Moaning Myrtle, but do watch out for trolls. Get the Roast Turkey Legs recipe.
"'I don't blame you, dear,' she assured Harry, tipping eight or nine sausages onto his plate."—J.K. Rowling, "Harry Potter and the Chamber of Secrets." Oh, to have grown up a Weasley child—or friend of one—and eat at the table of Mrs. Weasley, who fills up her children and their mates with affection and hearty helpings of food that'd comfort even the most ghoulish of us. Surely a staple at the Burrow, Bangers is a classic British dish, consisting of sausages, usually served with a side of Mash (mashed potatoes) and onion gravy. This Bangers and Mash with sides of bacon and fried tomato is an ode to Molly Weasley's love filled, home-cooking and is a feast in itself. Get the Bangers and Mash recipe.
"Go on, have a pasty," said Harry, who had never had anything to share before or, indeed, anyone to share it with. It was a nice feeling, sitting there with Ron, eating their way through all Harry's pasties, cakes, and candies (the sandwiches lay forgotten)." ―J.K. Rowling, "Harry Potter and the Sorcerer's Stone." If you can bake a pumpkin pie, you can bake a pumpkin pasty. The pumpkin pasty is an adorable, hand pie filled with all the same pumpkin puree goodness and spices as pumpkin pie. Go on, have one and share another with a friend. Get the Pumpkin Pasty recipe.
"What she did have were Bertie Bott's Every Flavour Beans, Drooble's Best Blowing Gum, Chocolate Frogs, Pumpkin Pasties, Cauldron Cakes, Licorice Wands, and a number of other strange things Harry had never seen in his life."—J.K. Rowling, "Harry Potter and the Sorcerer's Stone." Whether it's your first ride aboard the Hogwarts Express or your fifth, or you've had too much face time with a dementor-boggart whilst practicing your patronus charm, a Chocolate Frog will settle your nerves. Just hold on tight to it. Imbued with 70% Croakoa, a magical substance that puts a spring in its step, Chocolate Frogs have a tendency to leap out of hands. Since Croakoa is apparently impossible to find for us muggles, milk chocolate and peanut butter filling will have to do. Get the Chocolate Frog recipe.
"A moment later the desserts appeared. Blocks of ice cream in every flavor you could think of, apple pies, treacle tarts, chocolate eclairs and jam doughnuts, trifle, strawberries, Jell-O, rice pudding — As Harry helped himself to a treacle tart, the talk turned to their families."—J.K. Rowling, "Harry Potter and the Sorcerer's Stone." Treacle Tart so conjures up love for Harry that he even smells it when he is near Amortentia, the most powerful love potion in the wizarding world. A traditional British dessert, as well, Treacle Tart consists of shortcrust pastry and golden syrup, which gives it its trademark sweetness. Get the Treacle Tart recipe.