We include products we think are useful for our readers. If you buy through links on this page, we may earn a small commission. Here's our process.
Greatist only shows you brands and products that we stand behind.
Our team thoroughly researches and evaluates the recommendations we make on our site. To establish that the product manufacturers addressed safety and efficacy standards, we:
Evaluate ingredients and composition: Do they have the potential to cause harm?
Fact-check all health claims: Do they align with the current body of scientific evidence?
Assess the brand: Does it operate with integrity and adhere to industry best practices?
We do the research so you can find trusted products for your health and wellness.
Why do we love opening gifts? It's the thrill of guessing what's under the wrapping, that sweet carnal release at the first tear of paper, and the warmth that lingers from knowing someone cared enough to get you something nice.
You know what does those same things? Orgasms!
So why not give the gift of the Big O with a sex toy this holiday season? Rhetorical question! Assuming you and the gift recipient are close, there's no good reason not to.
That's why we put together this list of 25 sex toys that totally live up to the buzz.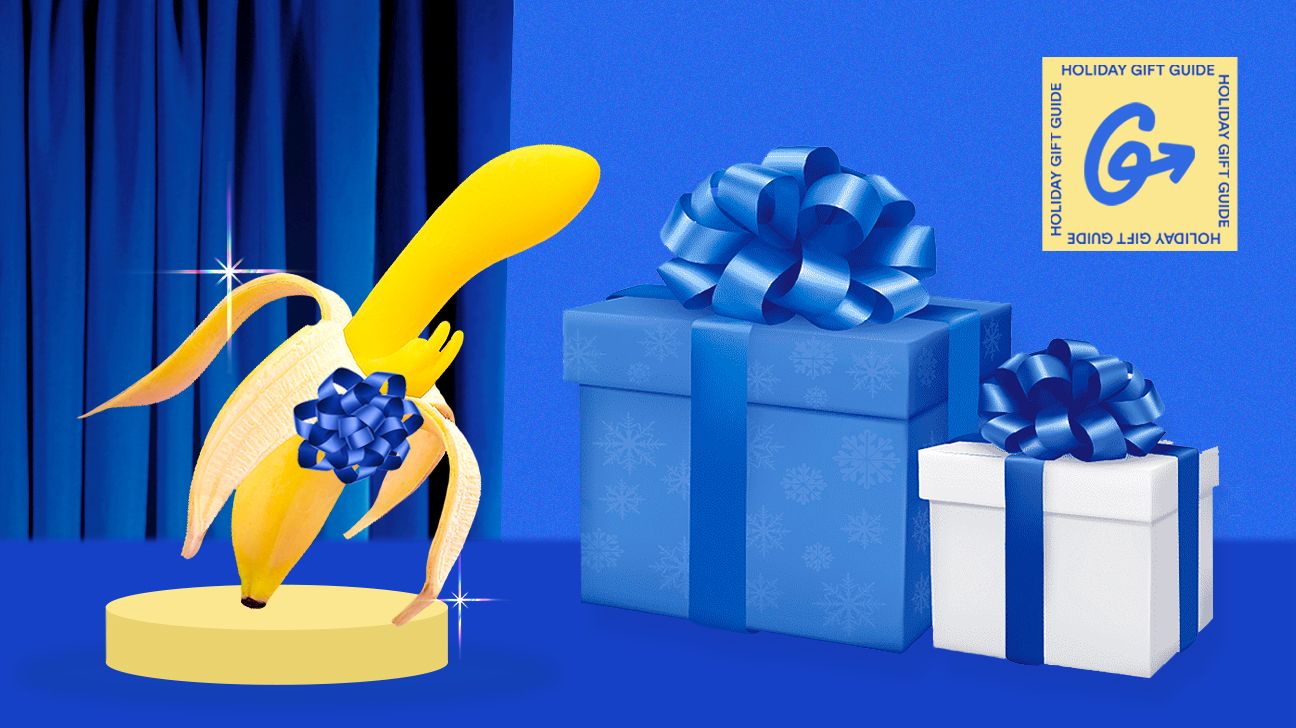 Pleasure and pleasure products aren't one size fits all, so it'd be impossible to point to just one sex toy and say "Get this!"
Instead, we rounded up 25 high quality, body-safe sex toys and pleasure aids, including descriptions of the type of pleasure they're designed to provide — plus, what types of bodies and sensation-seekers they're best for.
1. Best vibrator for newbies
Slightly bigger than an adult's thumb, the We-Vibe Tango X is the perfect gift for anyone who is new to (or scared of) sex toys.
This petite powerhouse of a vibrator features 8 different intensity levels, giving new sex toy users and opportunity to explore just how much rumble they wanna add to their rumble and tumble.
And (!) it only has two buttons, making it easier to use than many vibes on the market today #Bless.
2. Best bullet vibrator
Cue Nelly because it's getting hot in here… literally.
With a click of a button, this Lori Dicarlo vibrator warms up to 104°F (40°C) (jusssst above body temp). This feature will encourage your giftee to get theirs even on the coldest day.
Hot tip: If you're willing to spend little extra dough on your gift, include some arousal oil in the package. The warmth of the toy helps keep the oil the perfect consistency.
3. Best wand vibrator
The Hitachi is to pleasure toys what Shakespeare is to literature: an effing classic.
This microphone shaped machine entered the world in the 1960s as a back massager, got a little rebrand with the help of sex-positive feminists of the 70s (does the name Betty Dodson ring a bell?), and has since been rebranded as the Magic Wand.
These days, the Magic Wand is still the most powerful vibrator on the market. It features only two intensity levels, but they'd best be described as Ultra Intense and Ultra-X Intense. In other words, it's not for the faint of heart crotch.
4. Best vibrator on a budget
The type of stimulation a vibrator provides is generally classified as either pinpointed or broad stimulation.
As you might guess, pinpointed stimulators typically stimulate a very small surface area while broad stimulators massage a larger proportion of the erogenous zones.
Every pleasure-seeker has to figure out for themselves which type of stimulation is best for them. Thanks to this wand vibrator, you don't have to choose. In addition to sporting the broader microphone shape, this toy features a curved fin designed to apply super-pinpointed pleasure. Plus, it's easy on your wallet.
5. Best vibrator for pinpointed stimulation
Shaped like an electric toothbrush, this baby sports an easy-to-hold handle with a thin Spirotip that juts out the end. (The Spirotip does all the stimulating). No larger than a nose-stud or freckle, the itty bitty ball-shaped tip moves in micro-circles, like a finger.
While Zumio currently has three different products (listed here in order of least to most intense): the Zumio S, Zumio X, and Zumio E, we recommend the Zumio X which is the oldest and most tried-tested-loved product from the manufacturer.
6. Highest quality suction toy
Is your gift receiver *heart eyes* for a tongue tornado? Give 'em the gift of swirl and suck with an oral sex stimulator, like the Womanizer Premium.
This oral sex stimulator is ergonomically shaped to fit in your palm and it features a little nozzle that's designed to cover those nerve-dense external stimulators.
For an even more realistic experience, try pairing the toy with lube.
7. Best discreet suction toy
The most discreet (and cutest) suction toy in the history of suction toys, the Obii is perfect for any pleasure-seeker who enjoys clitoral or nipple stimulation.
Visually similar to a Pokemon character, this chickadee shaped toy is coated in body-safe silicone, and available in Easter-egg colors (mint, yellow, and pink). It also comes in a cute carrying and storage case.
8. Best rabbit vibrator
If your bb is a "Sex and the City" fan, they'll recognize this toy's two-pronged shape from the infamous episode where Charlotte skimps on plans to use a very similar-looking vibrator.
Known as a rabbit vibrator, the Jack Rabbit Signature Heated Silicone Rabbit features one vibrating arm for internal G-zone stimulation, and a second arm for external clitoral stimulation. (Blended orgasm, anyone?).
True to its name, this seven-speed vibrator literally heats up. It features a unique heating element that reaches a soothing temperature in just four minutes. Fun!
9. Best G-spot vibrator
Designed as a G-spot stimulator, this 12-intensity vibrator features 6 insertable inches and a curved tip for internal pressure.
The one con: The battery only lasts 30 minutes, so the odds of it dying before you "die" (er, la petite mort) are higher with this vibe than others.
10. Best hands-free vibrator
Long distance lovers need not look further than the We Vibe Moxie.
About the size of a pendrive, this vibrator can latch into your fave boxers, boy shorts, and bikini-style brief via a magnet, making them buzz.
Here's why it's so clutch for bicoastal babes: The Moxie can be controlled from afar with the help of the We Vibe App.
11. Best rideable vibrator
Hey moneybags, if your giftee L-O-V-E-S vibration and already has a hearty collection of toys, consider The Unicorn Sex Machine.
A saddle-shape, The Unicorn Sex Machine is designed to be mounted until the rider moans. There are a wide variety of attachments for the machine, so whether you're looking for external, anal, or vaginal stimulation, there's an attachment perfect for you.
Fair warning: This big boy is as loud as it is intense. Meaning, very.
12. Best beginner anal sex toy
If you and your giftee have talked about traveling south, start with the Tango plug. One of the best beginner plugs on the market, this ultra-affordable plug is no thicker than your middle finger.
Just remember: Lube is a nonnegotiable for butt play. So, you'll also want to throw in a water-based lube like Cake Tush Cush.
13. Best intermediate anal sex toy
Hot take: The Pure Plug is the most beautiful butt plug in the world.
Crafted out of nonporous stainless steel, and expertly crafted to fit just right, the Pure Plug is a wonderful addition to any intermediate or advanced anal-sex haver's toy collection.
Pro tip: Pop it in the freezer 1 hour ahead of use. Run it along your partner's body to tease them. Then, when the toy's close to body temp, lather with lube and ease inside.
14. Best packer
A one of a kind product, Jack is both a stroker *and* a packer.
What does that mean exactly? Well, a packer is a phallic-shaped object designed to create the illusion of a biological penis underneath.
And a stroker is a toy designed to sheath and stimulate the external genitals. The most well-known strokers are made for people with penises (Fleshlight, Hot Octopus Pulse Duo, Tenga Egg), but there are strokers that can be used by people with clits (!). Jack is one of them.
15. Best pack-and-play
HOLY REALISTIC is right!
That's because Emisil isn't categorized as a sex toy company, but as a penis prosthesis producer.
Known for making packers, pack-and-plays, and stand-to-pee (STP) packers that resemble biological penises in a w-i-d-e variety of skin colors and lengths, Emisil is the go-to shop-spot for FTMs and transmasculine folks on the hunt for super duper realistic sex and lifestyle aids.
The ER01 is one of most popular pack-and-plays Emisil makes.
One note: Products like this are super personal, so this is the kind of gift that should be reserved for someone who has explicitly indicated that they want one!
16. Best stroker
What looks like a sea creature but is designed to pleasure your (ahem) sea creature? The Fun Factory Manta.
A penis-stroker made from the oh-so-velvety silicone Fun Factory is known for, The Manta is designed to be maneuvered up and down the length of a penis, delivering rumbly vibrations in the process. The point? Pleasure. Duh!
This gift is an especially great option for a penis-owner with calloused hands. Just saying…
17. Best couples sex toy for queer couples
Yes, this is for your lover. But it's also for you…
Allow us to explain: This double-ended dildo is designed to provide internal stimulation to two people at once. Yep, you heard that right — it sets ya up for all kinds of strap-on sex. (Including pegging!).
One of the arms is shorter and mirrors the natural curves of the vaginal canal, which helps it stay put. The other arm is longer and is designed to be thrust in and out of another person's hole.
While this toy can be used without a harness, a lengthy sex sesh can be tiring AF on the wearer's pelvic floor muscles. So, consider using it with a harness for the most pleasurable (and least tiring!) rompathon.
18. Best couples toy
This body-safe, ABS plastic stroker is basically a hot dog bun for your… meat.
The inner layer of this couple's vibrator features a pulsating platelet designed to stimulate the (ahem) hot dog inside. And the outer shell offers buzzy vibrations, which your partner can press themselves against while mounting you.
If this sounds as close to a guaranteed simultaneous O as you're gonna get, you're absolutely right.
19. Best sex toy set
If you think the best twofer in the world is coconut oil, you haven't heard of The Le Wand Little Pleasures Set.
Le Wand's antidote to these trying times, this six-piece set features two of the manufacturers external vibe fan faves: Point & Bullet. The Point is a palm-shaped vibrator made of equal parts stainless steel and silicone, and the Bullet which is a luxurious take on the classic lipstick vibrator.
Best part: It comes in a fancy shmancy suede carrying case, so you don't have to worry about wrapping paper.
20. Best for someone with a sense of humor
This bugger may look like something your 5-year-old cousin made out of Play-Doh, but it's a pretty genius pleasure product.
About the size of your palm, Starsi is a multi-textured external vibrator designed to cover and coax joy from everything from D to V, bum to breasts.
21. Best stocking stuffer
This product by Tenga makes an A+ stocking stuffer. It's small, pretty discreet, and the perf price point.
A masturbator, vibrator cover, and sex glove all in one, this disposable toy is versatile AF. There are a few diff kinds with different textures inside the egg (like a Wonderball, but make it a sex toy). If you want to skip the stocking stuffer, you can also opt for this variety pack of six.
22. Best lubricant
If you're looking for a little ~*something something*~ to put in your boo's stocking, this low price, high quality lubricant has got you covered.
Delivering the wet you need when you want to get wild, the Promescent Water Lube is both latex and silicone-toy friendly. Meaning, whether you're using a barrier while you're banging, or toys while you toy around (😈) this non-sticky lube has got you covered.
(Did you know oil-based lubricants aren't compatible with latex barriers and that silicone-based lubricants aren't compatible with silicone toys? Again, the more you know).
23. Best for easy clean-up
Getting down and dirty can get a bit messy, which is why this plush throw is such a game changer. It doubles as a body fluid absorber thanks to a microfiber material on the outside and moisture barrier on the inside.
When all is said and done *wink wink* just pop this puppy in the washer.
24. Best sex pillow
Ever stuffed your feather pillow under your boo's hips in effort to find that just-right spot? While a decent solution when you're in a crunch, sleeping pillows aren't sturdy.
That's why sex toy company Dame released this position pillow. Made of supportive-yet-supple foam, Pillo is designed to help you stay in the positions that are most pleasurable to you.
WFH-ers there's another perk to the Pillo: It doubles as a laptop lap-desk. The more you know!
25. Best book about sex
Written by queer-icon Allison Moon, this illustrative guide is basically the queer, sex-positive version of The Care & Keeping Of You — the American Girl book nearly every vulva-owner got growing up.
You shouldn't spring this read on someone you simply suspect might be gay. But, it's a great gift for anyone who has recently come out or is otherwise exploring their sexuality.
As a scroll through this gift guide makes clear: There's practically more types of sex toys than there are wrapping paper designs.
But grouping sex toy types into the below 3 categories can be helpful when figuring out which type to pop a bow on.
Vibrators
Vibe, buzzy buddies, rumbly lovers… whatever you call them, vibrators (shocker!) vibrate. Said another way: Vibrators are little machines designed to move at a speed, consistency, and intensity that the human body physically is not able to!
Available in a variety of shapes from rings to wands, mechanical bulls to bullets, vibrators are a great pick for pleasure-seekers at any point in their sex toy journey.
The specific vibrator you choose to give will depend on a number of factors including your budget, as well as their specific anatomy and pleasure preferences.
Check out our full vibrator guide here for detailed tips for finding the perfect vibe.
Nonvibrating sex toys
Ranging from butt plugs and anal beads, to metal wands and textured strokers, the market of nonvibrating sex toys is as varied as the market of vibrators.
Rather than using vibration to make you moan, these toys use texture, material, temperature, and shape.
When figuring out what kind of nonvibrating sex toy to box, ask yourself:
Does this person enjoy or have interest in anal stimulation?
What materials has this person explored?
How much am I willing to spend on a toy?
Pleasure aids
Pleasure aids is a broad category of products that encompasses anything that can make sex better, wetter, or more comfortable.
Think: lube, positioning pillows, water absorbent throws, and arousal oils.
This is the category you're going to want to lean into if you don't know specifics about your gift recipient's sex life. Why? Because TBH anyone's sex life can be improved with these things.