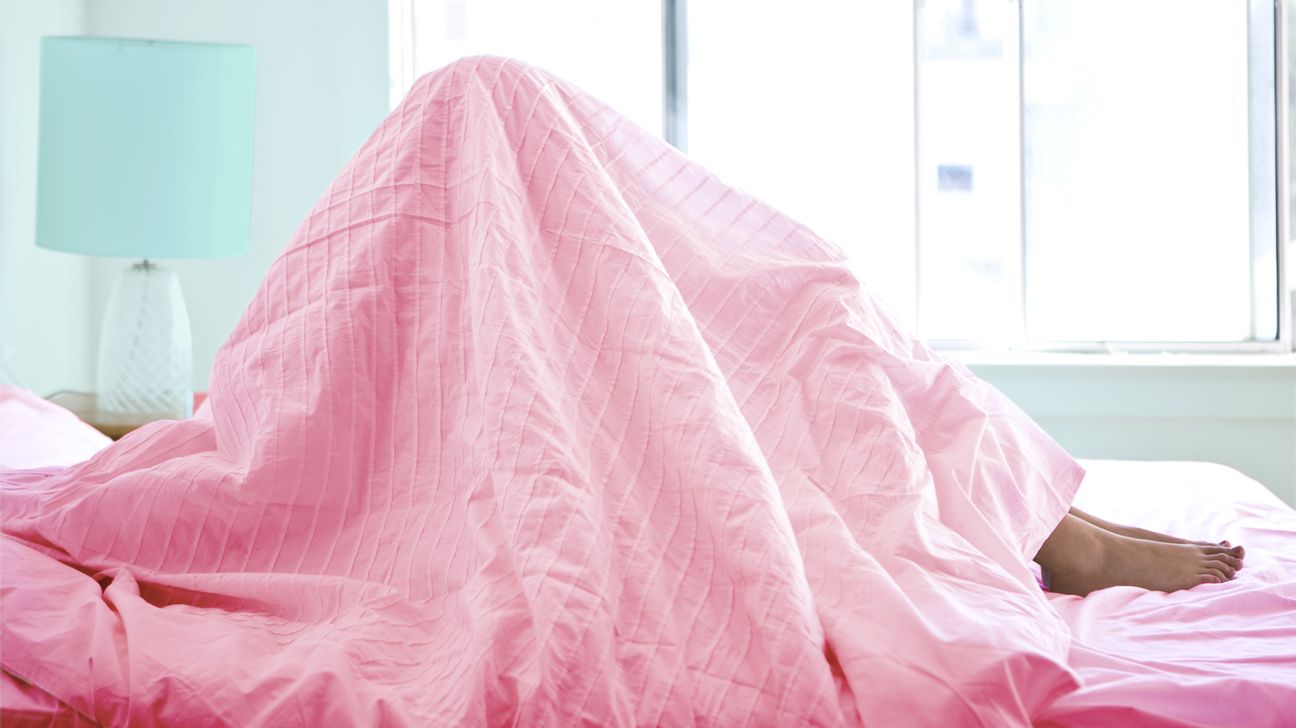 Whether you're tight with your roommates or you simply tolerate their existence, you'd probably prefer that they not hear the progression of your vibrator's buzzing as you rub one out. (Especially if your roommates are your parents!)
And because we want you all to be having as much solo sex as your heart desires (it's a great stress-reducer, after all), we rounded up the best ways to quiet that buzz. Follow the below tips to come your way to calm.
"You probably think whatever vibrator you're using is louder than it actually is," says Alexandra Fine, CEO and co-founder of Dame Products.
That's why she recommends doing a trial run next time you're home alone. Turn your go-to buzzy bedmate to the highest setting and leave your room.
Can you hear it from the other side of the door? How about from the kitchen? Office? Do a listen check wherever you need to in the house to feel more comfy coming.
Be strategic about where you put your bed
Babes, if you have the option to place your bed *right* next to the wall you share with your roommate or not… choose the latter!
Redecoration is a common stress-management strategy. So if your roomie raises an eyebrow at the switcheroo, just shrug and say, "Stress relief, bro!"
Absorb the sound
In addition to being a stylish alternative to a painting, a quilt hung on your wall acts as a sound buffer between your vibrator and your roommates.
Rachel G., 24, actually uses a weighted blanket because she's convinced it's a better buffer. "It took, like, 10 nails to get it to stay up, but I swear it works."
If you've already covered your walls with some dope art, fear not. Rather than do a complete reno, you can simply bop two hooks into the wall. Then, every time you want to ~play~, you can hang two corners of the quilt and have at it.
Block the space under your door with a rolled-up towel
This tip, known as toweling the door, will be familiar to cannabis fans everywhere.
Blocking the little gap between the door and the floor with a rolled-up towel (or blanket or dirty laundry) helps prevent scents and sounds from escaping the room.
Play music or put on a TV show
If you can get off with "RuPaul's Drag Race" or the Ohio vs. Michigan game blaring in the background (no shade), have at it — the cheers do a greatttt job of camouflaging buzz, says sex worker and sex educator Corey More.
Kourtney N., 29, who moved back to Boston to live with her parents at the start of the pandemic, says, "Since I was little I've been obsessed with Taylor Swift, so my parents don't raise an eyebrow when I stream her live concert on Netflix in my room… three times a week."
Other good options: Super Bowl reruns, NASCAR races, and any movie in the "Terminator" series (aka the loudest movies ever made).
Try a sound machine
The low hum of a noise machine is enough to drown out the buzz of your vibe while not being so conspicuous as to make your roomies wonder what's going on.
And most noise machines won't put you out more than 50 buckaroos.
But as Fine says, "honestly, you don't even need to buy a noise machine — there are a number of white noise playlists on Spotify you can put on."
Intrigued? Check out the obviously named White Noise and Ultimately White Noise playlists.
Bring it into the shower
Your vibe may be loud(ish), but the cascade of your shower is loud(ish)-er!
Just make sure the vibe is waterproof. "Remember that waterproof and water-resistant are not the same," Fine says. "Waterproof" means the toy can be fully submerged, while "water-resistant" simply means you can get it wet when you clean it.
Stroke it on your stomach
"You can muffle the vibrator by placing it between you and the bed/couch/floor and grinding on it," says Marla Renee Stewart, a sexpert for the adult wellness brand and retailer Lovers. This may even be a more pleasurable wanking position for people with front-facing vulvas or more exposed clitorises, she says.
And when you're belly-down, you can also moan into the mattress instead of filling the house with your coming noises.
Crawl under the comforter or grind against a pillow
If it's cold out, you're probably already doing this. But it's a good practice, too, if you're worried about the noise. Capture the sounds before they escape into the rest of the house.
Pro tip: Strip down. Flicking the bean under blankets will dampen the sound, but it'll also make you damp (read: sweaty).
If you're truly worried about your roomies hearing you, avoid the toys that sound like yard tools (like the Hitachi Magic Wand, for instance). More recommends the following toys:
Vibrators are a modern-day miracle, but there are a ton of nonvibrating pleasure products that create other yummy sensations like internal fullness, pressure, or temperature. More recommends these two nonvibrating toys especially:
the Njoy Pure Wand, a stainless steel toy that stimulates internal hot spots
the Snug Plug 1, a booty plug that can stimulate the nerve-dense anus in new ways
"Most people feel comfortable telling their roommate they need the apartment for a few hours so they can get off with their partner(s), so why should getting off with yourself be any different?" says Fine.
"There are many reasons you might want to hide the sound of your vibrator," says More. "But most of them are rooted in either shame in masturbating or shame in using a vibrator while you masturbate, neither of which are things we should be ashamed of."
Again, masturbation is a normal, healthy, and pleasurable part of being a human with a body. And vibrators are a normal, healthy, and pleasurable addition to masturbation.
Remember: Your roommates are probably doing the same thing. You may H-A-T-E thinking about it if your roommates are your parents. But it's true, babes.
Gabrielle Kassel (she/her) is a queer sex educator and wellness journalist who is committed to helping people feel the best they can in their bodies. In addition to Healthline, her work has appeared in publications such as Shape, Cosmopolitan, Well+Good, Health, Self, Women's Health, Greatist, and more! In her free time, Gabrielle can be found coaching CrossFit, reviewing pleasure products, hiking with her border collie, or recording episodes of the podcast she co-hosts called Bad In Bed. Follow her on Instagram @Gabriellekassel.