Here's "Just the Facts," a series where we scour Greatist's archives for the most vital need-to-know nuggets on any given subject. It's the no-noise info you gotta have, the way you gotta have it.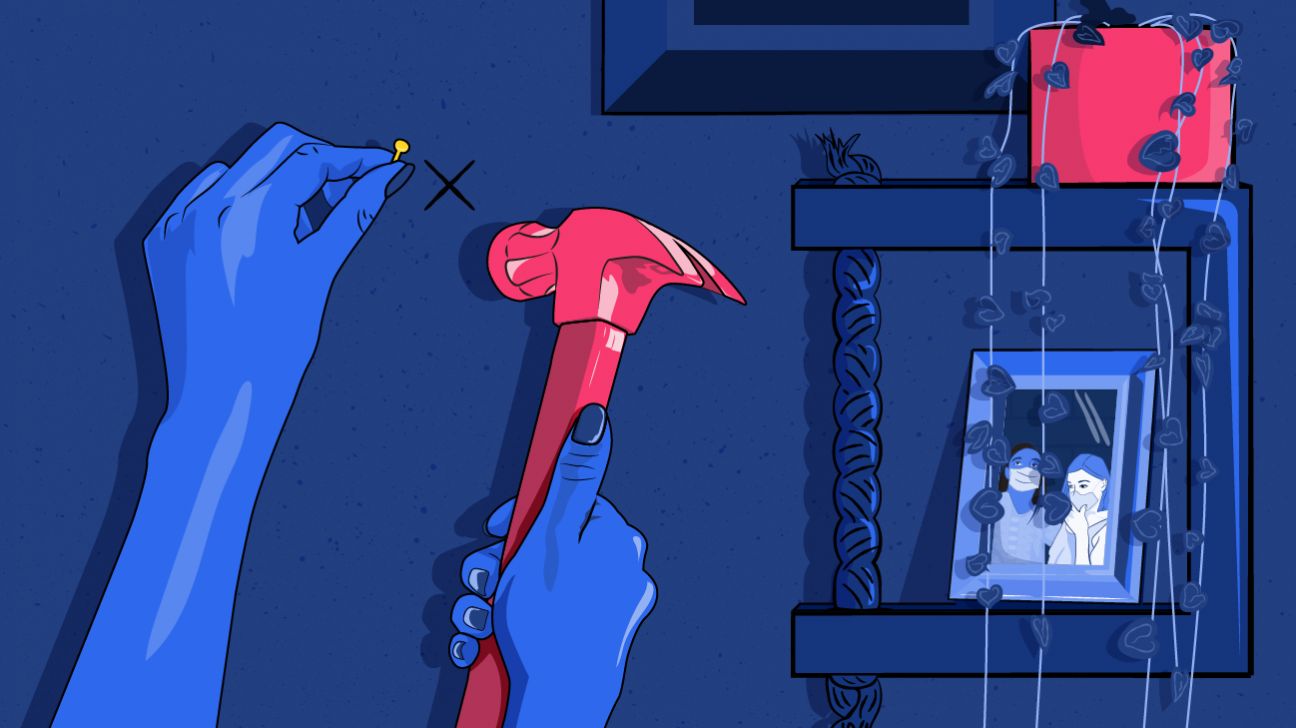 Whether you live with your folks, rent with friends, or shack solo, home means something different to everybody. And the looks are just as varied, with our living spaces acting as an extensions and reflections of our individual personalities and tastes.
As we venture further into the warmer months and refreshes are in the air, it does us good to give our dwellings a makeover as well. The best part is it doesn't take a ton of effort. An act as simple as adding a fresh color to a wall or potting new house plants has been proven to boost our mental health.

We've got the FYI on DIY, so here's 30 facts to help give your house — and mind — a welcome refresh for Spring (or any time).
First, grab a broom, because we gotta sweep up some decor numbers.
1. Home (decor) is where the bag 💰 is
It seems we've taken "go big or go home" quite literally: The U.S. home decor industry is estimated to be worth an incredible $22 billion by 2024. That's a lot of decor therapy.
2. Most people set their spring awakening alarm for the same time
In the mood for a seasonal refresh? You're not alone. More than two-thirds of us partake in a good Spring cleaning sesh each year.
3. Lit walls come with lit wallets
Those annual refreshes don't come cheap. In 2020, U.S. households spent an average of $8,305 on home improvements. Cha-ching!
4. Mess leads to stress eats
You might *think* you're OK leaving the dishes until (much) later, but your body says otherwise — as living among clutter can make you opt for unhealthier food and consume over 100 extra calories a day.
Marie Kondo might make it look easy, but decluttering and cleaning can be tiring on the body and mind — unless you know how to do it properly.
5. It takes 2 to untangle
Nope, we don't mean tidying buddies: As this Greatist writer reveals, a couple of simple and nonscary steps are all that's required to start decluttering your space (and noggin).
6. You're only one letter away from taking "garbage" out of "garage"
Got leftover chemicals stashed in your garage? It's vital that you get them out of there. And while they can be tricker to dispose of, these quick tips will help dial down the stress.
7. Hacks can make cleaning feel less like hell
If you're like us, you might have a set cleaning day (hi, Saturday morning!). Fortunately, you can turn that weekly roll around of chore-induced dread into (almost) delight by following these 37 easy cleaning hacks.
8. Organization helps you thrive
Decluttering doesn't always mean throwing stuff out. Having nifty storage solutions, like these 22 great ones, can also help restore a sense of calm with all spaces and budgets.
While we can't promise Architectural Digest-worthy results, we are confident these decorating tips and tricks will set you on your way to results you'll be proud of.
9. You can color yourself happy
Move over, Dali — paint color can have a huge impact on your mood. We've got the lowdown on finding the right hues to avoid the blues.
10. Pop-up fireplaces are a thing
You don't need to live in an English country cottage to enjoy the cozy vibes of a fireplace. Here's how to safely DIY one in your space.
11. There's plenty of room on the track to feel great
There's nothing like learning a new skill to give yourself a confidence boost, right? This three-step guide to building track shelving is set to uplift your spirits and belongings.
12. A new coat can also keep you cool
Applying a fresh coat of paint to a peeling or cracked wall is a recipe for disaster, but this how-to will put some pep in your wall-prep step and keep decorating stress to a minimum.
They may be small, but our little leafy friends are certainly mighty — offering a myriad of decorative benefits and boosts for our health.
13. Only you can make your plants feel prize-worthy
There's nothing like helping plants thrive to foster a sense of achievement. Some are more indoor-loving than others, so give yourself a head start with our guide to the best options. (Bonus: You can eat some of them!)
14. Your plants grow along with you
There's a strange but beautiful harmony that comes from seeing plants transition through stages of life as you do — so give yours the TLC they deserve with this handy 411.
15. Moments of plant care = moments of calm
As this article reveals, those quiet moments spent tending to your plants are a great form of mindfulness. Grab your mini watering can after a stressful day at work and start sprinkling.
16. BFFs are "best flora friends"
They might not be able to hug you back, but looking after plants can actually help battle feelings of loneliness and offer a form of companionship — meaning there's always good reason to buy just one more.
Only have a single wall not covered with windows or cupboards? Fret not: One might be the loneliest number, but it's all you'll need to make a refreshing impact.
17. You can hang up some happiness
Maybe there's a corner of your dresser filled with photos and trinkets that make you feel happy. Why stop there? As one writer found, an entire happiness wall was just the joyful self-care solution she needed.
18. Using paint the right way can leave your wall wanting mural
Hurrah! You don't have to be Banksy to create some pretty darn cool wall art. Devising (and painting) your own mural will bring about serious feelings of success. Here's how to do it.
19. There are multiple ways to make change stick
If you like to regularly switch things up but can't face another weekend of painting (or annoying your landlord), temporary wallpaper could be exactly what you need. Who says you can't match your wall to your mood?
20. Yes, you can decorate with dill
Want to grow herbs but lack countertop space? Aim higher! A hanging herb wall not only looks great, but cultivating — and eating — the fruits of your labor offers a real sense of achievement.
21. You don't need to jump through hoops to get in on the hoopla
Seasonal wreaths are easy to make and can incorporate all kinds of foliage to instantly bring fresh vibrance to a room — and your mindset.
As these chic and clever ideas prove, you don't need a palatial space or (overflowing bank account) to make an impact.
22. It's the little things that make a big difference
As a few Greatist readers found, even the simplest switch-ups — from luxe bedding to aromatherapy diffusers — can make a big difference to a room and your outlook.
23. Size can't cramp your style
Short on space but full of ambition? We've got you sorted with an array of expert-led, easy, and oh-so-thoughtful nuggets of advice to fuel your creativity.
24. Some of the best decor ideas come by thinking outside the box
If you reside in a box room, you need to be clever when it comes to decorating — and these five hacks are the perfect kickstarter for getting your brain cogs whirring and your imagination flowing.
26. Aiming higher can give you a new perspective
If you're low on floor space, try utilizing the ceiling. Take on a fun new project with a make-it-yourself fairy lights branch, and make your room feel super homey.
OK, so you recognize that decorating and revamping a space brings a sense of joy and achievement. But what does science say about the impact on our wider mental health?
27. A tidy workspace fosters a tidy mind
Whether you're continuing to WFH or getting sucked into your own project, a clean and uncluttered workspace has been shown to boost productivity.
28. Nature is nature's best medicine
The home isn't just about the indoors. For some, it also extends out the window, beyond the porch, and the backdoor. As gardening promotes lower levels of stress and improves overall mental well-being, it's good to be green.
29. Mood lighting sets the snooze
It's not only the blue light from your phone that you should avoid at bedtime. Turn off the overhead lights as well and soothe your mind with low, warm glow to encourage better sleep.
30. Sometimes, going old-school is the best way to feel refreshed
One small study suggests the ancient Chinese practice of feng shui — arranging items to encourage better energy flow — can enhance everything from your emotional state at work to quality of sleep. Ultimately, a little rearranging just might help you gain a new outlook or perspective.
This decorating malarkey is rewarding but tiring, so we're going to take a break here and admire our handiwork. But next time you decorate or declutter — whether out of necessity or choice — remember that doing so is good for a whole lot more than just the eyes.

Chantelle Pattemore, based in London, U.K., is a writer and editor. She focuses on lifestyle, travel, food, health, and fitness.