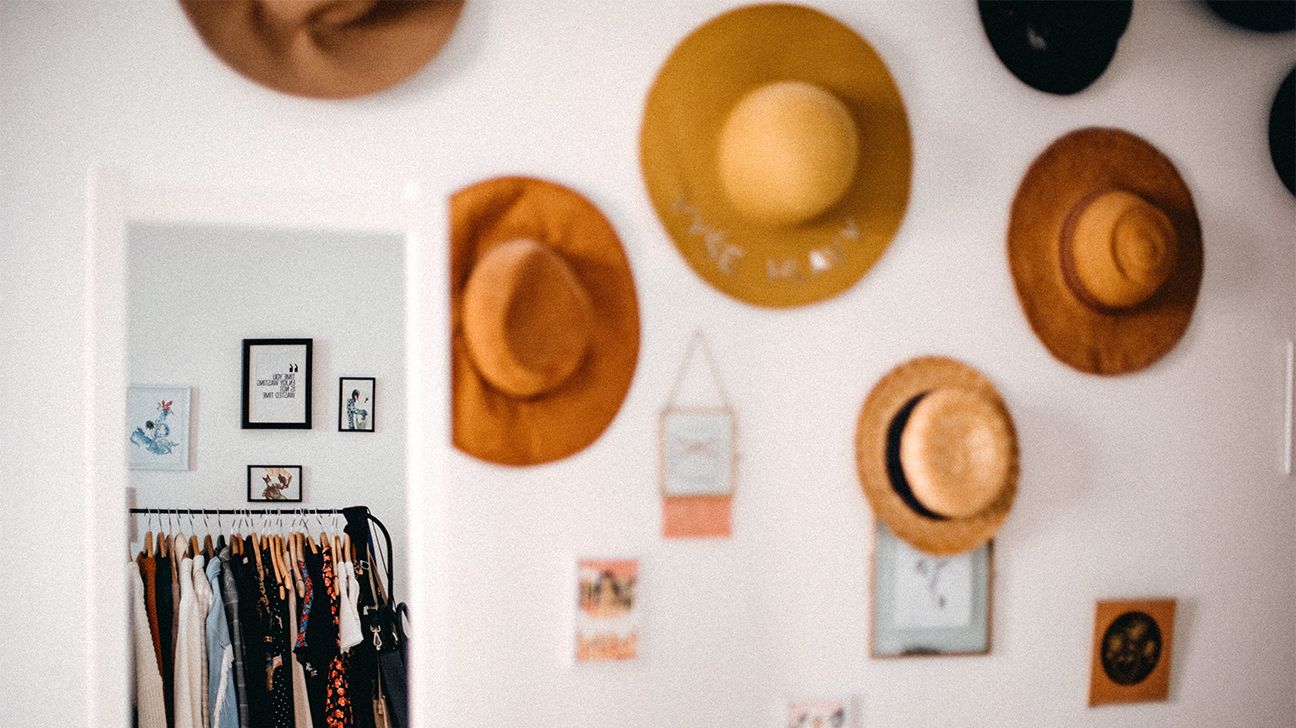 Bored of those plain white walls? An upgrade on any budget is simple with a little direction. Whether your motivated to throw yourself into a large-scale project or prefer something a little more low lift, we've rounded up the projects to suite every level of DIY prowess. Get ready for a little (or big) decor crafting sesh.
Sunny mountain tapestry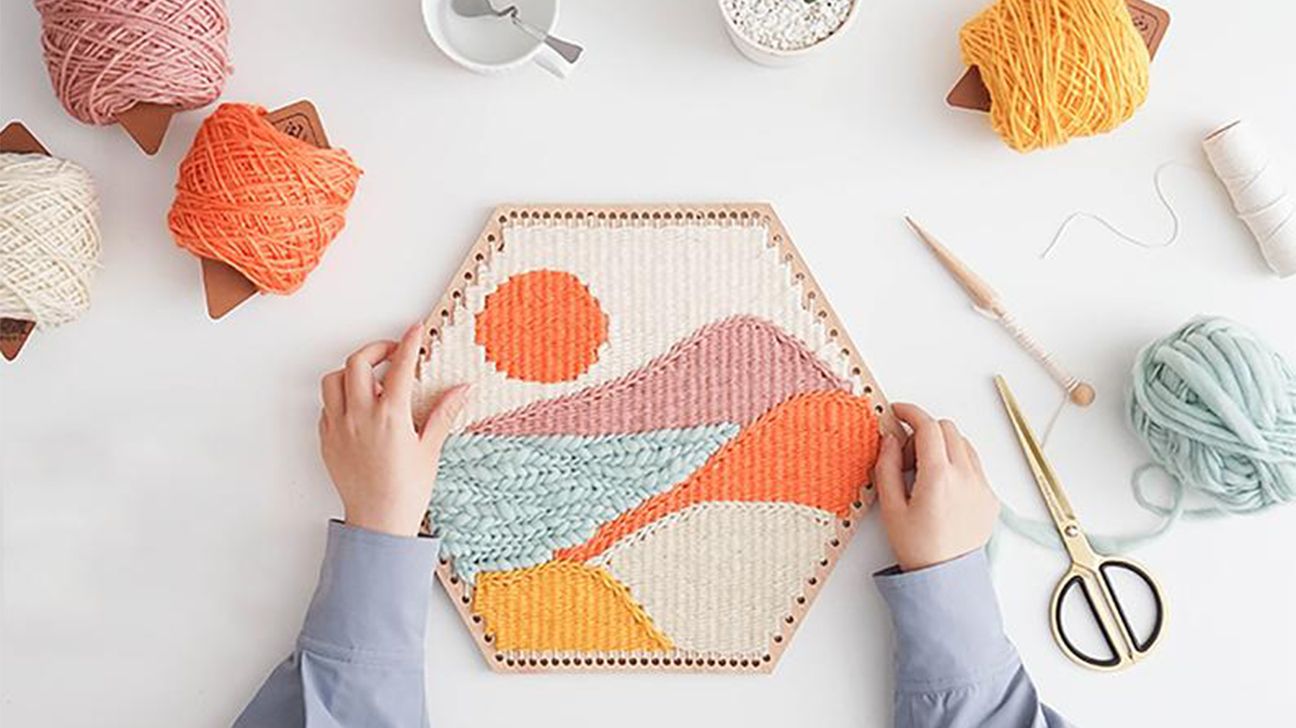 Perfect for the corner that needs cozying up, this hexagon-shaped "The Sun Never Sets" macramé tapestry has the color and graphics to pack a punch. The kit will arrive in the mail with everything you need to complete the project.
Macramé knot wall hanging
Wondering how to spice up an empty wall in your home? Try this large-scale macramé wall hanging. It'll add warmth and texture to any space. Simply purchase and download the PDF tutorial and knot guide, then stop in to your local craft store for materials.
Buy the tutorial download here!
Floral embroidery kit
For the space that needs a wee something, we love these bitty floral embroidery hoops. Designed for beginners, each kit comes via mail with everything you need to complete the project.
There are four flower options — from dainty daisies to dandelions — and you can order individual kits or order a set of four and group them together for more impact.
Rainbow macramé kit
Now you don't have to wait for a rainbow, you can make your own woven version to hang on a wall. These craft kits, available in a variety of color combinations, are perfect for kid's rooms and make nice gifts, too. It comes with all of the supplies but you'll need a few basics like a hot glue gun, scissors, and a ruler.
NASA posters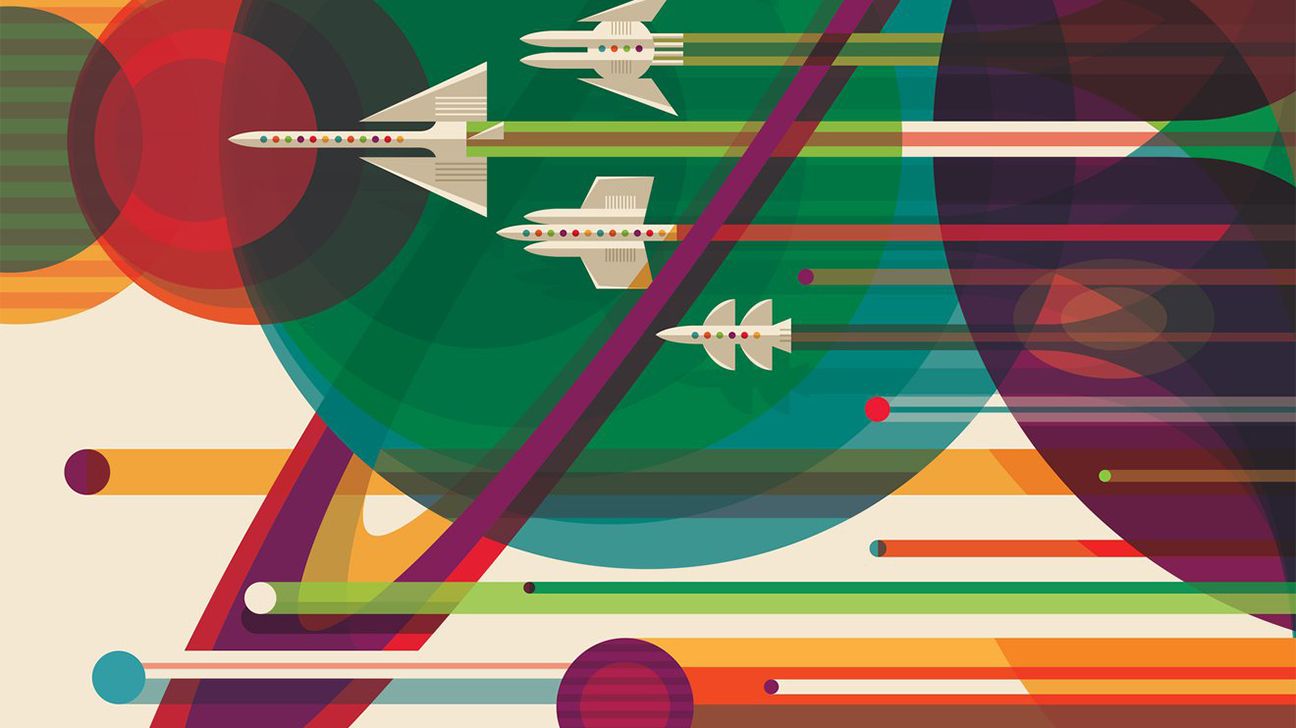 Have a little one in your household who daydreams of blasting off to space? Fill their walls with visions of space travel with these JPL Nasa posters. Simply download, print, and frame or hang with washi tape. There are 16 options in all, but we're particularly fond of the Mars Tours.
USDA fruit, nut, and poster collection
Another go-to free collection is available via the USDA Pomological Watercolor Collection, some 7,500 beautiful vintage paintings, lithographs and line drawings of fruits and nuts created mostly between 1894 and 1916.
There's also a huge collection of advertising posters and bulletins, urging families to raise chickens, start backyard gardens, and raise chickens for eggs.
Browse the NYPL
The New York Public Library Digital collection offers thousands of digital that can be downloaded for free.
The possibilities are endless, from vintage zoology illustrations to scientific and medical drawings, children's book illustrations, poster collections, magazine covers, and images by acclaimed photographers. Now all you have to do is go down the rabbit hole to discover your favorites.
Small space stencil
Make a statement in the bathroom with this geometric Art Deco wall stencil from by Elsie Larson and Emma Chapman from A Beautiful Mess.
You may have some supplies on hand already, such as a craft blade, painter's tape, spray adhesive, paint, cutting mat, steel ruler, and a Sharpie. You can replicate their stencil (discovered via Pinterest) or create your own. It's perfect for small spaces, from bathrooms and hallways to accent walls.
Easy wall decals
Decals are simple, affordable and when you're ready to remove them, they peel off the wall without damaging the paint. We love this collection from Wall Art Design on Etsy, including lines and stripes, half circles, arches, dots, and more.
Paint a custom wall mural
For major impact, we recommend designing your own wall mural. It's easier than it sounds we promise! The great thing about wall murals is that you don't need to be an artist to pull one off. In fact, the simpler the better!
Get DIY wall mural instructions here!
Find a wallpaper mural
If you prefer a less hands-on experience you can also buy a design like this Terracotta and Beige Doodle wall mural from Murals Wallapaper.
If this isn't your style, not to worry, there's something for everyone. You can shop by style or color, in traditional wallpaper repeats or large-scale murals.
Simply measure your wall, wait for a quote then place your order. The site includes a detailed list of materials and step-by-step instructions for installation so you can determine if you're up for the challenge.
Painted circle headboard
We're obsessed with this DIY painted headboard for all kinds of reasons. A painted headboard is an affordable alternative to buying one, and it's customizable.
This swooping, circular shape will add a graphic, colorful touch to a space and eschews the need for art. What's more, it's easy to paint over it if you're a renter. The materials are minimal, but it does require patience and a few coats of paint.
Limewash walls
Used as an accent wall or all over, limewash is a natural alternative to traditional paint. Limewash is made of natural lime and pigments, and it traditionally comes in natural hues, such as white, gray beige, pink and deep brown.
Depending on the depth of color and texture you'd like to achieve, it can take anywhere from 2 to 5 coats of paint. But the result is a beautiful chalky, matte finish. Here's a fantastic Lime Wash 101 from Remodelista.
Painted ombre wall
Our favorite part about this ombre wall from Martha Stewart Living? You don't have to settle for one paint color, you get to choose three. This technique is perfect for an accent wall, in a dining room or bedroom.
You'll start by painting the entire wall the lightest shade, then mixing and blending from there to achieve the look. Depending on the brand of paint you use, you may have to let the first coat dry for several hours, so you should dedicate a whole day to this project.
Press flowers for framing
A flower, leaf, or sprig. What do they have in common? When dried, they make beautiful pieces of art that can be framed individually or grouped together.
Choose pieces leftover from a bouquet, from your garden, or foraged during a hike or outing. Follow these step-by-step instructions from "House and Garden Magazine" to preserve them for framing.
Floral garland
Stylist Shane Powers knows a thing or two about flowers. And while this special craft hails from 2013, we still can't get enough of this drapey garland from his book Bring the Outdoors In, that he shared with Gardenista.
Don't worry, you do not need to dry all of the flowers yourself (though you certainly can). Powers recommends buying them at craft stores and creating several short strands, then tying them together for a larger piece (making them easier to handle).
Make them for the season — like oranges, browns, and yellows in fall and red, pink, purple, and orange for summer — then drape them around.
Wreaths 101
Got an hour on your hands? Well, then you have time to make a wreath. This simple tutorial from Greatist will guide you through the basics. You can clip branches and flowers from your backyard, or visit your local florist for inspiration.
Olive and lemon branch wreath
It seems like there's always a season or occasion to add a wreath to your door, over the mantle, in the kitchen, or wherever else you please. We love this simple spring version from Magnolia.
You'll need some craft supplies, like a reusable metal wreath frame, coated wire, and wire cutters. Then for the greenery, this one is pretty simple and calls for fresh olive and lemon branches.
You can use anything that looks nice (and maybe even smells good) and will dry well, too, so it will last for months. The best part, it takes under 15 minutes to complete.
Winter wreath
If you're ready to up your wreath game and depart from the traditional circular shape, try a class on Creative Bug (starts at $5.95 per month) taught by superstar florists Alethea Harampolis and Jill Rizzo of Studio Choo.
This version calls for pods, berries, and evergreens but you can apply their unique and wild formula to wreaths for any season.
Small-scale living wall
Another fun and easy way to decorate walls with plants comes from the blog Pretty Handy Girl. We love this easy living wall tutorial because you can hang a few plants, or fill it up for a wild, overgrown effect.
You may need to make an IKEA run, but the whole project should cost well under $100. Then all that's left to do is sit and wait for your plants to grow.
Mount a staghorn fern
Why pot a plant when you can hang it on the wall? With their long, curled leaves, and shallow roots, staghorn ferns are the perfect plant to decorate walls. Rather than dirt, the plant's roots will rest in a shallow bed of moss.
The plant is perfectly happy growing vertically, and rather than traditional watering, it requires regular misting. This project may require a trip to the hardware store and your local plant shop, but we promise it's worth the effort.
Air plant clay holder
If you love air plants but struggle with display ideas, we've got the project for you. This air plant holder craft feels especially satisfying because you get to work with Terracotta air dry polymer clay, an easy-to-use material with a big payoff.
This craft calls for three tiers of triangle shaped pots, but you can do more or less. When you're finished, remember to hang them near a well-lit window.
Modern hanging wall tassel
This simple but impactful tassel wall hanging was plucked from Homey Oh My, and we're all about it.
There are a few steps to this project, from painting the beads to making the tassels and then assembling. So, if you have an hour here or there over the weekend you could easily complete the project over a long period of time. This version is in all black, but you can mix up the color scheme to match your decor.
Colorful tassel wall hanging
This thick and colorful tassel wall hanging from Honestly WTF has stolen our collective crafting hearts. The project will require some advance planning as you may need to order this fine yarn from an online supplier.
Unless you're in for a marathon craft weekend, this project is best broken up over a week. That said, you can easily assemble tassels as you binge a television series because you may be in a hurry to hang this beauty.
Easy wall tassel
If you just can't wait for mail-order yarn, you can make this version from A Beautiful Mess with traditional craft store yarn. (In fact, you can purchase all of the materials at the craft store.) Plus, you can easily knock out nine tassels in a single day, if you choose to do so.
You can also make the tassels bigger, or smaller, depending on the area you'd like to hang it.
There are a couple of ways to approach a hat wall: use your own hats, thrift a collection or buy them at a dollar store. If you plan to wear the hats, consider using hooks, so you don't have to look at an empty nail on your wall. For more tips, check out this blog post from The Blondie Locks.
Basket wall
There are plenty of reasons to love a DIY basket wall. First, they can be collected in one swoop, or over time at your local thrift store for just a few dollars each.
Baskets are easy to install and easy to remove. Plus, you can scale it to your wall, five to seven baskets for a small wall, a dozen for a larger space. Aside from your baskets, you'll need small nails and a hammer.
Most of these DIY wall decor ideas can be applied to rooms around your place, whether you're trying to spruce up an entryway, living room, or bedroom. If you're busy, ordering a pre-assembled Etsy kit with the materials already included be the simplest approach. If you're on a tight budget, you can pull some projects together without any budget at all, like the hat wall, or free downloads. Either way, the biggest investment will be your time and creativity.
Chantal Lamers is the home editor at Greatist, covering everything from design to DIY to zero-waste topics. Find her tips on homesteading (and chicken wrangling) in the suburbs on Instagram.