We include products we think are useful for our readers. If you buy through links on this page, we may earn a small commission Here's our process.
Greatist only shows you brands and products that we stand behind.
Our team thoroughly researches and evaluates the recommendations we make on our site. To establish that the product manufacturers addressed safety and efficacy standards, we:
Evaluate ingredients and composition: Do they have the potential to cause harm?
Fact-check all health claims: Do they align with the current body of scientific evidence?
Assess the brand: Does it operate with integrity and adhere to industry best practices?
We do the research so you can find trusted products for your health and wellness.
Hot vaxxed summer is almost over!! And with the Delta variant swirling around, it's def not time to put away that vaccine card just yet.
We're likely to see an uptick in businesses requiring proof of vaccination soon. In fact, Yelp just announced that businesses can add info about whether people need proof of vaccination to enter. They also added the ability for businesses to say whether staff is vaccinated so you can filter out places that might make you feel uncomfortable.
Bottom line: Want to grab a bite to eat? Go to a concert? Start shopping for the perfect Xmas present for your boo? Ya might need to show your vaccine card. By keeping it safe and within easy reach, you should be able to move around as you please.
That's why we've put together this list of holders where you can stash your vax card and show off your #VaxxedandWaxed pride.
Best vaccine card holders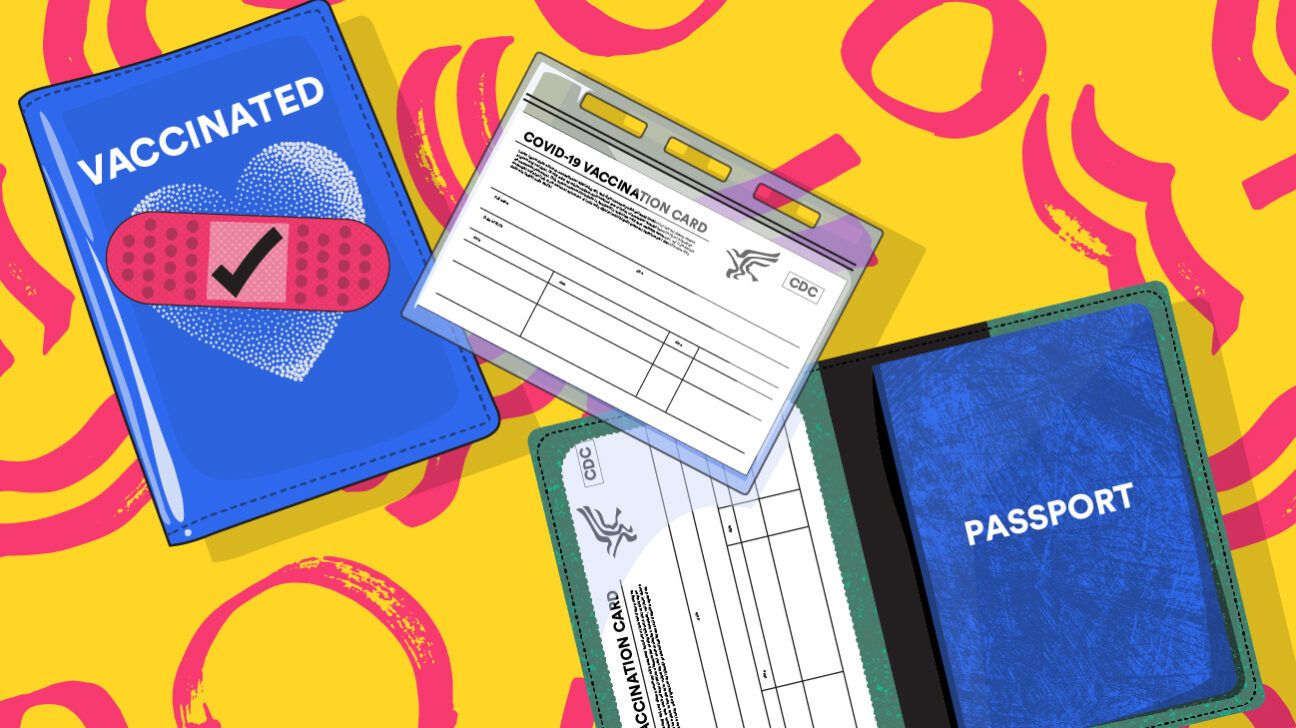 Faisal Khan, senior legal counsel at Nixon Gwilt Law, explains that keeping your vaccination card safe is an absolute must. Especially since public and private employers are starting to require vaccination before allowing employees to return to the workplace.
Since your vax card is your main proof of vaccination, having it on hand and keeping it protected is important AF. According to Khan, it's totally within a business's legal right to require proof of vaccination.
Right now, your vaccine card isn't necessarily a must to enter most businesses — unless a biz decides to do so. But you'll likely need to keep proof on hand soon. In Europe, for example, many countries have started mandating the use of vaccine passports to enter certain locations.
So what should you keep in mind when shopping for a vaccine card holder? Here's what to consider:
Durability. Since the vaccine card is the only proof that you're vaccinated, a holder should keep out H2O and prevent wear and tear.
Easy to access. You probably always have your license on hand so you're never fumbling when someone asks you for your ID. If businesses start requiring proof of vaccination, you'll want to be able to grab that sucker ASAP.
✈️✈️✈️✈️. Consider that if you plan to travel at all, you'll need to have both your passport and proof of vaccination on hand.
Don't laminate your v-card — even if you're already fully vaxxed. The reason? The blank spaces on the card are there to record potential booster shots down the line.
There are a few different types of vessels that have the potential to protect your vax card. We organized this list by the different kinds of holders we think work best.
Best passport holders
This simple yet classy passport holder also has a little spot for your vaccine card. A clear sleeve makes viewing the doc easy. The faux leather case also has reinforced stitching and is water-resistant. And there are 12 color options — so take your pick.
The only bummer is that it doesn't feature RFID tech, so avoid storing your bank and credit cards in this holder.
This faux leather holder fits cards that measure up to 4 x 3 inches, displaying them in an easy-view window. It also has a pocket for your passport and cash, making it a solid choice for travelers.
The biggest downside is that there aren't a ton of color options and it's not the prettiest accessory we've ever seen.
This high quality leather holder fits everything a jet setter needs: passport, vaccine card, and some cash moneyyy.
The clear interior slot can fit cards up to 4 x 3 inches and keeps them out of view. It's a little pricier than other vaccine holder options, but the tan version has that fancy AF feel we all want on our big trip of the year.
This vegan-friendly faux leather RFID blocking passport holder is the perfect HQ for all your financial and travel knick-knacks, including three spots for credit cards, a window for your vax card, a slot for your boarding pass, space for your passport, and a cute little nook for your SIM card.
Bonus: It comes with a lifetime warranty.
Most durable vaccine card holder
Pop this clear plastic vaccine holder in your purse or bag and have it at the ready. These holders come in packs of five and can handle cards that measure 3 by 4.25 inches.
The super-strong PVC holder is uber-resistant and waterproof, thanks to a handy zipper.
Because there's no sizing standard for different countries' vaccination cards (big oopsie there), this case doesn't fit all cards — so double-check your card's measurements before buying a holder.
Best sleeves
Grab these color-coded RFID-blocking sleeves and share them with your vaxxed friends and fam. The sleeves are water and tear-resistant and are perfect for popping in a purse, fanny pack, or backpack. They have RFID technology to stop scammers from scanning your credit cards, too.
The one negative is that you'll have to pull out your cards because these holders don't have clear windows.
Whether you're wrangling your large AF family or just want to share the love, you might want to buy vaccine card holders in bulk. This set comes with a whopping 100 sleeves, so you'll have plenty to pass around. These sleeves hold cards up to 3 x 4 inches and feature a zipper that makes them waterproof.
Not interested in supplying a holder for everyone you know? You can also buy these in packs of two or three.
If you're concerned about keeping your private info on lock, this vaccine passport holder is for you. The flip-style sleeve protects your privacy without compromising on convenience.
The sleeve is slightly larger than other options and fits cards up to 3.5 x 4.75 inches. The only downside is that it's pretty pricey, considering there's no room to fit much of anything else.
Best lanyards
If you have to show your proof of vax daily, like at work, try this lanyard-style holder. It also has a back slot for another card you might want to keep handy — like your work ID — but only the front slot is clear.
The faux leather case is available in seven colors and the lanyard is detachable, which is handy if you ever want to pop it in your purse or pocket.
This plastic lanyard is both water and dustproof, thanks to a zippered top. It can fit cards up to 4.43 x 3.5 inches. You can also choose to use the sleeve with or without a lanyard.
This protector is also suitable for travel purposes because, despite being thick, the window allows for easy reading of bar and QR codes.
These simple, colorful vaccination card protectors are a good choice for professionals. The sleek sleeves fit cards up to 3 x 4 inches and come with lanyard attachments.
They also feature double-sided clear windows, so you can have your vax card and work ID in one easy-to-reach place.
Best wallets
This zippered keychain pouch keeps your vaccine info at the ready with the help of a clear slot. The pouch can also fit a couple of cards and some $$$.
The leather feels soft to the touch but it's not waterproof — you've been warned.
TBH, lots of vaccine holders are uggo. These are a slightly more stylish option.
The holder fits cards up to 4 x 3 inches, and the attached key ring and clip allows you to snap the sleeve to your bag, jacket, or even a lanyard.
The cloth-like material is also soft-to-the-touch and waterproof.
Prefer to keep everything in one place? This RFID wallet has spots for all the essentials, including an exterior windowed slot for your vaccine card.
It has 12 individual interior slots, so you've got plenty of room for cash, insurance info, and credit cards. BUT it's made from genuine leather, so vegans should steer clear.
Best wristlet
Pop your vaccine card into one of these wristlets that feature an interior coin purse. These adorbz wallets fit cards up to 3.5 x 5.5 inches, and a zipper keeps your stuff secure.
Just know that each package comes with 5 wristlets, so you either have 5 new wristlets or 4 to share with your besties.
Khan says that other ways to prove you're vaccinated include a signed consent form to receive the vaccination or a copy of vaccination records from your doc. A signed consent form is not a surefire way to prove your status, though. Because it's not confirmation that you actually went through with the vaccine.
And we know you're proud of being fully vaxxed and want to show the world. But fight the urge to post your card in your Insta stories. You're putting yourself at risk for identity theft if you do this. At the very least, blur that sh*t so no one can see your personal deets.
Also, we recommend snapping a photo of your card. You never know when you'll forget — or lose — your wallet or card holder.
There's a lot of talk lately about the new Delta variant. Should you be worried?
Definitely worry for your unvaxxed friends and relatives.
But Dr. Ernst von Schwarz, LA-based cardiologist & scientist, says that while this new variant will affect everyone sooner or later, vaccines prevent severe symptoms and significantly lower your risk of dying from COVID-19.
Schwarz likens the situation to walking in the rain. Walking around without protection will leave you soggy and wet (or, in the case of COVID-19, sick). With an umbrella (or a mask), you might feel a few raindrops (virus particles), but otherwise, you'll be pretty dry. Put on a raincoat (e.g., get vaccinated), and you'll stay dry. But your raincoat might have a few raindrops on it and wet people around you.
Basically, you probably won't get sick, but you can still carry the virus and infect others, especially if they're unvaxxed. This sucks big time for people who can't get vaccinated at all, like immunocompromised people. They kinda have to just trust other people will follow public health guidelines.
That's why it's still super important to wear a mask indoors, cautions Schwarz, especially now with the Delta variant hanging around. That goes for both vaxxed and (definitely) unvaxxed people.
"What we see in the hospitals right now are young, healthy people on ventilators in dire conditions, and almost all of them — not surprisingly — are unvaccinated," adds Schwarz.
Ultimately, the CDC guidelines are recommendations, not rules, but they're based on scientific, medical, and statistical data. They're not just made up out of thin air.
tl;dr: Encourage those around you to get vaccinated and wear a mask indoors — especially if it's crowded.
Hopefully, digital vaccine passports will eventually be a thing. But for now, better keep that flimsy piece of paper safe and sound with a brand spankin' new vaccine card holder. All of the options we included are solid ones — but just make sure you pick one that's durable and convenient AF. Oh, and maybe grab your smartphone and snap a pic just in case.