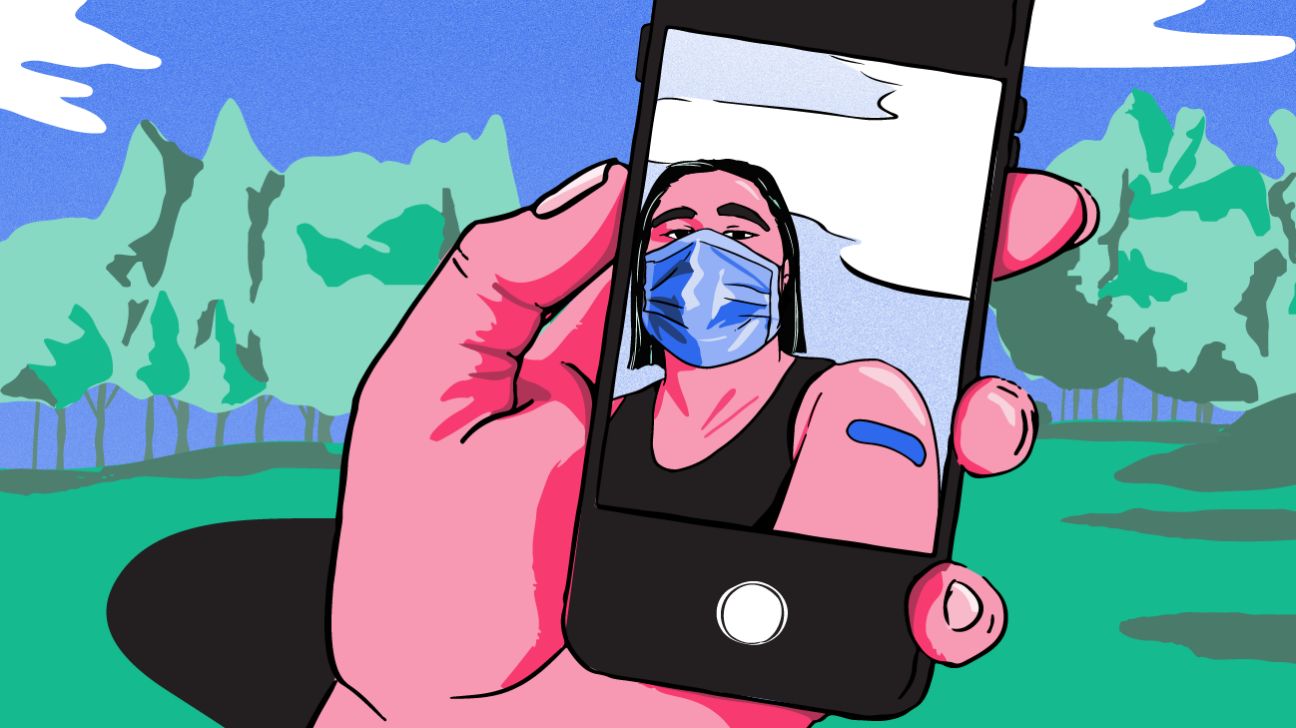 We were all super eager to say goodbye to 2020, which was pretty much a hot mess as far as years are concerned.
Now we're all wondering what 2021 has in store for us. Last year, you may have looked to the new year as a glitter bomb of hope to get you through. But now that 2021 is fully in session, it may feel kind of, well, uninspiring or meh.
We're still in the middle of a global health crisis. The calendar-flip to 2021 didn't magically zap the novel coronavirus from the earth.
But with vaccines ready and rolling out, hopefully this year will see us getting a much better handle on case numbers and moving in the direction of life on the other side of the pandemic.
We asked three experts for their takes on what 2021 will be like as we go through this much-hoped-for metamorphosis.
Get those hashtags ready! We'll be taking selfies after our vaccine jabs and sharing them on our socials.
Not only should you get your vaccine, you should spread the word. "Show pride and encourage others to get the vaccine," urges Jagdish Khubchandani, PhD, professor of public health at New Mexico State University.
Eventually, you'll be eligible to get one of the SARS-CoV-2 virus vaccines that have received emergency use authorization (EUA) from the FDA. So far, we've got the Pfizer-BioNTech vaccine, which requires 2 doses 3 weeks apart, and we have the Moderna vaccine, which requires 2 doses 4 weeks apart. Johnson & Johnson's single-dose vaccine may be available soon, as well. The company just applied for EUA from the FDA.
According to the Centers for Disease Control and Prevention (CDC), after you get the quick poke, your cells will get to work making spike proteins to convince your body to mount an immune response, including building antibodies against the SARS-CoV-2 virus. Wooohooo! Go cells, go!
The moment will be a cause for joy. By getting your vaccine, you're protecting yourself from the SARS-CoV-2 virus and also doing something for the greater good to curb the pandemic. The CDC reminds us to go back for your second poke (if you get the Pfizer or Moderna vaccine) and then we can celebrate twice!
"Much of the celebration should focus on role-modeling by selfies, sharing videos, etc.," Khubchandani says. "It's a well-known technique for enabling others to mimic healthy and preventive behaviors."
Researchers estimate that we need to achieve a herd immunity threshold between 60 to 80 percent to get the novel coronavirus under control. And the best way to do that, according the World Health Organization (WHO), is by vaccinating as many people as possible against the virus.
So, snap that selfie after your jab, and encourage your friends to do the same. Some people have been posting pics with their vaccine cards. But the Better Business Bureau (BBB) warns against this since the cards have identifying info on them. Plus, images of the cards help scammers produce counterfeit versions to sell.
Instead, post a selfie with your vaccine sticker or use a vaccine frame around your profile pic. Or get creative and do your thing. Spike protein dance on TikTok, anyone?
This year will be a year of "firsts." They aren't actually firsts in the sense of never having done something before. Instead, they might be things you haven't done in a long while as a result of the pandemic.
It might be your first haircut back in a salon. (Even though those DIY chops looked dang good!) Maybe it will be your first vacation instead of a staycation or the first time you sit belly-up to the bar again. (Although those quarantinis were tasty). Or it could be as meaningful as the first time you hug your friend who is immunocompromised (after you're both vaccinated, of course).
"Whenever we get to experience a "first" again, it's so important that we mindfully appreciate the moment," says Dr. Lauren Cook, a therapist, speaker, and author. "So many normal, everyday activities that we easily took for granted were taken away this past year. When you get these experiences back, truly savor them and notice how it feels to be in those moments."
But the flood of relief or joy we might feel when experiencing these firsts (again) may also bring up other feelings. We might even experience anxiety or a sense of overwhelm. Or we may feel awkward returning to certain social situations after having most of our interactions on the Zoom grid.
"It will be different for each person," says Colleen Woodward, LMSW, psychotherapist at A Good Place Therapy & Consulting. "But I encourage you to embrace all the emotions that come. Be open and vulnerable with those you trust about how you're feeling because you will probably find that you are not alone."
This year will also be about honoring change. We hear a lot of talk about getting back to "normal." But we have to acknowledge that we're fundamentally different now as a result of the new coronavirus and other events of 2020. Instead of "normal," maybe we actually want something new.
"It's easy to discount the collective trauma we've all dealt with since the start of the pandemic and to have the 'just get over it' mentality," Woodward says. "But don't forget that no matter how big or small it feels, you've been through so much uncertainty and fear during this time."
The pandemic experience has undoubtedly changed society, and it's changed you. As a result, you may change how you go about your life. "This past year has been shaping a different perspective, and we may not look at things the same way," Cook says.
A different perspective may alter how we choose to spend our time, and whom we choose to spend it with, moving forward. For example, if you found yourself happier without that standing brunch with a certain toxic friend, you don't have to return to the same old routines or the same dynamics in relationships.
"Even though it may feel awkward to step away from a friendship or no longer engage in certain activities," Cook says, "remind yourself of how much better you feel when you set the necessary boundaries. And while you don't want to ghost people, you also don't have to be brutally honest about why you may be taking a step back — unless you feel like that person could be open to the feedback."
Ultimately, it's OK to feel and be different after going through this huge experience. You can refocus your priorities and goals and continue any healthy patterns you've crafted during lockdowns and restrictions. Keep in mind that your friends and family members may have changed too.
So, we'll be taking vaccine selfies, experiencing "firsts," and honoring change. But when will we actually be on the other side of the new coronavirus?
Newsweek reported that Dr. Anthony Fauci, the nation's go-to infectious disease expert, has said that a return to some sense of normalcy by fall is possible if we can get 70 to 85 percent of the population vaccinated.
Keep in mind that getting vaccinated isn't a magic wand, and we still have unknowns about virus variants. So, until further notice from public health officials, Khubchandani says, "It's best to practice preventive behaviors."
You know the drill: Keep wearing your mask in public and maintaining a six-foot distance from people you don't live with, even after you get your vaccine doses. "No one is 100 percent risk free," he adds.
But the bottom line is that there is hope we'll see the other side of the pandemic in 2021. And for that reason — and that reason only! — we think it's fine for 2021 to tell 2020 to "hold my beer."