We include products we think are useful for our readers. If you buy through links on this page, we may earn a small commission. Here's our process.
Greatist only shows you brands and products that we stand behind.
Our team thoroughly researches and evaluates the recommendations we make on our site. To establish that the product manufacturers addressed safety and efficacy standards, we:
Evaluate ingredients and composition: Do they have the potential to cause harm?
Fact-check all health claims: Do they align with the current body of scientific evidence?
Assess the brand: Does it operate with integrity and adhere to industry best practices?
We do the research so you can find trusted products for your health and wellness.
Before we lock the bathroom door, we always do the triple tap. No phone. No wallet. No keys. Yep, we don't plan on going anywhere for the next hour except in the oasis between steam and self-care — and there's no notification to get in our way.
And for the skeptics out there (not that anyone reading this is), taking a bath has actually been shown to help lower our stress levels and fall asleep faster.
But you don't need science to justify hitting pause on the livestream of life to unwind and enjoy some peace and quiet. From bath oils and salts to caddies and humidity-loving plants, we went out in search of beloved products (each has at least 500 reviews and at least 4 stars) to put together this glam guide to bath time.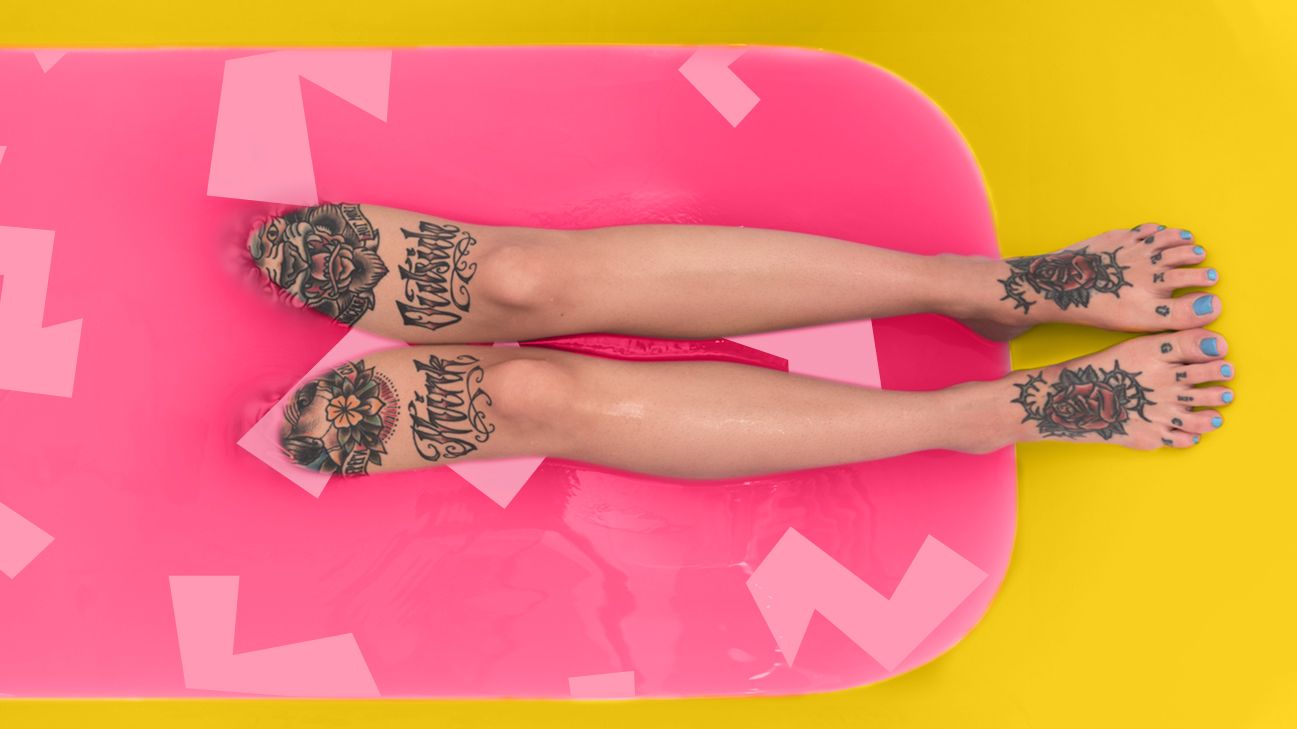 The point of a bath is to feel nourished and clean! Use a cleaner to scrub away any buildup, it'll be worth it.
Fact: You're never too old for a bubble bath. Also true: You should probably upgrade from the bubblegum-scented varieties. These subtly soothing aromatic blends don't disappoint.
The bubbles in bubble baths won't actually clean you (although they do create a layer that helps insulate the water so it stays hot longer). If you also want to get clean, you may want to shower before or after.
Aromatherapy Stress Relief Eucalyptus Spearmint Body Wash & Foam Bath
Rating: 4.9/5
Reviews: 980+
Get it via Bath and Body Works.
The minty aroma of this eucalyptus blend is fresh and outdoorsy. Along with the scent, the aloe conditions your skin, and the bamboo extract gently cleanses your pores.
Philosophy Amazing Grace Shampoo, Bath & Shower Gel
Rating: 4.5/5
Reviews: 1,000
Get it via Sephora.
There's a reason this product from Philosophy is award-winning and the brand's best-selling fragrance. Not only does the formula cleanse, condition, and soften your skin, but it's strong enough to clean your hair, too.
The Honest Company Truly Calming Bubble Bath
Rating: 4.5/5
Reviews: 2,440+
Get it via Amazon.
If you have sensitive skin, this lavender bubble bath created with essential oils is a smart choice. It won't dry your skin, and if you get a bit in your eyes, it won't sting either. Win-win!
While a bath bomb isn't necessary to complete the mood of your bathroom retreat — it sure does add some color and fun! Plus, many sneak in conditioning ingredients that leave your skin supple and soft.
Bath salts have a range of uses — from hydration and moisturizing to stress relief — depending on what ingredients they contain.
Bubbly Belle — Bath Bombs Gift Set
Rating: 4.8/5
Reviews: 780+
Get it via Amazon.
Created with essential oils, this female-owned brand offers a plethora of bath bomb scents. And if you can't choose, this gift set is a self-love present you'll use for 12 baths to come. Choose your ideal color combination and fragrance, and watch the rainbow dissolve in the warm water.
Sky Organics Epsom Salt
Rating: 4.5/5
Reviews: 510+
Get it via Amazon.
The next time you're super sore post-workout, consider throwing in a handful or two of this highly rated Epsom salt. This formula, made of 100 percent magnesium sulfate, works to treat muscle pain, cleans your pores, and exfoliate your skin. Plus, since it's fragrance-free, it's a smart option for those sensitive to scents.
Da Bomb "F" Bath Bomb
Rating: 4.5
Reviews: 820+
Get it via Amazon.
Cheeky and fun, this is the ideal bath bomb for when you had one of those no-good, very-bad, horrible, terrible days. This one has an added lavender fragrance and coloring so your water will quickly turn purple. Keep an eye on it, though, since a calming message is included in every bomb!
If you prefer a no-fuss bath experience where you zone out and tune in to your sense of calm, bath oils are for you. How they work: Squeeze some drops into your bath water for softer, luxurious feeling skin.
Bioderma PP Balm Face and Body Moisturizer
Rating: 4.5/5
Reviews: 1,640+
Get it via Amazon.
A few drops of this beloved formula provides 24 hours of skin hydration. Particularly for those who suffer from severely dry skin or have conditions like eczema, psoriasis, and ichthyosis can use this non-greasy, fragrance-free option to treat symptoms.
Avon Skin So Soft Oil
Rating: 4.5
Reviews: 920+
Get it via Amazon.
This bath oil by Aveeno been a treasured formula for decades, featuring a subtle scent and conditioning quality. As you indulge your bath, consider rubbing some oil directly to your skin and letting it seep in deep.
L'Occitane Cleansing and Softening Shower Oil with Almond Oil
Rating: 4.5/5
Reviews: 1,000+
Get it via Sephora.
This luxe oil is packed with omega-6 fatty acids, which has been shown to support skin health. It also serves well as a moisturizing cleanser and leaves skin soft to the touch.
When it meets water, it becomes milky, making it ideal as an oil and a lathering lotion in the bath. As a bonus, it's excellent for shaving, too!
The Danish tradition of "hygge" (pronounced hyoo-guh) is the common practice of creating an uber-relaxing, calm, and candlelit atmosphere. Try turning off all the lights in the bathroom and only seeing by the soft flicker of the wick and flame. It may help you ease into the calm of the moment.
Keep in mind, you may not want to use fragrant bath bombs with fragrant candles. Scent overload is a real thing.
Capri Blue Signature Volcano Candle
Rating: 4.5/5
Reviews: 1,360+
Get it via Amazon.
As one of the signature scents from this brand, your bathroom will be filled with sweet notes of citrus and sugar, creating a tropical mood.
Lulu Candles Soy Jar Candle
Rating: 4.5/5
Reviews: 7,110+
Get it via Amazon.
Beautiful, affordable, and slow-burning, this soy jar candle will last you for many relaxation sessions. Available in many scents — from amber and rose to wild lemongrass — you can collect a few for every mood.
Chesapeake Bay Candle Balance + Harmony
Rating: 4.5/5
Reviews: 7,880+
Get it via Amazon.
The goal of a bath is to find your center again, making this balance-and-harmony candle a perfect pick. Available in a variety of sizes, the scents of water lily, pear, and peach will fill your bath with calm and clarity.
The natural calming properties of the a bath is complemented well by CBD which research has linked to curbing inflammation, relieving stress and pain, and improving skin health. Most are available in all states but double-check your zip code's regulations before buying.
*We were unable to find CBD products that hit our 500 review threshold but the products below have all been tested for potency and safety by a third party lab.
Relieve CBD Bath Bomb
Rating: 5/5
Reviews: 220+
Get it via KushQueen.
For pain relief after a challenging workout, try this CBD bath bomb. It may or may not "balance your endocannabinoid system," as it claims on their site, but the soothing essential oil blend might be just what you need to feel refreshed and at ease.
Vertly Bath Salts
Rating: 4.7/5
Reviews: 30+
Get it via CredoBeauty.
Packed in each of these micro salt beads are mineral and botanical infusions, and a CBD dose. They're ideal for stimulating circulation and relieving tension in your muscles. Plus, the added scent of lavender, lemon, and sage essential oils will put you into the zen mode, fast.
Lord Jones High CBD Formula Bath Salts
Rating: 4.2/5
Reviews: 10+
Get it via Sephora.
This cult-favorite high-formula bath salt has 240 milligrams of CBD, ideal for those evenings after you've pushed your body to the max. With natural essential oils like arnica flower, calendula flower, and more, your pores will all be at ease, too.
Part of the joy of taking a bath is having the time to really give your skin the TLC it needs. Rather than rushing through a quick shower in the morning, a bath allows you to go through your whole body skin care routine with ease, including soaking, cleansing, and exfoliating!
Loofah Bath Sponge XL
Rating: 4.5/5
Reviews: 1,900+
Get it via Amazon.
Colorful and plush, this extra-dense loofa will gently dig through your pores and cleanse your skin. Since loofahs should be thrown out every 1 to 2 weeks to prevent mold and mildew, this set of four will last at least a month.
SlipX Solutions Bottomless Bath Overflow Drain Cover
Rating: 4.5
Reviews: 10,760+
Get it via Amazon.
After — finally — filling the tub with warm, soapy water, you slowly sink into the tub… and before you know it that annoying slurping sound from the overflow drain is keeping you from blissing out and your shoulders are freezing from the lowering water level. Enter: overflow drain covers.
Not sure how these works? It's simple: They cover your current overflow drain and features a hole that releases water a few inches higher. This raises your bath and prevents water from sneaking out, like magic.
Royal Craft Wood Luxury Bathtub Caddy
Rating: 4.5/5
Reviews: 4,560+
Get it via Amazon.
Some folks like to have a bath in complete silence and lay perfectly still. Others prefer to multi-task with a book — and a generous glass of vino. If you're in the latter camp, a bath caddy is a must-have.
This craft wood caddy fits most bathtub sizes and can extend up to 43 inches. After you secure it, fill it up with soap, a candle, red wine, and your page-turner of choice.
BINO Non-Slip Cushioned Bath Pillow
Rating: 4/5 stars
Reviews: 780+
Get it via Amazon.
Since baths sadly don't feature mattresses, they can sometimes be uncomfortable for a long stretch of time. Keep your neck supported and cozy with a highly-rated bath pillow.
Not only is this waterproof bath pillow soft-to-the-touch with 2 inches of padded foam, but it features eight suction cups to hold it in place. This means no slipping and accidentally getting your hair wet.
Gorilla Grip Original Luxury Chenille Bathroom Rug Mat
Rating: 4.5/5
Review: 8,890+
Get it via Amazon.
Made of super-soft Chenille fabric, your toes will be comforted when they meet this highly-rated bath bat. It not only absorbs water quickly and cleanly, but it's machine washable, too.
This is a no-brainer. You're already naked, basking in alone time, and very relaxed. Why not bring a waterproof toy into the mix?
Many indoor plants thrive in the bathroom, thanks to the humidity and heat. And since plants can help us feel more comforted by our surroundings, we recommend adding one (or three) to your bath space.
Snake Plant
Rating: 4.6/5 stars
Review: 1,870+
Get it via Amazon.
These cuties don't need access to bright light, and they enjoy a steam area, aka great for the bathroom. As a bonus: They only need to be watered every few weeks, so you definitely don't need a green thumb to keep one thriving.
Air Plant Variety Pack
Rating: 4.6/5 stars
Reviews: 1,760+
Get it via Amazon.
If you want a very low-maintenance house plant for your bathroom, look no further than air plants, which, well, only need H2O. That's right, they don't need light or soil, and you only need to add a few drops of water occasionally to keep them alive.
Golden Pothos
Rating: 4/5 stars
Reviews: 600+
Get it via Amazon.
For those who consider themselves plant parents, pothos are widely known as one of the easiest plants to nurture. Its vines grow quickly and it's drought-tolerant, giving it a natural love of a humid environment.
Lindsay Tigar is a lifestyle and travel journalist whose work has appeared in Travel + Leisure, National Geographic, CNN, Real Simple, and countless others. You can find a full collection at lindsaytigar.com.