This Black History Month has found Black people in a particularly trying moment. The pandemic of the last year has illustrated how we, along with the Native American community, are often among the first to feel the heaviest brunt of hardship and among the last to feel the lift of help in this country.
In addition, the layers of social unrest and injustice have continued to compound and embolden forces of hatred and division in this country — culminating in the attack on the U.S. Capitol on January 6, 2021. While it was not surprising to see rioters bearing nooses and confederate flags as they ransacked the Capitol Building, it was still painful.
These events continue to highlight the question: How can Black Americans find peace in a country that's caused us so much pain?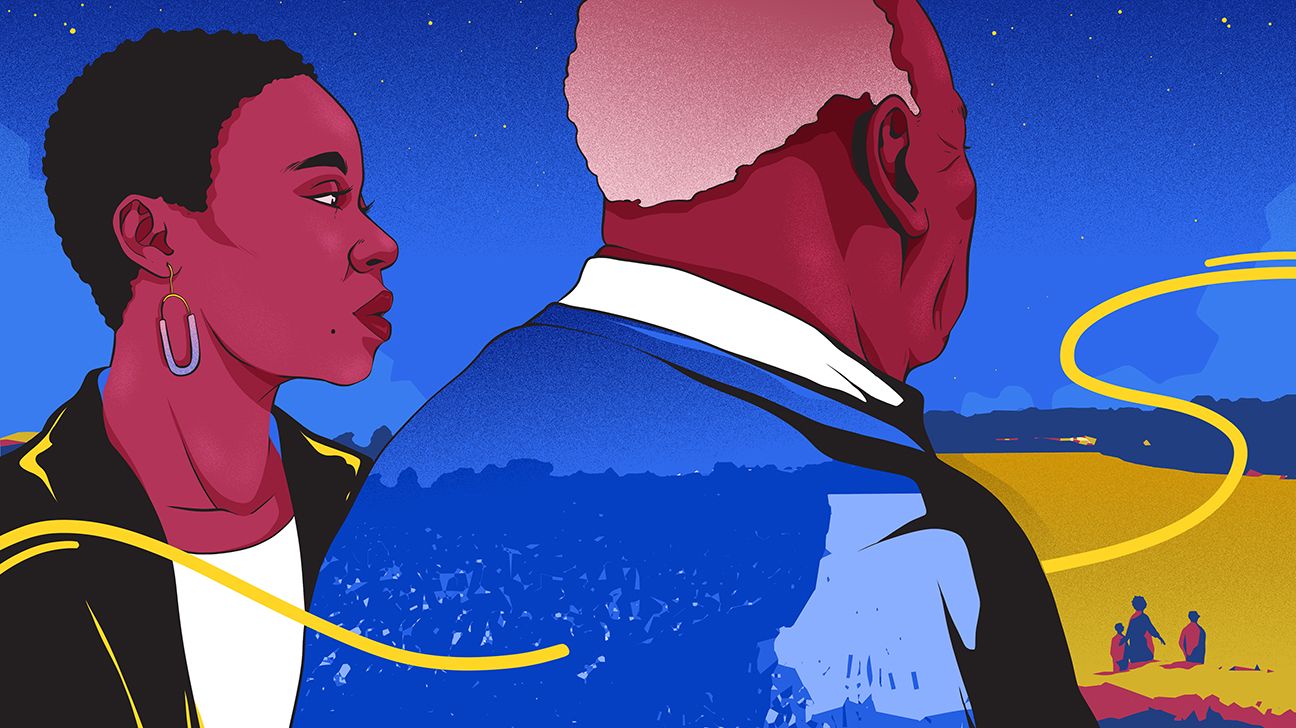 When I think of wisdom, I think of my grandfather, Doss Calvin Bender. He has lived a life worthy of several books. But a brief overview: During the Great Migration, he moved from Mississippi to Milwaukee, Wisconsin as a child with his mother and three older siblings. After high school, he joined the Marines and fought in the Korean war.
He was the 6th Black firefighter in the city of Milwaukee, where he served and saved lives for 27 years. During that time, he took a 6-month leave of absence to direct a minority recruitment program for the department. He served on the board of the Milwaukee NAACP, including two terms as President.
He was part of Milwaukee's ACLU chapter. He managed many political campaigns before he retired, and helped many Black people get jobs through all of it. I could go on and on, but suffice it to say that his accolades and achievements are numerous.
I spoke with my grandfather about his own journey as a Black man in this country and found there were three vital lessons that have brought him peace throughout his incredible life.
My grandfather's story begins with my great-grandmother's story. Celia Mae Bender grew up in the South in the early 1900s, a world determined to convince Black women that they were worth nothing.
In 1938, she told her husband that she was leaving the apartheid state of Mississippi and going north. She told him he could come with her or stay, but either way, she was leaving. He chose to stay. So, she gathered her four children, Doris, Elnora, David, and Doss, and took a bus north to Milwaukee.
Things weren't all sunshine and butterflies in the north of course. My great-grandmother's first job there was as a maid for a white family. She promptly quit when she found her employers expected her, a grown woman, to call the children of the household "Sir" and "Miss."
In spite of the hardship, she showed the kind of unwavering love and belief in herself that pushed her to make the difficult decisions that have lifted our family up for generations.
We were all well aware that we were Black and feeling good about it.
I asked my grandfather how he thinks his mother came by that sense of self-worth as a Black woman growing up in the South. He said that he really wasn't sure, but that the attitude radiated outward from her.
"We were all well aware that we were Black and feeling good about it," said my grandfather. "As Jessie Jackson used to say, 'Black and proud,' though those words weren't in our minds yet. But we certainly knew that we were Black and didn't have to take any crap. Without going to jail, that is."
That deep sense of self-worth can be hard to come by, but I think it's a valuable tool for Black people to hone. It unlocks the tough skill of self-love, which can help us choose between the status quo and what is unknown but radically correct for us. It's not easy, but if we love ourselves enough, we can have the strength to make those tougher choices and ultimately find peace.
After my grandfather returned home to Milwaukee from service in the Marines, he became the sixth Black man ever to serve as a firefighter in the city.
After his 27-year service as a firefighter and becoming President of Milwaukee's NAACP chapter around 1974, he reflected on how his work in both places lead to creating the fire department's minority recruitment program.
"The [entrance exam] they gave was extremely, extremely difficult," he said. "In fact, the secretary at the time told me, 'Doss, I'm gonna tell you something and if you let it out, I'll deny it and call you a liar and everything else.' She said, 'I've been secretary to the commission for [x] number of years, and I have never, never ever seen an entrance exam this difficult.'"
In case you missed it, the implication here is that the department had made the exam more difficult in order to keep the fire department as white as possible.
He goes on, "I was the President of the NAACP, so I called the national office. We got a couple of volunteers, we sued [the fire department], and won. A consent decree came out that for every three white people hired by the department, two black people had to be hired. Let me say, well over 1,000 people took that exam. Might've been 2,000, I don't remember. Less than 5 percent passed it, raw. That's how difficult it was."
I found that I got a lot of satisfaction from making things better. Making things happen.
My grandfather was able to get countless people hired, either through programs he created or just by making phone calls, even after he retired.
"I found that I got a lot of satisfaction from making things better. Making things happen. I started there as a firefighter and I left as a firefighter — and people would ask me, 'Doss, all the clout that you have, why weren't you ever promoted?' I said, well I just never took time to study for an exam, and it wasn't important to me to be promoted. I said look at the guys that I got promoted. A battalion chief, assistant chief, I don't know how many captains, and so on. That gives me pleasure. That's my satisfaction."
I tell my grandfather that in his story, I see a thread of advancing Black people wherever he happened to be, and I ask him if perhaps that's been a part of finding his peace.
"I would definitely say that," he said. "For years, I was on the outside trying to kick down the door to make things happen on the inside, but it was a whole lot easier and a whole lot more fun on the inside making things work. I don't know how many times I would do something to make things right, or to advance us… those kind of things made me feel good."
While my grandfather's methods of caring for his community may seem out of reach for some, his story is more relatable than it might appear. He didn't necessarily set out to conquer politics and change the world. He just continued to make the decision to help where he could. A friend asked for his help in the NAACP, so he got involved. An acquaintance asked for his help passing out literature for their political campaign, so he did. He helped in a lot of smaller ways until he was eventually in a position to help in bigger ways.
Especially with the state of our country today, the idea of finding a way to create change can quickly become overwhelming. If you find yourself in this position, perhaps start with your community. You never know what it could lead to down the line.
I asked my grandfather if he has any advice for young Black people trying to navigate a strange world and find their own peace as he did.
Peace isn't automatic, no matter what kind it is — inner peace or neighborhood peace.
"It takes a while," he said. "I happen to be a great believer in education, strongly so, and whatever you choose to do while you're in school, [make sure it] helps you acquire your peace.
"Peace isn't automatic, no matter what kind it is — inner peace or neighborhood peace. So, be patient. But above all, be yourself as best you can within the confines of the law, your neighborhood, and your people. Have integrity and be honest. Too many people are following [liars] nowadays. Choose your friends very carefully, and cherish family. Stick with your family and you'll have a good life. You'll find peace there too."
At the start of our conversation, my grandfather commented that he hadn't really thought about finding peace before. He noted that he's been using the word "serenity" to describe his life these days.
A little over a decade ago, he moved a bit further north of Milwaukee to some land he now owns out in the country. He says it's something he never could have imagined for himself before — because it's a mostly white conservative area, and because he has always lived in the city. But this is his place of peace — his place of serenity.
Whenever my mom and I drive up from Chicago to visit my grandfather, we can feel it too. We fill our lungs with fresh country air, nap while overlooking the river behind the property, and leave with a bounty of vegetables from his garden. Serenity indeed.
Catherine Adams (she/her) is a Black writer, cat-lover, and beauty connoisseur. You can find her at www.lightweightlux.com or shoveling snow from her driveway in Chicago.