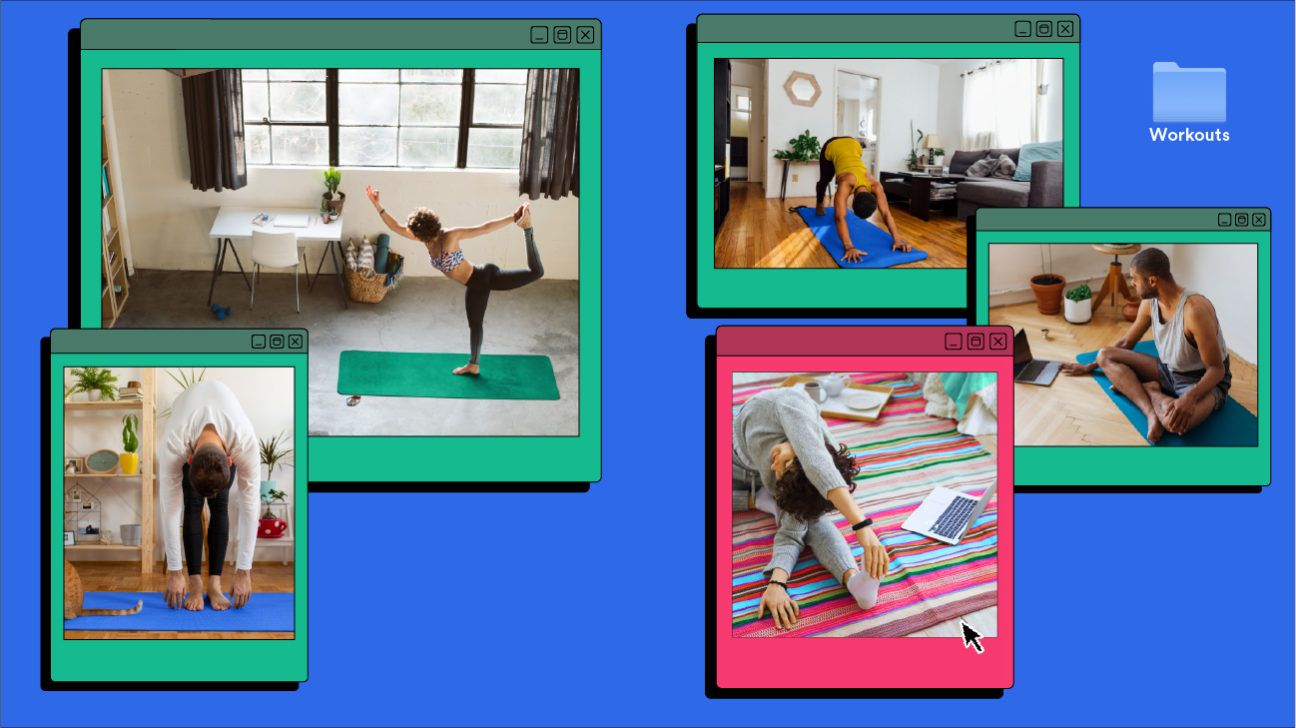 Before DVDs and apps, there were VHS tapes and audio guides to ensure we could do our best to work out at home. Now, we have the streaming fitness industry, which is surging because of gym closures and adherence to stay at home orders.
To investigate the scene, I tried 6 different at-home workouts. I kept my choices between popular staples in the at-home fitness scene and studio brands who went online with their signature classes to cope with closures.
I did it all: cardio, barre, yoga, and strength training, just to see what it would feel like as a beginner and someone familiar with the workout.
Daily Burn is one of the reigning champions of app-based fitness. From the get-go, I appreciated the ability to filter routines based on recommended equipment. They also targeted beginners in their ad campaigns, which made me feel hopeful about accessibility.
Stream style
As of April 1, there are Instagram Live workouts 3 days per week. All previous daily workouts are available on-demand, with random ones featured as the daily workout.
There is a 30-day free trial, which you can cancel anytime via the website. After the 30-day trial, Daily Burn will start charging you $19.95 per month.
What I liked
I completed the daily 30-minute Daily Burn. The class I took was a mix of planks, jumping jacks, and burpees in the circuits, mixing cardio, stretching, and toning. These constant movements kept my heart rate up, so I ended up sweating more than I expected!
For each exercise, Daily Burn shows three versions to accommodate viewers. The instructor performs the standard version while two other instructors via studio recordings show modifications for those who may be beginners or have injuries and amplifications for those who want a greater challenge.
What I wished it had
Workouts don't note the impact level, so certain high-impact exercises may be inaccessible to folks with additional injuries or knee problems.
While Daily Burn offers modifications for exercises like burpees, the jumping jacks especially didn't make my body happy after the workout and I sat out the final round.
For an at-home program, I wished they were more specific on *what* to buy. For their classes with weights, I have no idea if my weights would be heavy enough or if it would be effective to substitute with jugs or cans.
There are offerings with no equipment but sticking only to those classes can feel limiting when you have a membership.
Who it's good for
Daily Burn is a solid option if you like variety and want one brand that offers all types of classes. There's cardio, treadmill, yoga, Pilates, and full comprehensive workout programs embedded within their app and website.
If you're able to order home gym essentials, the Daily Burn website has a litany of recommended equipment too. Ultimately, I'm not sure if it's for me, but I'll give it another try while I have the free trial.
Chances are you've seen one of the Florida-based franchise's 1,200 locations worldwide. Orangetheory Fitness is everywhere. Their in-person classes welcome people of all ages, abilities, and fitness levels. I loved their non-intimidating approach.
As Kevin Keith, the Chief Brand Officer at Orangetheory Fitness, tells me, "The goal is to get everyone moving for at least 20 to 30 minutes a day!"
Stream style
Since March 18, Orangetheory has released one workout per day for viewers on YouTube. According to Keith, they've garnered 1.65 million views.
Workouts are free! Exercises are uploaded to YouTube daily, which means you don't need a subscription or to sign up for a trial membership.
What I liked
I chose to do a bodyweight and strength routine with no cardio component. Orangetheory's detailed explanation and visuals for each exercise and move made me feel like I knew what I was doing, safely and effectively. The lack of formal equipment also makes the workout accessible for anyone.
I think I'll definitely do this again, especially to brush up on movements I've struggled with in the past. Maybe this will be the way I perfect a push-up.
What I wished it had
Since workouts aren't livestreamed, you can't ask questions in real time, but the moving diagrams and verbal cues are incredibly detailed. I'd like to see a place for more interaction, where users can ask questions or receive feedback from coaches.
Who it's good for
Seasoned class-goers might think the longer explanations are a bit much, but the repetition and explanation of moves are excellent for beginners and folks who are extremely conscious about form.
Plus, it's free and flexible. "Knowing everyone might not have weights, a treadmill, or other gym equipment readily available, we are incorporating suggestions of everyday items around the house, including jars of pasta sauce, potted plants, suitcases, etc.," says Keith.
[solidcore]'s studio classes feature workouts on a custom reformer and have more than once pushed my mental endurance more than my physical strength.
This studio is one of my favorite gyms, so I was bummed when [solidcore] laid off 98 percent of its workforce following studio closures from the new coronavirus.
Fortunately, after corporate leadership began a series of at-home workouts on Instagram, Zoom class sessions for [solidcore] at home came along, as well as the welcome return of many coaches.
Stream style
The 50-minute Zoom sessions are live and require advance sign-up, while the shorter Instagram sessions can be watched on-demand at no cost.
I also found this pay-per-class format good for keeping me accountable on a day-to-day basis, compared to a monthly subscription.
Online classes are $15, although new clients can try two classes for $24.
"The price point is lower than that of our physical studios, so that also allows us to reach a broader audience," CEO and founder of [solidcore], Anne Mahlum, tells me.
What I liked
Not many chains provide live virtual classes, but [solidcore] did, which creates a much more community and personal feel. I was grateful for the reminders, encouragement, and live feedback from coaches!
I am always concerned my form is off, so I will make modifications to perform moves correctly. The Zoom format worked well since I felt camaraderie with other clients.
The good news is you don't need to own their machine. A set of sliders or dish towels on a hardwood floor also works for mimicking resistance levels.
What I wished it had
These classes work best if you do them on a hard surface, such as hardwood floors or tile, and have a yoga mat on hand. If your home is solely carpeted, I'm not quite sure how you'll be able to work out the resistance levels.
For the future, sliders would be helpful for moves like pikes and lunges. I struggled with the plank to pike with socks on a hardwood floor. It was probably too much resistance, so I'll be dropping to my knees on a towel next time.
Who it's good for
To me, [solidcore] is a great addition to an existing fitness routine or a really nice complement to cardio, but I wouldn't recommend it as your first fitness class. The quick pace and expectation of fitness knowledge can leave a beginner behind.
However, their low-impact movements are great if you struggle with being on your wrists or have bad knees. The classes follow a consistent structure and sometimes have muscle focuses such as obliques or biceps, which you can see prior to signing up.
"What we are doing right now is helping to keep people focused on their goals and to have an outlet," says Mahlum. "And so at its core, we are doing what we have always set out to do — help our clients create stronger versions of themselves."
Originally designed for injured ballerinas, barre classes were something I could never get into. I've tried classes with two nationwide franchises, but I felt awkward compared to others in the class who seemed to nail the intricate movements like graceful dancers.
Stream style
The Bar Method's Bar Online is completely on-demand with prerecorded videos of varying lengths.
What I liked
The Bar Method's website flat out told me I didn't need any special equipment, recommending "water bottles for weights, a bathrobe tie as a stretching strap, a towel folded in thirds for knee padding, and a sturdy chair or furniture for balance support." I had weights, a bathrobe tie, a towel, and access to a chair, so I was all set.
In terms of accessibility, the Bar Method explicitly states, "everyone and every body type is welcome," and no experience is necessary. Their FAQ addresses safety precautions for engaging students with lupus and fibromyalgia. It's notable seeing a fitness brand mention modifications for conditions.
What I wish it had
Without in-person instructor feedback and corrections, barre can be hard for newbies. There were a lot of unfamiliar words used to describe body parts and exercises, and I didn't feel confident in basing my abilities on the cues about shaking and burning.
This would be something I needed to do multiple times without feeling discouraged before I could get the hang of it. If you enjoy barre or regularly attended barre classes in studios prior to closures, you'll like the Bar Method. It's not exactly for me, and that's OK.
P.S. I did find the stretches with the bathrobe tied around the arches of my feet amazing and will be incorporating those into different aspects of my routines to release muscle tension.
Who it's good for
While marketed for all levels, the learning curve may be steep for newbies. If you're not confident in your form either, you may want to skip this type of exercise because incorrect form can lead to injuries. Regular attendees of barre will likely be able to handle these classes.
Probably the trendiest modern at-home fitness right now, Peloton is offering outdoor guided walks and runs and treadmill exercising, yoga, and even dance cardio classes. Yep, even if you don't have their famous bike, you can still get a subscription for the Peloton app.
If you do have a bike, their indoor cycling workouts run the gamut from a move and groove style to an intensely sweaty 60-minute session with flat roads and hills to climb.
Stream style
Peloton stopped filming live classes in early April, so all options are currently on-demand. (It's OK, Peloton has thousands of prerecorded classes.)
Digital memberships (for those who do not own their bike or treadmill) are $12.99 per month for one person. For bike or treadmill owners, it's $39 per month for all users with equipment and the app (yes you can share!).
There's currently a 90-day free trial for new app users, and you can cancel anytime through the website.
What I liked
I've always enjoyed Peloton's indoor cycling classes because you can choose an instructor whose vibe matches yours (I like being guided and encouraged, not yelled at).
I also like being able to hide the metrics, so I can listen to my body instead of numbers and keep my goal of moving to have fun.
If you crave the competition, you can add the metric aspect as well to feel connected. If you're expecting a solely choreographed ride, like Soulcycle, you'll be disappointed.
There are some movements out of the saddle, but nothing that might be seen as unsafe.
Who it's good for
If you have access to any stationary cycling bike, Peloton is a great option for some cardio without going outside.
Peloton also has a robust online community with social networking features, so if you want to exercise with friends while in quarantine and are investing for the long haul, both the social connectivity and the price tag will probably keep you accountable.
In-studio yoga typically makes me feel self-conscious because I'm surrounded by other students and get caught up in observing their form.
Since Peloton Yoga is prerecorded, I was able to feel a little less self-conscious and keep my eyes on the instructor only. Their classes were labeled by difficulty, so I took a beginner vinyasa class.
Prerecorded Peloton videos give enjoyable playlists to move to but, at the same time, there were a lot of verbal explanations that made relaxing difficult. As a beginner yogi who doesn't really know the foundational poses and styles very well, I had to use most of my energy to listen.
I also don't own yoga blankets or blocks, so I got creative with throw blankets and towels, and the bathrobe tie trick that Bar Method taught me came in handy for some extra stretching too.
To me, Peloton's instruction works better for their cardio offerings. Either I needed to find a yoga flow and instructor I connected with, or need to acknowledge yoga *just* isn't really something I'm passionate about.
Thankfully, through all these programs, I can say that fitness is truly something for everyone.
Keith anticipates Orangetheory at Home will be a permanent complement to their in-studio experience while Mahlum and her [solidcore] team are also exploring at-home options for when they reopen their studios.
The best advice I have for entering the at-home fitness space is to know where you are in your own journey.
I was a little skeptical about practicing from home from a safety perspective, so if you're worried about hurting yourself, I recommend:
choosing exercises you feel comfortable with
looking into local gyms, who are more likely to have switched to livestreaming so instructors can monitor your moves
sticking to programs with detailed explanations, low risk of injury, and few equipment requirements
You may still feel self-conscious at home! But a workout routine isn't just about picking an app or a brand for the sake of #pandemicgains, it's about choosing to bring calm and structure to your mind and body during these uncertain times.
Choose what's right for you based on how you feel during and after the workout. For me, I'm sticking to exercises I find fun and empowering.
Haley Moss is an attorney, author, artist, and autistic self-advocate. You can follow her work toward greater inclusion on Facebook, Twitter, Instagram, or at haleymoss.net.