We include products we think are useful for our readers. If you buy through links on this page, we may earn a small commission. Here's our process.
Greatist only shows you brands and products that we stand behind.
Our team thoroughly researches and evaluates the recommendations we make on our site. To establish that the product manufacturers addressed safety and efficacy standards, we:
Evaluate ingredients and composition: Do they have the potential to cause harm?
Fact-check all health claims: Do they align with the current body of scientific evidence?
Assess the brand: Does it operate with integrity and adhere to industry best practices?
We do the research so you can find trusted products for your health and wellness.
Rice water is the cloudy, milky-looking water you get after soaking rice for a few hours. Because rice has a lot of vitamins and minerals — like vitamin B6 and amino acids — many cultures believe that it can be beneficial for your hair. Some peeps think rice water can:
protect against damage
increase shininess
enhance softness
But does it really work? Hair's what the research says.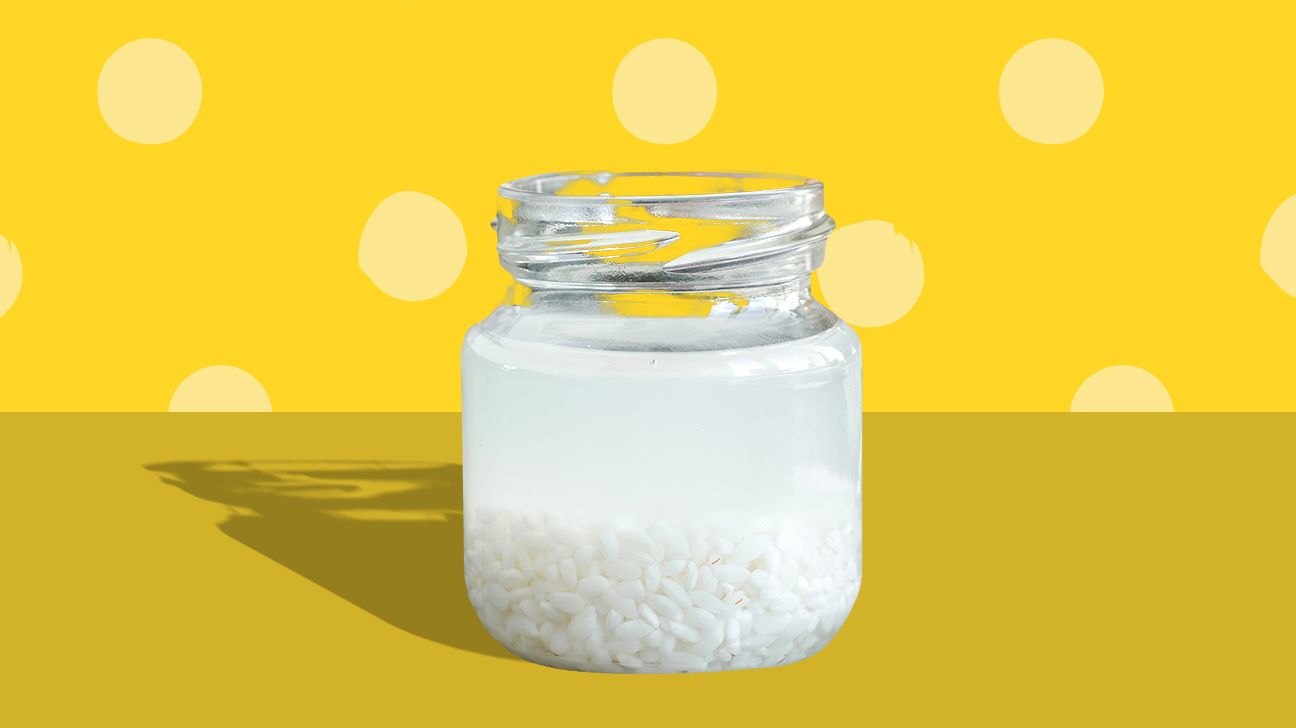 While it's true that many cultures have historically utilized rice water for hair growth, the scientific jury is still largely out on exactly how effective rice water may be.
That isn't to say that this traditional ingredient isn't great — it may be great for your hair, and there's probably a reason lots of different cultures have made use of this stuff! — but we'd love to see some double-blind studies before making this claim.
On the plus side, there have been a few early studies that give us hope — let's just say that we're ready to stock our own bathroom cabinets with rice water-based products.
We're especially intrigued by the effects of inositol, a component of rice water that results from its fermentation, and has been shown to protect hair against damage.
There was also a study of a natural, herbal shampoo made in Northeastern India that uses rice water as a key ingredient. The self-reported effects of this shampoo reduced the signs of hair aging, as well as increased shininess, and softness. Rice bran has also been shown to help stimulate hair growth, as well.
But the truth is, everyone's hair is different and responds to ingredients in its own way. If you're curious about using rice water for hair, it's definitely a clean, nontoxic, inexpensive ingredient to experiment with.
We would love to see more controlled studies on the benefits of rice water for skin, but there have been some promising early studies regarding how beneficial this time-honored ingredient can be in a clean beauty routine.
It's shown in clinical trials to be nonirritating and unlikely to cause allergic reactions — however, if you know you have a rice allergy, of course, steer clear. It's also been demonstrated to be hydrating, and has been shown to have some properties that reduce signs of skin aging and anti-inflammatory properties, as well.
Rice water is about as easy to concoct as it sounds — it takes just two ingredients! Here's how to make rice water:
Ingredients
1 cup rice
1 cup filtered water
Directions
Rinse and strain the rice to remove any impurities. If you're using nonorganic rice, then you may want to rinse it 2 to 3 more times to remove pesticides.
Mix the strained rice in a bowl with the water until the water becomes cloudy. Strain the rice, reserving the water in the bowl, and cover. Let the water sit at room temperature for 12 hours to allow it to ferment, then refrigerate.
When in doubt, buy it
If a DIY rice water project sounds more laborious than it does like a fun project, there are also a lot of great products on the market that incorporate rice water as an ingredient.
It's the core ingredient in some beloved Korean skin care products, including this excellent, cost-effective Face Shop double-cleansing duo. Or, if you want to learn how to make rice water in a way that's a little less messy than the method described above, try this DIY kit.
Rice water can also be used on its own as a hair rinse, and can be used either a step before shampooing, in between shampooing and conditioning, or as a treatment after your conditioner — just pour it into a squeeze bottle and pour it all over your hair and scalp.
If you hope to improve hair growth, focus on massaging it into your scalp, as the stimulation can be beneficial, too.
As a facial treatment, rice water can be incorporated into a cleansing routine, but it's more frequently used for hydrating afterward. Simply wash your face with your favorite soap-free gentle cleanser, then apply a generous amount of rice water with a cotton round.
While rice water benefits may not be as well-understood yet in Western medicine as we'd like, this time-honored ingredient has been used for generations to help keep hair long and lustrous, and make skin glow.