Cannabidiol, a.k.a. CBD, has been cropping up everywhere and in seemingly anything—we've seen it lately in coffee, beauty products, cocktails, and candies. And while CBD won't get you high like the THC in weed does, it may be able to help with a handful of everyday ailments, including anxiety, sleep issues, and even inflammation throughout the body (although we'd love to see more evidence supporting these claims).
The great news is that CBD is legal in all 50 states, and companies are infusing it into all sorts of snacks. Compared to CBD tinctures or vape pens—which make you look super weird when you're at work—edibles can easily be dosed and munched on.
While more real medical research is still needed on the subject, Greatist Team CBD (video producer Jenna Haufler and digital designer Sarah Argus) pitted the newest, most-talked-about edible products against one another in a head-to-head testing roundup to determine the best CBD edibles on the market.
Gummies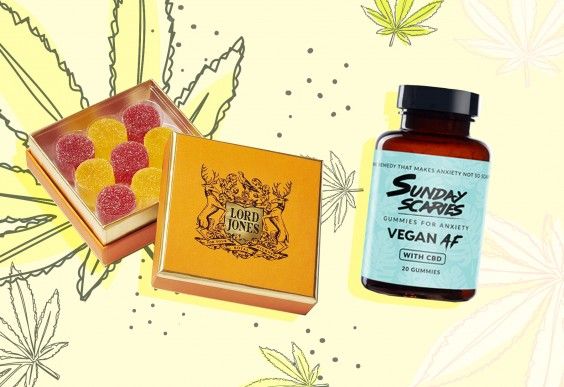 Lord Jones High CBD Old Fashioned Gumdrops vs. Sunday Scaries Vegan AF
Winner: Lord Jones Gumdrops
Unlike most candy in general, these gumdrops are made with no artificial colors or flavors and pack a big, unmistakable punch of CBD at 20 mg/gummy.
The packaging totally makes you say, 'Oooh, you fancy!' It's so cute—something you could totally gift to your rich friends. The gummies themselves are super tasty and really delicate, and after just a few moments, we felt waves of calm and relaxation. And sleep benefits? You bet.
"Speaking as an insomniac, Lord Jones Gumdrops were a godsend—all those thoughts about work and life and 'omg, I'm going on vacation soon what are the 3 million things I need to get done beforehand' thoughts disappeared," Sarah says. "I was knocked out into a deep sleep pretty quickly."
Runner-Up: Sunday Scaries Vegan AF
The branding of Sunday Scaries is brilliant, inspired by that anxious, "ugh, I can't believe tomorrow is Monday" feeling that's familiar to just about everyone. Overall, the effects were not as impactful and flavors not as luscious as Lord Jones. However, it's at a better price point and still pretty good. We recommend the vegan gum drops over the original gummy bears—they taste better and have a nicer texture.
"I tried these the first time right before a transcontinental red-eye flight, which was subsequently canceled and deboarded and rescheduled for six hours later. My anxiety about the situation was nonexistent, and I slept better in the airport terminal than I ever thought I would," Jenna says.
Water
Dirty Lemon Cannabis Blend vs. Plnt Water
Winner: Tie
Dirty Lemon
As happens with Dirty Lemon products, the lemony flavor really hits you in the sour sensors… like really, really tart lemonade. However, after drinking the whole bottle, we felt a calming buzz that made an afternoon of back-to-back meetings much more tolerable. It's incredibly effective, but we recommend spreading the bottle out across the day so it doesn't hit you like a ton of bricks—it's very relaxing. Also, if you have a small bladder, be warned: This is probably not the product for you to take right before bed.
"I decided to drink the entire bottle (20 mg) at 10 a.m. on a Wednesday. Bad idea," Jenna says. "By noon, I was ready to curl up in a ball with my coworker's dogs under her desk and take a morning siesta. So I guess it was highly effective?"
Plnt Water
If you're looking for a delicious pick-me-up beverage, skip the line at Starbucks and find some Plnt Water! These drinks are effective at relieving stress and inflammation and super delicious. All three flavors are low calorie, sugar free, and organic—specifically targeting your mind, gut, or body with the additions of other plant pairings. Bonus: The packaging is gorgeous.
"Bye, stress. Hello, flavor! The matcha is my favorite hands down. No bad things to say," Sarah says.
Beverages
Strava Elevate Coffee vs. Cordial Organics Celebrate Bitters
Winner: Tie (but for different times of day)
Morning: Strava Coffee
This product makes you your best morning self. If Beyoncé and Michelle Obama had a child, it would be this coffee. Need explaining? Consistently after drinking this coffee (which is delicious in a French press or pour-over), we felt like we could "run the world" and then have the productivity and focus to actually do it while looking relaxed and flawless.
"I was so productive I thought nothing could go wrong that day. I was hyper-focused yet super relaxed at the same time, which I didn't know was possible," Sarah says.
Evening: Cordial Organics Bitters
Everything you're searching for in a happy-hour cocktail is in this product—cocktail not included. This bottle of bitters is really easy to gravitate toward because you can add in as little or as much as you want at approximately 5 mg/dropper. It's incredibly light and refreshing to add to either seltzer water (for a daytime mocktail) or a cocktail (but warning: Adding it to a cocktail in public may get you strange looks and you might need to assure others that you're not roofie-ing yourself). Almost immediately, we felt a sense of euphoria and our anxiety melting away.
"OMG, I'm buying this." —Sarah & Jenna
Chocolate
To Whom It May vs. CBD Living Chocolate
Winner (by a long shot): To Whom It May
We endearingly call this "the-best-sex-I've-ever-had chocolate." These artisanal boozy bonbons and chocolate truffles are not only elevating the cannabis game but the entirety of chocolate. Everything from the packaging and branding to the simple and natural ingredients is so artfully crafted and sophisticated, we have nothing bad to say about these (except the sadness that we felt when we ate the last one). To Whom It May offers four flavors, all better than the next, at four different doses ranging from 2.5 mg to (damn!) 45 mg.
"Wowza. I call that art. Life is just a better place with these in it," Jenna says.
Not the winner: CBD Living Chocolate
If you want to consume CBD and you think, Amazing, I love chocolate, you might want to choose another product. While CBD Living has many options, this chocolate isn't something you'll want to choose for the flavor. Yes, it helped us fall asleep a bit faster, but the hemp-heavy flavor wasn't extremely desirable.
"Why would I eat subpar chocolate when I could take CBD another way and chase it with better chocolate of my choosing?" Jenna says.
Pantry Items
Hemp CBD Peanut Butter vs. Luce Farms Honey
Winner: Hemp CBD Peanut Butter
We. Love. Peanut. Butter. On the downside, this one is a little bit gritty and has added sugar and oils. But it's the perfect addition to any afternoon snack and is quite potent. The effects were more on the gradual side, but after 20-30 minutes, we felt an ease in both inflammation and anxiety.
"One dose is like half of a lick so you need to mix this with another non-CBD peanut butter, or else you'll be in a CBD-induced coma after eating a PBJ sandwich," Jenna says.
Not the winner: Luce Farms Honey
It looked like honey, but it tasted like we had just stuck a hemp plant in our mouths. The effects were a bit hard to tell on this product because most of the time we were thinking, "I don't like this."
"This straight-up tastes like weed," Sarah says.
We should note that not all CBD products are created equally. When testing edibles, try starting off with a low dosage (between 2-5 mg) and work your way up. All of the products reviewed in this article were measured at a consistent dosage for both participants.
Is CBD legal?The 2018 Farm Bill removed hemp from the legal definition of marijuana in the Controlled Substances Act. This made some hemp-derived CBD products with less than 0.3% THC federally legal. However, CBD products containing more than 0.3% THC still fall under the legal definition of marijuana, making them federally illegal but legal under some state laws. Be sure to check state laws, especially when traveling. Also, keep in mind that the FDA has not approved nonprescription CBD products, and some products may be inaccurately labeled.