We include products we think are useful for our readers. If you buy through links on this page, we may earn a small commission. Here's our process.
Greatist only shows you brands and products that we stand behind.
Our team thoroughly researches and evaluates the recommendations we make on our site. To establish that the product manufacturers addressed safety and efficacy standards, we:
Evaluate ingredients and composition: Do they have the potential to cause harm?
Fact-check all health claims: Do they align with the current body of scientific evidence?
Assess the brand: Does it operate with integrity and adhere to industry best practices?
We do the research so you can find trusted products for your health and wellness.
Just pulled down your face mask and *gasp* — more mask acne?!
Mask acne (aka "maskne") is a breakout caused by wearing a mask, which basically creates the perfect environment for clogged pores and unwanted pimples, thanks to covered skin, friction, sweat, and trapped bacteria.
Wearing a mask can also cause other skin issues like redness, irritation, and contact dermatitis.
Even as some mask mandates have been lifted around the globe, others have been reinstated. If you're still wearing your mask around town or all day at work, here's how to prevent and treat mask acne.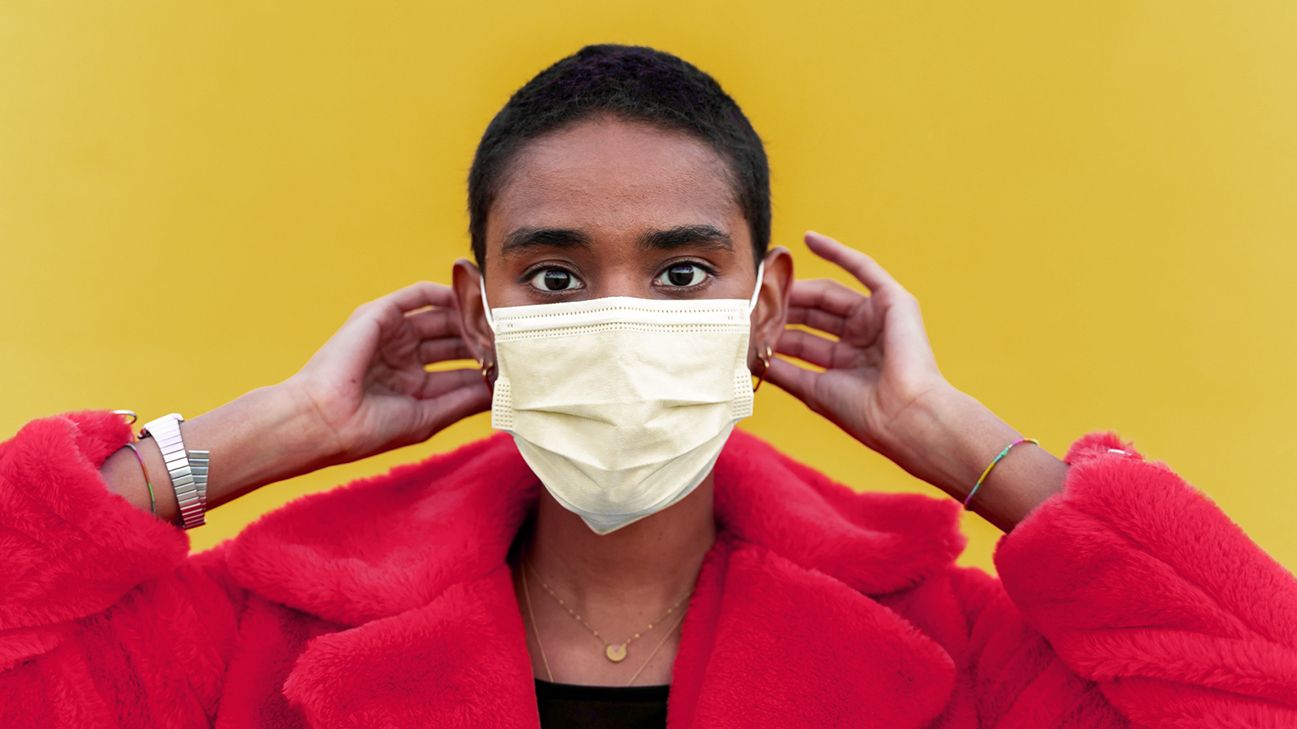 Maskne isn't *just* acne. It's a general term that applies to a number of skin conditions related to wearing a mask.
Maskne can include:
If you already have one of these skin conditions, you may be even more prone to mask acne in the first place. But if we've learned anything in this pandemic (OK, we've learned a lot), it's that no one is protected from the perils of maskne.
Some masks, like the kind our amazing healthcare workers wear, can cause even more severe probs because of their thicker material.
Since "maskne" is an umbrella term for a few different skin conditions, its exact cause can vary. But in most cases, maskne is caused by changes in the level of hydration, water loss from wearing a mask, changes in skin pH, redness, and changes in oil production.
Even if you have a 25-step skin care routine that rivals Cassie's from "Euphoria," your skin always has oil, bacteria, and dead skin cells on it. When you wear a mask, these substances get the chance to really build up, clog your pores, and wreak havoc on your skin.
Friction is another major cause of mask acne. Your face mask can rub against your skin as it slides around, causing chafing and irritation.
Is it maskne? Or something else?
It's also possible to be sensitive or allergic to your face mask's material. Some masks are pretreated with chemicals that may irritate your skin, or they may have a rough texture that just doesn't jibe with your dermis. Even washing a mask with scented detergent can irritate some folks.
Contact dermatitis can cause a red rash, blisters, and irritation. You might also notice dry, scaly patches. You're more likely to see this rash spread over your cheeks and the bridge of your nose.
According to 2021 research, you're more likely to get contact dermatitis if you wear a mask for more than 6 hours without a break or have a compromised skin barrier.
The downward pressure of some masks can also cause hives (aka urticaria). Pressure urticaria can happen almost instantly or within 24 hours, but it usually goes away within 24 hours of removing the trigger, whether that's your mask or something else. Hives can also come from contact with allergens like latex.
Some people's jobs require them to wear disposable masks, but there's a lot of debate about whether reusable or disposable masks are better at preventing maskne.
In a 2020 study, researchers found that medical masks had better breathability, but reusable masks were less likely to trap moisture and heat. They also noted that pleated masks seem to provide a better fit.
Some beneficial features of masks in general are thin, low density fabric (for better breathability) and a good fit, which makes the mask more effective at keeping harmful particles out.
Whether disposable or washable, masks that fit these criteria can also help prevent acne by reducing the amount of trapped air, heat, and vapor that can accumulate against your skin.
Of course, for some people, being able to wash their mask instead of toss it into a landfill is another bonus. Really, it's about what works best for you.
You can help stop maskne in its tracks (or prevent it from developing in the first place) with the following preventive tips.
Throw out disposable masks after you wear them
The Centers for Disease Control and Prevention (CDC) recommends tossing your disposable mask after each wear. This should help prevent bacteria growth and flare-ups from getting worse. If you wear a respirator, check the manufacturer's instructions about how long you can wear it before tossing.
If your mask gets wet or dirty, toss it right away and replace it with a new clean, dry mask.
Take a mask break every 4 hours
If possible, the American Academy of Dermatology (AAD) recommends taking off your mask for at least 15 mins every 4 hours to let your skin breathe.
Be sure to wash your hands before you take off your mask. And don't forget to wash or sanitize your hands before you put your mask back on.
Wash cloth masks at least 1x a day
Wash your cloth mask after each wear or, as the CDC recommends, at least once daily.
Toss it in the wash with the rest of your clothes and choose a cycle that suits the fabric, like delicate. If you have sensitive skin, stick to unscented, hypoallergenic laundry detergent. Then air-dry your mask (to prevent shrinking) and make sure it's totally dry before wearing it.
Apply moisturizer before putting on your mask
If your skin's on the dry side, a mask could cause even more irritation. Applying a noncomedogenic, unscented cream can help hydrate your skin and prevent dryness, patchiness, and other probs.
A moisturizer can also create a barrier between your skin and the mask, no matter your skin type. If you have oily skin, the AAD recommends using a gel moisturizer. Combination and normal skin types can use a moisturizer with more of a lotion consistency.
Don't wear makeup
Wearing makeup under a mask can clog your pores and up your chance of breakouts. If you can't skip the foundation, opt for products that are noncomedogenic.
Wash your face after wearing a mask
Let's face it: Stripping off your mask after a long day is #bliss. Once your skin gets to take in that fresh, fresh air, make sure you also clear out any harmful buildup by cleansing ASAP. Follow up with a moisturizer.
Treat underlying conditions
Treating underlying skin conditions can help prevent future maskne and treat existing probs. Here's what to do:
For an infection, see a doc about antibiotics or other prescription treatments.
For rosacea, see a doc. They might recommend a treatment like the topical cream ivermectin 1 percent or prescribe antibiotics for more severe symptoms.
For folliculitis, cleanse your skin daily with a gentle, soap-free cleanser. Gently exfoliate to remove ingrown hairs. If applicable, wet shave rather than dry shave. In severe cases, see a doc about steroids, antimicrobials, or antibiotic treatments.
For periofacial dermatitis, see a doc. Over-the-counter acne meds can make this worse.
If you're unsure what you're dealing with, see a dermatologist! They can help you figure out what type of maskne you're experiencing and come up with the best treatment plan.
Maskne prevention and treatment go hand in hand. These quick treatment tips can help you zap a maskne breakout:
Give your skin a break by taking off your mask for 15 mins at least every 4 hours.
Wash your face regularly with a mild cleanser and follow with a moisturizer.
Change your disposable mask or wash your reusable mask regularly.
Consider skipping potentially pore-clogging cosmetics like foundation.
Ask a derm for advice if your symptoms are severe or get worse.
Keeping your skin clean, controlling oil, and using treatments to reduce breakouts can help treat and prevent maskne. Here are few must-have products to add to your routine:
Since everyone's skin care needs vary, you may want to talk with a derm about what's right for you.
Wearing a face mask can change your skin's environment and irritate your skin, which can cause acne or acne-like breakouts.
Washing your face and hands regularly, moisturizing, and cleaning or swapping out your mask regularly can help you avoid maskne. A well-rounded skin care routine can also help.
If your maskne persists, consult a dermatologist. The culprit could be a skin condition like eczema or rosacea, which requires a professional diagnosis.