We include products we think are useful for our readers. If you buy through links on this page, we may earn a small commission. Here's our process.
Greatist only shows you brands and products that we stand behind.
Our team thoroughly researches and evaluates the recommendations we make on our site. To establish that the product manufacturers addressed safety and efficacy standards, we:
Evaluate ingredients and composition: Do they have the potential to cause harm?
Fact-check all health claims: Do they align with the current body of scientific evidence?
Assess the brand: Does it operate with integrity and adhere to industry best practices?
We do the research so you can find trusted products for your health and wellness.
You probably didn't wake up this morning excited to wear a mask over half your face. Neither did we. But however you feel about wearing a mask doesn't change the fact that we're smack dab in the middle of a pandemic now commonly referred to as "out of control." And more and more research is pointing to masks as our best means of saving lives.
For example, a recent study found a wearing face covering in public is the single most effective thing we as individuals can do.
But all masks aren't created equal. Bandanas, for examples, were recently found to be pretty darn ineffective. So we put together this guide in hopes of matching you with a mask that's both effective and practical. Because as an article by UCSF recently pointed out, a mask won't do any good if it's too uncomfortable to wear.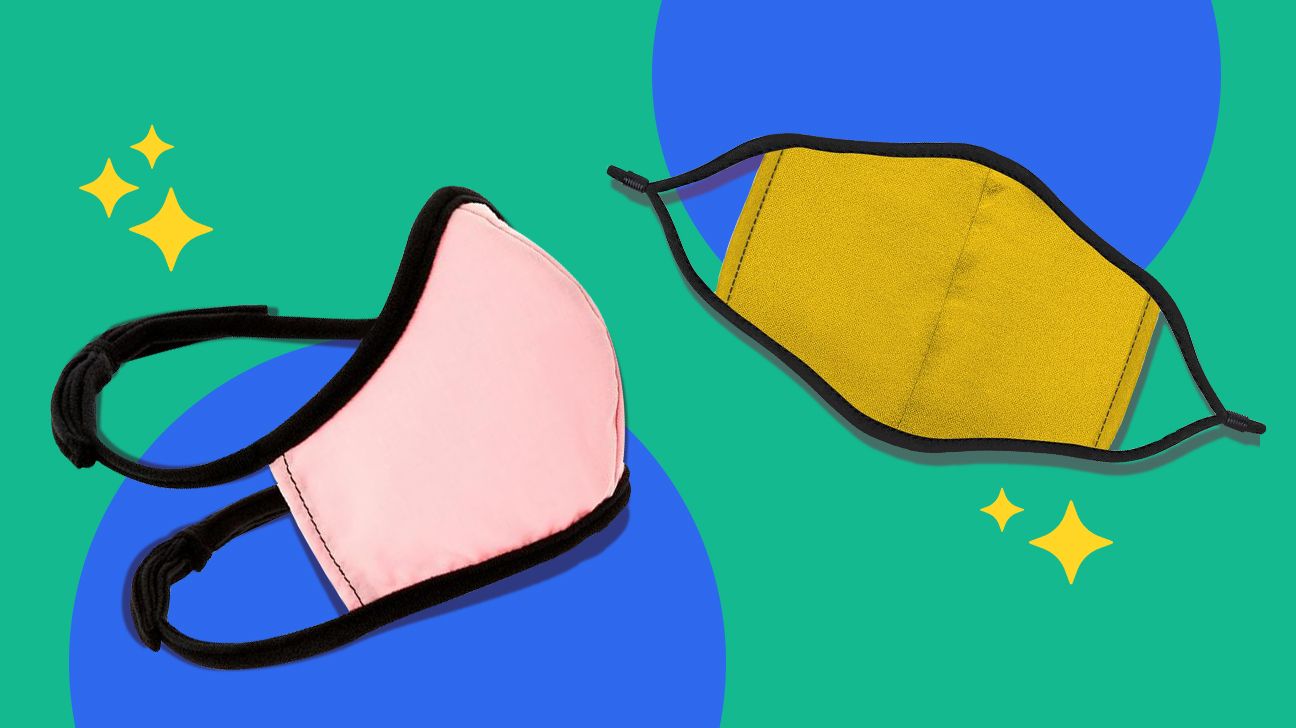 New information on the best types of materials for masks in coming out all the time. But there appears to be two factors that are the most crucial when choosing a mask: multiple layers of fabric and a snug fit (especially around the edges).
The same recent study that found bandanas are virtually ineffective identified masks with quilted, cotton material as the best protection for cloth mask options. Over the counter cone masks were also found to work well.
Johns Hopkins also recommends at least two layers of fabric, an included filter, or a pocket for you to add your own screen.
We did our best to keep this information in mind when we put together this mask roundup. But with new information coming out all the time, we suggest keeping yourself updated on new research.
Johns Hopkins is a good place to keep an eye on for this info.
Save the N95s for the pros
Surgical and N95 masks are hands down the most effective option. But these masks have been in short supply since the pandemic started and need to be reserved for those on the front line.
Keep in mind, most of these masks come with pockets for filters but not the actual filter. You'll need to buy those on your own.
Wayre
Materials: "A 5-layer technology with water repellency & n-PTFE nano-microporous film," according to their site.
Layers: Five
Filter: Two built-in filter layers

Get it via wayre.com.
We had to include these Wayre masks because not only are they made with 5 layers, their site includes a ton of easily digestible information about their technology. We recommend reading it yourself but the gist of it is: The material they use filters out significantly more particles than cotton and carbon activated filters. It's also moisture repellent and breathable.
They also come with a bendable metal part so you can fit it to your nose.
Note: These are meant to be used up to 20 washes, so you should buy a few.
Public Goods
Materials: 100 percent polypropylene and cotton
Layers: Five
Filter: Yes, five built-in layers

Get it via publicgoods.com.
These non-reusable masks are made in the style of medical-grade N95 masks in the sense that the whole product is made from filter material. Their shape is cone-like (which as we said previously, has been shown to be an effective style), and it also comes with a little metal piece you can bend to fit your nose. They come in a pack of 10.
Note: The main drawback is that these are not reusable. We included them because they're likely quite effective at 5 layers, but they're best reserved for high-risk instances, like if you're going to be somewhere where it's difficult to physically distance.
OOMASK
Materials: 46 percent cotton, 45 percent modal, and 9 percent spandex
Layers: 2 + a filter
Filter: Yes, a built-in filter

Get it via MyOomla.com.
These reversible masks come with a built-in filter layer that, according to a 2007 study about filter fabrics, adds protection because particles stick to the fibers. They also come in a variety of patterns.
Note: The straps are meant to be worn over the back of your head so if you have long hair, this could be more intrusive than the straps that secure around your ears. But, if you wear hearing aids, or glasses, or both, these are great as they free up the area behind your ears.
Even if you're only going for a short walk around the block, your sense of style might matter. Comfort and ease are important after all. While a brightly-colored, enthusiastic mask might not be your jam, these discrete, subtle varieties will help you blend in and feel safe.
Vida Protective Masks
Materials: 100 percent cotton
Layers: Two
Filter: Pocket for filter (also comes with 2 carbon activated filters)

Get it via shopvida.com.
Vida's simple aesthetic is hard to dislike (our personal fave is that mustard option). The adjustable ear straps accommodate a variety of head sizes and the reviewers literally only have positive things to say. Unlike many of the masks on this list, they come with two filters.
JaneCare Cloth Mask
Materials: A cotton, polyester blend
Layers: Two
Filter: Comes with pocket

Get it via JaneCareInc.com.
JaneCare makes minimalist style masks out of cotton fabric with straps that tie behind your head or your ears, so they accommodate a variety of head sizes and hair styles. They make all their masks in the U.S. and are female-owned and operated.
Nxt Stop Adjustable Face Mask
Materials: Bamboo or cotton
Layers: Two
Filter: No pocket

Get it via thnxtstop.com.
The stretchy fabric used in these masks in combination with the adjustable ear straps makes it easier to pull tightly across your face. It also has that handy metal piece to keep it secured on your nose. According to the Strategist, who recently tested this mask out, the fabric is light and comfortable.
Note: This mask, unfortunately, doesn't have a pocket for a filter.
PPE Gifts Fashion Masks
Materials: Cotton and polyester blend
Layers: Two
Filter: Comes with pocket

Get it via ppegifts.com.
From lace, to sequins, to shimmery floral, citrus, and confetti print, these masks are made for those of us stuck daydreaming about the costume parties COVID-19 has taken from us.
Admittedly, they aren't the sturdiest looking masks we've seen but they do have two layers and a filter insert so they should provide adequate protection.
Pie Hole
Materials: 100 percent cotton
Layers: Two
Filter: Two built-in pockets
Get it via piehole.com.
These funky masks are handmade in New York City by "a design and engineering-rooted trio." The masks are affordable and you can be sure you're money is going to a good place. They're donating 50 percent of their profits to a social cause of your choice.
TSK Graphic Face Mask
Materials: 100 percent cotton
Layers: Two
Filter: Comes with pocket

Get it via TheSisKiss.com.
Whether you're a fan of hearts, rainbows, cheetahs, or bolts, you'll find something you like in this line of masks. In addition to multi-layers and easy-to-wear material, the adjustable straps can be fitted to your preferred tightness.
From when you should sport a mask to tips on ensuring you're wearing it correctly, follow these guidelines:
Make sure it fits. You should be able to speak comfortably with your mask on but it should also be tight enough that you don't have to constantly pull it up. The edges should fit against your skin to avoid "leakage."
Don't half-ass wearing it. Your mask needs to cover from under your chin to the bridge of your nose. No ifs, ands, or buts! There's literally no point to wearing a mask if you're going to wearing it incorrectly.
Try not to touch your mask. Once germs get on your hands, they're very easy to spread. So do your best to keep your hands off your mask while you're wearing it. If you do touch it, try to wash your hands before you touch anything else.
Wash your mask after every use. This is why the CDC recommends owning multiple masks.
Use the candle trick. Test the effectiveness of your mask by trying to blow out a candle flame while you're wearing it. This advice thanks to the one and only Bill Nye.
It sucks, but the truth is masks aren't 100 percent effective. While wearing them has been shown to help with preventing the spread of viruses, it doesn't mean we can resume life as normal. You still need to keep six feet between you and anyone you don't live with. And you should still be staying inside as much as you can and washing your hands frequently.