In the United States, there are more than 100 gun deaths a day and about 38,000 each year.
Despite the number of deaths, lingering health impacts from gunshot wounds, and the psychological impact a gun death or injury can have on a household or community, gun violence is framed as a political or criminal justice issue rather than a health issue.
Many experts say there's a great need to reframe the impact of gun violence as a medical issue, not a political one.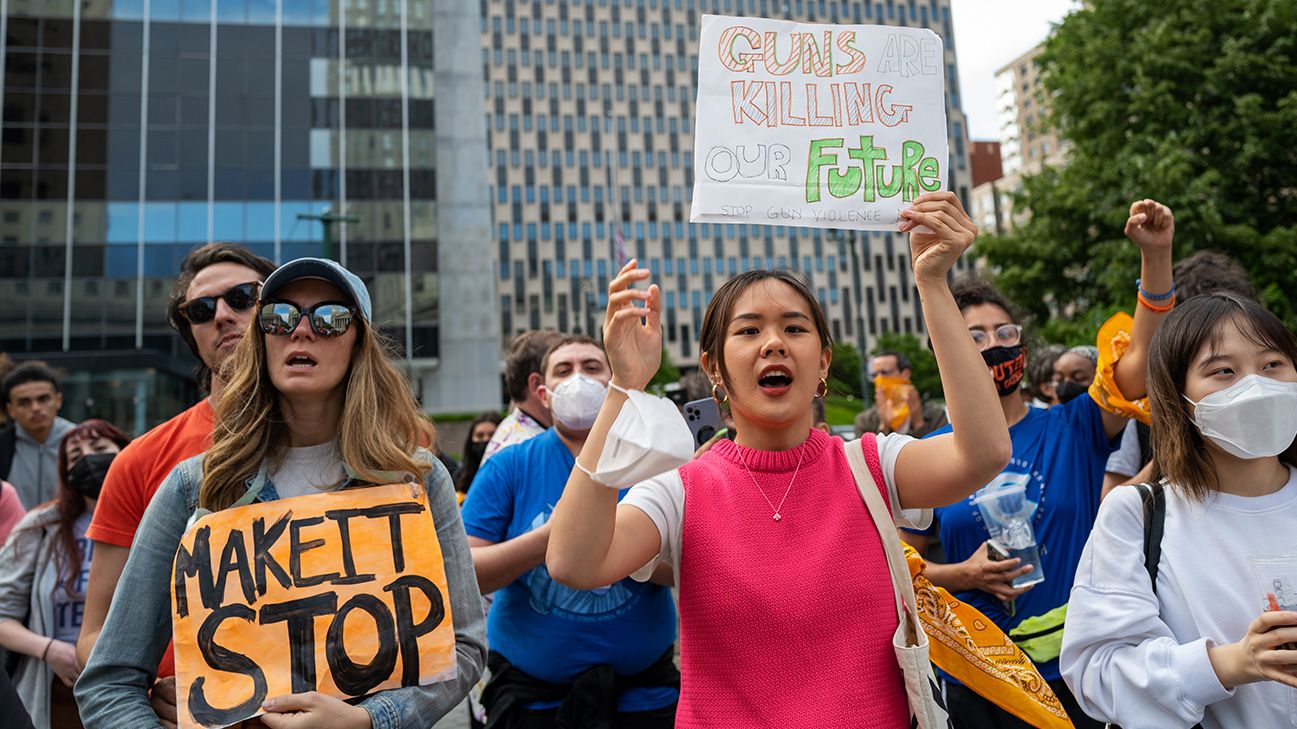 On May 24, 18-year-old gunman Salvador Ramos forced his way into Robb Elementary School in Uvalde, Texas, where he shot and killed 19 young children and two teachers.
According to reports from the Associated Press, the gunman used an AR-style rifle, which was one of two he legally bought days before the attack.
The attack is the deadliest school shooting in the U.S. since December 2012, when a gunman murdered 20 kids and six adults at Sandy Hook Elementary in Newtown, Connecticut.
The rampage is also part of a worrying trend in recent years that's seen gun violence increase across the county.
While high-profile mass shootings like the most recent one in Texas understandably grab the world's attention, less-highlighted, smaller-scale incidents of gun violence nationwide have continued to make this a central health threat endemic to American daily life.
We spoke with experts about the pressing threat of gun violence in this country, how it's a public health concern, and ways to raise awareness in order to enact needed change.
Gun violence in and of itself certainly isn't a phenomenon endemic solely to the U.S., but the statistics are worrying when compared to the rest of the world.
Globally, an estimated 2,000 people are injured and 500 die each day, while there were a total of 1.4 million deaths tied to firearms between 2012 and 2016, according to Amnesty International.
What about domestically?
In the United States, there are more than 100 gun deaths each day and about 38,000 each year, according to Giffords, the gun control advocacy and research organization co-founded by former U.S. Representative Gabby Giffords.
A new 2022 report from the Johns Hopkins Center for Gun Violence Solutions takes a deep dive analyzing firearm fatality data from the Centers for Disease Control and Prevention (CDC). The data comes from 2020 and is the most recent currently available.
Johns Hopkins's analysis revealed that overall 2020 firearm-related deaths totaled 45,222 — an increase of 15 percent from the previous year.
This is the highest reported by the CDC since it started recording these firearm statistics in 1968.
To put that number in perspective, 124 people on average died from gun violence each day. Additionally, firearm homicides saw a 35 percent increase in 2020, which means an increase of 5,000 more of these homicides compared to 2019, according to a Johns Hopkins press release.
A 2022 analysis of the same CDC data published in The New England Journal of Medicine found that gun violence also surpassed car accidents as the leading cause of death among American youth in 2020. The researchers found an increase of 29.5 percent in gun-related deaths among U.S children and adolescents up to the age of 19 from 2019 to 2020.
This was "more than twice as high as the relative increase in the general population," reads the paper.
From a policy standpoint, Thomas said it's been frustrating to see gun control legislation constantly be stymied by Congress.
Thomas said the time to act is now and it can't be something that keeps getting pushed aside.
"It is long overdue for the federal government to be looking at gun violence as a public health crisis, as an epidemic," she said.
And Thomas isn't alone.
In fact, the American Medical Association officially declared gun violence "a public health crisis" in 2016 and over the past 20 years has developed a number of policy recommendations to reduce firearm injuries, trauma, and deaths, including:
"People are dying, and it is not a problem that can wait," Thomas said.
She said that she's "excited" about the prospect of what can happen if there's support for research that's based on public health data, and then see that inform new laws that can make a positive impact.
"Firearms might be part of the heritage or your culture. It might be something important to you, so it is necessary to own them in as safe a way as possible. [But also] be aware of risk factors and what those might be for your family members and yourself," Ranney said, when discussing helpful ways to approach gun safety with gun owners.
"We should take it out of this political debate and reframe it as a health problem," she added.
It's important to note that the issue of gun violence as a public health concern is complex and multi-faceted.
As with most public health crises — take COVID-19, for example — the umbrella issue of "gun violence" touches on many interlocking facets of society at large.
The toll of gun violence manifests itself in many different ways.
It's said that nearly every person in this country will know at least one victim of gun violence over the course of their lifetime, according to Giffords.
The advocacy organization reports that the majority — 59 percent — of gun deaths are suicides, followed by homicides at 38 percent. Police shootings account for 1.3 percent, unintentional shootings are at 1.2 percent, and 0.9 percent make up "undetermined incidents," Giffords reports.
Like other public health crises, gun violence exposes fissures and inequities in our society.
Unarmed Black civilians are 5 times more likely to be shot and killed by police than their unarmed white peers.
Gun homicides have a high impact on Black people in this country, with Black men comprising more than half — 52 percent — of all gun homicide victims, Giffords reports.
The report from Johns Hopkins reveals young Black males — who represent just two percent of the total U.S. population — made up 38 percent of total gun homicide deaths in 2020.
These statistics for Black children and adolescents are bleak. Johns Hopkins's analysis reveals 52 percent of deaths of Black teenagers between 15 and 19 years old were killed as a result of gun violence. The analysis found Black young men from 15 to 34 years old were "over 20 times" more likely to die from a gun compared to their white male peers. From 2019 to 2020, the same data shows a 49 percent increase in gun homicides among Black females.
Domestic violence is also another area where gun violence factors heavily.
Victims of domestic violence are 5 times more likely to be killed if their abuser has a gun, while U.S. women are 21 times more likely to be shot and killed by a gun than their peers in other high-income nations.
Robyn Thomas, executive director at the Giffords Law Center, told us that looking at gun violence through a public health lens entails approaching these complicated issues holistically, echoing Ranney that this involves prevention and treatment.
This means handling each of these big issues underneath the umbrella of "gun violence" with sensitivity and nuance.
Dealing with the specific issue of suicide requires its own preventive methods compared to dealing with homicide, for instance.
Thomas said that organizations like the one she works for are "very committed" to working with medical and public health professionals.
During an early 2021 interview, Thomas expressed optimism at how then President-elect Joe Biden and then-Vice President-elect Kamala Harris would center gun violence as a national concern.
"I've heard them speak very clearly with their commitment to reducing gun violence, and now we'll have both a Senate and a House [of Representatives] that will support gun violence prevention legislation," Thomas added.
"Now, it's important that they all be held accountable to make those changes, ensuring they have the information about these policies and programs and the public support they need to move this forward," she said.
On May 14, 2022, a racially motivated shooting at a Tops supermarket in Buffalo, New York, killed 10 people and injured three more. All 10 of those who were killed were Black. In total, 11 of all shot were Black.
After visiting the site of the hate crime and offering words of condolence at a Buffalo community center, President Biden didn't speak optimistically that gun reform was possible in the current Washington political climate.
"Not much on executive action [that I can enact]. I've got to convince the Congress that we should go back to what I passed years ago," Biden told reporters at Buffalo Niagara International Airport. "It's going to be very difficult. Very difficult. But I'm not going to give up trying."
"We have enough laws on the books to deal with what's going on now," Biden continued. "We just have to deal with it. Look, part of what the country has to do is look in the mirror and face the reality. We have a problem with domestic terror. It's real," Biden said, as reported by NEWS10 ABC out of Albany, NY.
Ranney said that when discussing gun violence from a public health perspective, it's important not to get too mired in the political and policy debate, especially for the media and cultural commentators who bring it to the public consciousness.
She explained that policy is crucial but it has to be done with care to make sure it doesn't negatively affect some of the most vulnerable groups in this country.
In many ways it comes down to promoting proper interventions at the community level.
Ranney cited programs that center on interventions with young people who have a history of physical fights, knowing that fights are often a precursor to firearm violence.
When it comes to suicide, she said this is another area where education and prevention are key, especially given that for the majority of people who attempt suicide, a firearm is usually the first option they turn to.
She said there's a parallel to resistance of COVID-19 prevention when it comes to resistance to having these conversations around guns.
Many Americans might assume they're unaffected personally by gun violence.
She cited very public events, like the attempted assassination of Giffords in a suburban area just outside Tucson, Arizona 10 years ago, or the school shootings at Sandy Hook Elementary School in Newtown, Connecticut, as moments of awakening for some Americans to the very pressing reality of gun violence.
However, the same attention hasn't always been paid to the stark realities of gun violence in Black and brown communities. News cameras and political spotlights aren't often centered on these communities in a sensitive way.
She pointed out that this can be another blind spot in how we address gun violence as a public health threat.
Additional reporting by Jase Peeples.
This article originally appeared on Healthline. Read the full version here.