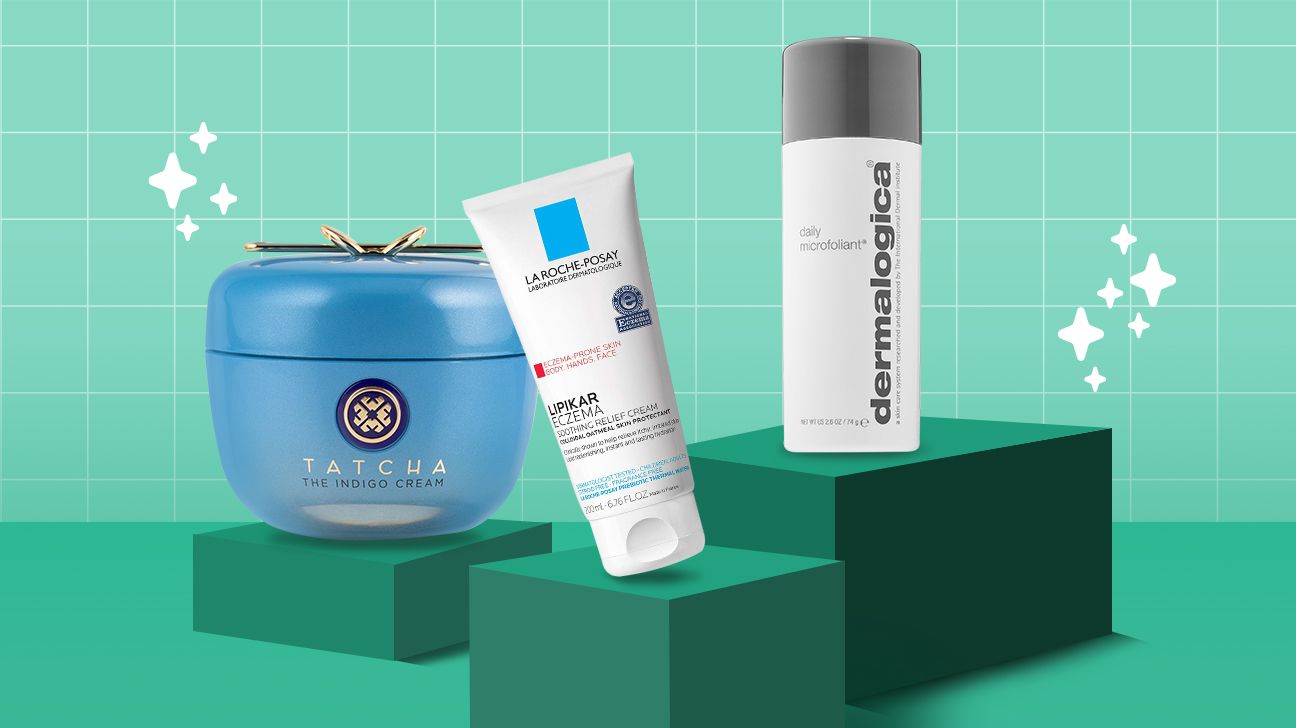 We include products we think are useful for our readers. If you buy through links on this page, we may earn a small commission. Here's our process.
Greatist only shows you brands and products that we stand behind.
Our team thoroughly researches and evaluates the recommendations we make on our site. To establish that the product manufacturers addressed safety and efficacy standards, we:
Evaluate ingredients and composition: Do they have the potential to cause harm?
Fact-check all health claims: Do they align with the current body of scientific evidence?
Assess the brand: Does it operate with integrity and adhere to industry best practices?
We do the research so you can find trusted products for your health and wellness.
Ever heard about the age-old cure of bathing in dry oatmeal to relieve chickenpox? Well, it's not exactly an old wives' tale. Colloidal oatmeal has been used for centuries to soothe dry, irritated, and itchy skin.
This pantry mainstay is simple, sure, but it shouldn't be underestimated. There are plenty of healing powers hiding inside this little ingredient.
Here's everything you need to know about this skin savior — from how it works, to how to integrate it into your routine (including DIY treatments and product picks from the store).
There's no hiding here; it's oatmeal. But before you raid your mom's cabinet for her quick oats, you might want to hold off. Colloidal oatmeal differs from the oat flours you might buy at the store.
Colloidal oatmeal is the entire oat kernel finely milled down and processed for use on the skin. On the contrary, oat flours used in cooking typically have the bran removed.
The real question is: what doesn't it do? For irritated or dry skin, this ingredient can do a lot. It soothes irritation, it protects the skin barrier, it moisturizes dry skin. The U.S. Food & Drug Administration even recognizes it as an active skin protectant.
One study found that colloidal oatmeal showed antioxidant and anti-inflammatory activities because it contains lipids, beta-glucan, and antioxidants.
So, how exactly does it work? The finely ground texture lets the molecules form a thin skin-like protective layer over the skin barrier that keeps moisture in and irritants out.
You can reap the benefits by bathing in it, moisturizing with it, and using it as a deep treatment.
While it's great for all skin types, it's best for chilling out skin conditions like eczema. One study found that treatments with 1 percent colloidal oatmeal helped provide barrier protection, moisturization, and soothing properties for patients with eczema.
It can also help other types of inflammatory skin conditions, such as seborrheic dermatitis and psoriasis. And, yup, it can help soothe itching from chickenpox or allergic reactions.
Whereas some ingredients can be risky depending on skin type, colloidal oatmeal is generally safe for all skin types, including sensitive skin.
Although allergic reactions are extremely rare, it's still something to consider. If you experience any type of allergic reaction, such as hives, burning or stinging, discontinue use immediately. And if the irritation continues, call your doctor.
If you already know you have an oat allergy, you should definitely stay away from colloidal oatmeal. Sorry, but like the name suggests, it's an oat.
There are several ways you can integrate colloidal oatmeal into your everyday routine. Because it's a simple ingredient, you can DIY treatments, but you can also find options at the store suitable for every price point.
DIY
Want to make a colloidal oatmeal treatment at home? It's easier than you think. Skip the store-bought oat flour and make your own to ensure it maintains all the good-for-skin properties.
Add whole, uncooked oatmeal to a blender, food processor, or grinder. Grind it until it's similar to a fine, flour-like powder. And there ya go: colloidal oatmeal.
According to the National Eczema Association, you can add your ground colloidal oatmeal to a bath. Just be careful to make sure the water isn't too hot or it could further dry out your skin.
For a more concentrated application, make a paste with equal parts water and colloidal oatmeal and smooth it directly onto the skin.
Shopping at the grocery store for your oatmeal raisin cookie recipe? Easy. Shopping for the best skin care products with colloidal oatmeal? Arguably harder.
To help you out, we searched high and low for the top rated and editor-recommended products. Here they are, broken down by price point.
Aveeno Eczema Therapy Itch Relief Balm
Accepted by the National Eczema Association, this thick balm can be used head to toe to relieve skin flare-ups and itchiness. It's even fragrance-free and allergy-tested.
La Roche-Posay Lipikar Eczema Soothing Relief Cream
Enriched with prebiotic thermal water (a fancy term for mineral-rich water), this 1 percent colloidal oatmeal treatment is suitable for almost anyone aged 3 and up.
First Aid Beauty Ultra Repair Cream Intense Hydration
Highly-rated and a cult favorite among skin care addicts, this thick body and face cream rubs in quickly and doesn't feel greasy.
IT Cosmetics Bye Bye Redness Neutralizing Correcting Cream
With a subtle tint, this under-eye brightener and tone-correcting cream helps minimize redness instantly.
Dermalogica Daily Microfoliant Exfoliator
It's expensive, but there's a good reason why. This exfoliating treatment evens skin texture with acids while soothing with colloidal oatmeal.
Tatcha The Indigo Cream Soothing Skin Protectant
Made for dry and sensitive skin types, this everyday cream also contains indigo for even more soothing benefits.
Itchy skin? Dry patches? Irritation? Colloidal oatmeal could be your perfect solution.
The foundational ingredient is used in skin care to help soothe and condition skin, and it's even suitable for calming skin conditions such as eczema and psoriasis.
This ingredient is generally safe and effective for all skin types, but adjust your usage based on how your skin reacts.
Play around and test it out for yourself. Who knows, maybe there's more to the average bowl of oats than you think.