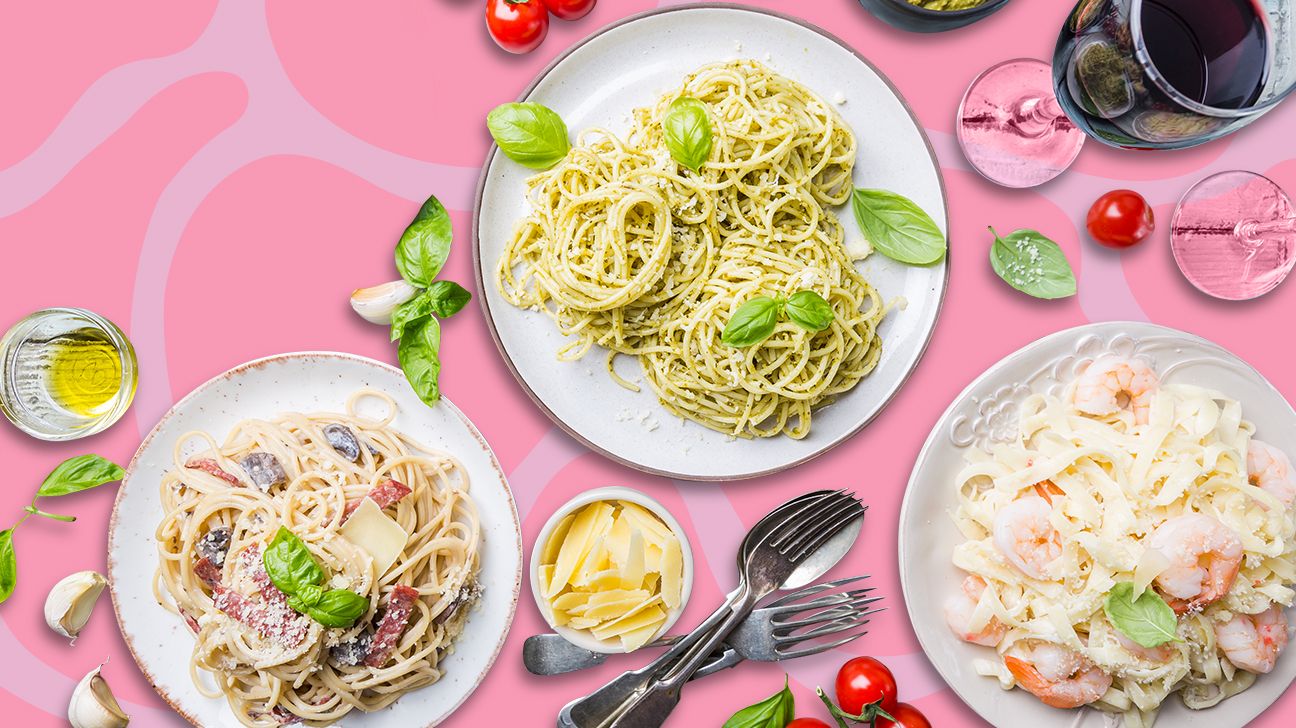 Looking for a tomato-free pasta sauce recipe? We've got plenty — 21 recipes, to be exact. Plus, we've rounded up pro tips for making your own delicious tomato-free bowl o' noodles.
*Chef's kiss* tips for top-notch tomato-free pasta
You don't need much. When making creamy sauces, remember that a little can go a long way. A cup of sauce is often enough for 1 pound of pasta.
You can make up that distinctive red color in other ways. Can't do tomatoes? Mimic their color with diced red peppers, red cabbage, or radishes.
Pesto doesn't stop at basil. Experiment with other veggies like spinach, edamame, or pumpkin to make a unique pasta topping.
No one likes dry, rubbery pasta. Always include a source of moisture, like butter, olive or avocado oil, or pureed veggies.
Save that pasta water. The liquid your noodles have cooked in soaks up starches and sodium. Use it to add extra flavor to saucy dishes.
We promise, there's nothing wrong with you, marinara. You're there for us when we need you most: on pizzas, in casseroles, and, of course, at the top of towering mountains of pasta.
Sometimes, though, we feel the need to be a little bolder, to venture out there and get a taste of all the flavors that the world has to offer. We've reached the point where it feels necessary to take a break and explore sauces that go beyond the tomato-y basics.
So, don't be sad, marinara. It's not a goodbye, just a so long for now.
Real deal carbonara doesn't need any cream.
Just toss some eggs, a couple of cloves of garlic, and a generous handful of Parmesan together into a silky, noodle-clinging sauce. Carbonara folks who want a little extra heat might want to try cacio e pepe.
Ah, good old Alfredo — what would fettuccine be without it?
The velvety sauce is enjoyable enough on its own over long, flat noodles, or you can top it off with mushrooms, chicken, or whatever other cream-loving add-ons your heart desires.
This easy Parmesan cream sauce is a little lighter than Alfredo and pairs especially well with chicken sausage. But you can use spicy or mild sausage as you prefer. Add some garlic for a bit more kick as well.
If you plan on having leftovers, you may want to make some extra sauce and reserve a bit to mix in the next day, as the pasta will absorb a lot of it overnight.
We probably don't need to remind you that mac and cheese is the nontomato-based pasta dish par excellence.
But in case you've forgotten, well, it's time to reacquaint yourself with the gooiest, cheesiest, and rib-sticking-est recipe of them all. (And don't miss these eight hacks for levelling up boxed mac and cheese.)
Hankering for a traditional mushroom cream sauce? This one is quick to make from scratch and clings to every strand of spaghetti like a satin robe.
Cream also pairs perfectly with bacon, and this simple sauce will gladly go with any noodle in your pantry. Hello, new favorite weeknight dinner.
Hazelnuts and sage make for a pretty magical duo.
The toasted nuts bring an earthy richness to this dish, while the herbs add fragrant overtones, creating a sophisticated marriage of flavors and textures — and that's before you even get to the tangy, silky creme fraiche sauce and naturally sweet pumpkin pasta.
You can make it from virtually any leafy green pesto. And, you can catalog it as a whole genre of tomato-less sauces on its own.
Spinach pesto stands out as perhaps the most all-purpose of the bunch, however, with a mild taste that won't overwhelm you with an overload of greenage, as some others do.
If you're short on pesto inspo, we've got you covered with some ideas:
A super chunky sauce of roasted veggies is perked up by briny olives and Parmesan. This is perfect for using up zucchini and other summer squash.
We added bell peppers and onions, too, but you can really use whatever vegetables you most like to roast (and whatever is in season).
This recipe is ideal for fall, but unlike your latte, it's full of real pumpkin flavor that is as creamy and gently sweet as can be. The poblano pepper and goat cheese add more layers that keep it from being a one-note, and warm spices sneak in, too.
This shocking pink sauce is made from pureed roasted beets with garlic, red wine vinegar, and creme fraiche to keep it from being too sweet — plus hidden white beans for extra body and nutritional benefits.
Toasted walnuts, feta, and dill fronds top it off, but try it with blue cheese if you have it.
This classic Italian pasta preparation is best with a delicate, fresh pasta that complements the tender cubes of butternut squash and the cream sauce. The crushed amaretti cookies may sound like a random garnish, but they're actually traditional (and tasty).
Consisting entirely of ingredients you probably already have in your pantry, aglio e olio — garlic and olive oil pasta — is the sort of dish that you'll return to time and time again whenever you need a quick dinner.
Chef Stephanie Izard of Chicago's Girl & the Goat restaurant dresses this simple bowl of pasta with a sprightly blood orange vinaigrette, with depth from fish sauce and malt vinegar.
Juicy segments of the citrus, crunchy pistachios, and hearty greens round out the meal, which is just as good cold as fresh from the pot.
Bright lemon always juices up a basic pasta, and this light, zesty emulsion proves vodka sauce doesn't have to use tomatoes. Fresh tarragon adds an anise note, and any seared fish or even chicken would be just as good as the scallops.
This equally citrusy twist stars shrimp and dispenses with the vodka, but does deglaze the pan with white wine.
It also adds some garlic and red pepper flakes for heat, plus a healthy dose of fresh parsley to lift all the flavors at the end.
Clams come pre-loaded with a sauce of sorts. Just give them a quick steam and let them release their briny juices — it's liquid gold in a pot.
Our recipe also throws in some chorizo for a bit of spice, resulting in an easy surf and turf meal that practically throws itself together.
A meaty braise has a two-in-one purpose when you use it to top pasta: You get hunks of fork-tender protein, as well as a deeply savory sauce that ties the whole dish together.
Using milk as the braising liquid might sound strange, but it's utterly delicious.
We'll grant that this may be stretching the definition of a sauce (if the word makes you picture something that drips from a spoon).
Still, the combo of sweet Italian sausage, pleasantly bitter broccoli rabe, fragrant garlic, and spicy red pepper flakes is cooked in just enough olive oil to form a slick coating that transforms into a sauce with the addition of pasta cooking water and grated cheese.
Don't skip the nutty toasted breadcrumbs on top!
No fresh seafood? Canned tuna is a surprisingly delicious addition to a bowl of noodles, especially dressed with a simple Japanese-inspired vinaigrette of soy sauce, rice wine vinegar, mirin, and sesame oil. (If you like them, try sardines in pasta too.)
Feel free to use this with any noodles you want to, and load it up with fresh scallions to really bring it to life.
These vegan peanut butter noodles from Choosing Chia make the dream of a 30-minute dinner a reality. A creamy sauce full of nutty flavor whisks together with just a handful of ingredients, then gets poured over quick-cooking rice noodles.