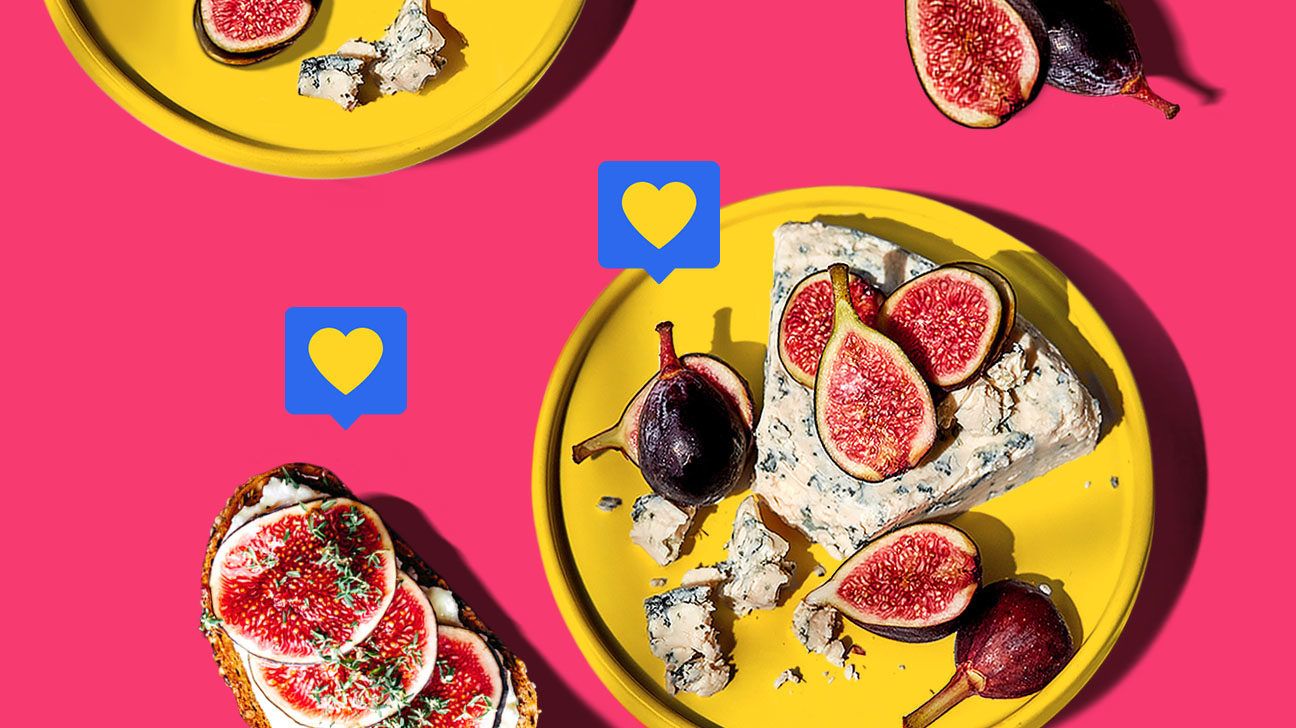 As a lover of all things autumnal, I have often thought that there's a reason we fall in love, and not spring into love. Each season has its own special magic, but the colors and flavors of fall possess a unique romantic coziness.
Autumn leaves, the appearance of pumpkins on stoops, a slanted golden light, and the desire to wrap myself in a comforting wool sweater are some of my favorite symbols of fall. Another favorite? Figs.
Not only are figs tasty and fun, they're nutritious as well. We're talking tons of vitamins (A, C, K, and B) and minerals (potassium, magnesium, zinc, copper, and iron).
Here are some benefits to eating figs:
Figs have deep roots in Mediterranean and Middle Eastern cuisine, and have been cultivated in those regions of the world for thousands of years.
You'll find these fleshy, sweet yet earthy fruits flourishing in California, Texas, Utah, Oregon, and Washington. California especially, with its sunny, mild Mediterranean-like climate, comes in hot when it comes to fig production.
Live in one of these states and got a farmer's market nearby? Keep an eye out for figs throughout late spring into late fall, depending upon the region. For the golden state, prime fig season is mid-May through mid-December.
And with so many to choose from, it's easy to say, "Does it even matter?" Among the California fig varieties alone, there's Black Mission, Calimyrna, Kadota, Brown Turkey, Smyrna, Sierras, and Tiger Figs — what a head turner! When it comes to experimenting and flavor, they do matter, but…
Let's talk about how to choose the right figs really quick
To make sure your figs are ripe and tasty and giving you a maximum nutritional boost, use these tips from Master Gardener Susan Patterson:
Figs should be soft to the touch and might even ooze a little nectar.
Figs should be fully ripe when picked and purchased. They don't ripen off the tree, what you see is what you get!
Be ready to eat these juicy delights in three days, or cook them because they go bad fast.
If you prefer savory to sweet, Brown Turkey figs may be a good choice, as they're less sweet and go nicely in salads. For jams or preserves, Kadota tends to do well.
Black Mission figs have a dark, purple black outer skin and are very sweet with a rich, earthy flavor. Calimyrna, on the other hand, have a pale-yellow skin and more of a nutty, buttery flavor.
As for the Adriatic fig — which you'll recognize for its pale-green, sometimes striped candy-like exterior — they're fresh and sweet. They originally come from Italy and aren't often in grocery stores because they don't dry or preserve well.
If you catch Adriatic figs on the shelves, grab them quick and pair them with vanilla ice cream, plain full fat yogurt, or a little creme fraiche.
As I mentioned earlier, a ripe fig is pretty wonderful eaten alone — as a snack or dessert. But if you want to jazz it up, try these simple recipes and pairings. They'll make anyone fall in love with you, just for cooking it for them. These recipes are also pretty great!
Quick buttery figs
Brush 1–2 cups fresh washed figs (any variety) with melted butter.
Broil* until the fig tops bubble and brown on the edges.
Serve broiled figs with sweet or savory dishes. With ice cream? Yum! With roasted veggies and salad? Even better.
Or make it dessert! Drizzle figs with maple syrup and butter before broiling. Honey and vanilla are also delicious.
*If you're new to broiling, check out: A crash course to using your broiler. You can also grill figs to develop the rich flavors.
Easy fig jam
You don't have to be a professional homesteader to make jam! Calling for just a few ingredients, this easy fig jam from Foodal is accessible even for urbanites and novice cooks.
The recipe calls for black figs, so Black Mission figs would work well. However, you could always try it with another variety. No harm in a little kitchen experimentation!
Since figs have a short shelf life, if you have an abundance of them, this is a great way to preserve them. Fig jam will keep in the fridge for 10 days. Enjoy it on buttered toast, as a PB & J sandwich, or as a topping on ice cream or plain yogurt.
Other figalicious pairings
Still unsure? Well, don't get too caught up with the details. Instead, focus on getting a feel for choosing the ripe ones and try these raw food pairings:
Add fresh or dried, chopped figs to your salad. Goat cheese, arugula or other salad greens, and a nice balsamic vinaigrette make a wonderful combination.
Dip fresh or dried figs in melted dark chocolate for an earthy, bittersweet dessert.
Smash a whole fig on toast or in a nut butter sandwich for a no fuss jam-like effect.
Enjoy a simple pairing of fresh figs with artisanal cheese. Figs make a wonderful addition to any cheese plate. Add some roasted almonds and thin crackers to your platter for a bit of crunch.
Well, chances are you aren't allergic since fig allergies are rare. But if rubber latex, birch pollen, and fruit from the mulberry fam (like jackfruit) cause an allergic reaction, figs might too.
Super unsure? It might be time to send a large group text to the family and ask… or bring those figs you just bought to a picnic so you can pawn the rest off to your friends.
I hope you enjoy experimenting with this delicious, nourishing fall favorite. Try figs as a jam, broiled in butter, or paired simply with a dollop of goat cheese or chocolate. Take it from a fig lover: Figs are truly as versatile as they are delicious!
Greta Kent-Stoll is a writer and Ayurvedic practitioner. Find more of her work at ashevilleayureveda.net.