After months and months of staying in, most of us have gotten a little tired of our own cooking — no matter how much fun we had with sourdough starters earlier this spring.
But as some states go back to the beginning, where indoor dining was closed or at limited capacity, you might be wondering: Has it ever been safe to eat out?
The answer is: it depends on your definition of "out."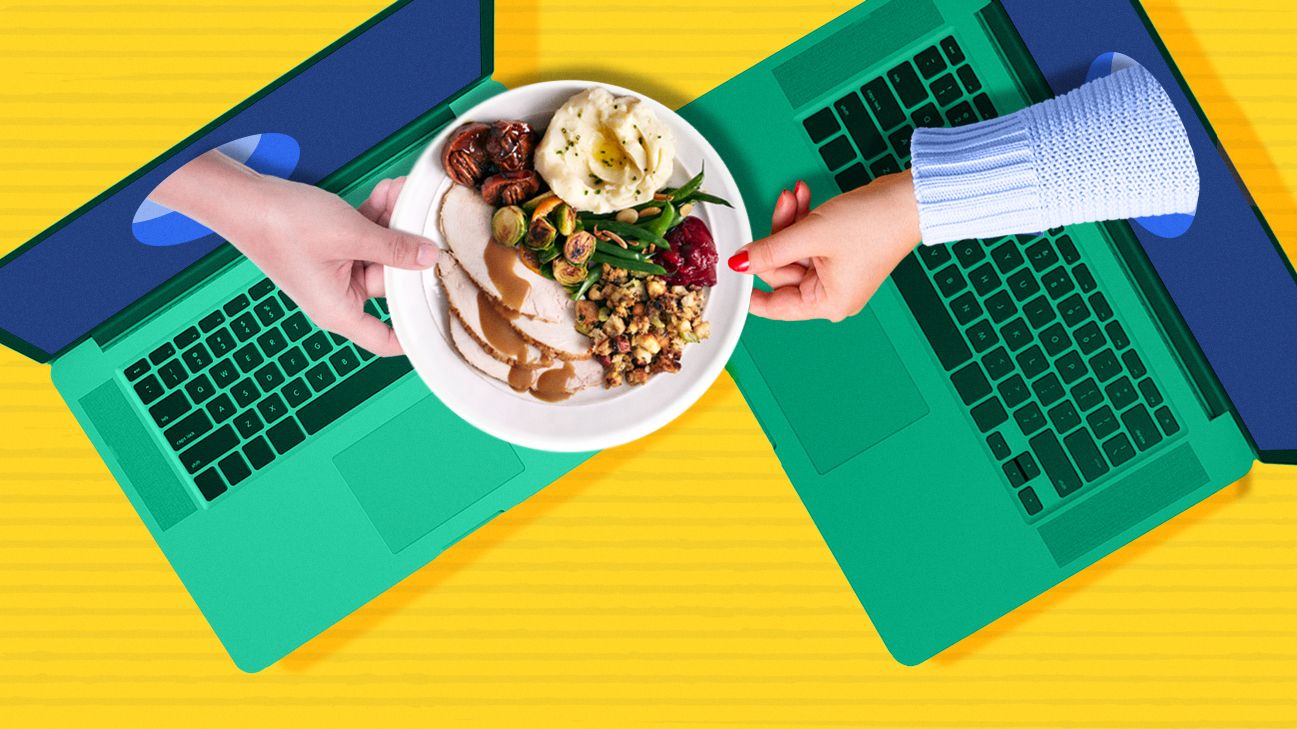 Here's the good news: There's no evidence that food can spread the virus — and that includes takeout. The risk of infection by the virus from food packaging, and bags is also thought to be very low, so you can move forward with some confidence (with appropriate caution!).
But just because picking up takeout is safe for you doesn't mean it's as safe for those who are working — so remember to tip those hardworking restaurant employees and delivery drivers! Wear your mask when you greet them and offer hand sanitizer, if necessary.
If you have a black and white definition of "safe," it's unfortunately not that easy. Safety has a psychological side too, meaning the safety of your mental health and need for socialization. As an integrative physician and mother of two, I really empathize with finding that strike for balance.
So let's dive into the definition of "eating out": If you're thinking in the full-service restaurant sense, there are some additional facts to consider.
As Amesh Adalja, an infectious disease physician, said for Stat News, "If you went to a restaurant in early March, it's a very different experience than going to a restaurant in early November."
Research based on mobile tracking shows that full-service restaurants, gyms, and gatherings contained the highest risk for infection rates. The risk for these rates are measured by the following:
| | | |
| --- | --- | --- |
| Risk factor | Lower risk | Higher risk |
| rate of infection in your county | low number of daily cases | high and growing number of cases |
| occupancy rate of indoor area | 20 percent capacity | more than 20 percent capacity |
| restuarant policy | temperature checks, face mask requirements, etc. | no limits on patron behavior |
| table spacing | 6 feet apart | no spacing |
Choosing options that run on the side of lower risk may feel safer, but it's not 100 percent COVID-proof.
Based on these factors, if you're still in that in-between space of needing to eat and wanting to enjoy some cooking that's not your own, it's time to brush up on your takeout food safety know-how.
Getting takeout is still eating out! If you're feeling alone, consider making takeout dinner dates with your roommates and getting your food spread on at home.
With the low risk of transmission via takeout, redefining eating out as grabbing food to-go may be the safer choice here. Plus, there's way more flexibility of eating when you want, where you want. Skip those reservation lines!
1. Wash your hands before you leave the house
I know, you've heard it before, but the truth is, it really bears repeating. Handwashing is critical, and doing so using all seven steps is just as important now as it was in March and April.
Previously, there had been a rumor that COVID would not be able to survive in cold weather, but I want to go ahead and debunk that right now. All evidence points to the virus's ability to spread just as easily in the winter months as it does in warm weather.
2. Keep your hand sanitizer… handy
While handwashing is even better than using hand sanitizer, it's a good idea to keep a container of hand sanitizer in your bag or car when you run errands like picking up takeout.
While your friends and family members who are making their own DIY hand sanitizers have the best intentions.
You should avoid using homemade hand sanitizers and instead opt exclusively for the store-bought kind with a minimum of 60 percent alcohol content (these are proven to be safe and effective, whereas the homemade kind is just a roll of the dice).
3. Choose restaurants that employ good COVID-19 safety measures
Now's a great time to support local restaurants that are struggling and taking the COVID crisis seriously. If the restaurant has a website, they may be updating information there about what measures they're taking to stay COVID-safe.
If they don't, they may be posting this information on their door, or you can call in advance and ask how they're choosing to handle COVID-19. If they don't seem to have a thorough plan in place, skip 'em.
4. Be conscientious of "high-touch" surfaces
If you have to go inside to pick up your food, be mindful of all the spots other people have touched recently — doorknobs and counters being top of the list. Especially if you're not wearing gloves, it's a good idea to sanitize or wash your hands after encountering "high-touch" surfaces such as these.
5. Opt for contactless payment methods
If there's the option to pay in advance, go for it — paying online or over the phone is your best bet, since it limits your time picking up the takeout. It also means you can avoid touching other surfaces while inside, such as a credit card reader, or worst of all, cash, which is generally pretty dirty.
If you must pay in person, this is the ranking of payment system safety: a contactless method like Apple Pay tops the list, followed by credit card tap-and-go options, then credit card use, and then, down at the very bottom, cash.
6. Limit or eliminate your time inside
Indoor air is a concern right now — we want to avoid indoor spaces with people outside our quarantine pods as much as possible.
This is because most ventilation systems just aren't up to par, and air circulation is a great way to keep the virus at bay. When possible, order from places that offer curbside pickup.
7. Wash hands and disinfect the moment you get home
Although picking up takeout is pretty safe, it's important to wash your hands after unpacking your meal. It's also a good idea to disinfect your counters afterward, too.
Being a little extra careful doesn't cost much, and for your own safety and that of your community, it's definitely worth the effort right now.
Shadi Vahdat, MD, specializes in integrative and hospital medicine and serves as the medical director at the LiveWell Center For Integrative Medicine. She focuses on individuals who have conditions that traditional medicine hasn't seemed to help, and through the magic of telemedicine, works with folks from all across California.