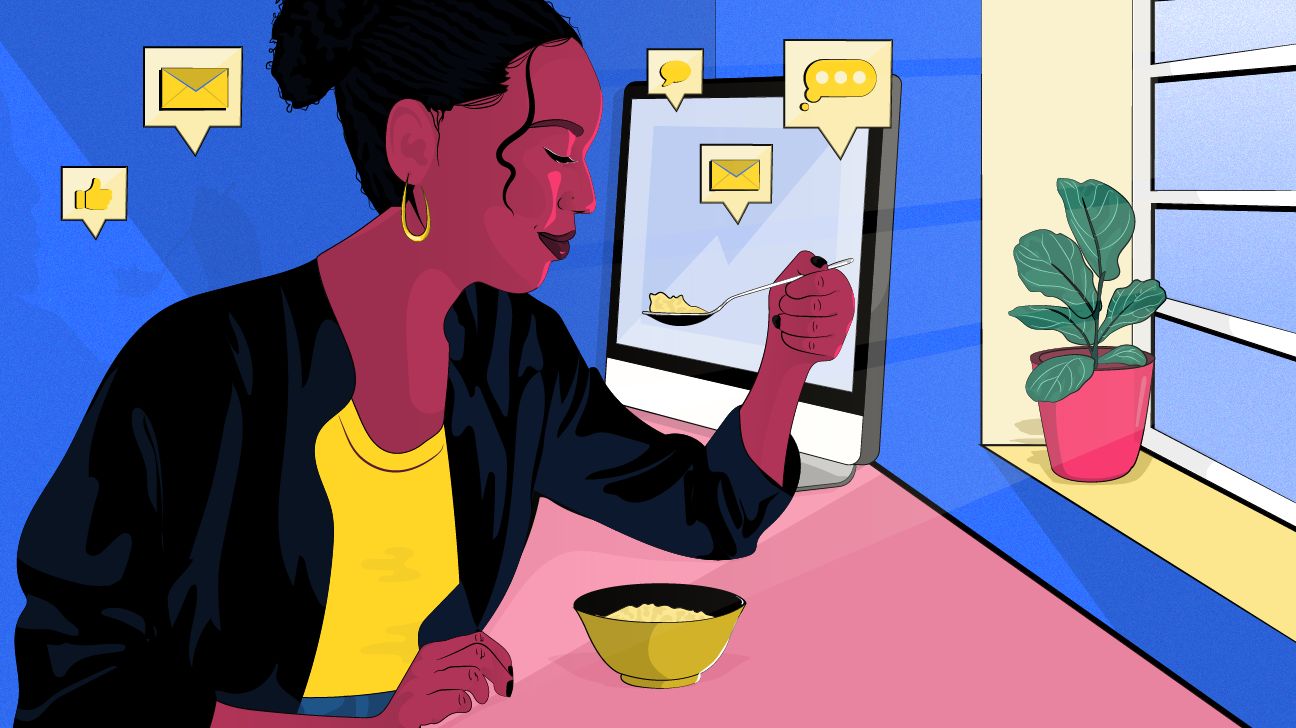 Like many office workers, I've been working from home (WFH) remotely since March. At the beginning of the shutdown, I told myself I'd be productive. The workday also seemed to move at double time — at 6:00 a.m., I'd sit in front of my laptop with a cup of coffee, then look up again, and it was almost 3:00 p.m. — no time for anything other than a coffee refill— Monday through Friday and sometimes on Saturday, for weeks. Missing lunch meant I was productive — a certified Boss Lady, as I'm often told on Instagram.
My husband, on the other hand, managed to find a work-life balance pretty quickly. Every hour or so he would stretch his legs and refill his tumbler of water. He often ate lunch away from his desk.
By the end of summer, when I decided to transition to freelancing full time, the first thing my husband said was, "Will I have to get a copy of you? Because you're taking on a lot and you never take breaks. I think you're going to hit a brick wall."
I ignored him.
Every day, I logged on just before dawn to mark items off my list. In just over a month, I completed three professional certifications in record time, reorganized my inbox, and planned out the rest of 2020. I never stopped for lunch, choosing instead to listen to (rather than watch) webinars at 2X speed because I didn't want to stop working to take them in. I was a machine.
Until I wasn't.
I crashed. Or rather, I burned out.
I was drowning in email. I missed phone calls and started sleeping in because I didn't want to sit at my desk any longer. Lunch was a slice of cinnamon raisin bread on a paper towel, leftover from the breakfast I was too busy to eat.
And then the storm came. And not a metaphorical one either. A real, honest-to-goodness storm blew through our town, knocking out the internet. With work coming to a screeching halt, I stepped away from my computer to join my husband for lunch at the table. Not the dining room table where our makeshift desks were set up, the table in the little nook of the kitchen. For the first time in months, I had a real afternoon meal away from the makeshift office.
As I ate, I realized I'd been so worried about productivity, I'd forgotten another p-word: Pleasure.
I missed the simple act of walking away from my desk to eat. Determined to guard this new time during my work day, I spoke with founder of the intuitive eating movement Evelyn Tribole about the importance of making time for lunch while working from home.
Tribole, a registered dietitian and author of the forthcoming Intuitive Eating for Every Day: 365 Daily Practices & Inspirations to Rediscover the Pleasures of Eating, offers these tips to shift our mindset about meals.
Set aside time to eat — between 20 minutes to an hour. Tribole recommends placing the time on your shared calendar so others know you're busy. "No one needs more of an explanation than, 'I'm busy'," Tribole says. "Mark the time so that others know you're not available."
Shift your lunchtime focus to nourishment. "Try thinking of the time as your own, personal oasis," says Tribole. "Give yourself time to settle into this new feeling. Sometimes my clients will say this shift in thinking feels strange. It takes time to adjust." Nourishment doesn't just have to mean nourishing food either — this is a time to nourish yourself, to give yourself some peace in the middle of a work day.
Move your workspace, if you can. Creating a separate place for meals helps keep work at bay. According to Tribole, stepping away from your workspace gives you space to take care of yourself, which in turn allows you time to reset your mindset. "In the long run, it makes you a better worker," she says. "You need that time away." For those in smaller settings, this might not be an option. But if you have the space, save the dining room for eating meals, or consider closing your laptop while you eat.
Prep the night before. Whether it's leftover lasagna or a specially prepared salad, take a few minutes the night before to make a plan for the next day's lunch hour. If you have children, consider packing a lunch box in order to beat the "what's for lunch" conversation.
Sit down to eat — no more standing up to eat.
Take a digital timeout while you eat. Turn off your phone — better yet, leave it near your desk. Use the time to recalibrate your day.
Play with your food, if that inspires you. No one ever said lunch has to be the same bagged salad every day. Give yourself the freedom to explore different spices, cuisines, and textures.
Make time to move before or after your meal. Even a quick walk to the mailbox and back can be a good mental transition from work to lunch and back again.
As for me? I've moved my makeshift office to a spare bedroom. The dining room has gone back to being reserved for meals.
I still get busy with work, of course. Deadlines don't wait for dim sum. I won't allow myself to think missing a meal is a badge of honor. I've claimed that oasis in my dining room. It's mine. It belongs to me.
Erica Gerald Mason is a freelance writer living in Atlanta. Her writing focuses on what's new, helpful, and what's next.