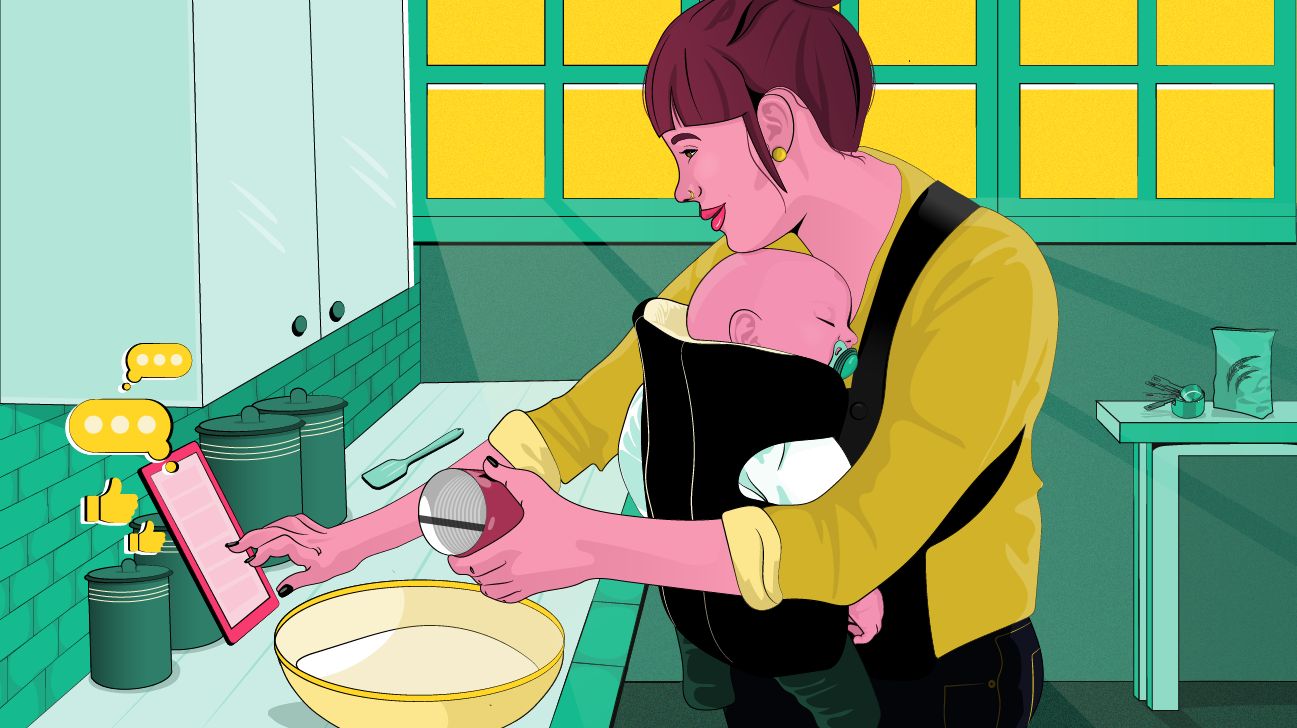 It started with a crepe cake.
I was seeking recommendations for people's favorite cakes for my birthday when I stumbled onto a Facebook group for fans of a large media company's cooking vertical. I posted my request, and instantly recipes started pouring in. People shared stories of their own birthday cakes and celebrations, their successes and failures. A community member who eventually became a friend of mine suggested a blackberry crepe cake, and on first bite, I knew I had found my people.
Very quickly, this group — and others like it — became my favorite digital communities for their love of food, kinship, and storytelling.
I found out I was pregnant 4 days after that birthday and let myself grow accustomed to the idea by letting it slow-burn out of me and into my beloved online community. I shared the foods I loved eating, the things that temporarily quelled morning sickness. Then I didn't post for a few weeks, because I wasn't finding joy in cooking.
One Friday, I did the prep work for dinner before my scheduled prenatal appointment. I washed tomatoes and chopped cilantro while my 3-year-old danced underfoot. I regretted not scrubbing my hands harder as I drove myself to my appointment, my car filling with the scent of garlic.
"There's no heartbeat," she said.
A missed miscarriage.
I threw myself into the kitchen, burying my grief under mountains of flour. I baked banana cake in a rose Bundt pan I'd never used before. I made my partner a three-layer cookie cake with buttercream frosting after polling members of one of the Facebook groups on their frostings of choice. I baked while my body mended itself, but it was that cookie cake, and the act of frosting it, that brought me to my knees the first time following surgery, realizing I would never frost a cake for that baby.
When it seemed as though I had baked everything I could, I began baking things that intimidated me. I baked Mark Bittman's no-knead bread 3 days in a row. Next, I tried my hand at biscuits. They tasted fine but were flat and disappointing.
I shared my results, and a woman — a stranger who was also a friend by virtue of existing in one of these groups with me — coached me on her method, emphasizing the importance of ultra-cold ingredients and a sharp cutter. I spent the next 2 weeks making buttermilk biscuits on repeat, each time feeling farther away from grief and closer to accomplishment.
I found out I was pregnant with Maddox 6 weeks later. I made biscuits that morning with the recipe I'd received from the group. I cried tears of one thousand different emotions, but I was pregnant again, and I was making biscuits, a reminder that I was still here, biscuits and a baby and all.
Pairing the news with a photo of my newly perfected biscuit, I announced to my cooking family that I was pregnant again. I thanked the woman for her recipe and said I was baking my way through the grief of my miscarriage and the anticipation of a new pregnancy.
Immediately I was met with hundreds of well wishes and congratulations.
I felt as tall as those biscuits.
When the pandemic landed, I settled into bigger projects. #Quarantinkering, I called it. I made hand pies for the first time, something that would eventually become a specialty of mine. I made bagels, my daughter Scarlett beside me on her stool as I scraped and shaped balls of dough across the counter. I tried my hand at croissants, once again being coached by a fellow Facebook group member who happily answered my questions and celebrated with me as I pulled the buttery, shattered layers from the oven.
After I shared my photos with the group, my mentor wrote, "The gift of time is precious — outside of quarantine I would have never been able to respond! You're an awesome baker!"
There was the sourdough starter, like the rest of the country, and all the ways to use it. When I shared my first sandwich loaf, I wrote about how bizarre it was to be pregnant during a pandemic. I felt isolated, and I clung to my online community tighter, feeling as though it were a lifeline.
When my partner was furloughed, like so many others, I gave him space to soak it in by staying in the kitchen, making biscuits, softening my own nerves the best way I knew how. When I shared the news in the group, with yet another biscuit photo, I was once again met with comfort.
Maddox was born on July 11, 2020. My first public post was, of course, to my cooking community, home to thousands of digital family members. It's a photo of me, Maddox in my arms, and my masked partner, with my hospital dinner in the background.
Literally thousands of people, strangers, welcoming my newborn baby into the world.
We discovered early on that Maddox had a dairy sensitivity, and because I was nursing, I turned to my Facebook groups for dairy-free recipes. When I posted a photo of my "lunch" — a bowl of trail mix and my first postpartum beer on the ledge of the bathtub — a favorite group member of mine mailed me a huge bag of trail mix.
And when I threw in the towel after a particularly hard day of GI issues for Maddox, I made dinner and wept over the pizza I was grilling, sharing both my anguish and my photo with a group that felt like home when there was discord in my own. "I don't cook because I'm wondrous, I cook to keep my head above water," I wrote.
Friends I have made through these groups have mailed me secret family recipes, handwritten on card stock. They shared their own stories of baby-wearing after I posted a photo of myself making dinner, Maddox asleep in his carrier.
It's these communities I turn to when I want to pull a seat up to the table, offering and receiving advice on what to eat, what to bake, and what flour to use when coping with loss, celebrating life, and navigating life's in-betweens.
As with all my news, it was in one of these Facebook groups where I shared that my partner and I had separated. Just shy of a year had passed since I'd shared my grief over the loss of a pregnancy followed by my cautious excitement over another one, and here I was sharing a new kind of grief all over again.
Without skipping a beat, the community rallied. What do you need? How can we help?
These Facebook groups are about more than just food for me — they always have been. Those ordinary online spaces taught me how to cut sky-high biscuits, what kind of cocktail is best on the hottest day of the summer when you're postpartum, and all the reasons homemade yogurt should be foolproof.
They gave me a sense of purpose when I struggled to feed my newborn son and, in turn, began struggling to feed myself. When the weight of pandemic isolation mixed with postpartum got caught in the back of my throat, they were a haven. The minutes spent on my phone literally filling up my cup that struggled to stay full. They've reminded me that food — and storytelling — are meant to be shared. That community, even online, can offer a sense of closeness. That breaking bread with strangers is just a click away.
Ava Truckey is a mother of two; a cottage bakery owner in Denver, Colorado; and the creator of the Feed Me a Story Facebook group. She writes a blog at www.avatruckey.com.