Spuds might be starchy, but they're actually a gluten-free food. That's right! Potatoes are a vegetable, not a grain. They're the perfect substitute for foods like pasta, bread, or even desserts.
Here's how you can make the most out of potatoes while on a gluten-free diet. We also have some 10/10 tasty recipes to help inspire your next gluten-free feast.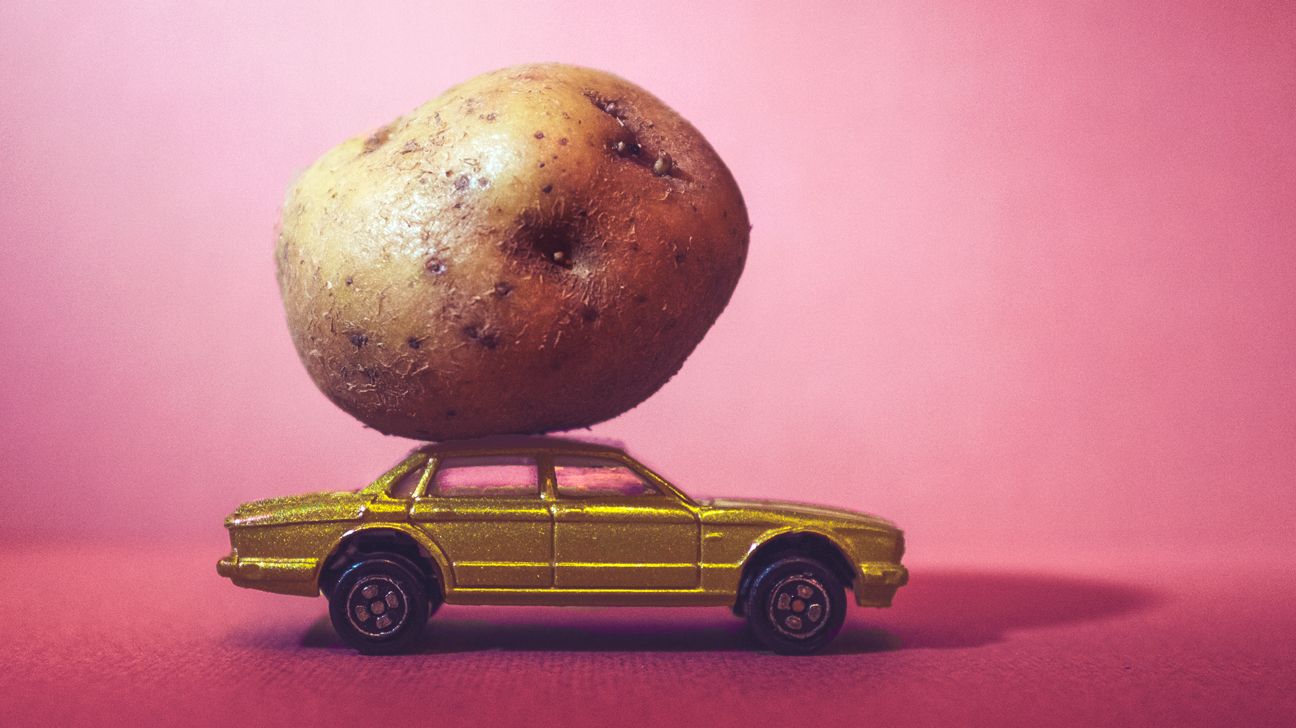 Yup! All varieties of potatoes are gluten free.
Gluten is a protein compound found in grains such as wheat, rye, and barley. It plays several roles in foods, like providing structure, texture, protein, and flavor. But alas, gluten can also cause a reaction in peeps who have an intolerance or in folks who have Celiac disease.
Unless you opt for gluten-free versions of bread, pasta, or beer, it's easy to have food FOMO. Thankfully, the humble potato can be a total game-changer. Here's how.
Gluten-free pasta
NGL, gluten-free pasta can be a total hit or miss. Sometimes it just falls apart in the water leaving a gray, soupy sludge in its wake. Other times the texture is weird and the taste is blah. Thankfully, there are lots of ways you can turn potatoes into pasta.
Gnocchi is basically tender pillows of potatoey goodness. It's super simple to make but looks hella impressive on your plate. All you need are potatoes, butter, gluten-free flour, salt, and a pinch of xantham gum. You kneed the ingredients into a dough and make little baby dumplings out of it. Then you just plop them in boiling water for around 3 minutes or until tender. Pour on your favorite sauce and bada-bing!
You also have mad options when it comes to lasagna (and it's easier than you think!). Just swap out lasagna sheets or noodles for sliced potatoes. You don't even need to precook them as long as you slice them thin enough. So grab your meat, mozz, sauce, and potatoes and layer those bad boys in an ovenproof dish. Then bake until the cheese is *chef's kiss* bubbly and enjoy.
Gluten-free vegetarian or vegan meats
The problem with vegetarian or vegan meat alternatives is that they tend to contain gluten. But don't worry! You can bypass this problem with the power of potatoes. Yep, you can elevate your veggie sandwich with a creamy potato sandwich filling.
Simply mash some boiled or roasted potatoes and then add whatever flavors you fancy. Chili, coriander, cumin, taco seasoning, and fresh herbs are all stellar options.
FYI: Cheese or mayo can help glue your potato spread together. But of course, you can stick to vegan products or oils instead.
Gluten-free baked goods
Gluten-free baked goods usually don't rise as well and have a weird texture compared to their glutelicious peers. But guess what! You can totes DIY your own high quality bread, cakes, or pies with potatoes.
If you need to follow a gluten-free diet but have a hankering for pie, the potato has your back. You can make a gluten-free pie crust using potato starch, cornstarch, and a blend of almond and rice flour. BTW, this crust doesn't just have a flaky texture and fabulous flavor. It's also packed with protein.
You can use the pie crust for tons of sweet treats. But if you leave the sugar out, it makes a wonderful base for pot pies, quiches, and savory tarts.
If you're looking for something quick and easy, you're still in luck. You can whip up some mashed potato chocolate truffles in a flash. They're the perfect gluten-free sweet treat. And don't worry, they're so good your friends and fam won't even realize they're eating a chocolatey spud.
Pro tip: If you don't have potato starch on hand but need a sweet fix, you can make a magically moist chocolate potato cake.
Gluten-free side dishes or appetizers
Without pasta and bread, sides might seem like a hassle. But spuds can make things a lot easier. You can easily upgrade potatoes into delicious dishes like:
Potatoes are very, very versatile. You can eat them roasted, smashed, mashed, garlicky, salty, creamy, the list goes on. Plus, with a bit of creativity, you can use them as a replacement for flour or as a thickener. Here's a recipe roundup of some of our faves.
Who doesn't love easy and delicious food that's gluten-free, dairy-free, and suitable for vegans? These deliciously crispy hasslebacks are light, fluffy, and ooze with creamy, garlicky goodness.
They're a simple yet impressive accompaniment to most meals or as the start of the show.
Here's one for the cheese fans. This cheesy potato casserole is the ultimate comfort food. It also requires very little kitchen skills since the main ingredients are frozen hash browns and canned soup. You can even prep it the night before and have a feast ready to feed a crowd in just 40 minutes.
So you're in a rush, but you're CRAVING bread. What do you do? Make easy gluten-free potato bread, that's what. All you need is some leftover baked or mashed potatoes, almond flour, and a few other bits and bobs. It takes 45 minutes in the oven. And no, you don't have to wait for it to rise. This lovely loaf needs no yeast.
Peeps who follow a gluten-free diet need to avoid most bread, pasta, and grain-based foods. Thankfully, potatoes can come in clutch as a gluten-free alternative to lots of your favorite recipes. Plus, they're super-duper affordable and incredibly versatile. You can use them to make pasta, bread, spreads, snacks, or sides. Or just eat some spuds on their own! The options are limitless.